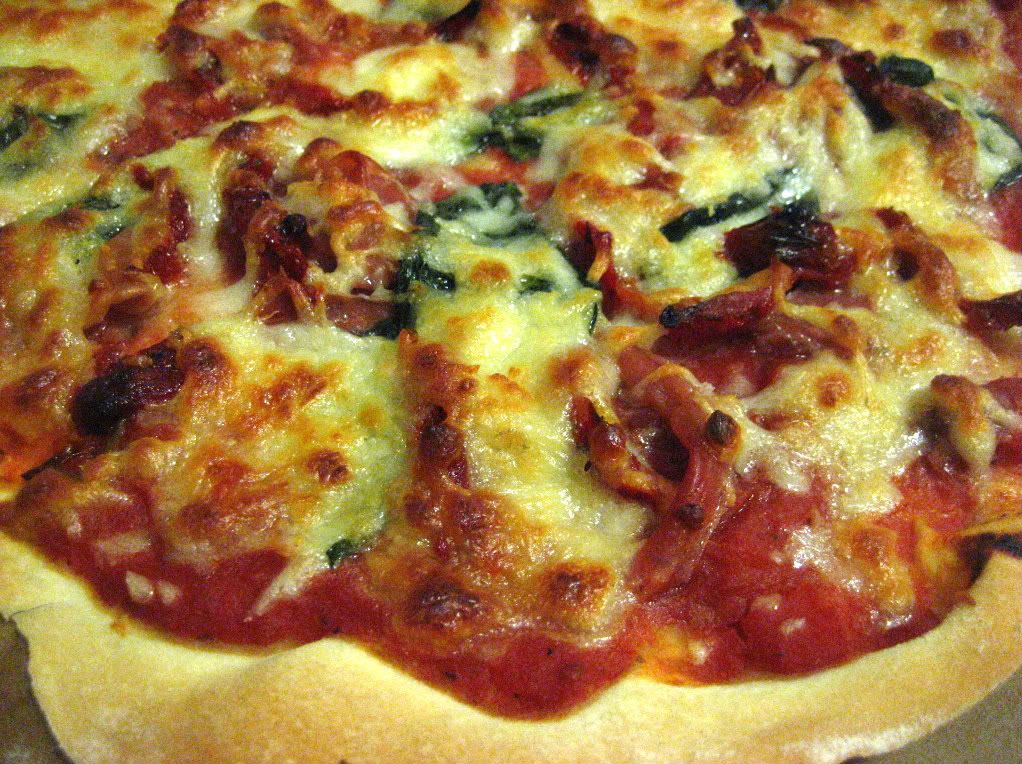 I tend to forget how easy it is to make pizza.  Shortly after El Hub and I got married and we were both in grad school, I would make pizza dough over the weekend, separate them into balls and freeze them.  During the week, I would thaw a ball the night before, and we would have some yummy pizza topped with cheese and pepperoni for dinner that night.
Well, since then I want to say that our tastes have evolved.  I mean, if you put a pepperoni pizza in front of me, I would inhale it in a second.  But it is more exotic when you say, "I had a prosciutto pizza for dinner", isn't it?
I am a huge fan of thin crust pizza; I love the crispiness and the simplicity of it.  However, I've had a bit of a tough time coming up with a good recipe for such type of crust.  I realized there was no need to reinvent the wheel when I came across this thin crust pizza recipe from Country Living.
Making the dough is very simple.  What is a bit time consuming is the fact that you have to wait for the dough to double – an hour.  Upon doubling, you have to punch the dough down and let it rise for an extra 30 minutes.  But let me tell ya, if you'd had a stressful day, punching this dough is a magical reliever.
Now, back to this pizza.  These are the things you will need:
Not pictured: chunky crushed tomatoes.  This was a last minute decision.  I was going to K.I.S.S (Keep It Simple Sweetie – see I am SO NICE!), by just topping it with cheese, prosciutto, basil and sundried tomatoes.  But El Hub didn't believe one could have a proper pizza without the tomato sauce.  I wanted to do it MY WAY was hesitant at first, but I conceded.  I am glad I did because it turned out delicious.  I can admit defeat.
So we begin with proofing the yeast.  Yeast, sugar and water.  Now, water temperature is VERY important: 110ºF to be exact.  No more, no less.  Goldilocks temperature, folks.  Set aside for 5 minutes, until you see a foamy looking cloud floating.
In a food processor, pulse some flour and salt.
Slowly add this slurry of yeast.
Follow by some olive oil.  You'll start noticing a dough forming.  It is zee pizza dough taking le shape.
Flour your counter surface and dump the dough ball over it.  Knead for a few minutes until the dough is stretchy, elastic.
Lube up a bowl with olive oil and dump the dough ball in there.  Cover said bowl with a damp towel and let the dough rest for an hour in a warm, draft-free little corner of your kitchen.  As I mentioned, this dough will double in size.
After an hour, uncover the bowl and punch down the dough.  Let it rest for another 30 minutes.
After 30 minutes have passed, the dough is ready for some massaging.
Pre-heat your oven at 350ºF.  If you have one, pre-heat a pizza stone in your oven for about 5 minutes.  If you don't have one, GO GET ONE.  It makes your pizza come out so crispy and delicious – AY DIOS MIO.
Flour your rolling pin and sprinkle some corn meal on your counter.  Divvy up the dough in two and roll out one ball with a rolling pin.  Use long, even strokes and roll this puppy out thin, about 12" in diameter.  Save the other ball for another pizza.
Place your rolled out dough on the warm pizza stone and blind bake for about 5 minutes.  Doing this will help in crispying up the dough so that it is not too soggy after you add all the toppings.  Take the pizza out of the oven.  Let the party begin.
Take some chunky crushed tomatoes and season them to taste with salt and pepper.  Pour this tomato sauce over the pizza crust.

Add the prosciutto and the basil. Mmm, doesn't it look delicious already?

Dump a pound of cheese Sprinkle cheese on top; I want to say  I used about half a pound. Notice I tried – key word: TRIED – to center the sauce and the toppings so that the crust cooks to a crisp. After this, pop it in the oven, and pray to the pizza gods for some patience.

And this is what it looks like after 30 minutes at 350ºF. We burnt the roofs of our mouths upon taking the first bite; we couldn't wait any longer. You probably won't be able to resist it either. Enjoy!
Here is the full recipe for the dough.
Country Living Thin Crust Pizza Dough
Yields 2 12-inch pizzas
Ingredients:
1 tsp active dry yeast
1 tsp sugar
3/4 cup warm water, 110ºF temperature
2 cups flour
1/2 tsp sea salt
1/4 cup olive oil
Preparation:
Stir, the yeast, the sugar and the water in a bowl and let it sit for 5 minutes.
In a food processor, pulse the flour and salt.  Add the yeast slurry through the feed tube followed by the olive oil, while continuing to pulse until a sticky dough starts to form.
Flour your counter and knead the dough for a few minutes until it is elastic.
Coat a bowl with some olive oil and put the dough in it.  Cover with a damp towel and set it to rest in a warm, draft-free area for an hour until the dough doubles.
Punch the dough down to deflate and let it rise for another 30 minutes.  After 30 minutes, divvy up the dough in two balls.  Flour your counter and add some cornmeal as well.  Place one ball of dough and flatten it with your hands.  Flour a rolling pin and work the dough until thin and about 12" in diameter using long even strokes.
Preheat your oven at 350ºF degrees and heat up a pizza stone for 5 minutes.  Place your pizza crust on the hot stone and blind bake for 5 minutes.
Add the toppings and bake for 20-30 minutes depending on the thickness of the crust and the toppings.  Remove when the cheese is melted and golden brown.