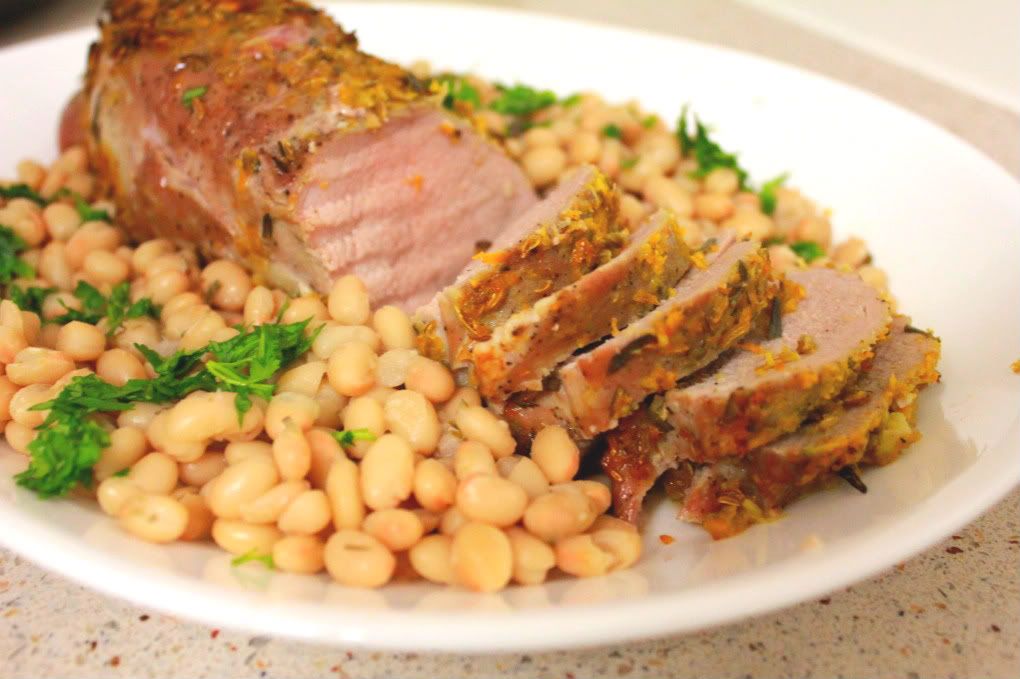 El Hubs and I have our own magazines.  I have In Style and Lucky; he has Men's Health and Men's Journal.  Almost the same…   But not quite.  In his case, both mags have basically the same content: how to bulk up, what cool gadgets to get, sex tips and, oh yeah – more exercise moves and more sex.  I am not against any of the aforementioned subjects, just to be clear.  However, I have to give kudos to Men's Health for their pretty freakin' rad recipes.  WHO KNEW?!  It is not only sex, people!
Anyways, one of the recipes on the January/February 2011 issue caught El Hubs' eye.  It was simple and healthy (well, uhm – it is Men's Health after all).  Since I know El Hubs has a pretty good eye for good things (me – exhibit "A"! ), we gave it a go.  Behold Porchetta-Style Pork Loin with White and Cannellini Beans.
The great thing about this recipe is that perhaps with the exception of the pork loin, you most likely have everything else in your pantry.  Prep time is quick, although if you choose to let the pork marinade, it takes a bit longer.  My advice?  Let it marinade; it is well worth it.
The cast of characters: pork loin, white and cannellini beans, garlic, orange zest, lemon juice, rosemary, fennel seeds.  Ignore the electrical outlet in the background.  It's called I live in a small apartment with a tiny kitchen…
On a cutting board mince the garlic.  Note I say mince – I didn't and it took more elbow grease using the mortar and pestle.  You'll see.  On the same cutting board, chop about 1 tablespoon of rosemary.  I forgot to take a picture of this procees, but I suppose you know what that looks like.  I'll try to remember next time.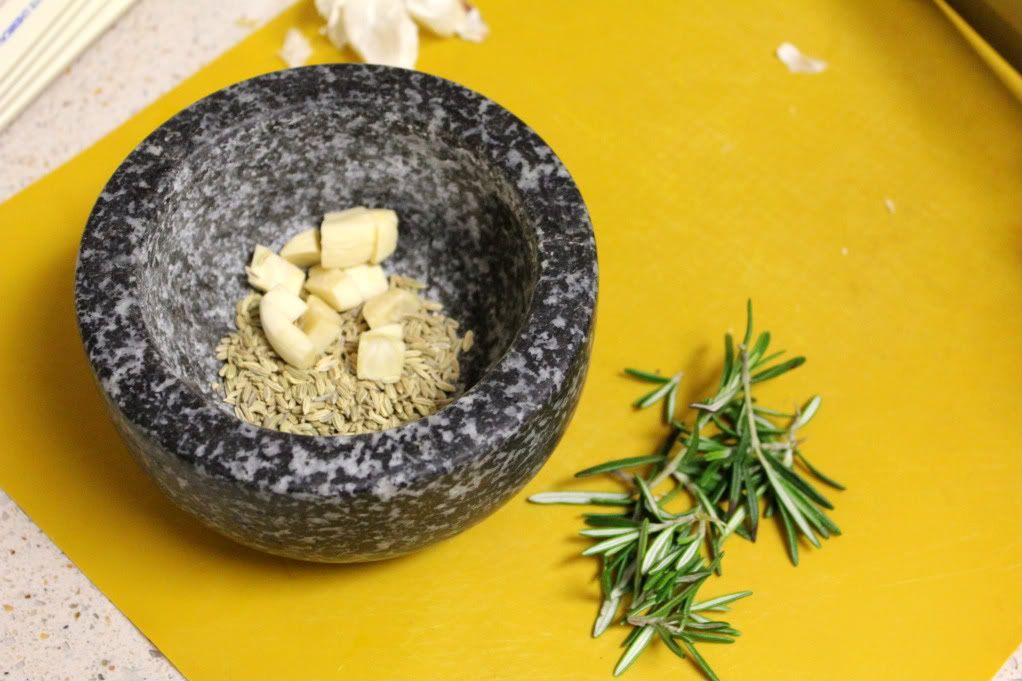 In your mortar and pestle combine the fennel seeds, the garlic and the rosemary.  If you don't have a mortar and pestle, don't fret -just chop and mince everything on your cutting board.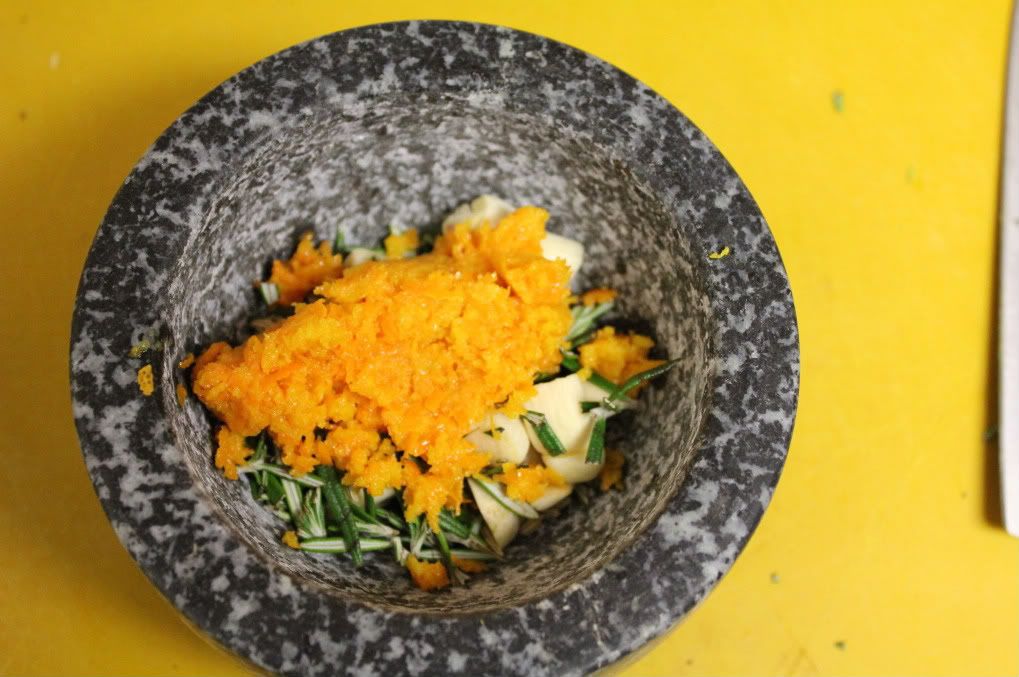 Add the zest of the oranges.  It already smells delicious.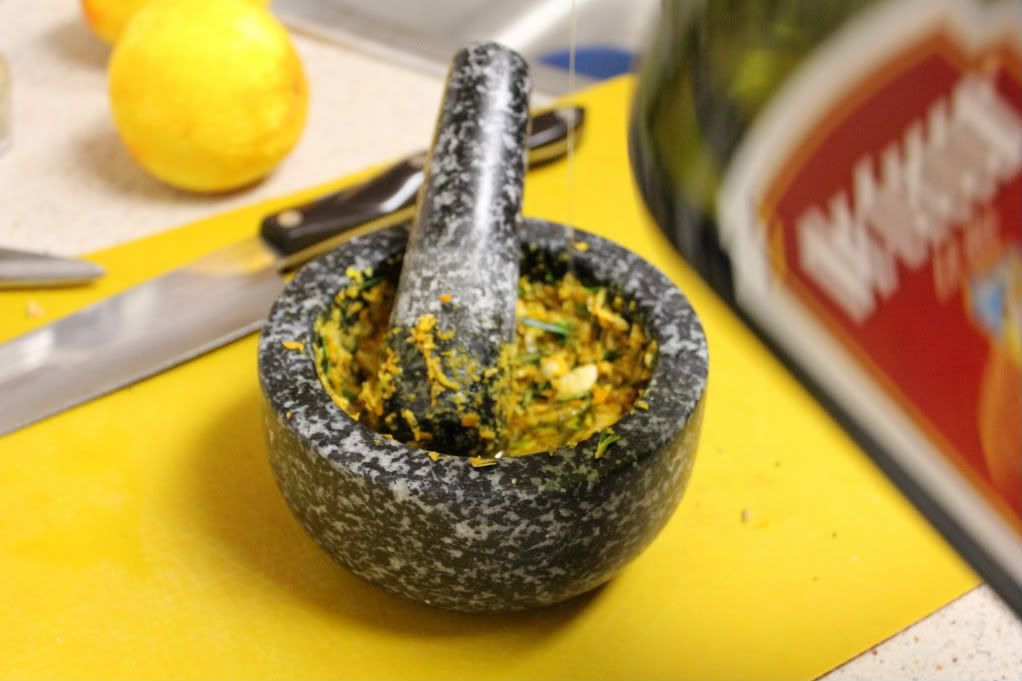 Add some olive oil…
…  And mash away until you have a paste.
Season your pork loin with salt and pepper.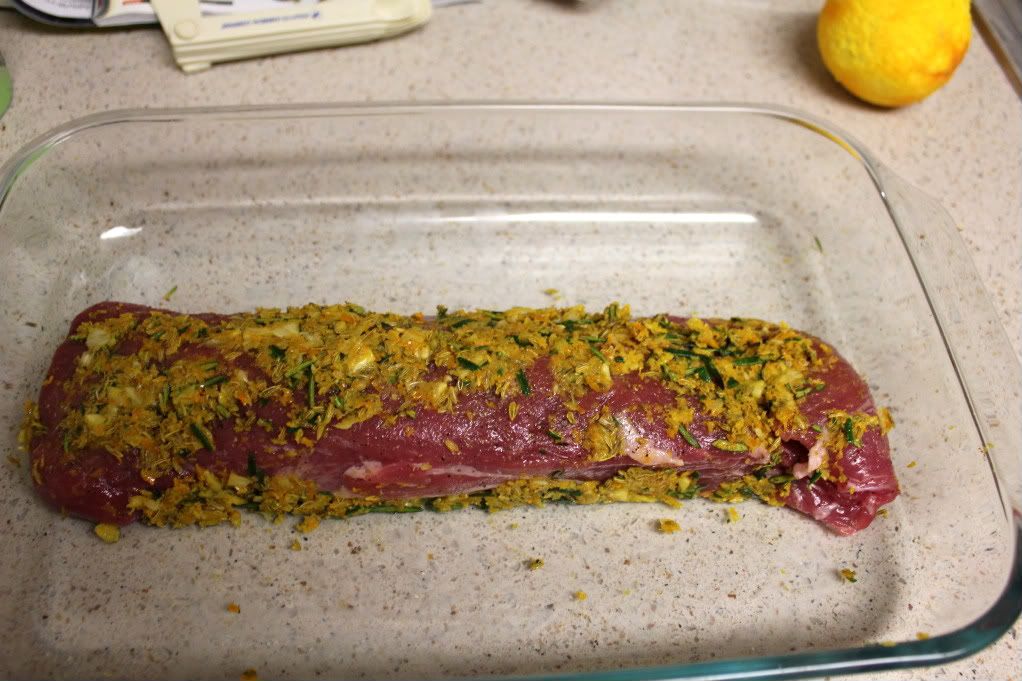 Rub the paste all over the pork loin.  Rubbing – very therapeutic.  If you like, you can marinade this sucker for up to 4 hours in the fridge.  I marinated it for 2 hours.  During that time, El Hubs and I hit the gym.  Burn some before you consume some – that's my motto.  Stick it in the oven for about 25-30 minutes, until the internal temperature reaches 160F.  I actually left it in the oven for about 35-40 minutes.  It all depends on your oven so always check!
In a sauce pan, heat up your drained beans with lemon juice, salt, pepper and some more chopped rosemary.  As you can see, some lemon seeds fell in there so watch out for those.  I've never thought about eating beans like this before.  They were AMAZING and so simple!  I told a really good friend of mine about this discovery, and her response was, "Oh, yeah.  I do that all the time."  Clearly, I have been living under a rock.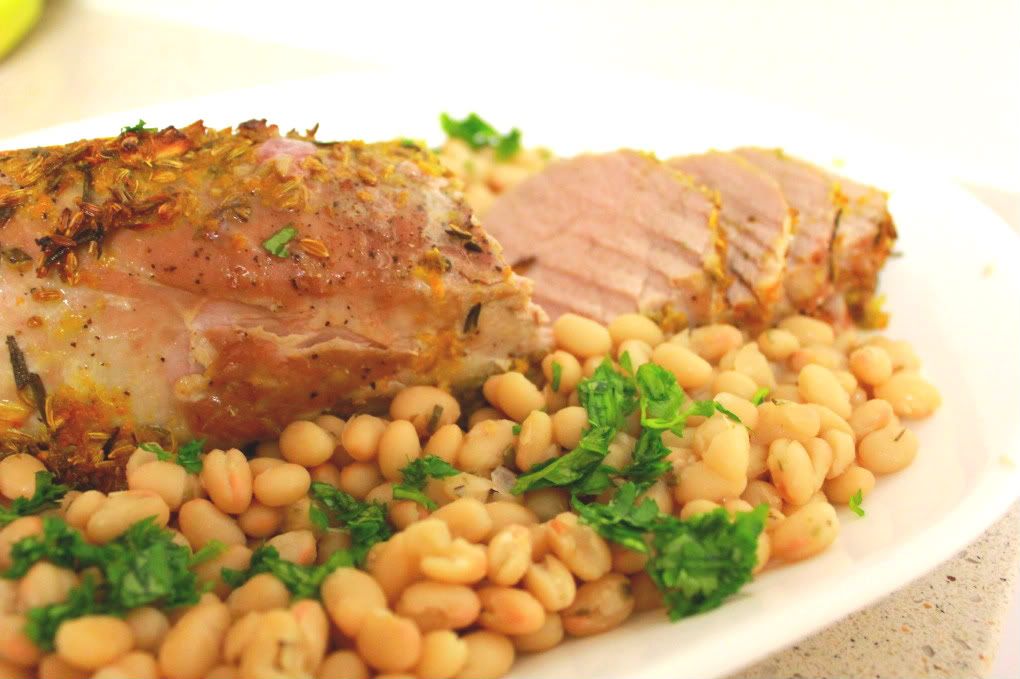 Take your pork out of the oven and let it rest for about 10 minutes.  Cut in slices and serve it with those yummy, lemony beans.  You are welcome.
Porchetta-Style Pork Loin with White and Cannellini Beans
Makes 6 servings
You will need:
3 garlic cloves, minced
Grated zest of 2 oranges
1 tbsp fennel seeds
1 1/2 tbsp fresh rosemary
1 tbsp olive oil
Salt and pepper to tast
1 pork loin (about 2 lbs) with a thin layer of fat still attached
2 cans of cannellini beans or white beans, or a combination of both, drained
Juice of 1 lemon
How to make it:
Preheat the oven to 450F.
On a cutting board (or using a mortar and pestle) combine the garlic, orange zest, fennel seeds and 1 tablespoon of rosemary.  Chop or grind the mixture until it forms a paste.  Scoop it into a bowl, and add the oil.
Season the pork loin with salt and pepper and rub it all over with the paste.  If you like, you can let the pork loin marinate for up to 4 hours in the fridge before cooking.
Place the pork loin in a roasting pan and bake until a thermometer inserted into the middle reads 160F, 25 to 30 minutes.  Take the meat out and let it rest 10 minutes.
In a saucepan, heat the beans, lemon juice and remaining rosemary until warmed through.  Season with salt and pepper.
Slice the pork and serve it with the beans.