When we got married, I was determined that my husband would always have delicious, filling, homemade meals that welcomed him home after a long day of work.  Fast forward 10-plus years later, and the meal that normally awaits us both is either a bowl of cereal or tacos from the taquería across the street.  By the way, those are delicious.
So when we have time to cook, which is normally on Sunday nights, we make something that would lasts us for most of the week.  In that way, we don't fill ourselves with unnecessary fats…  And leave those for the weekend.
We both are suckers for pasta, and more often than not, we ALWAYS crave lasagna.  The beautiful thing about lasagna in my opinion, is that you can make it anyway you want.  You can use meat or vegetables; use a tomato-based sauce or maybe just a white sauce, or both.  No-boil noodles is a no-brainer.  And c'mon.   Anything that has cheese – I'm sold!
While lasagna is not a native Ecuadorean meal, my mom used to make lasaña at least once a month.  After all, Ecuador has a large European influence, thanks to Cristóbal Colón.  I don't necessarily know that he brought over the lasgana, but someone did.  So back to my mom and her lasaña.  Carne molida, a.k.a. ground beef, wasn't too expensive, so we got to indulge in it.  My mom used to make her lasaña with Salsa Blanca, a white sauce made with a flour-butter roux.  For all of you my foodies, you know what this sauce is, no?  But of course, c'est Béchamel.  She would layer some Queso de Hoja, which is basically mozzarella cheese, and layer jamón – Virginia ham – in between the sauce and the meat.  That was her way of making it, and I will make that version in the future.  THIS is how we make it – la lasaña de MI casa.   I've always felt that as a family of husband + wife + tuna-eating cat, in addition to cherishing and maintaining traditions we both had growing up, we create our own.  Lasagna is a dish we love to make together, and it is a great way to bond and forget about the rat race our lives have become.  Do you have a special dish you love cooking with your loved one?
By the way, I have a few secrets I will share with you that will make a world of difference in YOUR lasagna.
Alright.  Let's leave the cheese for the lasaña and get started.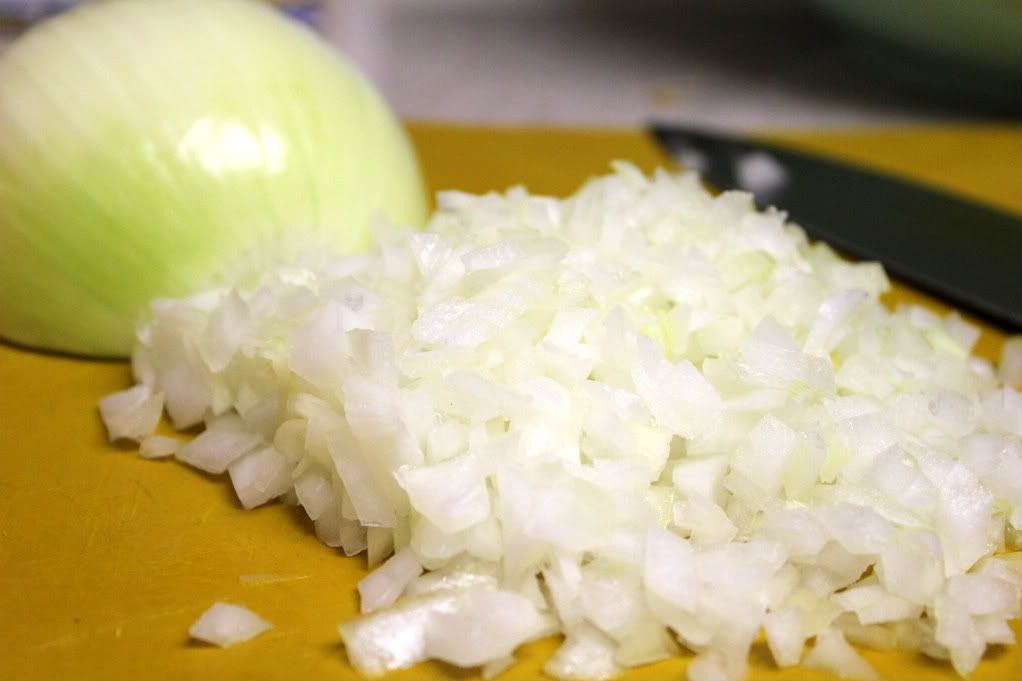 Chop 1/2 white onion into small pieces.  Don't cry.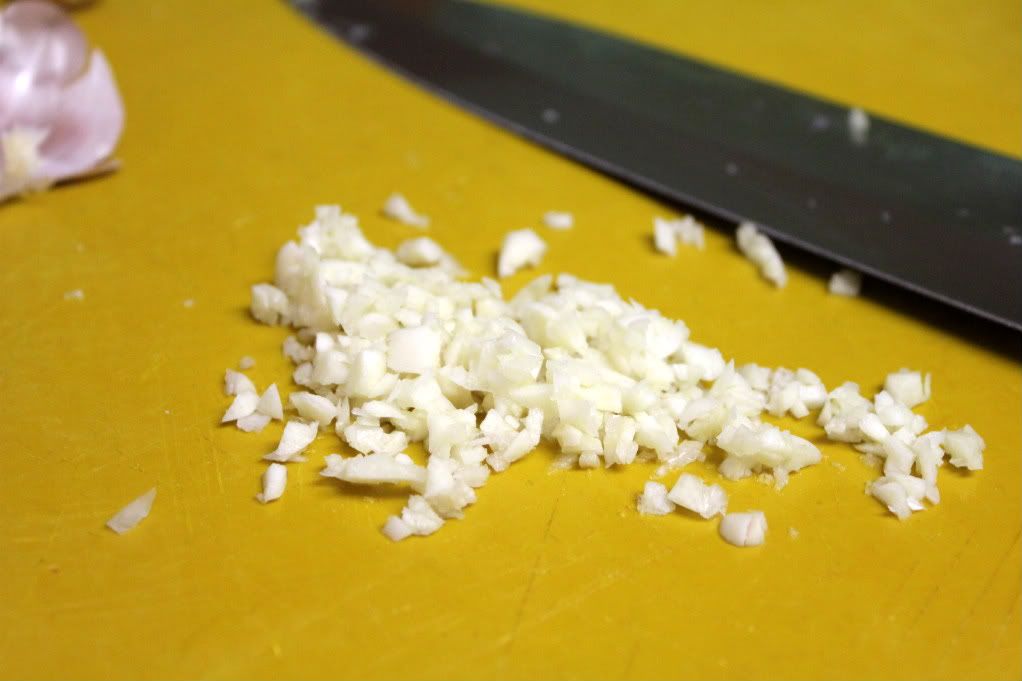 Mince 3 cloves of garlic.  Again.  Don't cry.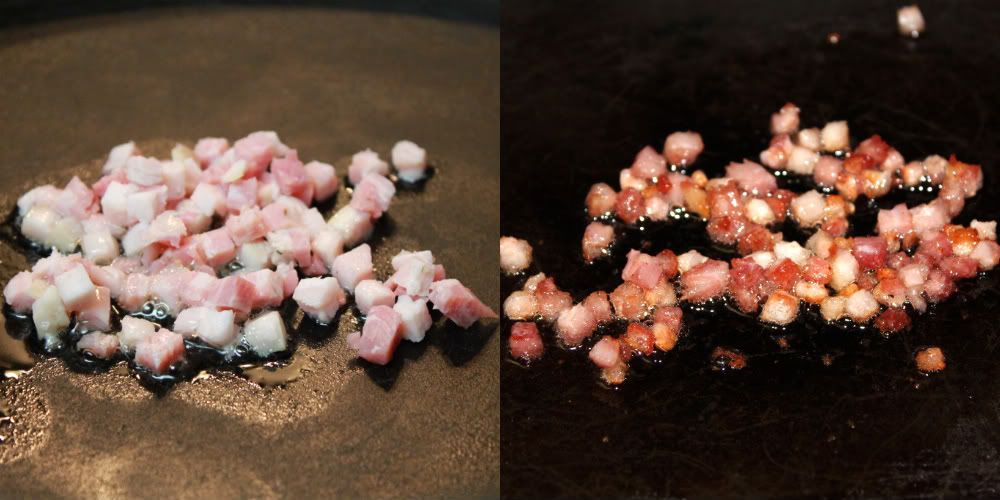 Here is mi secreto número 1: render 2 tbsp of pancetta in some olive oil.  The flavor is so good and it is perfect for sautéeing the onions and the garlic.
Here is mi secreto número 2: use hot, spicy italian pork sausages and combine them with ground turkey.  Just remove the casings from the sausages and you're good to go.  I used half a pound of each.  Adjust for seasoning with some salt and pepper.  Once browned, remove from the heat and set aside.
Take the other half of the onion and mince it.  I suppose you could chop the whole onion at once and use half for the meat and reserve the other half for later.   AND, you'll only cry once.  FAIL at mise-en-place… Oh well.  Sautée the onions in some olive oil.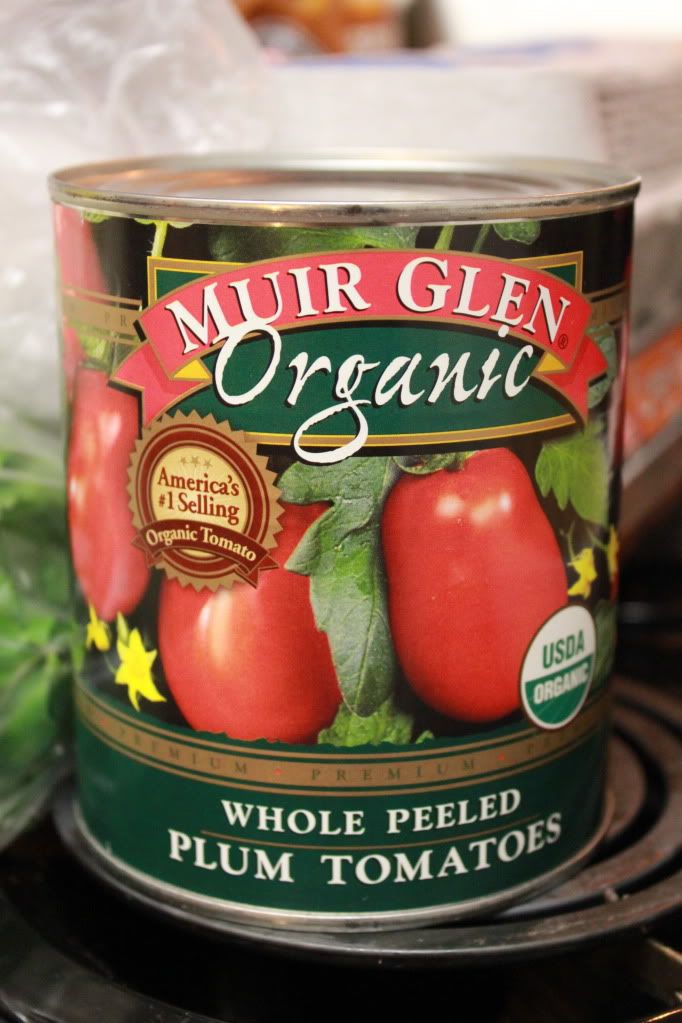 Next, grab one of these…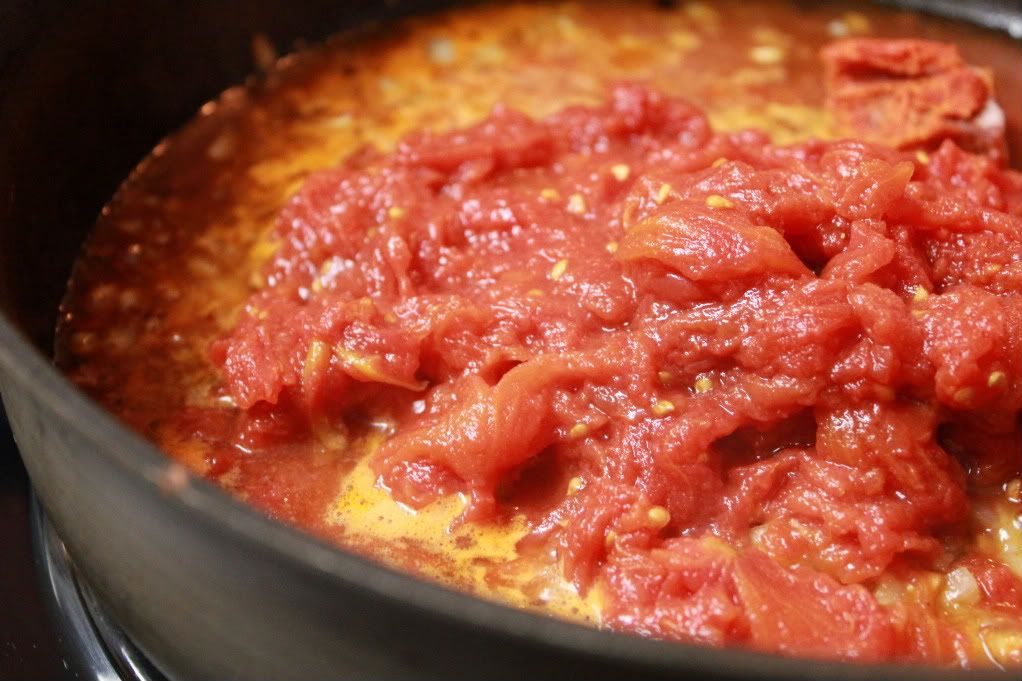 And crush them in the same pan where you're sautéeing the onions.  Add the juice of the canned tomatoes and you've got the base for your tomato sauce.  Season with salt and pepper to taste.
Add a few hot pepper flakes…  By the way, El Señor Hubs said my hands look old in this picture… I think he has forgotten about the gray hairs in his beard.  Although.  Who am I to talk?  I have gray hairs all over my head.  My hand is the least of my worries… And Clairol # 4 is my best friend.
Anyway.  And some dried oregano.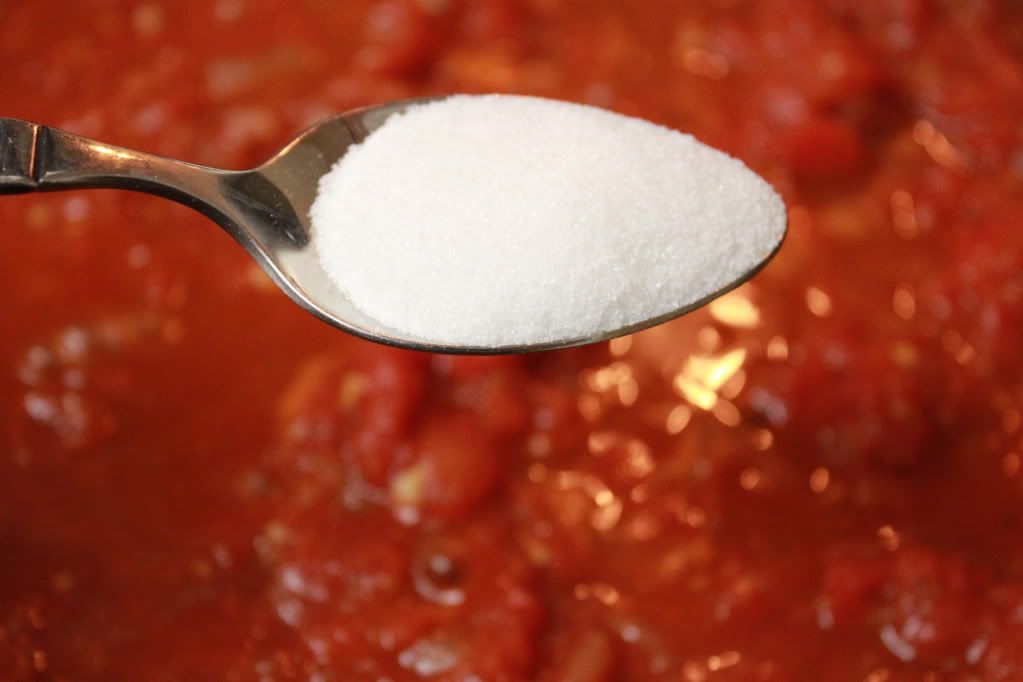 And here is mi secreto número 3:  Add a teaspoon of granulated sugar to your sauce.  It will help cut some of the acidity of the tomatoes.  It makes a big difference.  Try it.  Then invite me over when you make the lasaña.
Put the meat back in the pan and simmer in low heat for about 20-30 minutes to marry all those yummy flavors.  Should your sauce dry up, add a 1/4 cup of water and adjust seasoning if necessary.
Now, let's prepare the cheese sauce for our lasaña.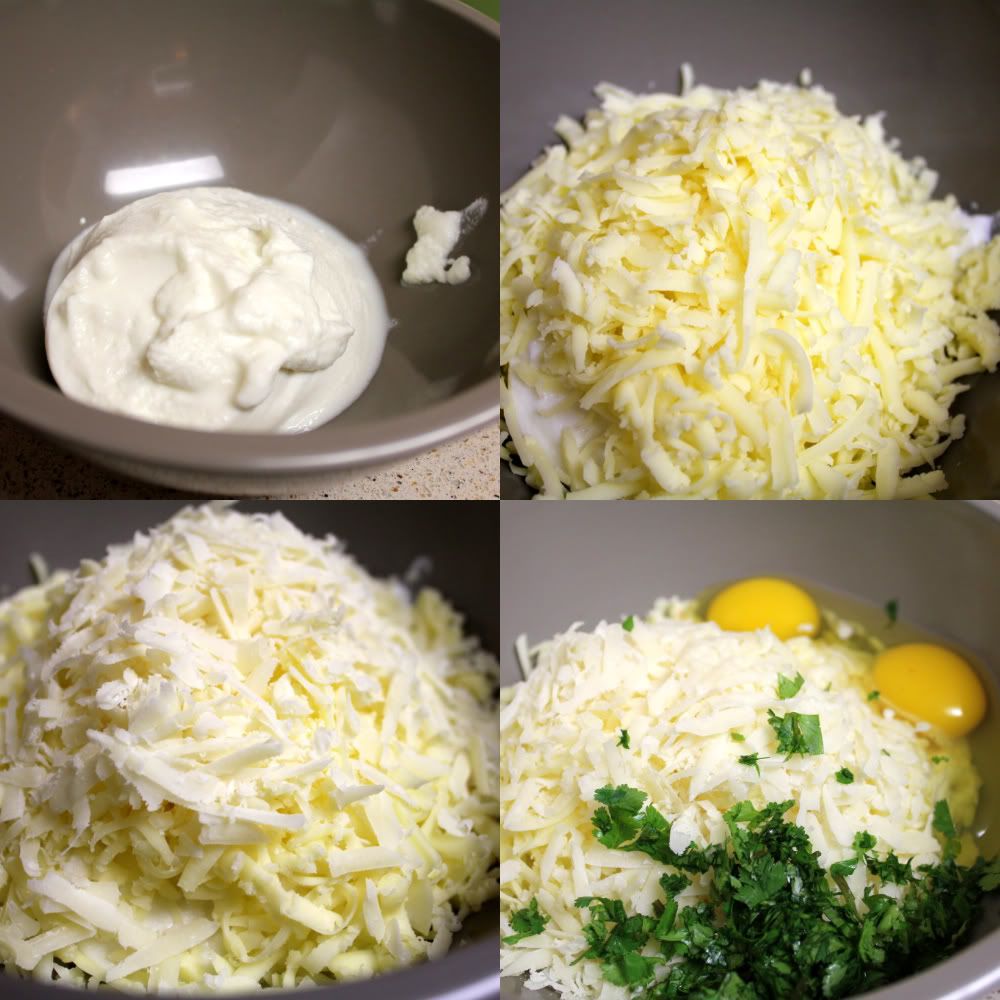 In a bowl, mix the ricotta, mozzarella, parmesan, eggs and cilantro.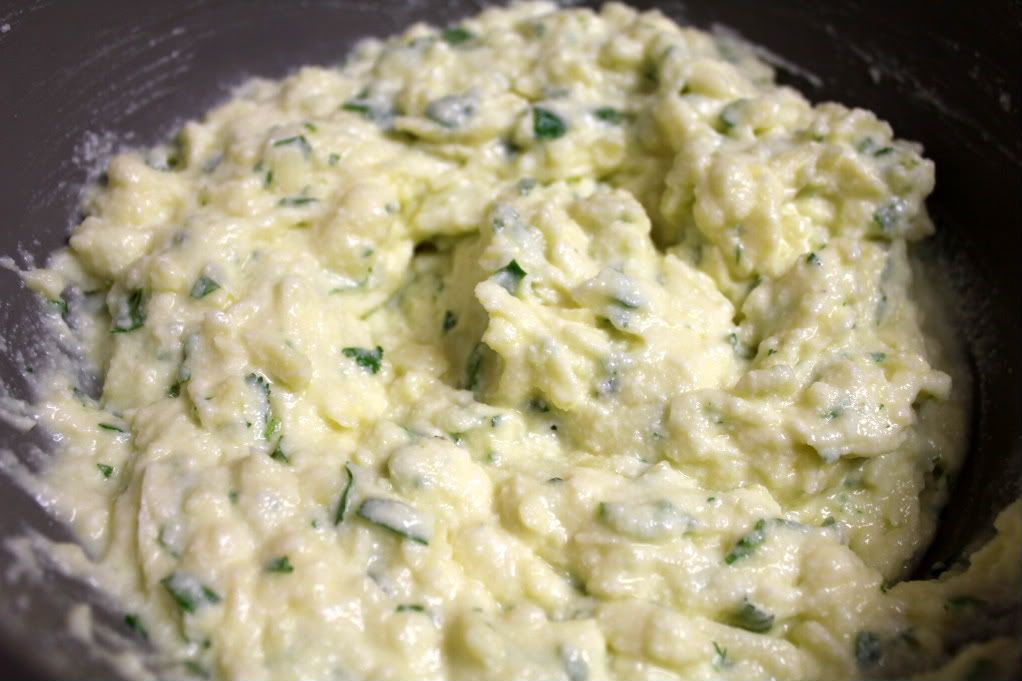 Mix all the ingredients; you will have a chunky cheese sauce.  Now, we are ready to layer our lasaña.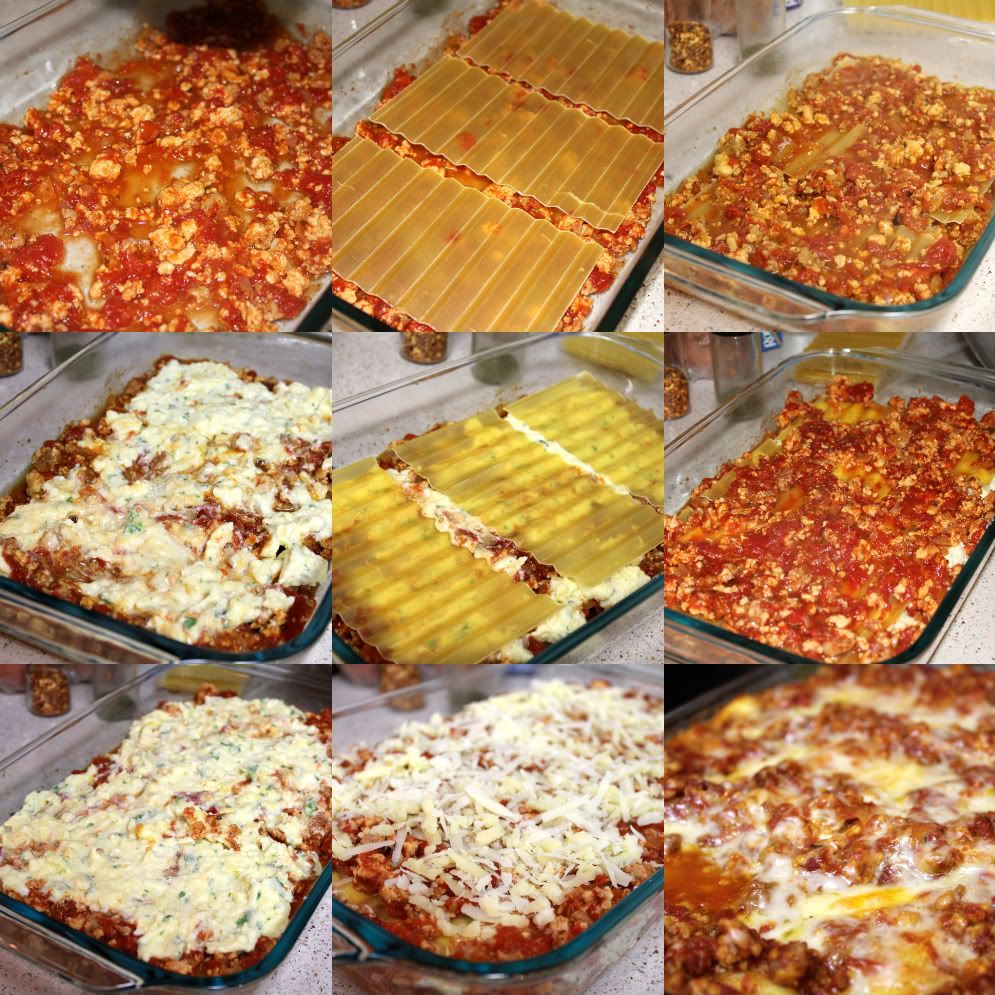 Ladle some of the meat sauce at the bottom of the pan.  Layer the no-boil noodles, followed by another layer of the meat sauce.  Spread some of the cheese sauce followed by another layer of the noodles.  Ladle more meat, followed by the cheese spread and top it off with extra shredded mozzarella and parmesan cheese.  Cover with aluminum foil.  Bake in a 350F oven for about  30 minutes.  Remove the foil and bake for another 10-15 until hot and bubbly.  Remove from the oven.  No, you have not died and gone to heaven.  However, you must let it rest for about 5 minutes before you dissect this deliciousness.  Here, have another look.
Garnish with chopped cilantro and some more grated parmesan cheese…  Se me hace agua la boca…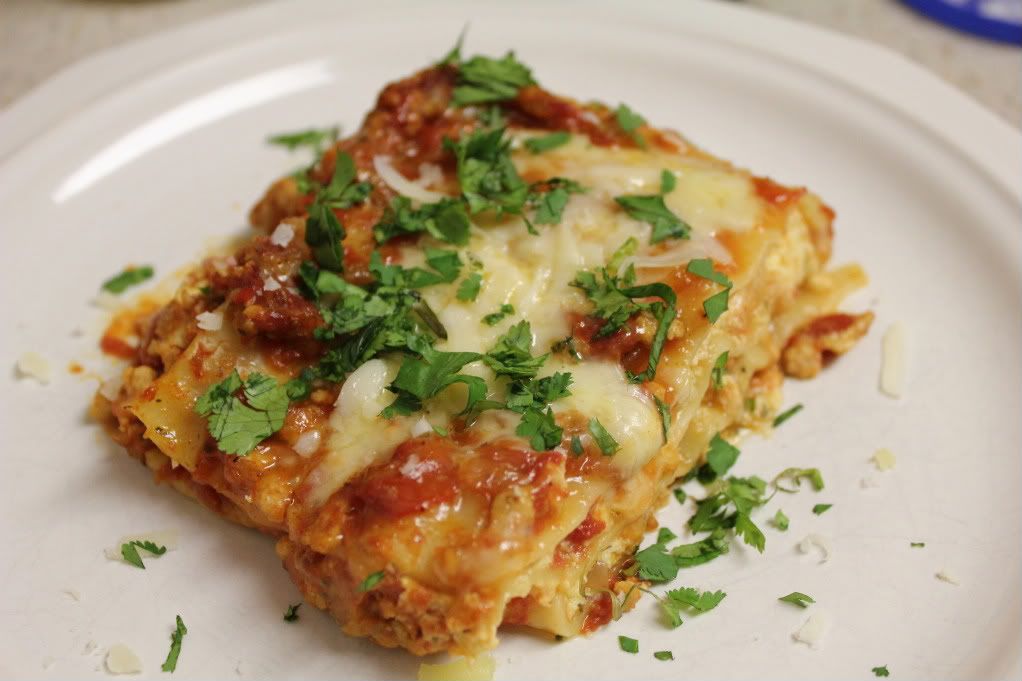 Ingredients
Meat-tomato sauce

1 medium white onion, minced
3 cloves of garlic, minced
2 tbps of cubed pancetta
1/2 lb hot/spicy italian sausage, casings removed
1/2 lb lean ground turkey
1 16-oz can of whole plum tomatoes
1 tsp hot red pepper flakes
1 tsp dried oregano
1 tsp granulated sugar
olive oil
salt and pepper to taste

Cheese sauce

12 oz ricotta cheese
8 oz mozzarella cheese, shredded
1/2 cup grated parmesan cheese
2 eggs
2 tbps chopped fresh cilantro

Lasagna:

9 pieces of oven ready lasagna noodles, uncooked
Instructions
Meat-tomato sauce:

Render the pancetta in olive oil. Add 1/2 of the minced onion and the 3 cloves of garlic. Sautée the onion and garlic until the onion is transparent. Add the sausage and the turkey and cook until browned. Remove from the heat and set the meat aside.
Heat up more olive oil and sautée the other 1/2 of the minced onion. Add the plum tomatoes, crushing them with your hands. Add the juice of the tomatoes to the pan. Season with the red pepper flakes, the oregano, salt and pepper, and the sugar. Simmer for about 10 minutes.
Add the meat to the tomato sauce and simmer all together for about 20-30 minutes on low heat. Should your sauce dry, add 1/4 cup of water and adjust for seasoning.

Cheese sauce:

In a bowl, mix the ricotta cheese, 6 oz of the shredded mozzarella cheese, 1/4 cup parmesan cheese, the eggs and the cilantro.

Assembly:

Preheat the oven at 350F.
Ladle some meat sauce on the bottom of a 9x12x2 oven-safe pan. Layer three pieces of the noodles. Ladle more meat and spread some of the cheese mixture. Repeat the process with the remaining 6 pieces of noodle. Finish the lasagna with another ladle of meat sauce. Sprinkle the remaining mozzarella cheese and parmesan cheese. Cover the pan with aluminum foil.
Bake for about 30 minutes covered. Remove the foil and bake for another 10-15 minutes until hot and bubbly. Remove from the oven and let the lasagna rest for 5 minutes before cutting.
Serve with extra grated parmesan cheese and chopped cilantro.
http://www.tstastybits.com/2011/03/la-lasana-de-mi-casa/
T\'s Tasty Bits, 2009-2012