Among our circle of close friends and family in Ecuador, it was Tia Lorena whom you called when you needed Christmas decorations, wedding decorations, birthday party decorations…  You get my drift.  The woman does wonders with her hands, a glue gun and ribbons.  Tia Lorena is an expert in manualidades.  Rounding her creativity was her knack for baking.  For as long as I can remember, my aunt was not a very good cook (and she'll admit to this), but MY GOSH can she bake!  She can whip up desserts that will knock your socks off!  Alfajores is one of them.
Alfajores are white, cake-like cookies filled with dulce de leche.  And in case you didn't know, dulce de leche is the most awesome thing ever. Between dulce de leche and Nutella, I find it tough to chose which one I want to be buried with when I die.  See my previous post for the Dulce de Leche recipe.
In South America, everyone and their mother claims alfajores as their own.  And hereby I declare that alfajores are  a typical Ecuadorean cookie.  THERE!  YOU HEARD ME!  Now, I believe in Argentina (and someone please correct me if I'm wrong), the alfajores' edges are covered in dried coconut.  I don't remember eating them this way, but then again, there are many things I don't remember.  I've eaten other versions that have almond meal in them, which makes them more like sandtarts.  This version I am sharing with you is what I remember eating growing up: delicate, cake-like, soft, scrumptious, heaven…
My aunt's alfajores recipe is in grams, but I also offered the conversion in cups.  If you have a kitchen scale (I don't but I am considering one), I recommend sticking with grams.  Let me know which method you used, and email me if you are stuck or have any questions.
Another thing you will need when making alfajores: cognac.  I know.  I had you at cognac.  Every time I think of cognac, I think of Curvoisier.  And every time I think of Courvoisier, I think of this guy:
In order to keep recalling scenes from The Ladies Man and giggling uncontrollably while spilling cornstarch everywhere, I asked El Señor Hubs to buy me some Hennessy instead.  It doesn't matter what you get.  The point is: you need cognac.  You might as well pour yourself a glass while you're at it.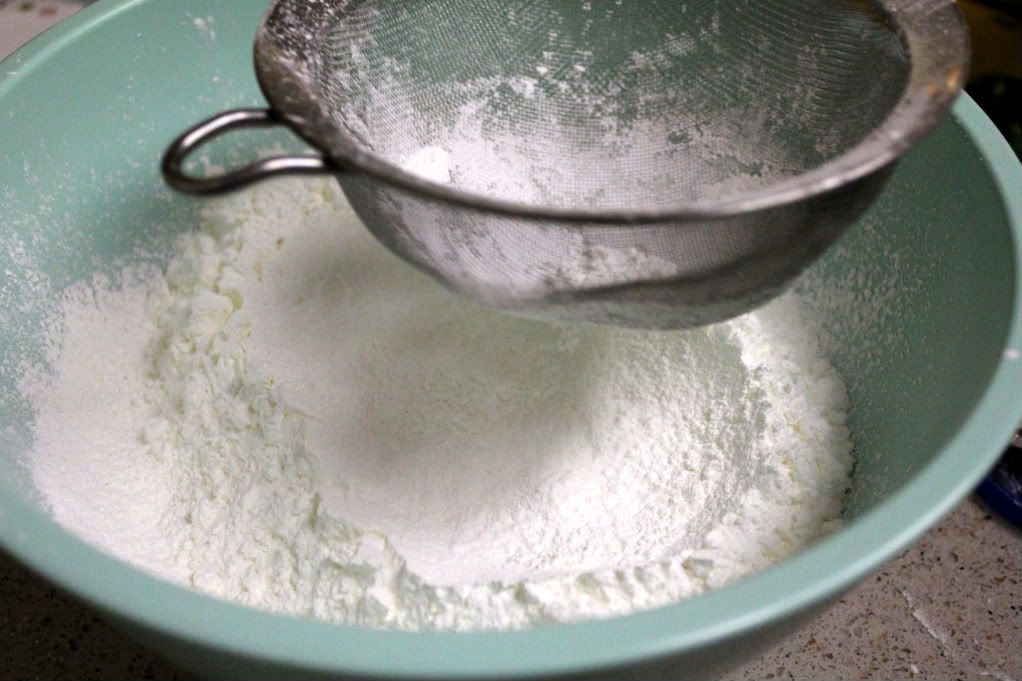 Start by sifting the flour, cornstarch and baking powder in a bowl.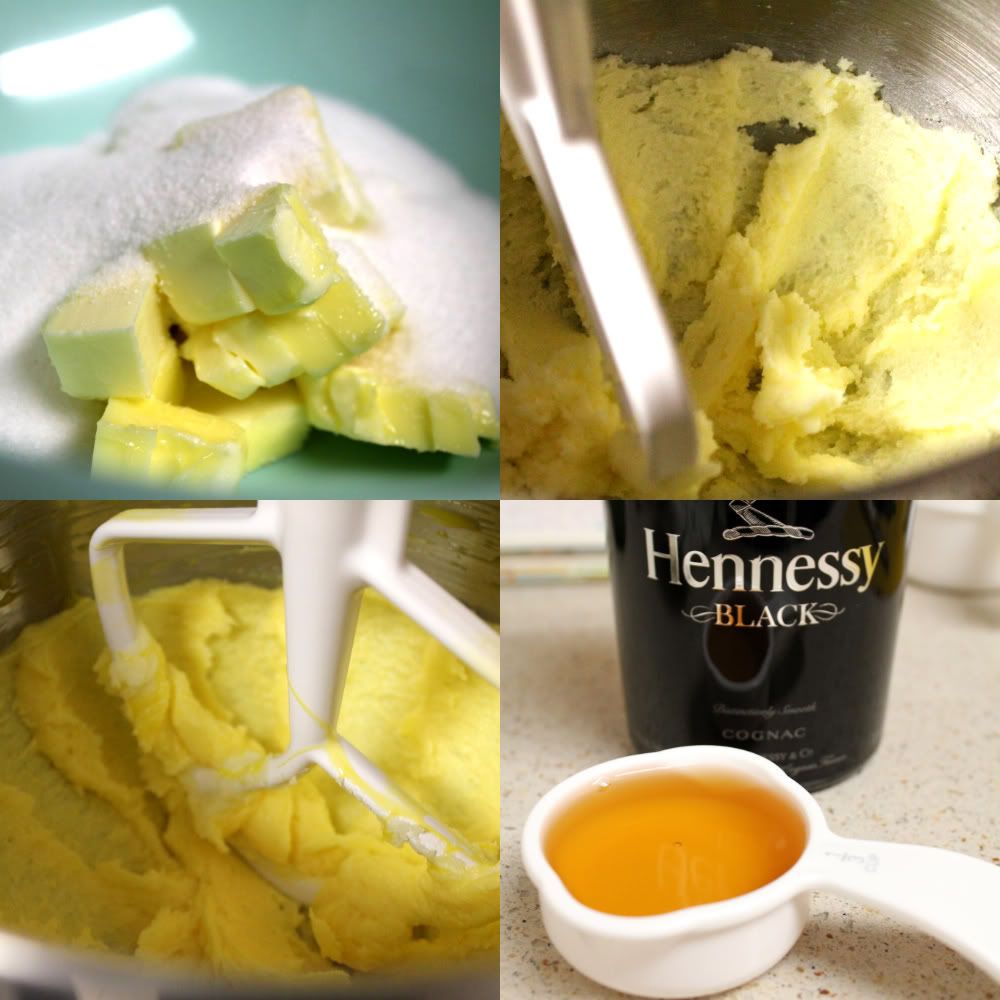 Cream the sugar and butter, and add the yolks, the egg white and the cognac.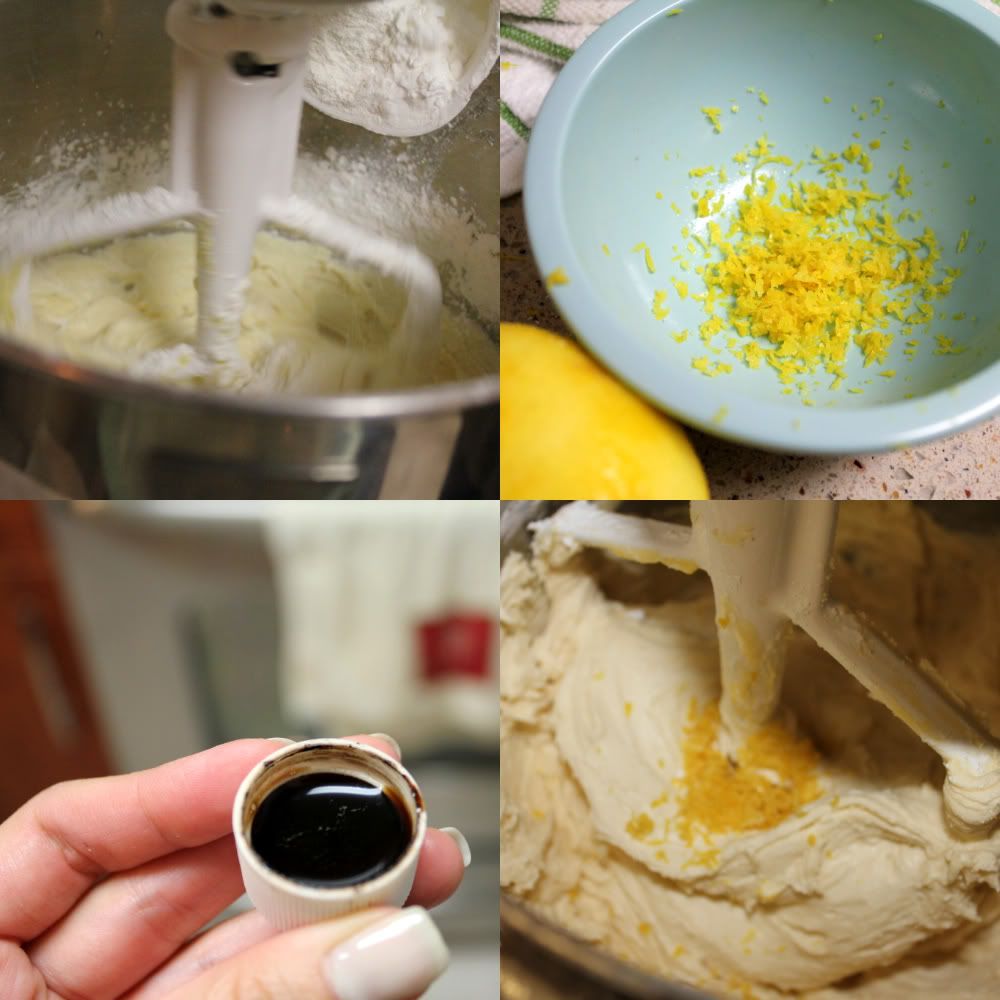 Slowly add the cornstarch mixture.  Add the lemon zest and the vanilla extract.  You are going to end up with a smooth batter, which will be too sticky to handle right off the bat.  In order to make it malleable, put the batter in the fridge for about 10-15 minutes.
After the 10-15 minutes have passed, you will be able to scoop out the batter from the bowl, and form it into a dough that will look like the above.  Dust your counter where you will work the dough and your rolling pin with cornstarch.  It is VERY IMPORTANT YOU DO NOT USE FLOUR!  Cornstarch will keep thinks light.  This dough is amazingly mushy; mushier than soft Play-Doh.  Squeezing that cold, soft dough in between your fingers is so relaxing…
Roll out the dough to about 1/4 inch thick.  With a scalloped cookie cutter (mine was a 2-inch diameter cutter), cut your cookies.  I recommend you also dip your cookie cutter in cornstarch to make the cuts.  Your batter may stick to the counter, so always have cornstarch handy to sprinkle over and underneath.  Place your cookies on a cookie sheet covered with parchment paper or Silpat.  Should your dough become too sticky, put it in the fridge again for another 10-15 minutes.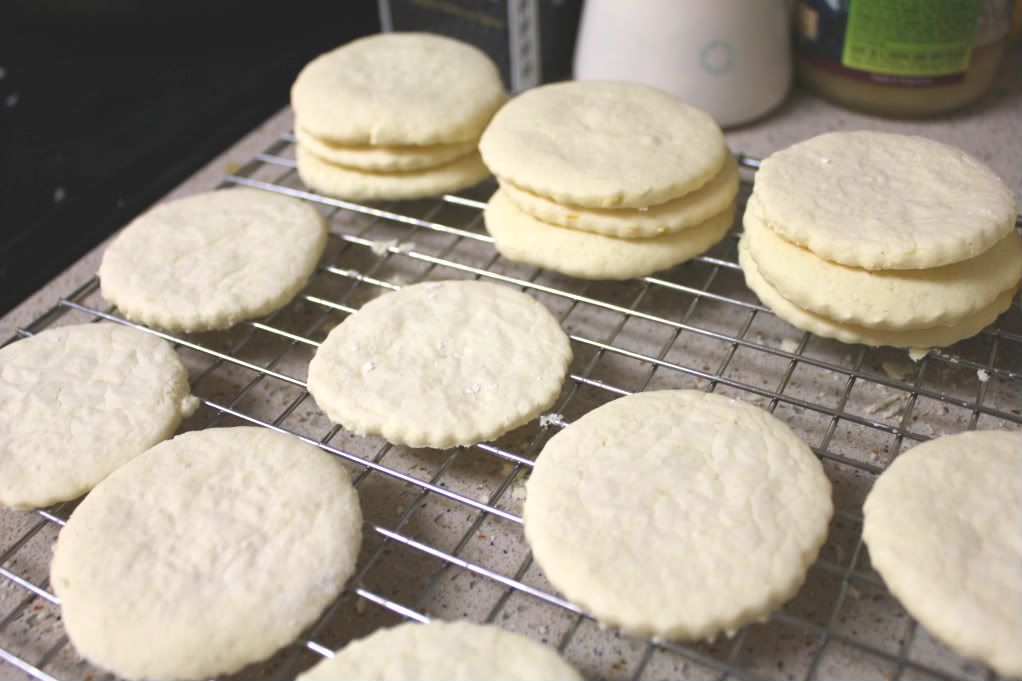 Bake in a 350F oven for about 10 minutes.  Your cookies be soft and delicate, so handle them carefully.  Place the baked cookies on a wire rack and let them cool off for about 10 minutes.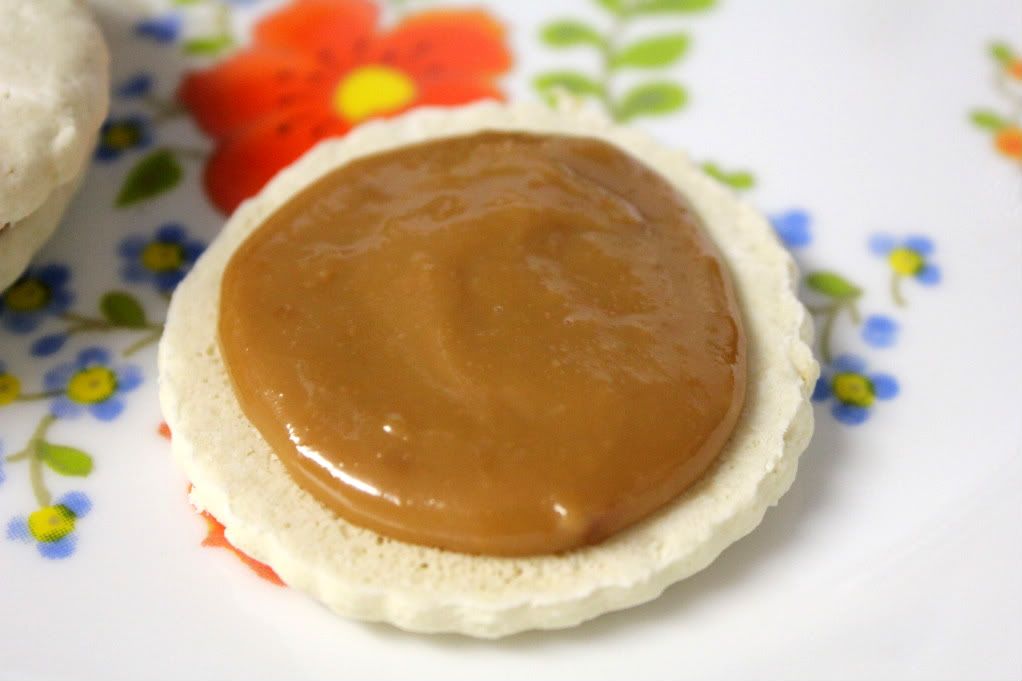 Once cooled, spread some dulce de leche on a cookie, making sure you contain the filling to the center of the cookie.  For me, this batch yielded 40 cookies which made 20 alfajores.  It will vary according to the size of cookie cutters you use.
Place another cookie on top and form a sandwich.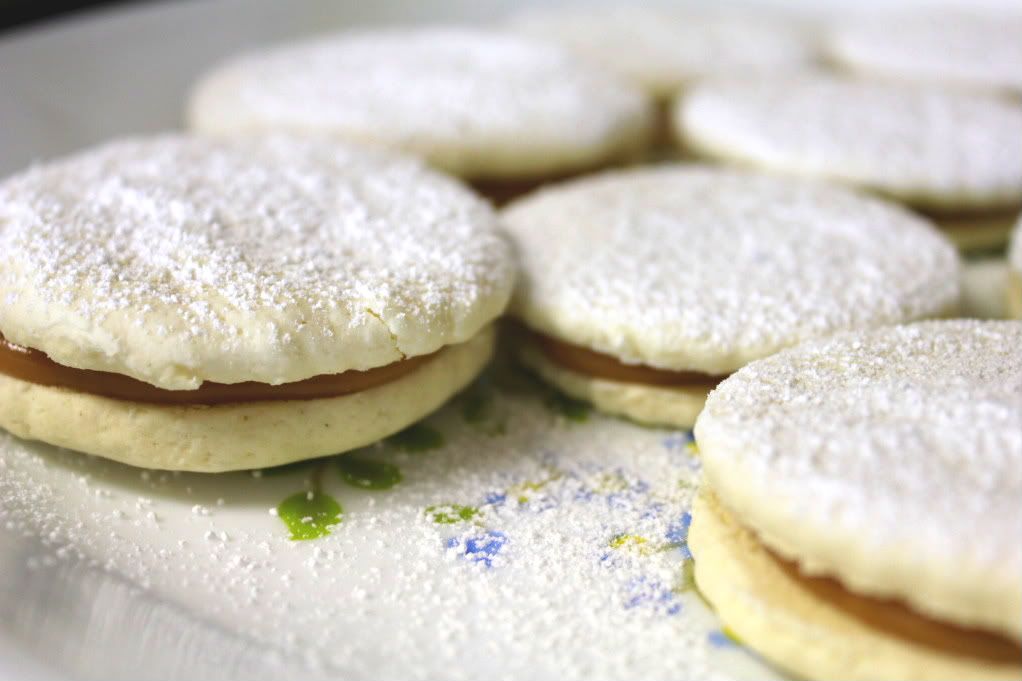 Dust the alfajores GENEROUSLY with confectioners sugar.  Inhale immediately.
Los Alfajores de la Tia Lorena
Ingredients
150 grams (2/3 cups) unsalted butter, room temperature
200 grams (7/8 cups) granulated sugar
3 egg yolks + 1 egg white
1/3 cup cognac
300 grams (2 5/8 cups) cornstarch
100 grams (7/8 cups) flour
1/2 tsp baking powder
1 tsp pure vanilla extract
Zest of 1 lemon
Instructions
In a bowl, sift the flour, cornstarch and baking powder.
In a stand alone mixer, cream the butter and sugar on medium speed. Add the egg yolks, the egg white, and the cognac.
Lower the speed and slowly add the cornstarch mixture. Add the vanilla extract and the lemon zest.
You will end with a smooth batter that will be sticky. Put the batter still in the bowl in the fridge for about 10-15 minutes.
Preheat the oven at 350F.
Powder your countertop and your rolling pin with cornstarch - NOT FLOUR! Roll out the dough to about 1/4 inch thick.
Using a scalloped round cookie cutter, cut cookies, and bake them on a cookie sheet lined with parchment paper or Silpat for about 10 minutes. These cookies will the soft and delicate; make sure you don't over cook them. Place the cookies on a wire rack and let them rest for about 10 minutes until cool.
Spread some dulce de leche on one cookie and top it with another one to form a sandwich. Dust generously with confectioner's sugar.
http://www.tstastybits.com/2011/03/los-alfajores-de-la-tia-lorena/
T\'s Tasty Bits, 2009-2012