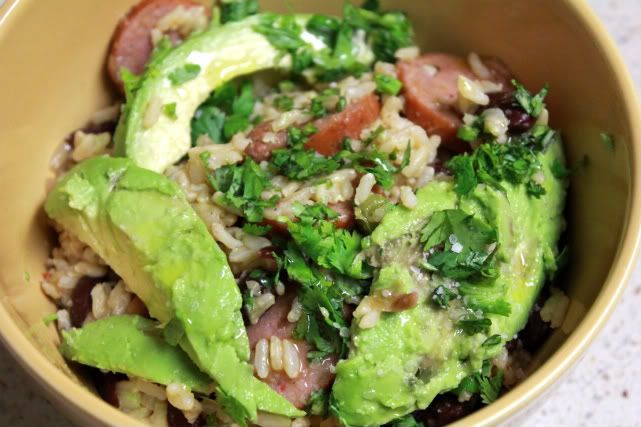 I love rice and beans.  In the early days of T's Tasty Bits, I posted a rice and beans recipe accompanied by a dark picture which I tried to make pretty using computer software, which is clearly NOT Photoshop.  In that version, I used chicken sausage and also corn.  Pretty simple.  It fills your stomach.  And you can go about your day.  This time, I wanted to step up my rice and beans game.
First, I wanted to add a bit more of a complex taste to my rice.  I have to admit that lately, I've been cheating when cooking rice.  I have been using a rice cooker.  It is so much easier, and it is one less thing to monitor.  So back to the rice.  In order to add a layer of flavor, I added star anise, a few cloves and a couple of bay leaves to the water.  The result is an aromatic rice with a hint of spice.  Pure awesomeness.
In order to keep the spice theme but give it a kick, I used andouille sausage.  You can use kielbasa or other type of sausage, but I love the hint of heat andouille sausage has.  I sautéed the sausage with some onions, garlic and green peppers for extra flavor.  For the beans, I used good ol' canned beans.  I went with two kinds: red kidney beans and pinto beans.  I also sautéed these along with the sausage and the onions and peppers, to ensure a uniform taste.  Finally, I served it with avocado slices drizzled with olive oil and sea salt.  The outcome was a smokey, spice-infused rice with sausage and beans that will result in a party in your mouth.
Prepare your rice according to the directions on the package; I used a rice cooker.  In this case, I used brown rice (Go FIBER!).  I made 3 cups of rice, which resulted in about 5-6 servings.    However, the key thing to remember is to season your water.  I used 2 star anise, 5 whole cloves, 2 bay leaves, and 1 tablespoon olive oil.  Don't forget to salt your rice water.
Start with some diced onions and peppers and some minced garlic.
Heat up some olive oil – medium heat, and sautée the vegetables until the onions become translucent.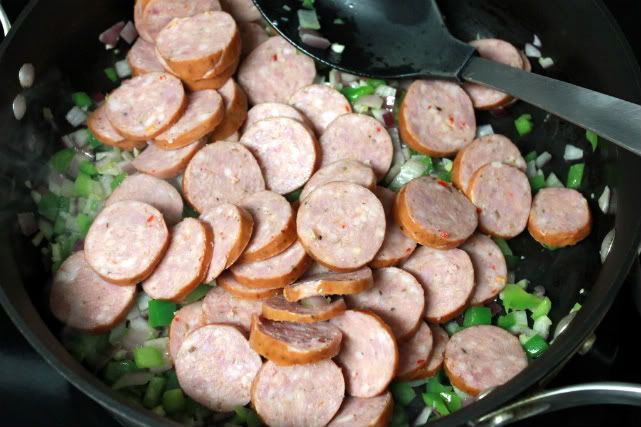 Cut a whole sausage link in rounds, and add them to the sautéed vegetables.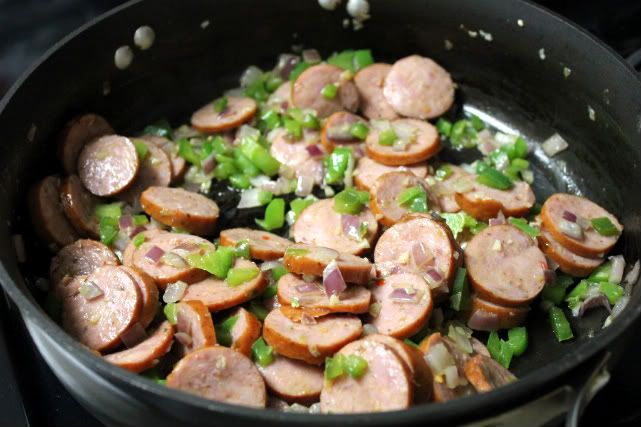 Cook them together for about 10 minutes.  Look how glossy and delicious they look.  I could just grab a bread roll and scoop this in it.
Add 1 can of pinto beans, rinsed.
Followed by a can of red kidney beans, rinsed.
Add 1 teaspoon of worcester sauce,
And 1 tablespoon of tomato paste.
Add about 1/4 cup of water to dissolve the paste and mix everything together.  If you notice your sausage sauté is drying up a bit, add a bit more water.  Season your mixture to taste with salt and pepper.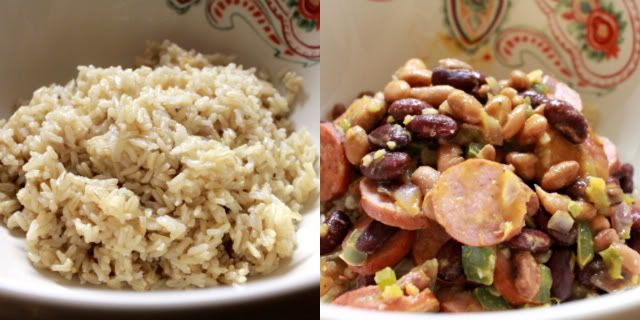 When your rice is done (don't forget to remove the bay leaves, star anise and cloves), scoop some of it in a large bowl.  Scoop some of the sausage and beans mixture on top of the rice and mix together.  I like to do it in parts to avoid a big mess and to make sure that both the rice and the sausage and beans are well mixed.  Proceed to mix the rest of the rice with the sausages and beans sauté.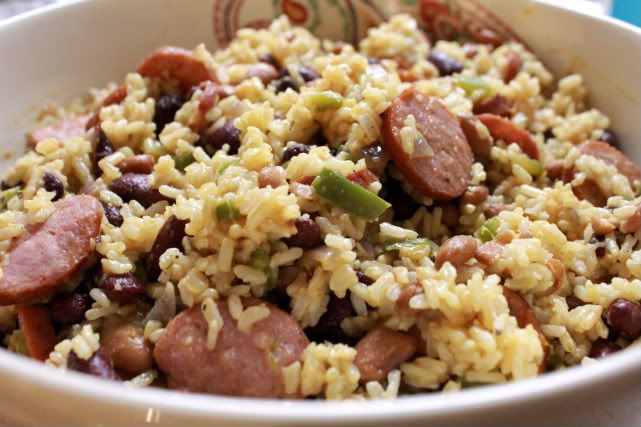 Enough to feed an army.  Actually this yielded about 5-6 portions.  You can feed half  a soccer team while the other half drools.
I loved adding a couple of slices of avocado, and drizzle them with olive oil and sprinkle a bit of sea salt.  I'm in an avocado kick these days.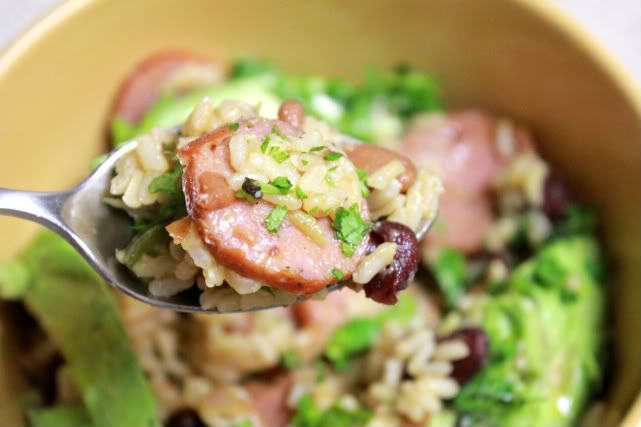 There is something about the nuttiness of the brown rice, the kick of the Andouille sausage and the creaminess of the avocado that makes me feel so happy and relaxed.  Open wide.  Enjoy.
Brown Rice with Andouille Sausage and Beans
Ingredients
3 cups brown rice
2 star anise
5 whole cloves
2 bay leaves
1 tbsp olive oil
1 lb smoked andouille sausage, cut in rounds
1/4 large red onion, diced
3 cloves garlic, minced
1/2 large green pepper, diced
1 can pinto beans, drained
1 can red kidney beans, drained
1 tsp worcester sauce
1 tbsp tomato paste
1/4 cup water
Instructions
Prepare the brown rice according to directions on the package. To the water, add the star anise, cloves, bay leaves, olive oil and salt to taste.
In a large skillet, heat up enough olive oil to coat the pan and sauté the onions, garlic and peppers on medium heat until the onions turn translucent. Add the sausage and sauté for about 10 minutes.
To the sausage mixture, add the drained pinto beans and red beans, the worcester sauce, the tomato paste and the water. Mix and simmer in low heat for another 10 minutes until all the flavors are combined. Season with salt and pepper to taste. If the mixture is drying too much, add a bit more water.
Once the rice is done, remove the star anise, the cloves and the bay leaves. Scoop some of the rice in a large bowl and add some of the sausage mixture. Combine the ingredients using a large spoon. Mix them carefully in order to keep the beans whole. Alternate the rice and the sausage mixture until everything is combined.
Serve warm with avocado slices drizzled with olive oil and sea salt. You can also serve the rice with some patacones (fried green plantains).
http://www.tstastybits.com/2011/05/brown-rice-with-andouille-sausage-and-beans/
T\'s Tasty Bits, 2009-2012