Last week, I had a hankering for some estofado de carne.  Why did I think about it?  I don't know.  I guess it must have been the lonesome potatoes I had laying on my kitchen counter and I just couldn't decide what to make with them.  It was just one of those random thoughts one has on Wednesday evenings…
Estofado is nothing more than a type of stew.  In this case, beef stew.  Normally to make estofado you will use beef stew meat.  Did I have stew meat around?  Of course not.   I did have ground beef.  Alright, that'll do.  Estofado is saucy, but not soupy.  You eat it with white rice.  And maybe some aguacate.  I remember estofado would welcome me home from school.  I remember eating this stew made me happy.
When I served the estofado to El Señor Hubs, his first reaction was, "Is this Hamburger Helper?"   He looked at me as I rolled my eyes, and he smiled.  "You know I'm kidding!"  Trust me, this is so much better than Hamburger Helper.  You won't feel like crap after you eat it.
My estofado is pretty freakin' easy to make.  AND delicious!  No slaving over this one!  As usual, the preparation of an estofado de carne can vary; each family and each region in Ecuador may have their own way of making it.  These type of stews can also have peas and carrots.  If you make the estofado with stew meat, it may take a bit longer to cook.  This is my version, and I like it because it is relatively quick, since we're using ground meat.  Let me show you how I did it.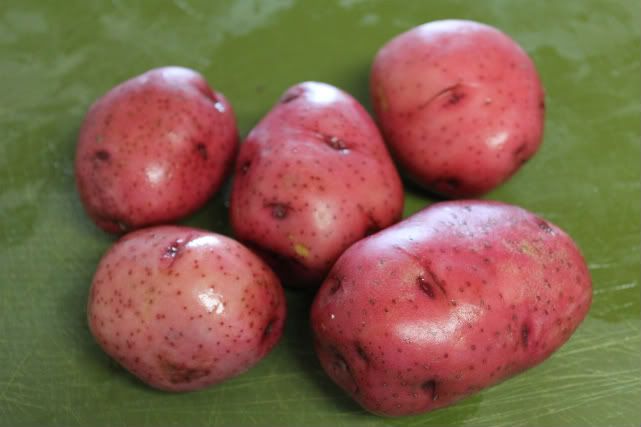 Here are my lonesome potatoes I had laying around.  They are red potatoes.  Say about 1/2 pound.  I feel red potatoes are sturdier – they won't disintegrate in your estofado.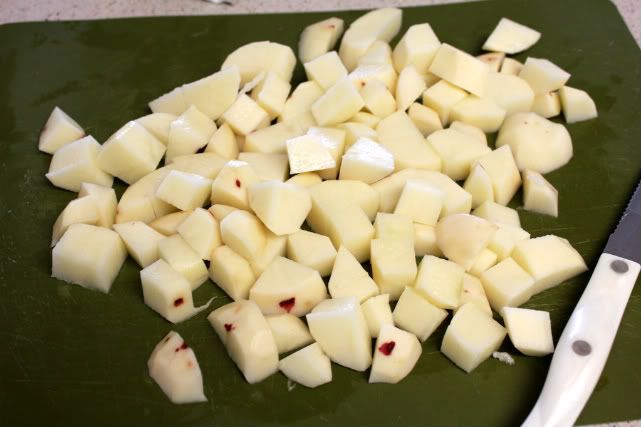 Wash them.  Peel them.  Cube them.  This could be the hook for a song.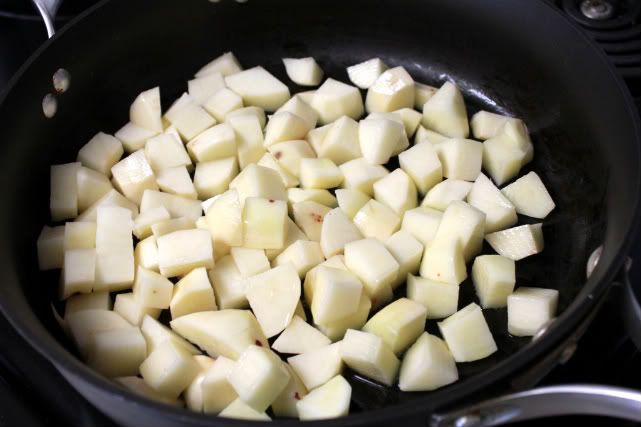 In a large, deep skillet, heat up some olive oil in medium high heat.  Add the cubed potatoes.  Lower the heat to medium and sear the potatoes.  It took me about 10 minutes to get them golden.  Don't worry about cooking them through.  Remove the potatoes from the pan and set aside.
Now, take 3 cloves of garlic.  Smash them.  Peel them.  Mince them.  This could be a verse.
Mince some onion, enough to yield you a cup.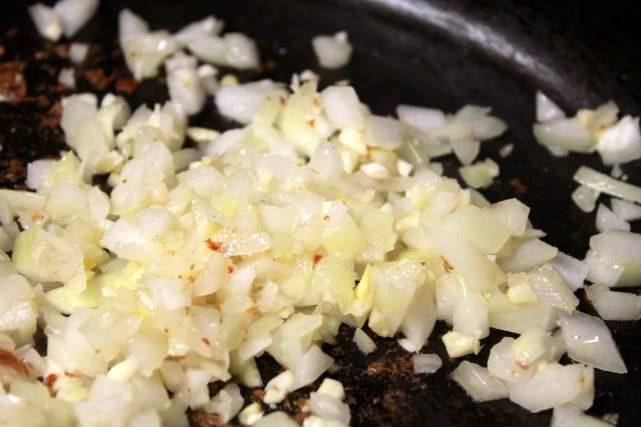 In the same skillet, add a bit more olive oil if needed and sautée the garlic and onions until translucent.  I think this took me about 5 minutes in medium low heat.
Add 1 pound of ground beef.  If ground beef isn't yo' thang, substitute it for ground pork or ground turkey.  Or a combination of the two.  One reminder: if using turkey, make sure you season your meat generously as turkey is quite bland.
Season the beef with salt, pepper and cumin.  Cook it  until brown.  Remove excess fat if necessary.
Now, add back your potatoes.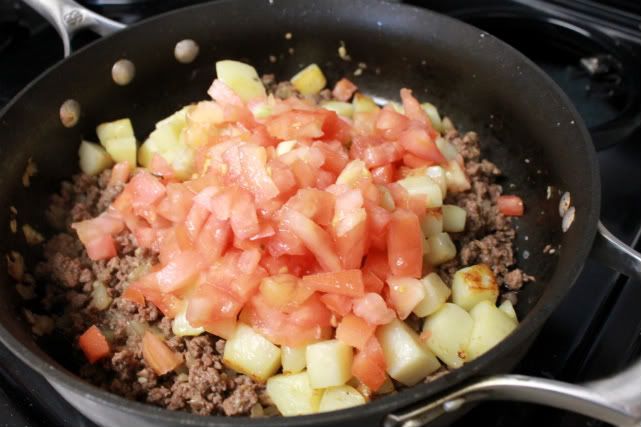 Add a big ol' tomato, seeded and diced.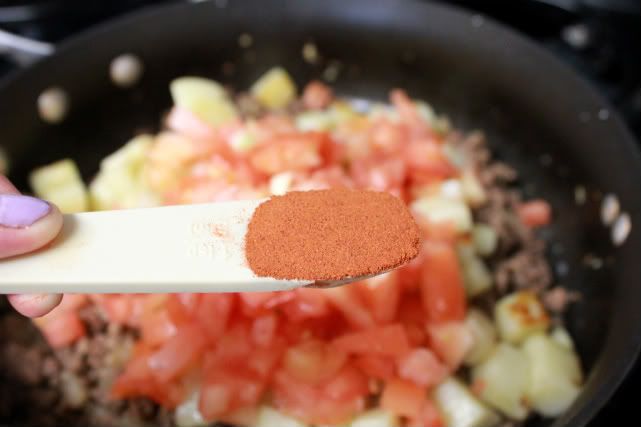 Add some ground achiote…
… And some tomato paste.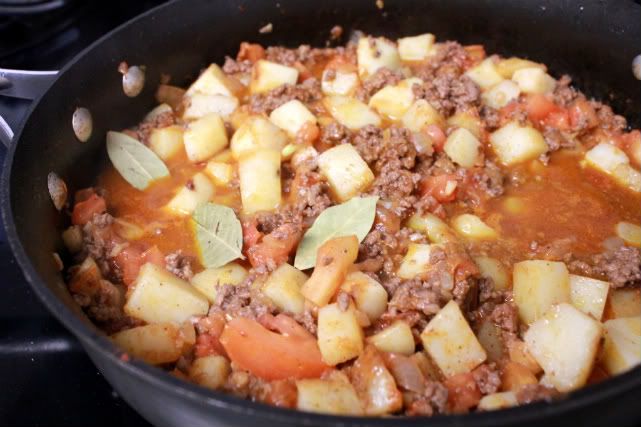 Add  1 cup of  water and incorporate all the ingredients.  Add 3 bay leaves and let it simmer for about 10-15 minutes until the potatoes are done.  Poke them with a fork.  If there is no resistance, they're done.  Adjust for seasoning if necessary.  Remember – taste your creation consistently.  That is the only way you will ensure you have a yummy dinner.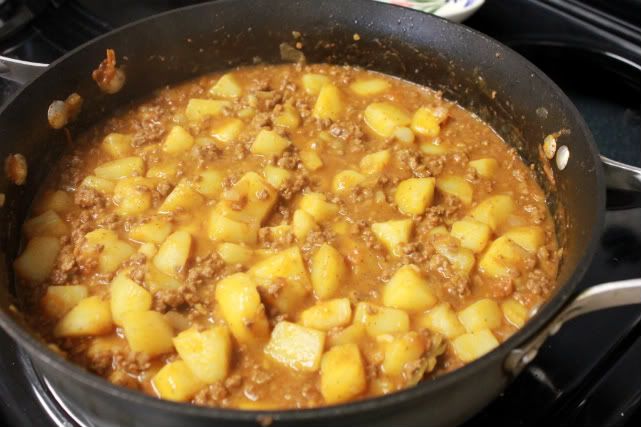 And you can start your happy dance now.  Mmm…  My mouth is watering.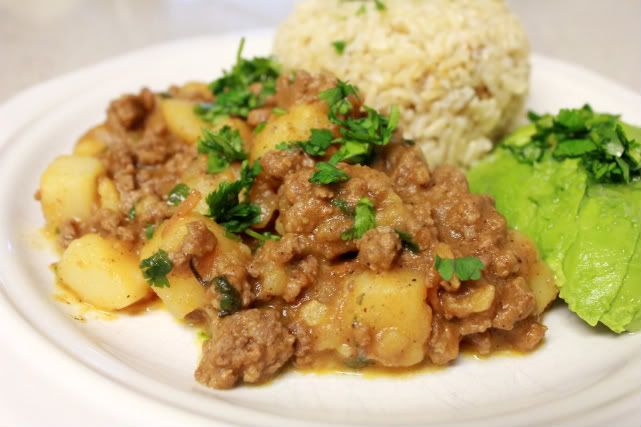 Top it off with some chopped cilantro and serve warm with a side of rice.  I decided to go healthy-ish and served it with some brown rice.  You can also serve it with a side of avocado slices seasoned with some olive oil, lemon juice and a sprinkle of sea salt.  Dig in!
Ingredients
1 lb ground beef (you may substitute for ground pork or turkey)
1/2 lb red potatoes, peeled and cubed
1 cup yellow onion, minced
3 cloves of garlic, minced
1 large tomato, seeded and minced
1 tsp ground achiote/annato
1 tbps tomato paste
1 cup water
salt, pepper and cumin to taste
2-3 bay leaves
chopped cilantro for serving/garnish
Instructions
In a deep, large skillet, heat up some olive oil. Add the diced potatoes and sear them until gold in color. They don't need to be cooked all the way through as they will finish cooking later. Once golden, remove from the pan and set aside.
In the same pan, sautee the onions and garlic until translucent.
Add the ground beef and season it with salt, pepper and cumin. Cook the beef until brown. Remove excess fat if necessary.
Add back the potatoes. Add the diced tomato, the ground achiote, the tomato paste, the water and the bay leaves. In medium-low heat, simmer the stew for about 10-15 minutes until the potatoes are cooked.
Finish the dish with some chopped cilantro. Serve warm with a side of rice and avocado slices.
http://www.tstastybits.com/2011/05/estofado-de-carne-molida/
T\'s Tasty Bits, 2009-2012