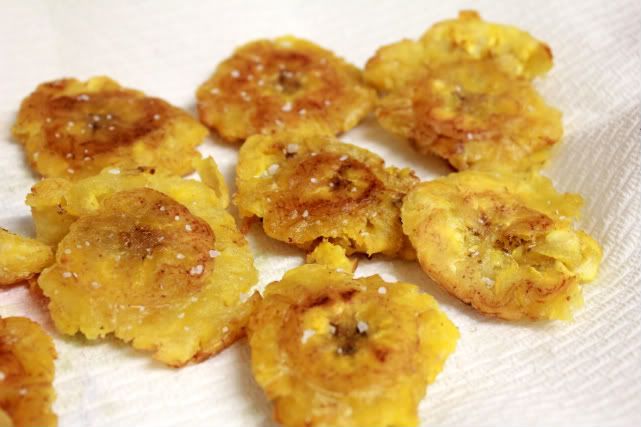 Raise your hand if you LOVE patacones (I have both of them up)!  Patacones are fried, smashed green plantains.  Patacones are a very popular side dish in Ecuadorean cuisine, and they are also served throughout Latin America and the Caribbean.  In Ecuador, we say patacones.  Living in New York where there is a large population of Puerto Ricans and Dominicans, I've learned to say tostones.  They are one and the same, and they are muy ricos.
Patacones are quite easy to make, although in the beginning I had a tough time figuring out how to shape them.  Patacones sort of look like a flat flower.  Years ago when I made them for the first time, I tried to smash them first and then fry them.  Don't do that; it doesn't work.  Then, I tried to smash them AFTER frying them completely, but they all fell apart.  It wasn't until my younger brother came to visit me recently, that I figured out the patacón process.
I think the coolest thing of the learning how to make patacones was that my baby brother taught me how to properly make patacones.  I am supposed to be the one teaching him stuff, not the other way around!  Needless to say, I am so happy and proud of him, and so impressed with his patacones-making abilities.  And now, here I am to share our pearls of patacones wisdom with you.
First, begin by cutting the ends off a green plantain.  With the tip of a sharp knife (don't poke yourself), cut multiple slits on the skin, lengthwise.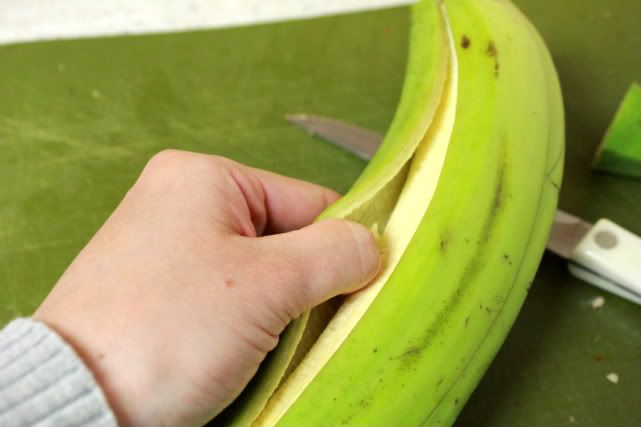 Stick you thumb in one of these slits, beginning at the top of the plantain, and run your thumb down to separate the skin from the plantain.  This is probably the most difficult part of the process, because the skin is very thick and tough.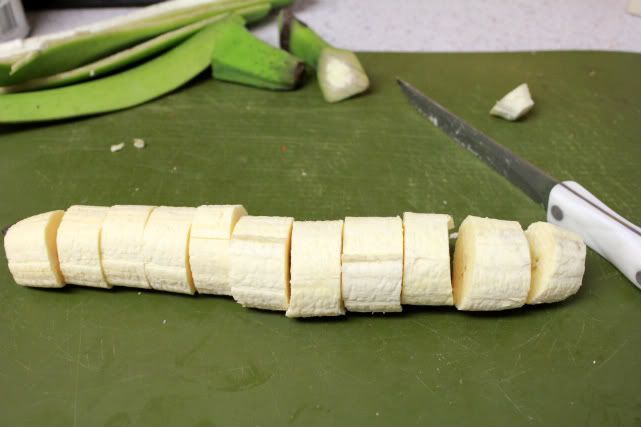 Once peeled, slice the plantain into rounds, about 1 inch thick.
Heat up vegetable oil in a large skillet at medium/high heat.  How much oil?  Fill your skillet with enough oil to coat the entire skillet generously, plus about 1/8-1/4 inch in height of the skillet.  Does that make sense?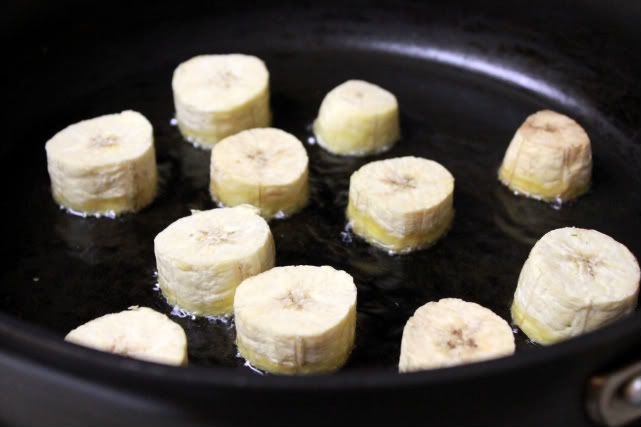 Place your plantains in the skillet, and fry them until the bottoms just start to turn gold.
Flip them over and do the same on the other side.  This process happens somewhat quickly, as you don't want to burn the plantains, and you don't want to cook them all the way through.
Remove the plantains from the oil and place them on paper towels to sop up the excess oil.  Turn down the heat to keep the oil from smoking and setting off your fire alarm.  Trust me.  I know.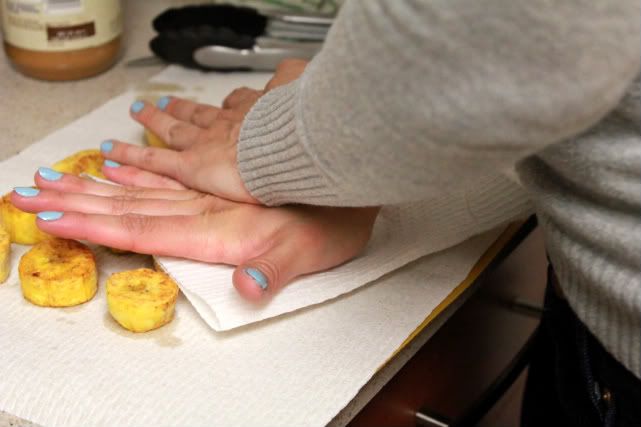 While still hot, grab more paper towels, place them over the plantains and flatten them with the palms of your hands.  If this is too hot for you, you may do the same with a glass jar.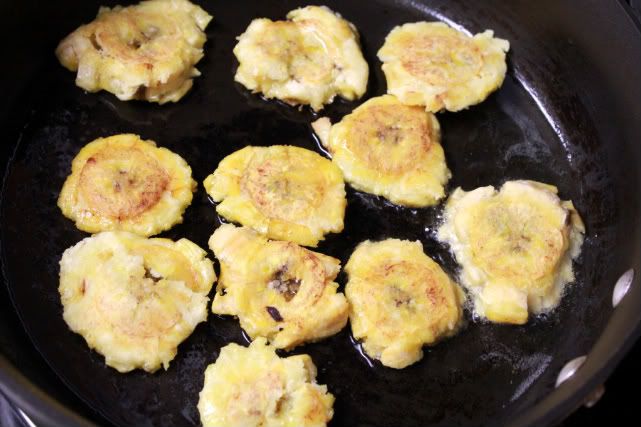 Heat up the oil again – you may need to add more oil to your skillet.  Once flat, put the plantains back in the hot oil and finish frying them until golden on both sides.  This also happens quickly, be careful not to burn them.
Remove the patacones from the oil and place them over more paper towels to soak up the excess oil.  Season them with salt immediately.  You want to make sure that you salt the patacones while still hot, so that the salt sticks.
Serve them hot as a side, or eat by themselves as a quick snack.  Enjoy the flat flowers.