One of my favorite treats when I was a little girl was pan de yuca.  And the reason it was one of my favorites was because every time my Abuelita came to visit (bonus #1), she would bring me a baggie with 5-6 pancitos and a frozen yogurt from this local snack place in Guayaquil called Yogurt Persa (bonus #2).  Ay Dios Mio!  It was the most delicious treat EVER!
Pan de Yuca are little breads made with tapioca starch and cheese – like little yuca bites.  The cheesier the better. My abuelita would ensure to stop by Yogurt Persa at 4 o'clock in the afternoon, when a freshly baked batch of pan de yuca came out of the oven.  Pan de yuca are best when eaten warm/hot.  They are somewhat crispy on the outside and soft and chewy on the inside…  In the words of Rachel Zöe if she spoke Spanish:  Me muero.  And yes, that is how much my abuelita loved me – only a piping-hot, fresh batch of pan de yuca for su nieta! Now, how did my grandma accomplished such successful feat, you may ask.  Well, at the time, Yogurt Persa was only a few blocks away from our apartment in El Centro, or downtown Guayaquil, and I think it was the only location in the city.  Fast forward to today, and I came to find out that Yogurt Persa offers franchising opportunities.  If you are living in Ecuador and sounds something it would be of interest to you, you might want to check them out.
**  Please note, I am not affiliated to Yogurt Persa whatsoever.  As a matter of fact, Yogurt Persa doesn't even know I exist.  Furthermore, if I were to drop dead right now, they would not shed a tear, nor would they send El Señor Hubs their condolences.  Or flowers.   Having said that, Yogurt Persa can rest assure their frozen yogurt and pan de yuca have a very special place in my heart forever…  Amen.
On to the pan de yuca.  I don't claim to have the specific recipe for their pan de yuca, but this recipe that my aunt (Hello again Tia Lorena!) gave me is perfect.  I also tested the recipe that is on the back of Goya's tapioca starch bag, and it is pretty rad as well.  Upon further investigation, I realized the recipes were exactly the same.  The conclusion is: pan the yuca is pretty straightforward, and it is not a ground-breaking culinary creation.  Delicious – THAT, it is.
Given that El Señor Hubs is my taste tester and guinea pig, or cuy if you speak Spanish, I always ask for his opinion.  Given that we are from different cultures, he always tries to associate what I feed him with something he has eaten in the past.  When he looked at the freshly baked panes de yuca, the following exchange ensued:
"So do you eat these with honey, like you eat corn bread?"
"Hmm, not really – I suppose you could.  I mean I never ate them like that, but I think they will be delicious with honey."
He then took a bite out and with a surprised look on his face he said, "Definitely NOT what I expected!"
"What do you mean?"
"Well, I thought they would be sweet.  But they are not.  They are cheesy.  And chewy.  I like them!"  Mind you – I hadn't told him what was in them,
Yay!  Mission accomplished!  He then proceeded to say, "I'm trying to think of what these remind me of.  The texture is really interesting…   Oh, I know what these remind me of."
"Give it to me!"  I stared at him in anticipation, patting myself in the back, expecting a shower of compliments.  Would he say, Babe, these taste like the breads of Gods! Or would he say, Oh you precious wife, you did it again!
"This texture,"  he said, "reminds me of the Marshmallow Peeps!"
"…"
Tell me what you think.
Using the formula of one: 1 cup of tapioca starch, 1 cup of shredded queso fresco, 1 egg,  and 1 teaspoon baking powder.  For the cheese, you want to make sure you use a cheese that crumbles, but not too salty.  In this case, I found a cheese called Queso Colombiano at the Hispanic grocery store.  I suppose you can use a mozzarella cheese if you can't find this kind.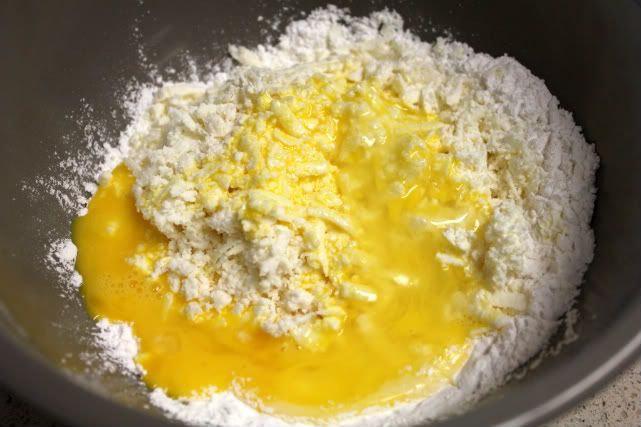 Throw 'em all in a bowl…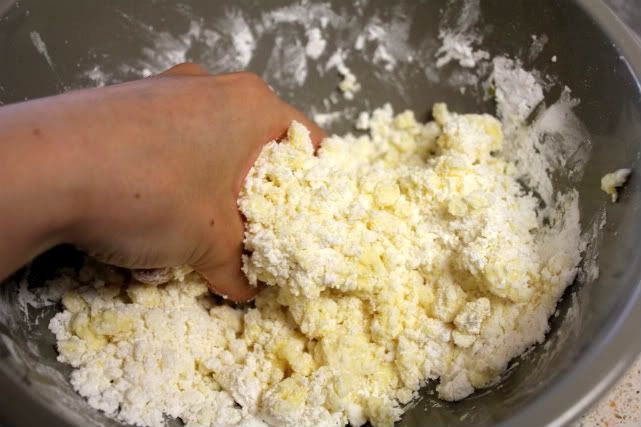 And start kneading.  Note at first, your dough will not stay together and will be crumbly.  To solve this dilemma, start adding some regular, tap water, about 1-2 tablespoons at a time.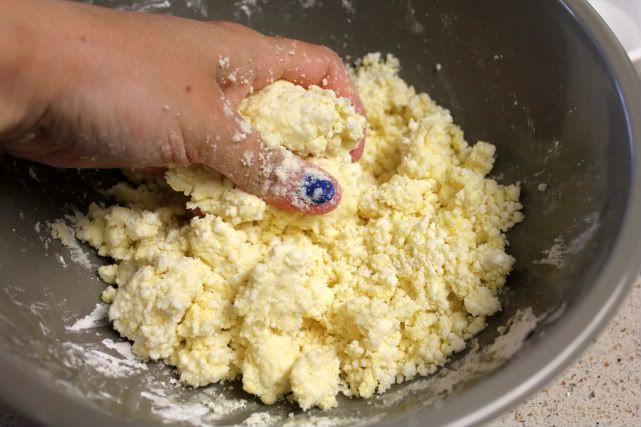 This is after 2 tablespoons.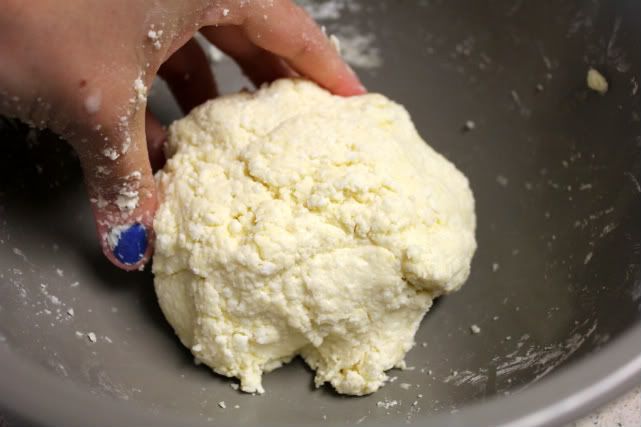 This is after 2 more, so 4 in total.  The dough will be a bit sticky, but manageable.
Start pinching pieces off your dough ball and begin forming small bites.  Don't worry about them being uniform and perfectly round.  I actually like they look uneven and lumpy.  Embrace imperfection.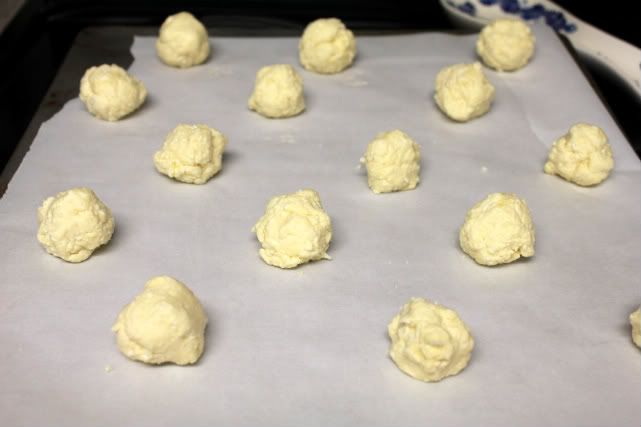 Lay them on a cookie sheet lined with parchment paper about 2 inches apart from each other.  They won't expand too much, so they won't stick to each other.  This batch yielded me 15 yuca bites.  Bake in a 375F degree oven for about 15 minutes until they start turning golden.
Yummy!  Enjoy them with a frozen yogurt – Yogurt Persa if you can!  I also like to eat yuca bites accompanied by a hot cup of coffee.  No peeps here, peeps.  Trust me, you will be making these by the hundreds!
Ingredients
1 cup tapioca starch
1 cup shredded/crumbled queso blanco (I used Queso Colombiano)
1 egg, slightly beaten
1 tsp baking powder
Water
Instructions
Preheat the oven at 375F.
In a bowl, combine the starch, cheese, egg and baking powder and start kneading into a dough. Since the dough will be crumbly at first, start adding water 1-2 tbsp at a time until it sticks together and forms a ball.
Begin pinching smaller balls off the dough and form little bites, about the size of a ping-pong ball. Place the dough balls on a cookie sheet lined with parchment paper, and bake for 15 minutes until golden brown.
Serve immediately.
http://www.tstastybits.com/2011/05/pan-de-yuca/
T\'s Tasty Bits, 2009-2012