What is the best cebiche EVER?  The one that's eaten at the beach!  As a kid, my favorite memories of eating cebiche were during our trips to Salinas, one of the many  beach towns in Ecuador.  My mom didn't have a car, but my uncle – Tia Lorena's husband –  did.  Actually, he had a pickup: a 1976 Nissan Datsun light blue pickup.  The coolest.  Pickup.  Ever. During school breaks, which for us kids in Guayaquil and along the coast were from January through April, we would drive two hours west to Salinas, usually on a Sunday.  My uncle would pack up the back of his pickup with a tent and a cooler full of drinks and head to the beach.  The cabin was packed with us: my uncle behind the wheel, me in the middle and my aunt next to me with my  little sister on her lap.   Packing up a car with more people that what's allowed is quite common in Ecuador.  It was both a science and an art.  We excelled at both.
Upon arrival, my uncle would drop us off at the Malecón de Salinas with all of our accoutrements, while he went to find a place to park the truck.  Once settled, we would hang out for a few hours enjoying the sun, sand and sea.  Vendors would walk by selling countless tereques (tchotchkies), but my favorite vendor was El cocotero – the coconut water guy.  I was always in awe of these guys who quickly yet gracefully would carve out the coconut with their machetes until you had the perfect opening to put a straw through.  Quite the talent.  And generally speaking they had all their fingers.  With our agua de coco in hand, we headed to La Plaza for some cebiche.
Now, even though mom seldom came along, I always carried with me her sage pieces of advice regarding eating cebiche at the beach:
Mijita: NUNCA coma cebiche de balde.
And,
Mijita:  NUNCA compre cebiche de cualquiera que tenga uñas negras.
Which means, my little daughter, NEVER eat cebiche out of a bucket, and NEVER buy cebiche from anyone who has dirt under their nails.  Thanks mom!  Clear as mud.  Or dirt.
Back in Guayaquil, my mom used to prepare cebiche in what I consider the most typical – and most delicious – way to prepare it.  You see, cebiche Guayaquileño or what I consider cebiche Ecuatoriano for that matter, has ketchup in it.  My mom would cook the shrimp for a few minutes and THEN let the acids do their thang.  We would eat our ceviche with sides of canguil (popcorn), or maiz tostado (sort of corn nuts), and chifles (fried green plantain thin slices).  My uncle would also have a side of arroz blanco – white rice – to sop up the cebiche juices, and he would add a few spoonfuls of ají criollo.  When I recently made this cebiche, it brought back so many memories.  El Hubs thought it was off the charts.  My mom would've been proud.
Begin with a pound of shrimp, preferably fresh, with shells, no heads.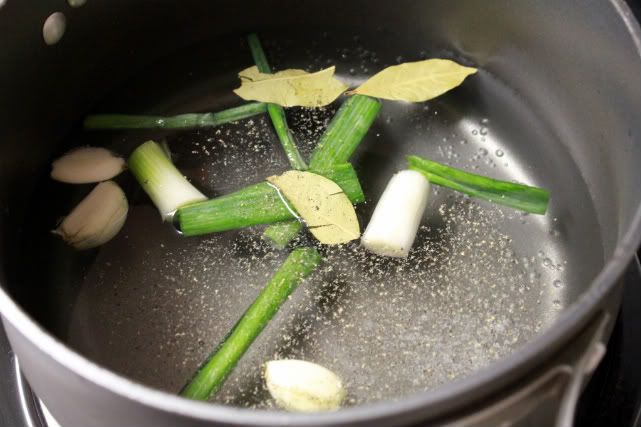 In a pot, pour some cold, tap water, along with garlic cloves, a few bay leaves, rough-chopped scallions, a pinch of salt and pepper.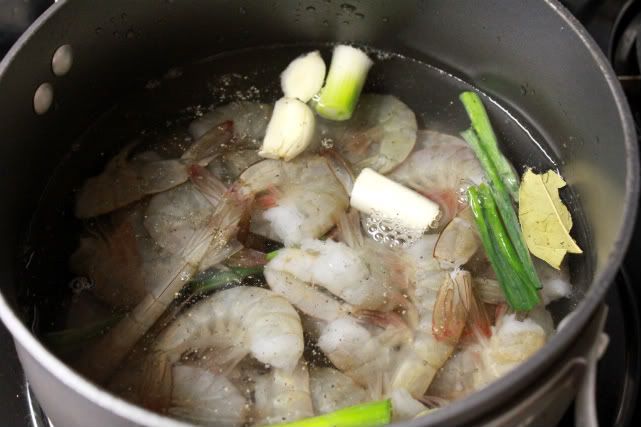 Add your shrimp and turn on the heat to medium.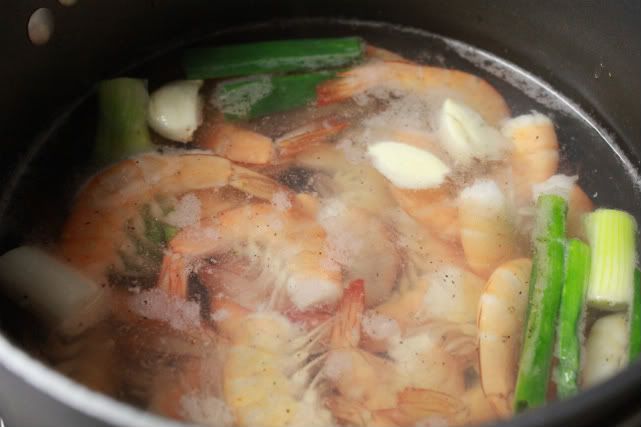 As soon as you see the shrimp beginning to turn pink, turn off the heat and remove the shrimp from the water.  SAVE this water.  By the way, this flash cooking process takes about 3 minutes.  You must be quite vigilant of the shrimp.  If you leave them in there for more than 5 minutes, you will end up with overcooked, chewy shrimp cebiche.  Guácala!
Peel and devein the shrimp, saving the shells.
* Intermission – How to devein a shrimp *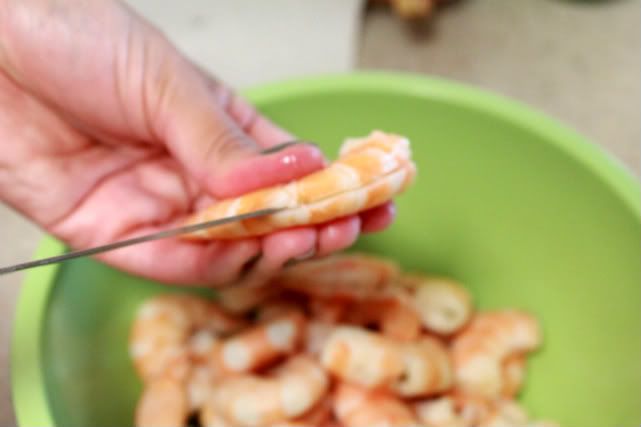 With a paring knife, cut a slit along the back of the shrimp.
With the tip of your knife, which acts as your pooper-scooper, remove the black vein from the back of the shrimp.  Yes.  This black vein is shrimp poop and you don't want to eat shrimp poop.  And yes, I need a manicure.  Anyway, once deveined, rinse your shrimp off in cold water.
* End of intermission *
Set your deveined shrimp aside.
Throw the shells back in the water where you initially flash cooked the shrimp.  Bring the water up to a boil and turn the heat off upon boiling.  Strain the shells and the vegetables and save the shrimp stock, which you will use for the ceviche.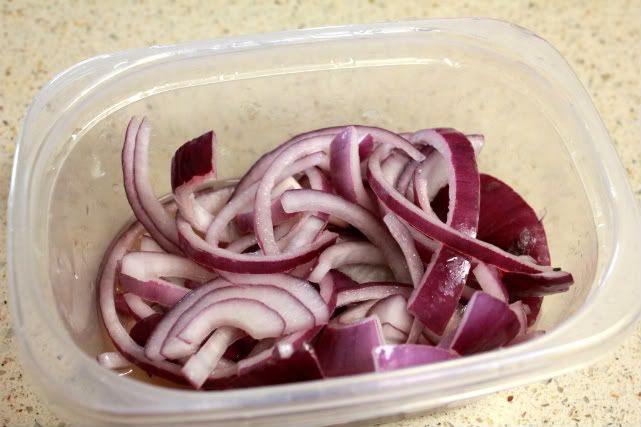 Cut 1/2 a red onion in half-moons.  Marinate these onions in the juice of one lemon and a pinch of salt.  Congratulations!  You've just made encurtido.  Let the onions marinate for 15 minutes.  You can also dice the red onion instead of cutting it in half moons; I like the flexibility of the half moons, because it gives me the ability to pick them out of my cebiche.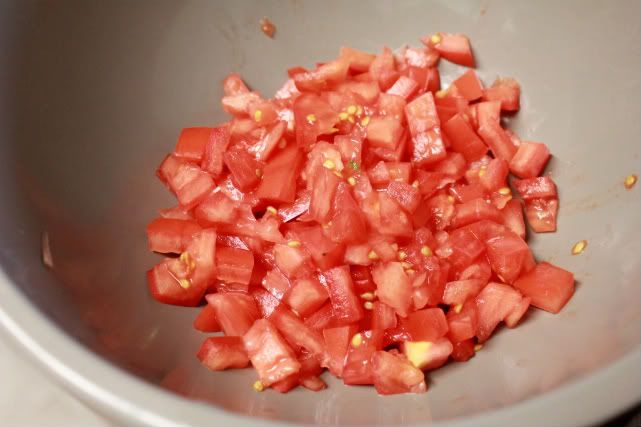 Seed and dice two large tomatoes and set aside.  A few seeds leftover is fine.
Squeeze the juice of 1 1/2 oranges, and 3 lemons.  Grab about 3/4 cup of the shrimp stock you just made.  Save the rest of the shrimp stock.  You can use it for other seafood dishes.
In a large bowl throw in your shrimp.
And the onions.  I didn't add the onion juice, because I just wanted to have the sweet onions in the cebiche.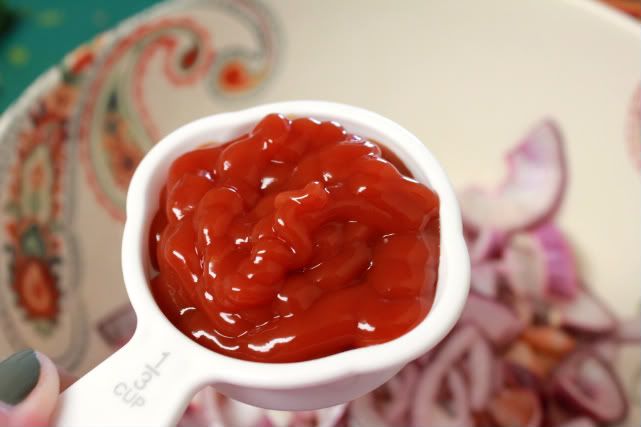 And the ketchup.  In this picture you see I used 1/3 cup of ketchup.  However, upon tasting I added a bit more, so in total you will add 1/2 cup of ketchup.
Add the liquids.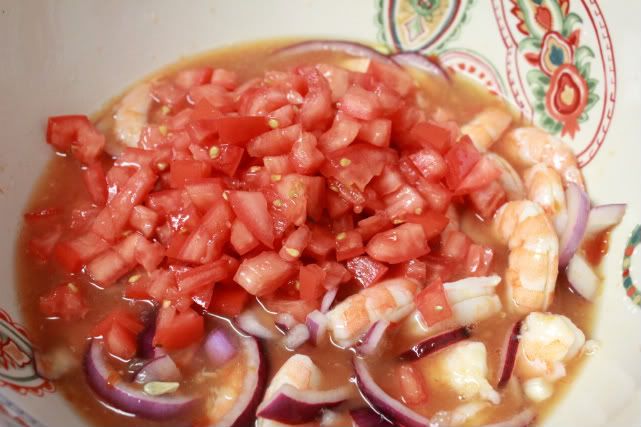 Add the tomatoes.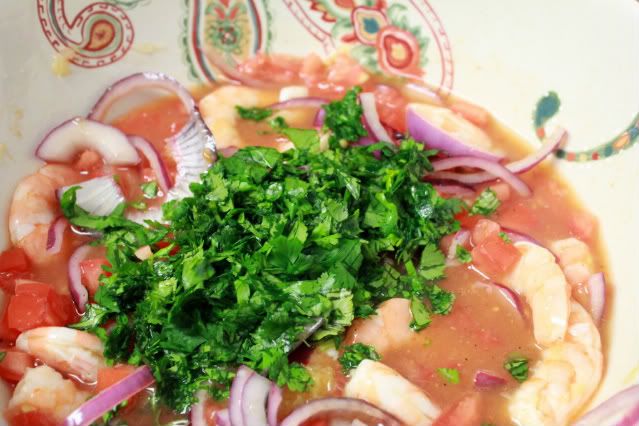 And the chopped cilantro.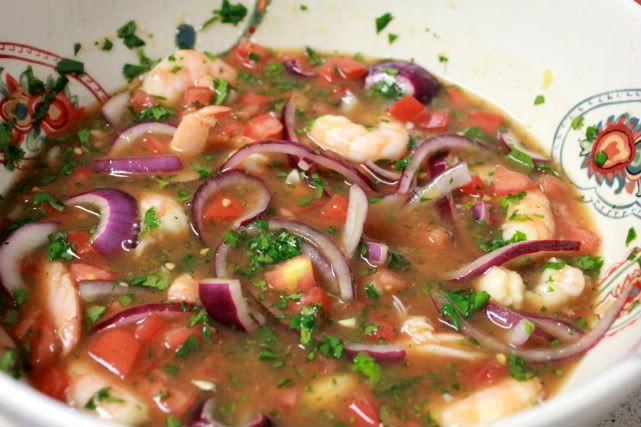 Mix all the ingredients.  Your cebiche should taste citrusy with a hint of sweetness from the ketchup.  Adjust salt and pepper if necessary.  Let marinate in the fridge for at least an hour.
Serve the cebiche with maiz tostado, chifles or popcorn, and some aji criollo on the side.
You've just made cebiche Guayaquileño.  Thanks for making my mom proud.
Cebiche de Camarón – Ecuadorean Cebiche
Ingredients
1 lb of shrimp, with shells and no heads
4 cups of tap water
3 bay leaves
2 cloves of garlic
2 scallions, roughly chopped
Pinch of salt and pepper
2 large tomatoes, diced
1/2 large red onion, sliced in half moons
Juice of 1 lemon for the onions
Juice of 1 1/2 oranges
Juice of 3 lemons
3/4 cup of shrimp stock (see below for preparation)
1/2 cup ketchup
1/2 bunch cilantro, chopped
Instructions
Shrimp and shrimp stock:

In a pot combine the water, bay leaves, garlic, scallions and shrimp. Turn the heat to medium and cook the shrimp until you see them beginning to turn pink, which should occur in 3 minutes. Turn off the stove and remove the shrimp from the water. Keep this water.
Peel and devein the shrimp, saving the shrimp shells.
Put the shrimp shells back in the water and bring to a boil. Remove from the heat and strain the shrimp stock.

Encurtido:

In a small bowl, combine the onions with juice of 1 lemon and a pinch of salt. Marinate for 15 minutes.

Cebiche assembly:

In a large bowl combine the diced tomatoes, shrimp, onions, ketchup, lemon and orange juices and 3/4 cup of shrimp stock. Mix all the ingredients and adjust seasonings if necessary. Add the chopped cilantro and mix it into the cebiche. Marinate for about an hour. Serve chilled with popcorn, maiz tostado, chifles, rice, etc.
http://www.tstastybits.com/2011/06/cebiche-de-camaron-ecuadorean-cebiche/
T\'s Tasty Bits, 2009-2012