Wondering what to take to your next picnic?  How about Encebollado de Pollo!?  Encebollado, or "in onions" is a traditional Ecuadorean potato and yucca salad, with pickled onions (encurtido), lemon juice and either chicken or fish.  This salad is a great way to use that leftover chicken you may have laying around in your fridge, which was the case in my household.  If you want to use fish, any white, meaty fish will do.
We used to eat encebollado back in Ecuador quite a bit.  Namely, because it is an affordable meal.  My nanny used to stretch out the meal by adding more potatoes.  So if you happen to have an unexpected guest drop by, you added another potato to the salad and your guest thought you went through all that work, just for them.
It is also very common to see encebollado being sold out of a cart, along street corners.  Encebollado is also very popular among revelers who need a pick-me-up at 5am once the party's over.  Encebollado, along with ceviche are great ways to get rid of the infamous chuchaqui, a.k.a hangover.  In the case of the encebollado, I suppose having all those starches from the potatoes and the yucca help absorb the alcohol, the lemon juice and the onions are refreshing and the protein from the chicken gives you that oomph to help you stumble make it home.  You can also add a cup of peas to your salad and serve it with sliced hard-boiled eggs.  Whether you have chuchaqui or not, I hope you enjoy this salad!
Start with a yucca.  This is what a 1-pound yucca root looks like.  It is intimidating.  But you have the advantage of a thumb and a potato peeler.  So use them to peel the yucca root and cube it.
Boil the cubed yucca for about 25 minutes until soft, i.e. a fork goes thru the yucca easy.  Season your water with a dash of salt and pepper.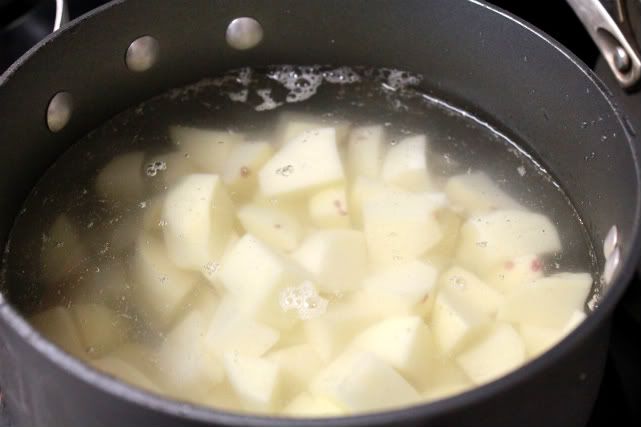 Boil 1 pound of peeled, cubed red potatoes for about 25 minutes until soft.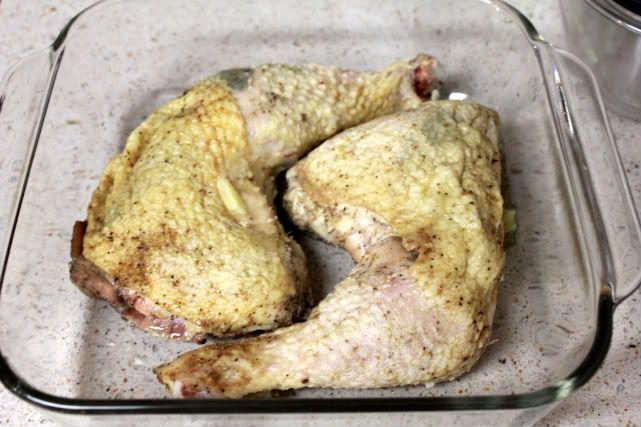 Here is your leftover chicken.  I know.  It looks sad and scary at the same time.  This is what happens to refrigerated, baked chicken.  But we will make this chicken pretty again.  If you have leftover rotisserie chicken, that works perfectly also.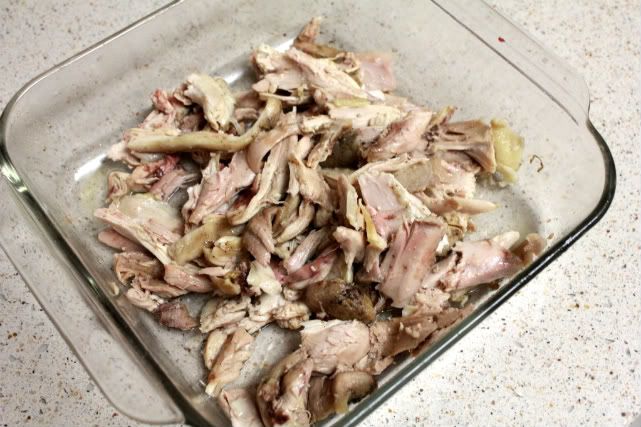 Shred your chicken.  Two leg quarters yielded me a little bit over a 1 of chicken.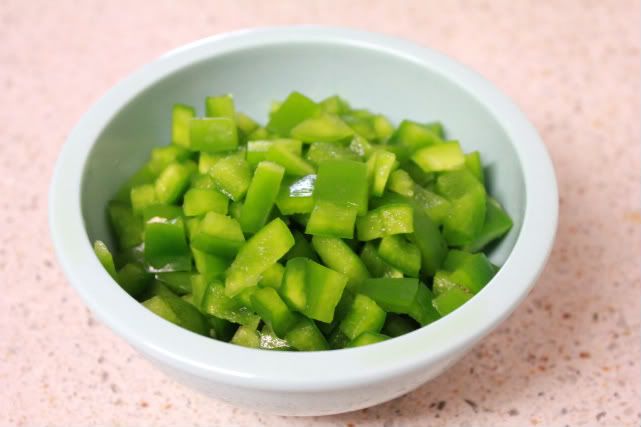 Dice 1 green pepper.
Pickle your red onions in lemon juice, so you will be making encurtido.  I cut the onion in rounds, but then I decided it would be best to cut them in half moons.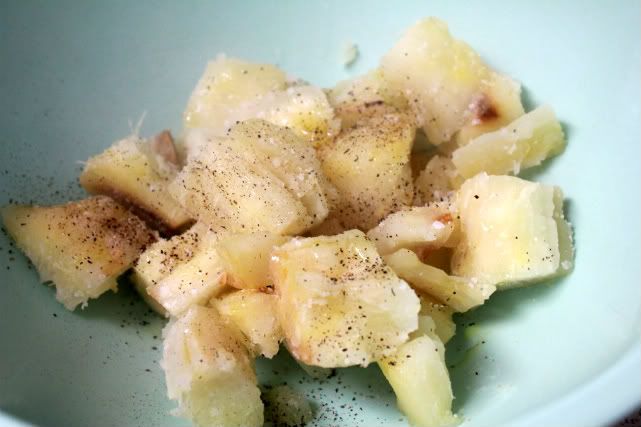 Now, it is time to start assembling the salad.  Start with the cooked yucca, and season it with salt and pepper to taste.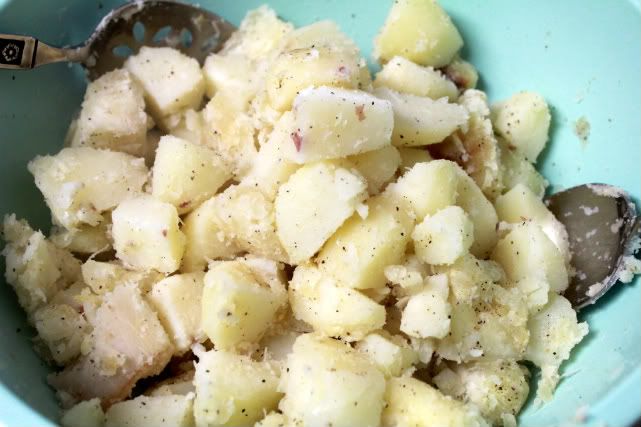 Add the potatoes…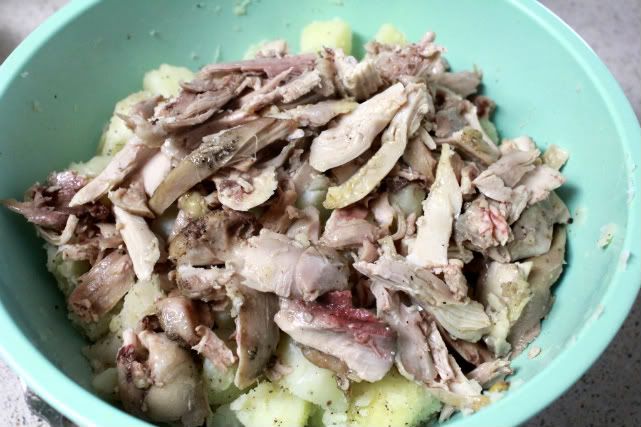 And the chicken…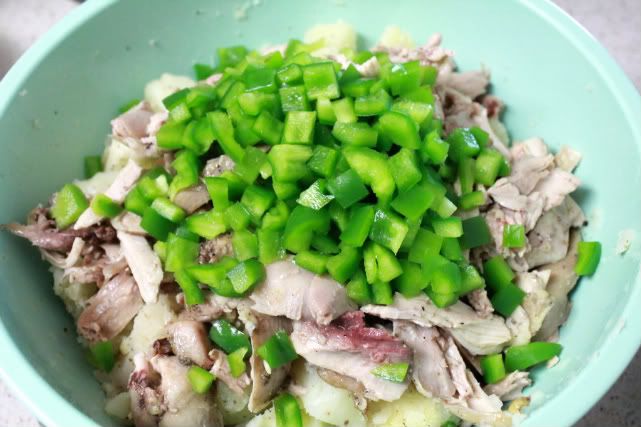 And the peppers…
And the onions AND the juice.  This is very important because there is a lot of flavor in these juices that will be absorbed by the potatoes and the yucca.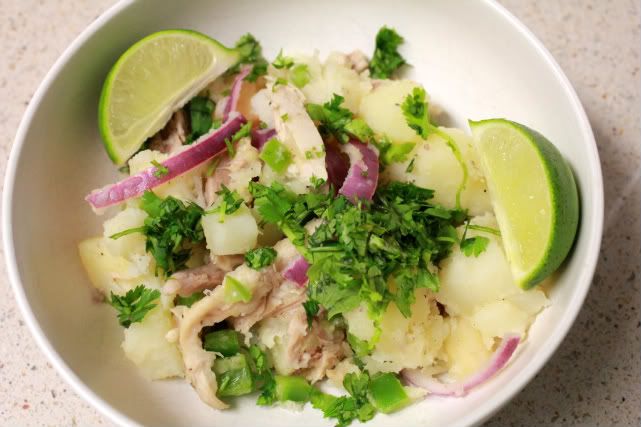 Top off with cilantro and mix all together.  Serve with extra lemon wedges and squeeze more lemon before eating.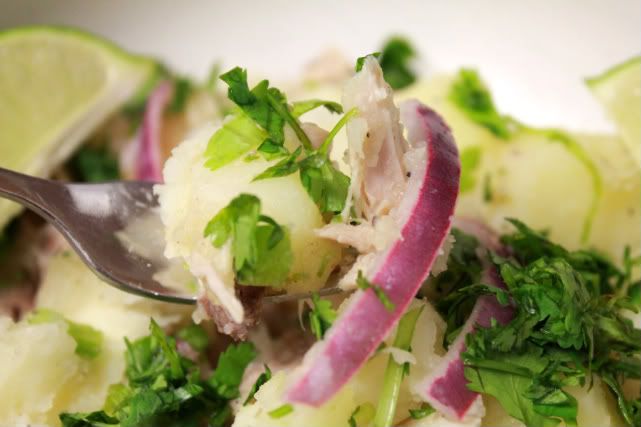 Enjoy!
Ingredients
1 to 1.5 cups of shredded, cooked chicken
1 lb potatoes, peeled and cubed
1 lb yuca, peeled and cubed
1/2 red onion, sliced in half moons
Juice of 2 lemons
1 green pepper, diced
1/4 cup cilantro, chopped
Olive oil
salt and pepper to taste
Instructions
Boil the potatoes and the yucca for about 25 minutes until cooked.
Pickle the onions by placing them in a container with the lemon juice for about 15 minutes.
Drain the vegetables and combine them in a bowl with the rest of the ingredients: shredded chicken, the onions and its juices, the pepper, olive oil, salt and pepper, and the cilantro. Serve with lime wedges.
http://www.tstastybits.com/2011/06/encebollado-de-pollo/
T\'s Tasty Bits, 2009-2012