Hello.  My name is Tamara and I am a carnivore.  Well, the majority of the time.  Every so often I like to shake it up a little, and skip the meat for a day, especially when I have a food hangover – like the one from this weekend:
[blackbirdpie url="http://twitter.com/#!/brunetteandpink/status/95508277667971072″]
As a matter of fact, I am wearing elastic waistband pants as I write this.  If I am not careful, I will soon be wearing Pajama Jeans.
Anyway, when this happens, I make black bean burgers.  El Señor Hubs and I came up with this black bean burger recipe after seeing a poster outside Au Bon Pain featuring their black bean burger last summer. I've talked about another concoction inspired by an Au Bon Pain experience previously, so in my mind, I had no doubt ours would be tons better. *Modest look*.  Our black bean burger is actually a vegan version, and it is pretty awesome.
I've made this burger using canned black beans and dry black beans.  While canned beans will definitely save you time, I had a tough time infusing flavor into them.  When I used dried beans, which I soaked overnight and cooked myself, the flavor improved exponentially.  So my recommendation is to use dry beans, which is what I use in this recipe.  I love to serve these burgers with a hummus spread, in lieu of ketchup or mayo.  Yes.  I like mayo on my burgers and my fries.  Hmm.  This may be another reason why I may need Pajama Jeans sooner rather than later.  I'll let you be the judge on the deliciousness of this black bean burger and I hope you give this recipe a try when you feel you need to be a herbivore.  Elsie will thank you for letting her live another day.  Let's go and graze together, shall we?
Soak your beans overnight to soften them and plump them.
Drain the beans and put them in a sauce pan with enough water to cover the beans plus another inch of water.  Yes, this is a very scientific approach.  Season the water with salt, pepper, cumin, a couple of smashed garlic gloves, onions and some cilantro.  You can't see some of the ingredients, but they are all in there.
Bring the beans to a boil.  Once they break boil, lower the temperature to medium and simmer the beans for about 40-50 minutes until cooked.  They should be soft when you bite into them.  If the water evaporates before the beans are done, add a bit more water and adjust for seasoning. The exact amount of water really won't matter because we will drain the beans.
Once cooked, drain the beans and put them in a large bowl.  Pick out the garlic cloves and the onions and the herbs.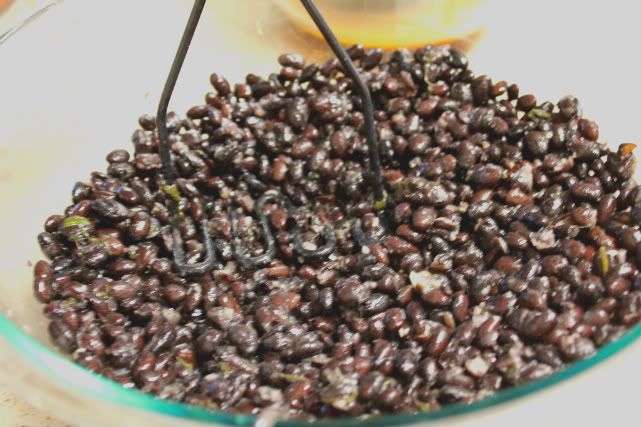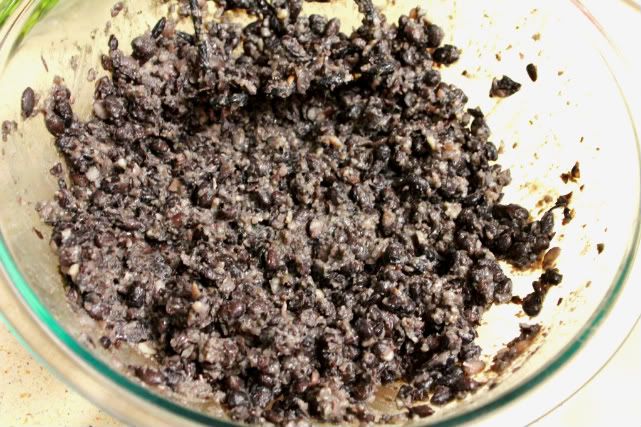 With a potato masher mash the beans.  I don't mash them completely as if I were to make refried beans; I like to see some whole beans in there for added texture.  Uhm – sorry for the shaky picture: mashing beans and taking a picture at the same time will do that to you.
On to the vegetables.  Here are the scrumptious vegetables we will be using: roasted red peppers, green peppers, carrots, and onions.
Optional:  For an extra kick, add some thai chilies.  I like having options.  And I like this one.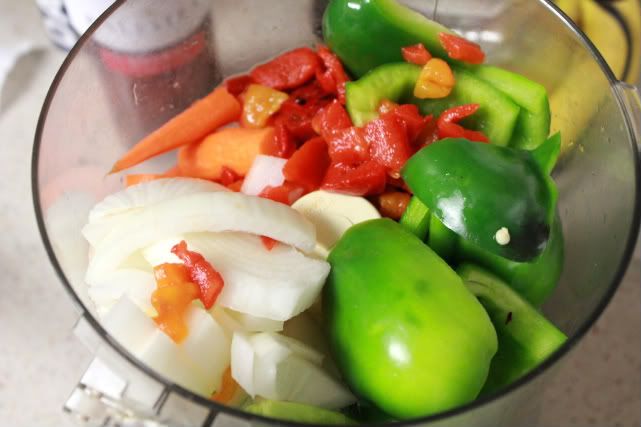 Throw these vegetables in a food processor and process until you have a uniform purée.
Remove the excess water from the vegetables by placing them in a colander and draining the juices.
What to do with this remaining juice?  Well, you can channel Jack LaLanne and drink up.  Honestly, this is pretty close to drinking V8; there is a heck of a lot of goodness in this juice.  Just make sure that if you drink it, you won't be making out with anyone.  You know, the onions.
Add the vegetable purée to the beans and mix thoroughly.  Taste your mixture and season with a bit of salt and pepper if necessary.  Your mixture will be a bit wet, and in order to form patties, we need something to soak up the extra moisture without drying up the bean and vegetable puree.
Behold.  Quick oats.  Pulverize these suckers in a food processor.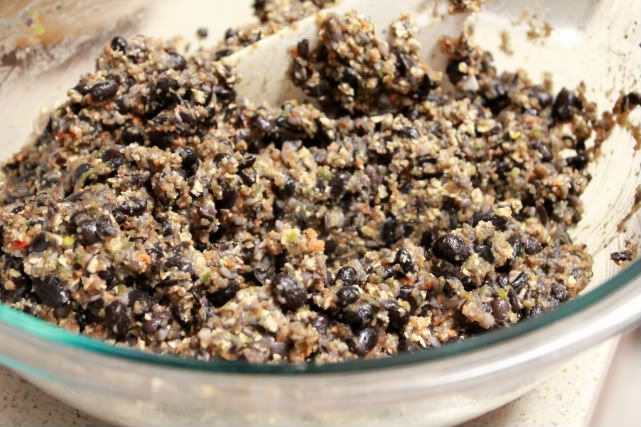 Add them to the bean and vegetable mixture and stir until all is incorporated.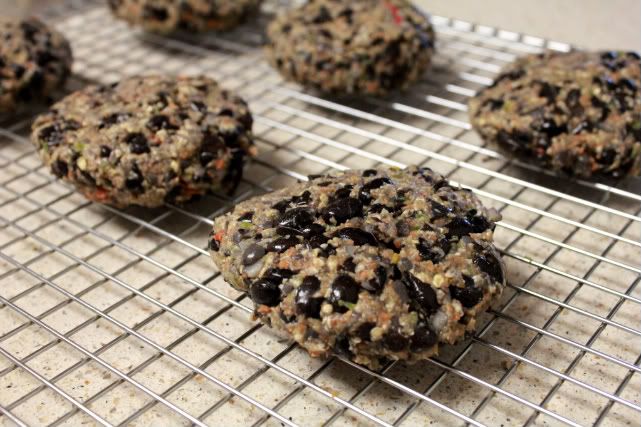 Begin forming your patties.  If your patties fall apart, the mixture may still be too wet and you many need to add more oats.  I recommend adding 1/4 cup at a time to make sure you don't overdo it.  In my case, I used  a total of 1 1/2 cups of milled quick oats.
Heat up a grill pan.  I normally begin by turning the stove on to high, let the pan start smoking and then turn it down to medium heat.  In this way, my burgers will get a nice grill pan sear.  Since you don't have to worry about raw meat, these burgers don't take too long to cook.  The beans are cooked and the rest is just vegetables.
Spray the pan with some cooking spray.  Place the burgers on the hot grill pan.  I like to make them 2 at a time so I have enough room to flip them over.  Cook them 4-5 minutes on each side.  If they fall apart a little – DON'T FRET my friend!  Use your spatula to fix and reshape the burgers.
Quick Hummus Spread
These are the things you will need.  Pretty simple.  Hummus traditionally has tahini paste, but I've made hummus without it, and it is just fine.  Tahini gives it a nutty flavor but I've found you don't have to have it.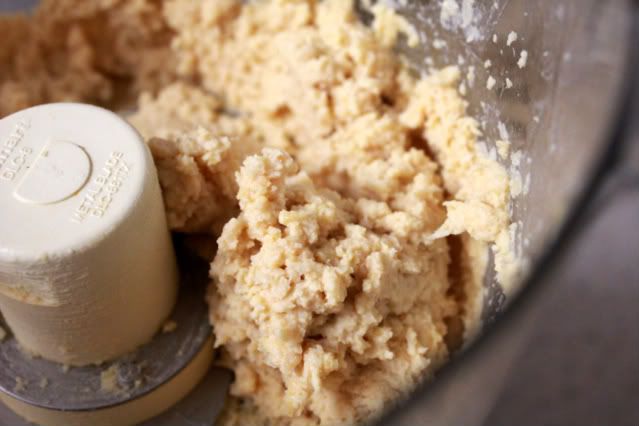 Put all these ingredients in a food processor and pulse until you have a nice paste.  Season to taste with salt and you are ready to go.
Plating the burger
Take a pocket pita bread and cut it in half.  Spread some hummus inside the pockets.
Cut your burger in half and place one half in each of your pita pockets.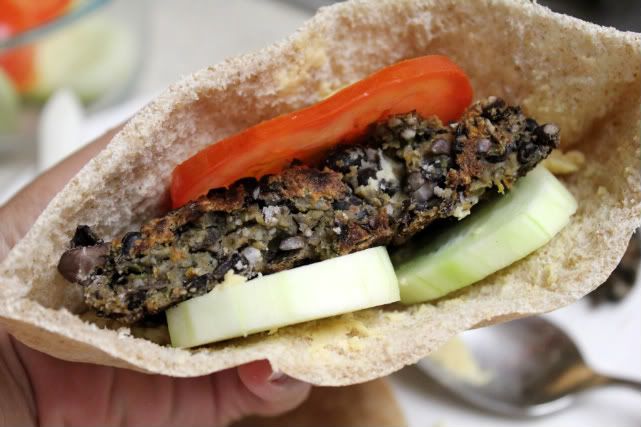 I like to serve it with some tomato and cucumber slices.  You can serve it with some lettuce, the same way a traditional burger is served.  I just didn't happen to have lettuce that day.
BOOM.  You're ready to eat.  You could also make some cole slaw and stuff the pita pocket with it.  Maybe do a pesto spread instead of hummus?  Or maybe some arugula instead of plain lettuce?  There are so many ways to eat this delicious black bean burger.
After the first bite, I decided to add some Cholula sauce.  I am hot blooded after all.
Black Bean Burgers with Hummus Spread
Ingredients
For the beans

1 3/4 cup dry black beans
1/4 yellow onion, roughly chopped
2 garlic cloves, smashed
Cilantro
Salt, pepper and cumin

For the burgers

1 large green pepper, roughly chopped
3 carrots, peeled and roughly chopped
1/4 cup roasted red peppers
1/4 yellow onion, roughly chopped
2 thai chilies (optional)
1 1/2 cup quick oats
Salt and pepper to taste

For the hummus

1 14-oz can garbanzo beans (chickpeas)
2 tbsp tahini paste
1 garlic clove
1 tbsp olive oil
Juice of 1 lemon
Salt to taste
Instructions
Preparing the beans -

Soak the beans overnight.
Drain the beans and place them in a pot with enough water to cover plus an additional inch.
Season the water with salt, pepper, cumin, onions, garlic and cilantro leaves.
Bring the water to a boil. Once it breaks boil, lower the heat to medium and simmer for 40-50 minutes until the beans are tender.
Drain the beans and remove the vegetables.
With a potato masher, mash the beans. Set aside

For the burger -

In a food processor, grind the carrots, peppers, onion and thai chilies (the chilies optional).
Place the vegetable puree in a colander and drain the excess juice from the vegetables.
Mix the vegetable puree into the beans.
Mill the oats. Once milled, add them to the bean and vegetable mixture and stir until incorporated.
Form the burger patties. Should the mixture remain too wet, and the patties fall apart, add more milled oats, 1/4 cup at a time to avoid an overly dry mixture.
Heat a grill pan; set it on high heat. Once the pan begins to smoke, turn the heat down to medium.
Spray the grill pan with cooking spray and cook the burgers, 4-5 minutes on each side.

For the hummus -

In a food processor, blend the chickpeas, tahini, garlic, lemon juice and olive oil until it forms a paste.
Season with salt if necessary.

Assembling the burgers -

Take a pocket pita bread and cut it in half.
Spread the hummus inside the pockets.
Cut a burger in half and place the halves inside each pita pocket.
Add the vegetables of your choice, like tomato slices, cucumber slices, lettuce, etc.
http://www.tstastybits.com/2011/07/black-bean-burgers-with-hummus-spread/
T\'s Tasty Bits, 2009-2012