I didn't know I liked kale until this past April when my sister-in-law made this yummy kale salad for us at a recent family reunion.  She was inspired by this salad she had bought at Whole Foods which had kale, pine nuts and some other goodies I can't recall.  Probably because I scarfed it down and my brain cells weren't connecting my mouth functions with my vegetable recognition functions.
Kale is bitter and my sister-in-law got rid of most of the bitterness by salting the kale and rinsing it in between.  She massaged the kale with the salt to extract the bitter juices.  I was concerned about this massaging situation because truth be told, I am not good at giving massages.  Ask El Señor Hubs.  I attempt to massage his shoulders after a long day at work, but my hands just don't know what to do.  In his exact words, "You suck at massaging."  So that is that.  The good thing is that kale can't talk.
How to get rid of the bitterness in Kale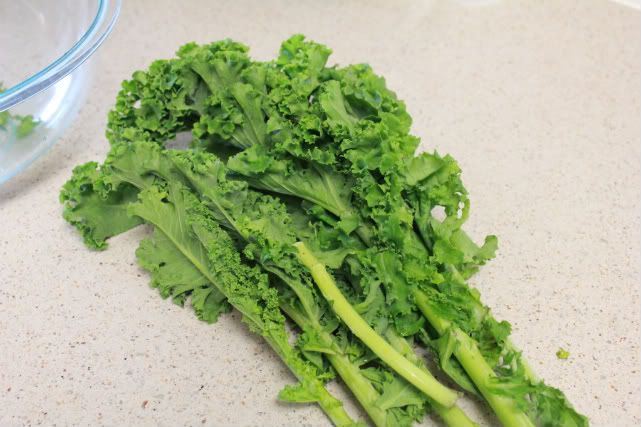 So here is your kale.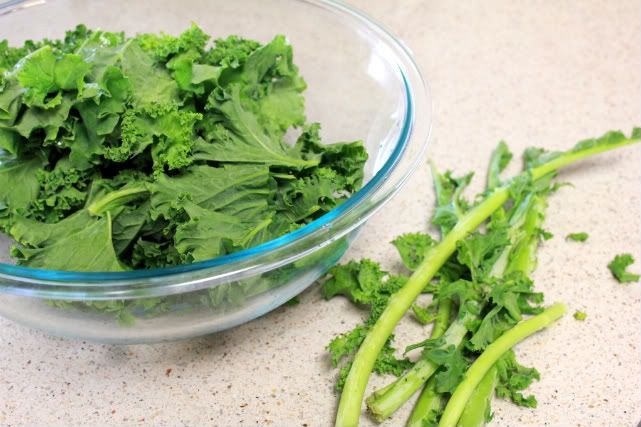 I like to get rid of the tough stem, so I just rip off all the leaves.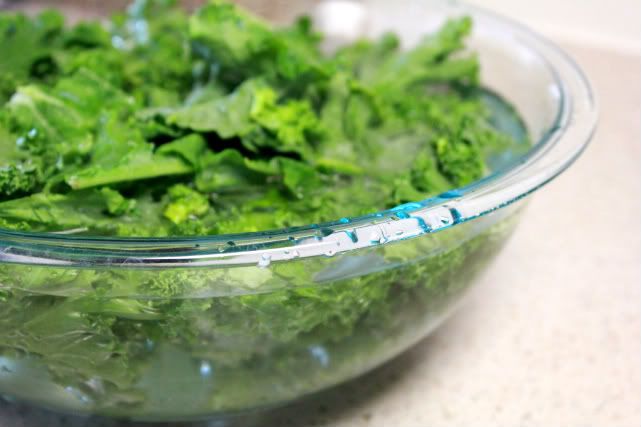 Soak your kale in cold water for a few minutes to rinse off the dirt.  The dirt will fall to the bottom of the bowl.  By the way, did you see?  I got new bowls!  It's the little things.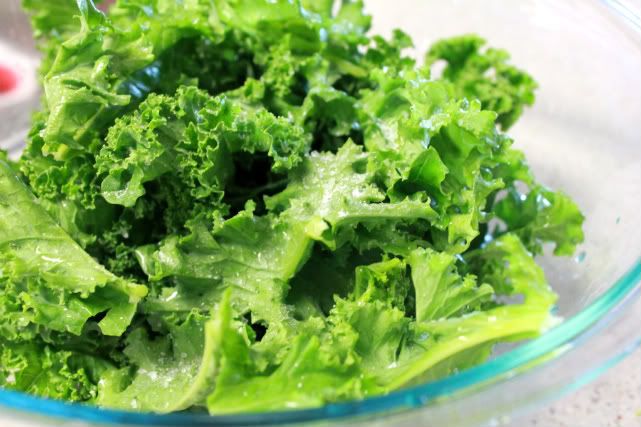 Remove the kale from the bowl and throw the dirty water away.  Sprinkle some salt all over the wet kale.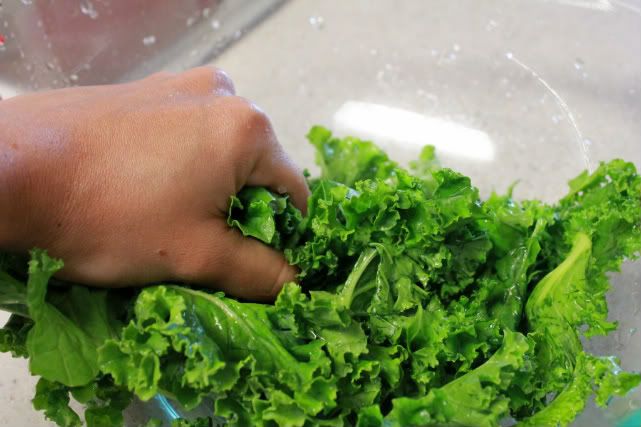 Begin massaging the kale by squeezing it with your hands.  Let the squeezed kale rest for about 5 minutes.  You will see you there is some extra water at the bottom of the bowl.  This is the yucky, bitter water.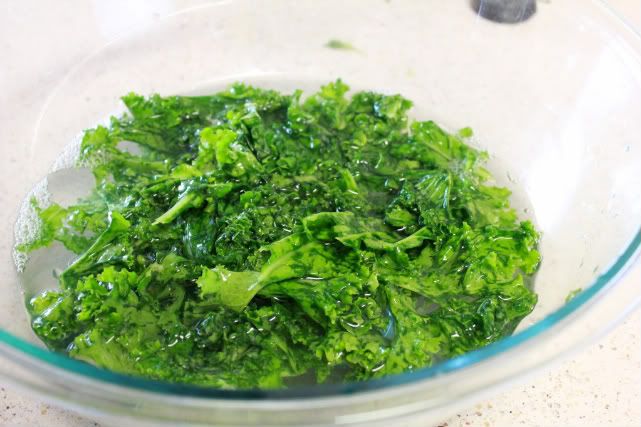 Rinse off your kale.  Repeat this salting and massaging process a few more times, rinsing in between.  I did it a total of three times.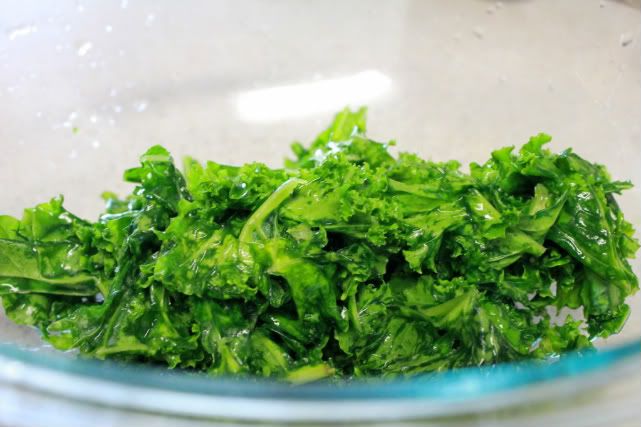 By this time the kale was less bitter, but it was still crunchy, which I like.  Now, we are ready to move on to the salad.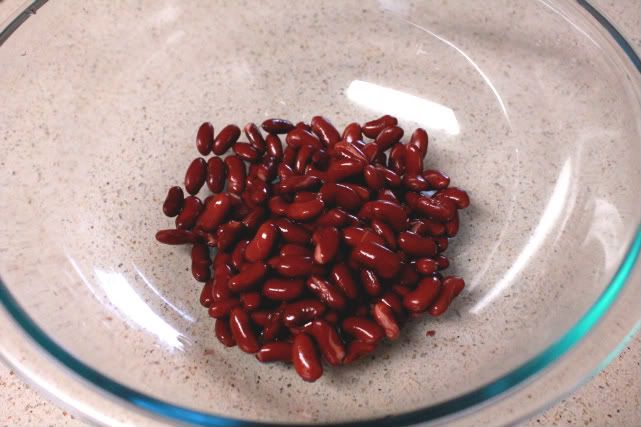 In a bowl, combine one can of red kidney beans, drained and rinsed.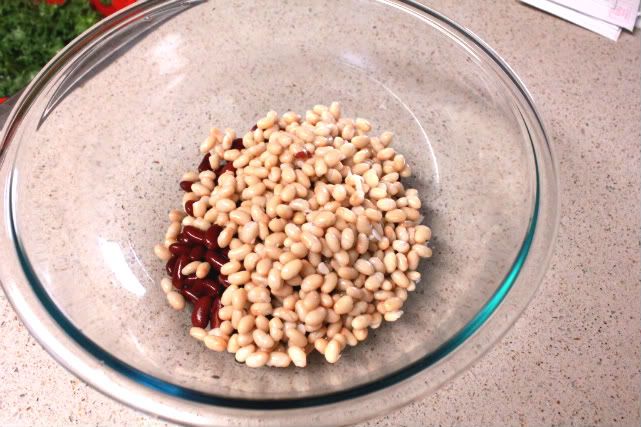 Add a can of cannellini beans, drained and rinsed.  If you don't have these beans, you can use white beans or black beans or any other type of bean you have.  This is like a kitchen sink type of recipe – my favorite kind.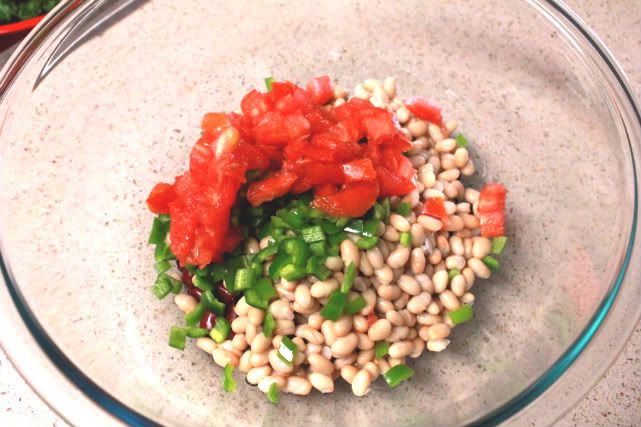 Add a large tomato, seeded and diced, and 3 jalapeños, seeded and diced.  If you don't have jalapeños, you could probably use a large green pepper.  When the jalapeños are seeded and the white veins are removed, it has a sweet flavor – not spicy at all.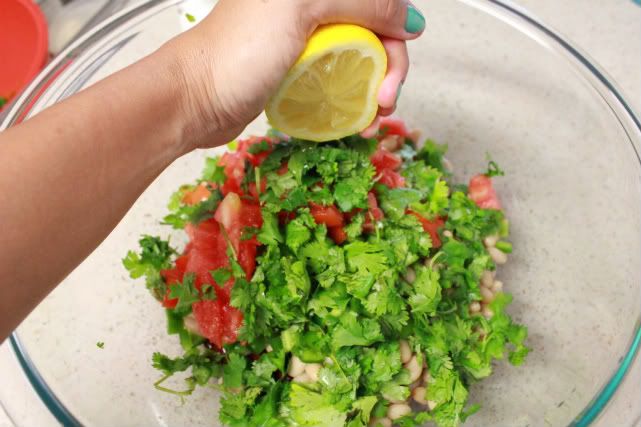 I added some cilantro and squeezed the juice of 1 lemon.  If you are not fond of cilantro, you can skip this step.  But I am fond of cilantro.  Cilantro and I are an item.
Drizzle a little bit of olive oil.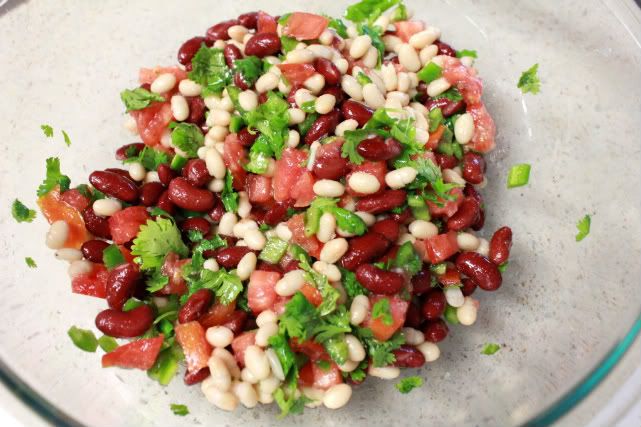 Mix it all together.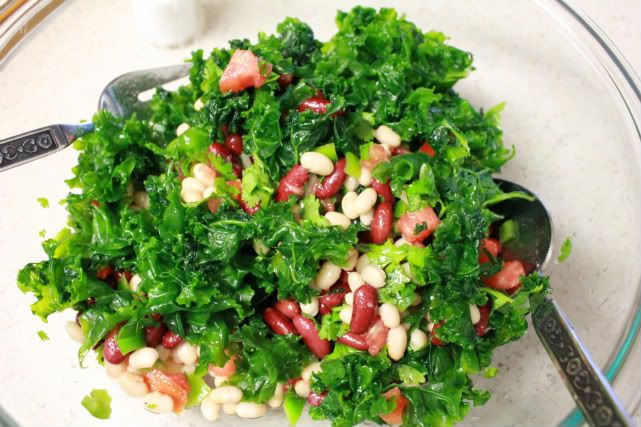 Oh yeah – the kale!  Add the kale and mix it again.  Season to taste with a sprinkle of salt.  Now, I used half of my bunch of kale, which was about 6 stalks.  You can use the whole bunch if you like.  It's not like you are going to RUIN the salad because you added too much kale.  It's like saying, "Oh darn, I put WAAAY too many chocolate chips in the cookie batter, and now my cookies are too chocolaty."  I mean, come on.
If you like, serve this salad with some avocado.  I have a thing for avocado also, especially during the summer.  Cheers to not turning on the stove!
Check out the new feature: you can print out the recipes now.  Pretty sweet, huh?
Ingredients
6 - 12 stalks of kale, stem removed and coarsely chopped
1 12-oz can red kidney beans, drained and rinsed
1 12-oz can cannellini beans, drained and rinsed
1 large tomato, seeded and diced
3 jalapenos, seeded, deveined and diced
1/4 cup cilantro, roughly chopped
Juice of 1 lemon
Olive oil
Salt to taste
Instructions
In a mixing bowl, combine the beans, tomato, jalapenos, cilantro, and lemon juice.
Drizzle some olive oil and mix.
Add the kale and combine all the ingredients. Season with some salt to taste.
Optional: serve with some avocado slices.
http://www.tstastybits.com/2011/07/kale-and-bean-salad/
T\'s Tasty Bits, 2009-2012