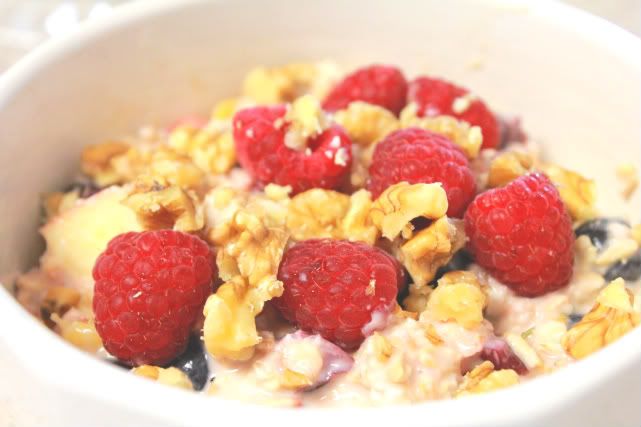 I used to frequent Au Bon Pain first thing in the morning before going to work.  At one of my previous jobs, there was an Au Bon Pain in the same building, so I would grab a bagel or a breakfast sandwich and some coffee before heading upstairs.  As I headed to get coffee, I passed by the breakfast buffet section and there it was.  Muesli.  I never felt attracted to buying it.  It just looked sad and weird.  A mush of something with some fruits thrown in there.  Ick.
One day, el Señor Hubs came home from work and told me he had a Hallelujah moment.  He had eaten muesli from one of his breakfast places near his office, which was not an Au Bon Pain, and would not stop raving about it.  This meant that I needed to come up with the Immaculate Concoction that is muesli.  And I had to like it.
I have this PepsiCo Recipe Cookbook I had received in a goodie bag a while back, and to my surprise there was a muesli recipe in there.  I suppose it should be expected since they own Quaker.  But that is neither here nor there.  Anyway, I decided to give this recipe a try, with some tweaks – you know me.  I was so pleased with the result!  It looked much better than the sorry muesli I had spotted at Au Bon Pain several years ago.  It was also delicious and super easy to make – not to mention healthy and hassle-free since you prepare it the night before.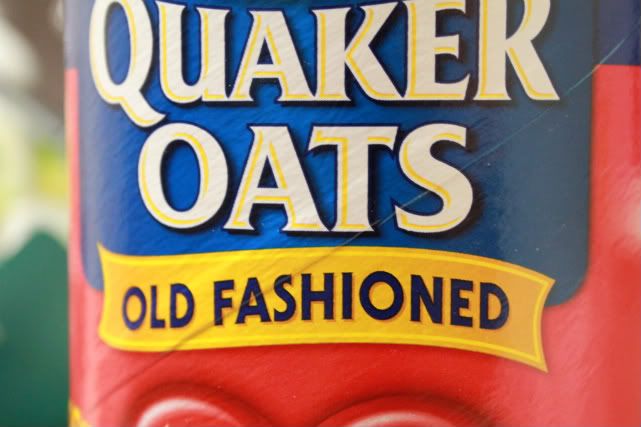 Start with 4 cups of these.  Very important you use this kind, and not the 1-minute oats.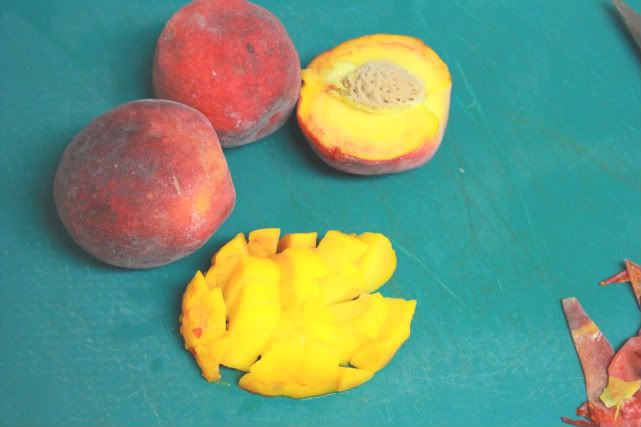 Peel and dice 3 ripe, sweet, delicious peaches.  Chop 1 gala apple while you're at it.  Again, I forgot to take a picture of those.
Pour the oatmeal into a bowl…
And add apple juice, the chopped peaches, the chopped apple, the blueberries, and the cranberries.  How gorgeous; it's like still life.
Add some low-fat, plain yogurt…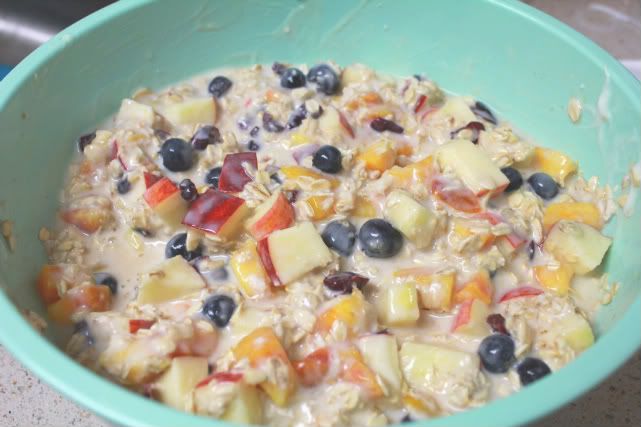 And mix thoroughly.  I forgot to add some cinnamon, which brings out the flavors of the muesli since you have apples and apple juice.  It will look quite soupy, but the oatmeal will absorb all the liquids.  Cover and refrigerate overnight, or for at least 8 hours.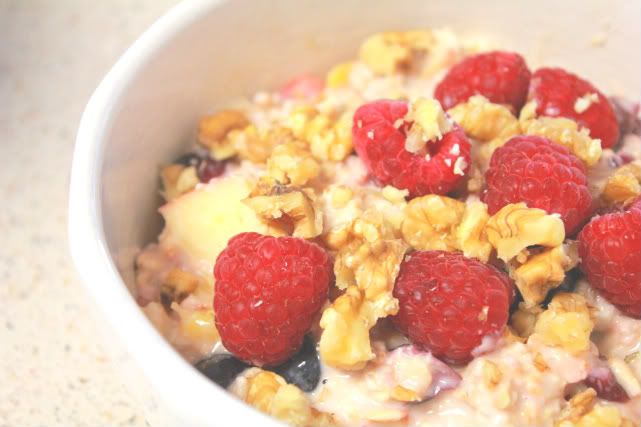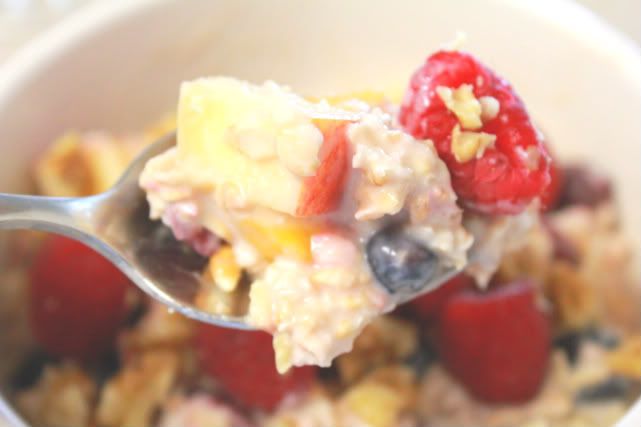 The next day, give the muesli a stir and serve cold with some extra berries and chopped walnuts.  Enjoy a great start to your morning.
Peach Muesli with Apples and Berries
(Slightly tweaked by adding apples and cranberries and increasing the serving size)
Ingredients
4 cups old fashioned oats, uncooked
3 peaches, peeled and chopped
1 gala apple, chopped
1 cup blueberries
1/2 cup dried cranberries
2 1/4 cups apple juice
2 cups plain nonfat yogurt
1 tsp ground cinnamon
1 cup chopped walnuts
Extra berries (rasperries, blackberries, etc.)
Instructions
In a large bowl combine all the ingredients except the walnuts and the extra berries; mix well.
Cover and refrigerate for 8 hours or overnight.
Serve muesli cold and top with the chopped walnuts and the extra berries. Store covered in the fridge for up to four days.
http://www.tstastybits.com/2011/07/peach-muesli-with-apples-and-berries/
T\'s Tasty Bits, 2009-2012