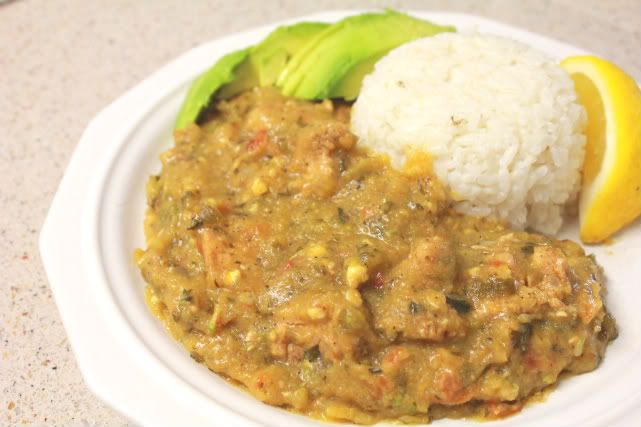 The more I keep reading and scouring old books and notes, the more I am amazed of the versatility of green plantains.  Growing up in a coastal city in Ecuador, you see plantains even in your soup.  Literally.  Plantains are a great source of potassium and carbs, and they are essential in the Ecuadorian coastal diet.  I see plantains as the equivalent of tortillas to the Mexican diet.  Well, maybe rice takes the number one spot versus the plantains.  Anyway.  In my home, we always had both.
While Sango de Verde is not a soup, it has a saucy, thick texture and composition which reminds me somewhat of grits.  This version is prepared using pork, but another very popular way to make it is with shrimp, or even with a white, meaty fish.  When I was young, we used to eat it mostly with shrimp given that in Guayaquil it was easier to come across shrimp than pork.  Also,  my mom would FREAK OUT if we ate pork and because of fears of trichinosis.  As a matter of fact, after any trip I used to take to La Sierra, like going to Quito or Riobamba, she used to take me straight to the doctor so that he can run all sorts of tests for parasites.  Why?  Because she knew that I would always eat Fritada, which is the most delicious smorgasbord of roasted pork and grains and potatoes.
I don't remember what cut of pork I needed to use for this particular version of sango.  When all you have is "carne de cerdo" in your faded notes like I did, well – you have nothing.  So, I opted for using some boneless pork chops, and they actually worked great because of its slight fatty tissue and marbling.  Like Goldilocks – just right.  And as usual, don't forget to taste and season every step of the way.  Muy, muy importante.  I hope you enjoy my Ecuadorian grits!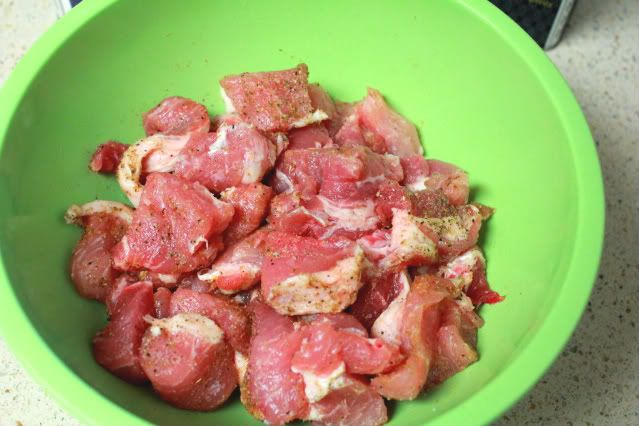 Cut your pork meat in chunks and season with salt, pepper and cumin.  Set aside.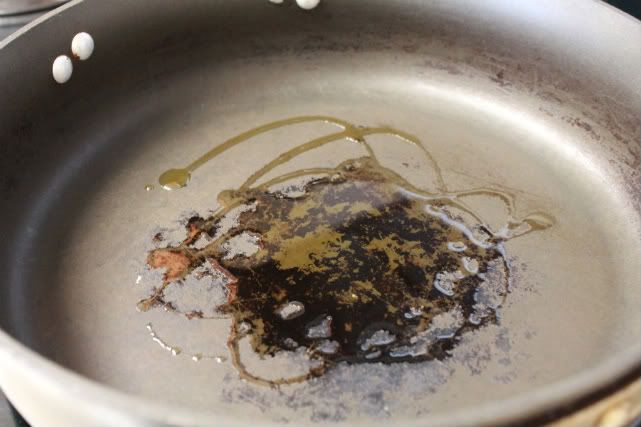 Heat up some oil..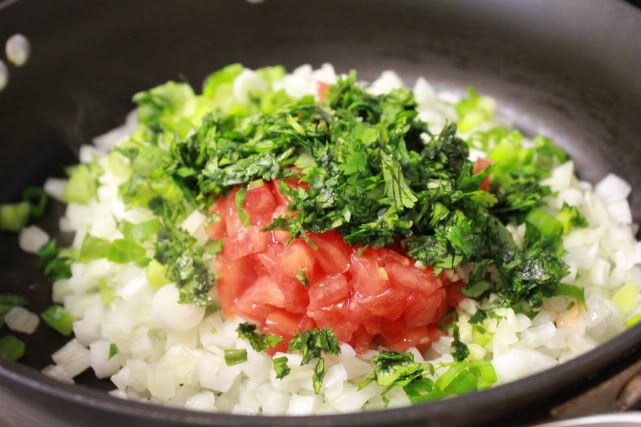 And make a refrito with onions – yellow and scallions, green peppers, tomato, cilantro and parsley.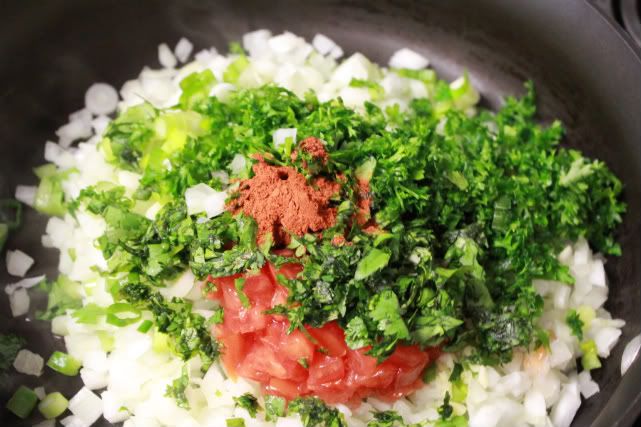 Add about 1/4 tsp of ground achiote, a.k.a. annato powder, for some coloring.
Mix all the ingredients and sauté until the onions begin to turn translucent.  The colors look so pretty!  And I just realized, in the raw, this is basically Pico de Gallo.  Just squeeze some lime juice and eat with some chips.  Mmm.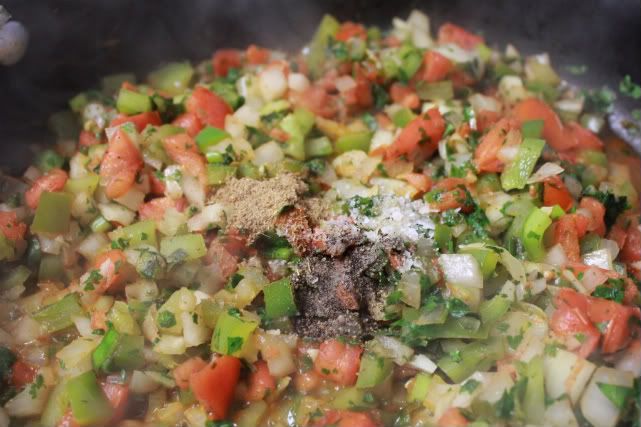 Season your refrito with some salt, pepper and cumin.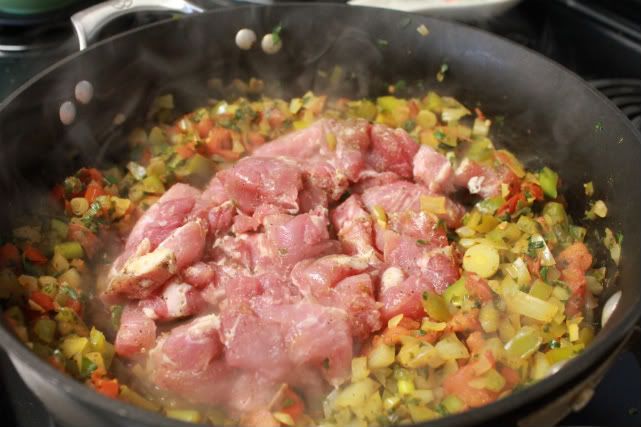 Then add the pork to your refrito.  Wow – I had a refrito and pork facial while doing this.  Sautee until your pork is golden brown.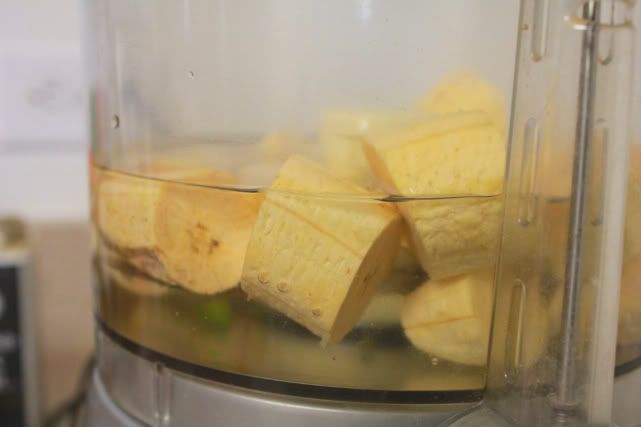 Meanwhile, take your plantains, cut in rounds and throw them in the food processor with some water.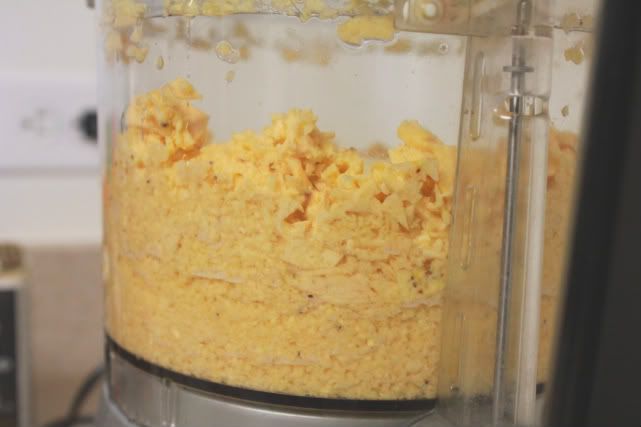 Hit that button.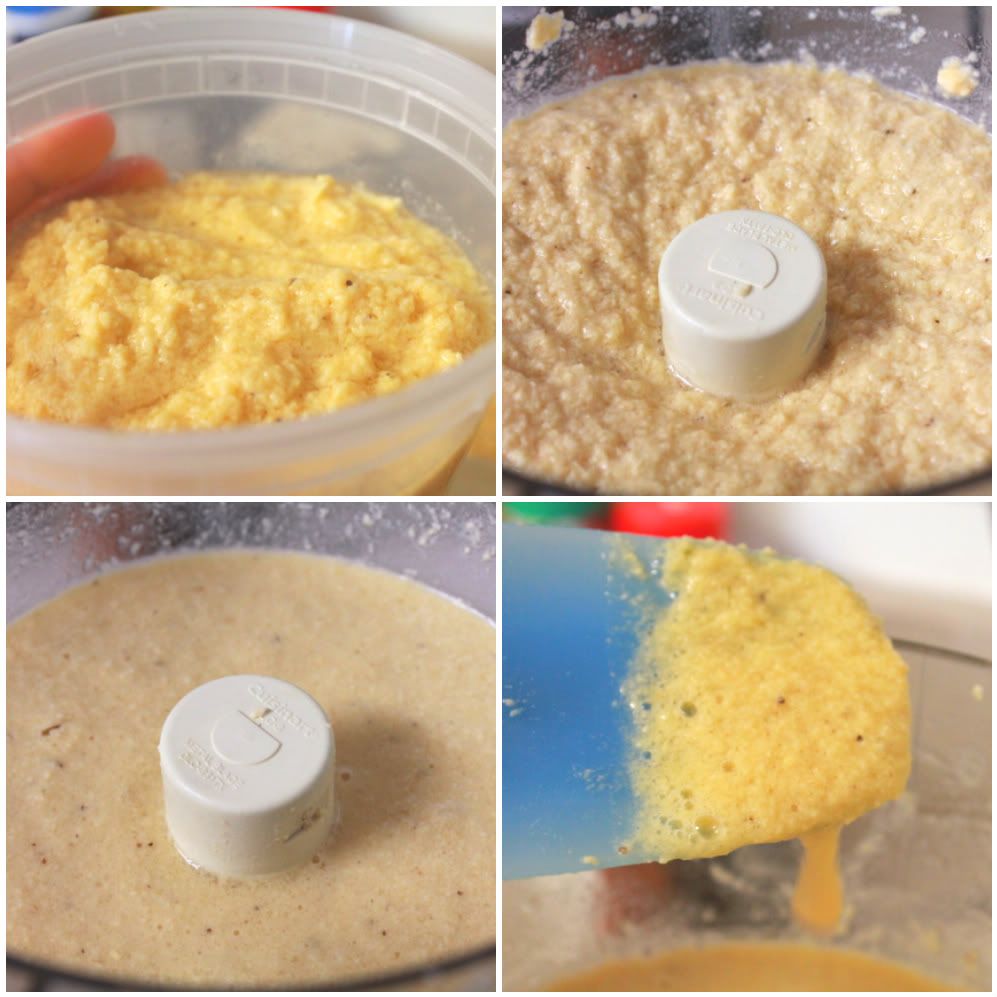 Now, here's the thing.  You are going to need 3 green plantains and 4 cups of water.  In my food processor, it turned out that I couldn't add all the water at once because it would overflow and I would end up with a huge mess and I am too lazy to deep clean on a Tuesday night.  So after the first process – using all the plantains, but maybe about 1/3 of the water, I split the mixture in two and processed a batch at a time.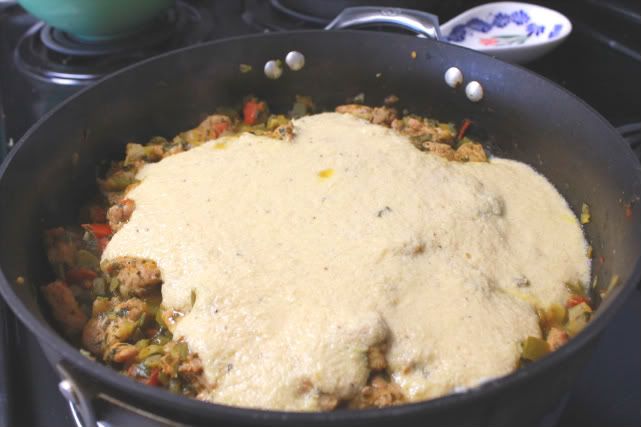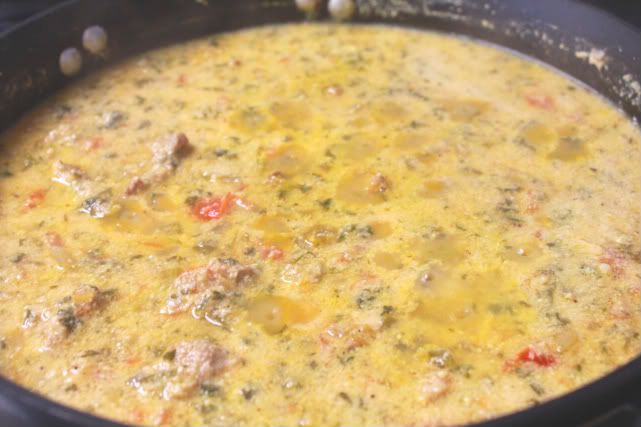 Pour this plantain mixture on your pork mixture.  One step I FAILED to document was adding grounded, toasted peanuts to the plantain and pork mixture.  Take about 1/4 cup of unsalted peanuts and toast them until golden brown.  Grind the peanuts into basically a paste and add to the plantain and pork mixture.  I must confess I didn't do a good job because I was in a hurry, so you can see some of the chunkiness there, but it at least it gave it a good crunch.  Cook for about 20-25 minutes on medium low heat, stirring constantly until the plantain mixture thickens and turns golden in color.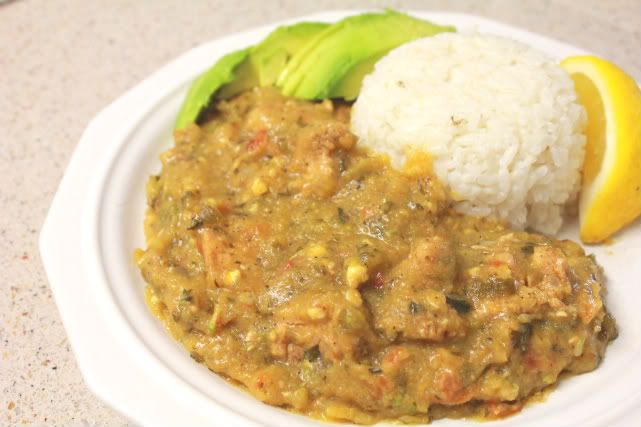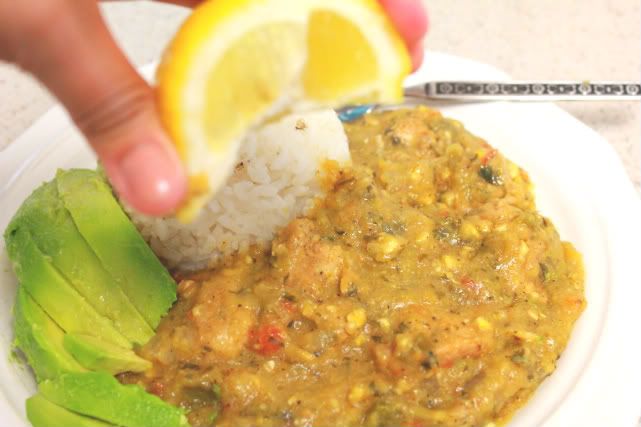 Serve warm with rice and some avocado slices.  Squeeze some lemon juice on the sango to perk up the flavor of this traditional Ecuadorian tropical dish.  Yum!
Ingredients
3 green plantains, peeled and cut in chunks
4 cups of water
1/2 lb pork meat, cubed (I used boneless pork chops)
1 yellow onion, diced
2 scallions, diced
2 tbsp curly parsley, finely chopped
2 tbsp cilantro, finely chopped
1 green pepper, diced
1 large tomato, diced
3 tbsp vegetable oil
1/4 cup peanuts, toasted and ground
Achiote (annato) powder
salt, pepper, cumin to taste
Instructions
In a large pan or skillet, prepare a refrito, by heating up the vegetable oil and sautéing both types of onions, pepper, tomato, cilantro and parsley. Season the refrito with salt, pepper and cumin to taste.
Add the pork meat and sautée until the meat is golden brown.
In a food processor, combine the plantains with the water and process until smooth.
Add the plantain mixture to the sauteed pork, and cook in medium low heat, stirring the mixture constantly.
Add the toasted, ground peanuts to the mixture, and continue to cook for about 20-25 minutes, until the mixture thickens and turns golden brown.
Serve warm with white rice, and squeeze some lemon juice over the sango to wake up the flavor.
http://www.tstastybits.com/2011/07/sango-de-verde/
T\'s Tasty Bits, 2009-2012