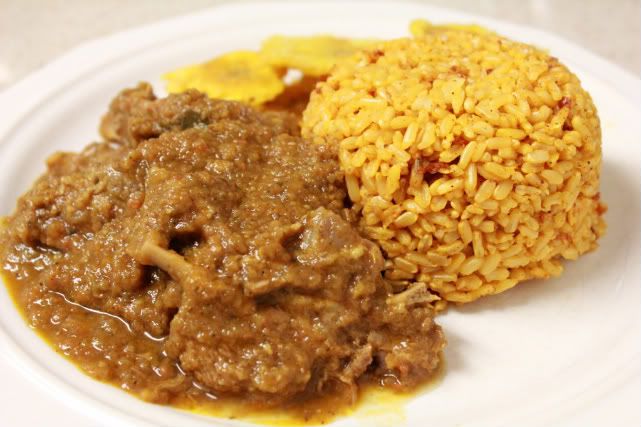 Back home in Ecuador, my nanny would begin the seco de chivo prep work at 8am.  Goat meat needs to be cooked low and slow to make it tender given its gameyness.  I vaguely remember my nanny also using a pressure cooker on occasions, when she didn't get started on this dish until late in the afternoon.
There are varied ways to prepare seco de chivo in terms of the sauce for the stew.  The most common one is using naranjillas, scientific name:  Solarum quitoense.  Naranjillas – also known as lulos in Colombia, are small, tart, citrusy fruits, original to Ecuador.  Other versions include using bitter orange juice, pineapple juice, tamarind juice and beer.  The key takeaway is that you need some acidity in the sauce in order to break down the meat and make it tender.  The juice is added to the meat, and then cooked for hours and hours.  Another traditional way of preparing seco de chivo is using chicha de jora, which is a fermented drink made out of a type of corn, known as jora.  In remote regions of the Ecuadorian and Peruvian Amazon, chicha is still prepared by women who chew the jora and mix it with their saliva.  They then spit out this chewed corn in a common bowl and let it ferment.  Are you hungry yet?  Don't worry – we won't be chewing and spitting anything out here.
Back to the stew.  This was my dilemma: a) I refused to be in the kitchen all day watching this goat cook for hours on end; and b) I don't have a pressure cooker to make my life easier.  So what I decided to do was marinate the goat meat overnight using tamarind juice and other spices.  Actual cooking time was 2 hours, in which you can get many other things done around the house, as well as prepare the rice and the plantains that traditionally go with this dish.
I love seco de chivo, and in general I love goat meat.  It's like eating red meat (I am a carnivore after all), but with less total saturated fat, less calories, and less cholesterol compared to other meats, like beef for example.
I bought my goat meat from a Halal grocery store.  In my neighborhood, there are a few Indian restaurants which serve goat meat, i.e. goat curry and goat vindaloo.  If you have such a grocery store, chances are they sell goat meat.  You may also want to check at your local Hispanic grocery store with a butcher counter; they may sell cabrito, or little goat, which is common in several Latin American dishes.
One thing I noticed when eating my stew was that it had several little pieces of bone, so if you have kids be careful when you serve this.  This could've been a function of the butcher's unsharpened electric blade, which may have caused crushing instead of performing sharp cuts on the goat.  In any event, this is just a word of caution I am passing on to you.  Flavor-wise, it was as if I'd never left Ecuador.  I will make another version with naranjilla juice in the future.  I think it will also be interesting to test this recipe in a crock pot.
** I also did this recipe to participate in #goaterie, which is a group of people on Twitter who share the love of goat goodness.  Check out more recipes involving goat in all its glorious forms.
Here is your goat meat.  As you can see, I had some meat without any bones and some with bones.  Some of these look like little lamb chops.  Rinse your goat meat and pat dry with a paper towel.
For the marinade you will need a green pepper, a yellow onion, some garlic, some parsley and cilantro, and of course, some tamarind pulp.
In a food processor, process the raw vegetables until you have a puree.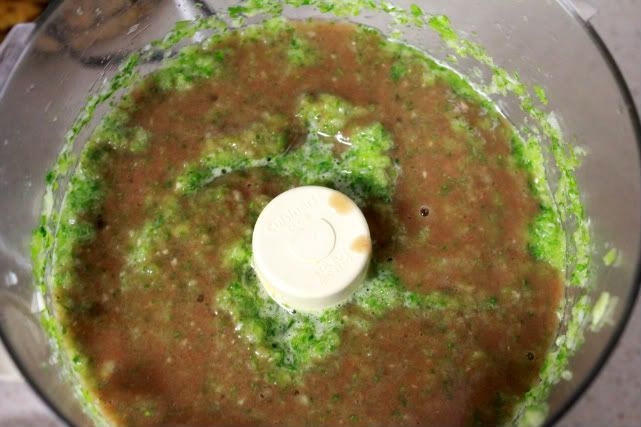 Dissolve the tamarind pulp in some water, using a 1:1 ratio.  For this amount of meat, I used 1/2 cup of pulp dissolved in 1/2 cup of water.  Add this juice to the vegetables and process again.
Season the vegetable puree generously with salt, pepper and cumin.
Pour this marinade over the goat meat.
Mix thoroughly and cover every piece of goat meat with the marinade.  Cover and marinate the goat meat for 8 hours or overnight.
Once marinated, remove the meat from the marinade, setting the marinade aside.
In a food processor, blend some ripe, seeded tomatoes.  I began with 2, but then I realized for this amount of meat I needed a total of 4 tomatoes.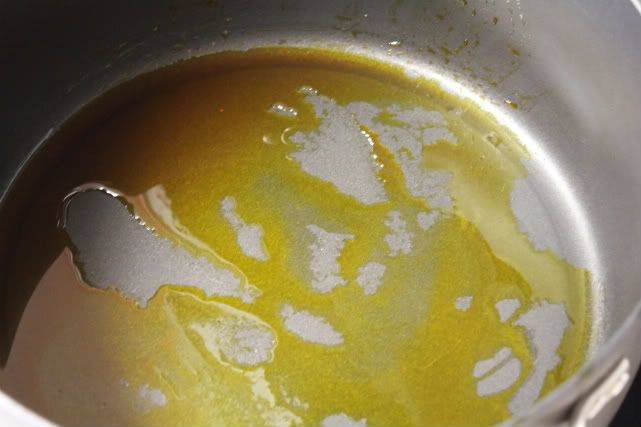 In a large dutch oven, heat up achiote (annato) infused oil to give the meat some coloring.  If you don't have this, just use regular oil and you can add the coloring later.  Latin grocery stores sell ground achiote, which can be used to give the dish its typical reddish tint.  If you are using the powder, don't add it to the oil, but to the meat and vegetables.
Once the oil is hot, and it begins to smoke, add your meat and sautée it for a few minutes until it turns golden on all sides.
Turn the heat to medium low and pour the marinade over the meat and stir.
Add the tomato puree and stir.
This is where you will add your food coloring if you're using ground achiote.  Use 1/4 tsp to 1/2 tsp, depending on your preference.  Secos are traditionally red in color, and achiote powder doesn't have any taste so you won't be altering the flavor of the dish.  I opted to add 1/4 tsp; in spite of using the achiote oil, I didn't feel it was red enough.  Other coloring options?  Sweet paprika or saffron.  Add a few bay leaves as well.
Cover and let it cook low and slow for 2 hours until the meat falls off the bone.  I checked and stirred my stew after the first hour and I added 1/4 cup of water because the sauce had slightly dried up and I still had another hour to go.
After two hours, your seco de chivo will be done.  Check out the meat falling apart.
Serve your hearty and healthy seco de chivo with yellow rice and patacones.  You can cheat on your sirloin steak tonight.
[amd-zlrecipe-recipe:18]