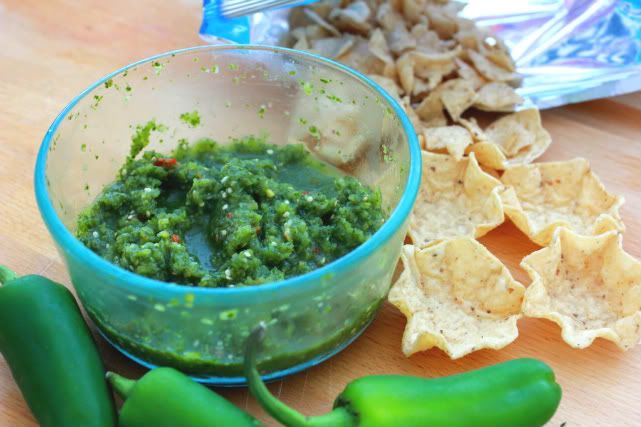 I made this raw tomatillo salsa over the July 4th weekend, because I love salsa.  And I love chips.  And I love to scoop spicy salsa with my chips.  And I love spicy food.  And you can make this salsa spicy if you want to.  And I wanted to.  So I did.  This is a quick, no-fuss salsa that requires no cooking, so you can get out and enjoy the summer heat.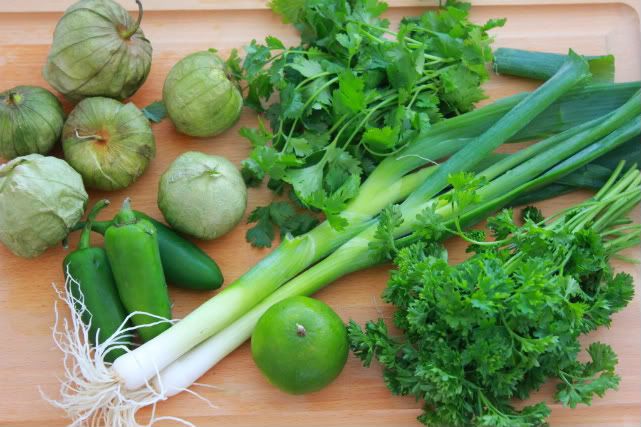 Behold, the sea of greens: tomatillos, scallions, jalapeños, parsley, cilantro, lime.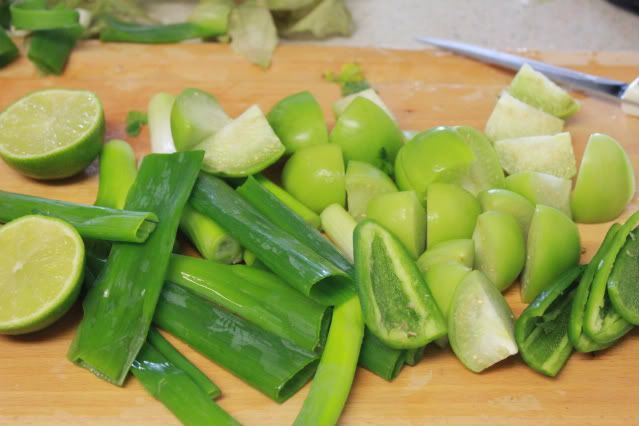 Remove the skins off the tomatillos, and rinse them thoroughly to rid of the stickiness the tomatillos have.  Chop the tomatillos and scallions into smaller, manageable pieces.  Half your lime to squeeze the juice.  Seed your jalapeño peppers, and cut off the white veins inside the peppers.  Cut them into smaller pieces.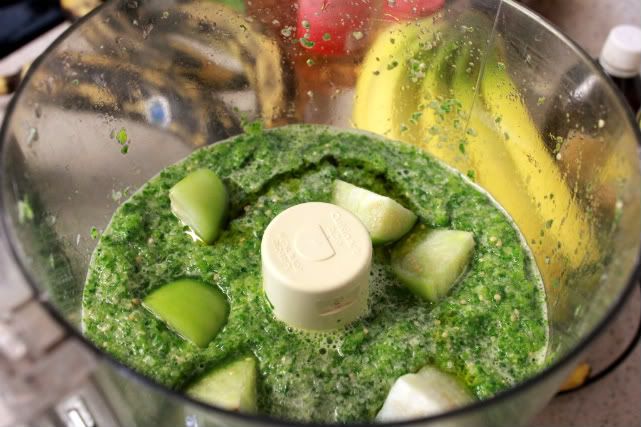 Throw your tomatillos, scallions, jalapeños, cilantro and parsley in your food processor and mega-chop away.  Squeeze the lime juice and add a drizzle of olive oil and a pinch of salt.  If you like mild, grab your chips and dig in.  If you like some heat…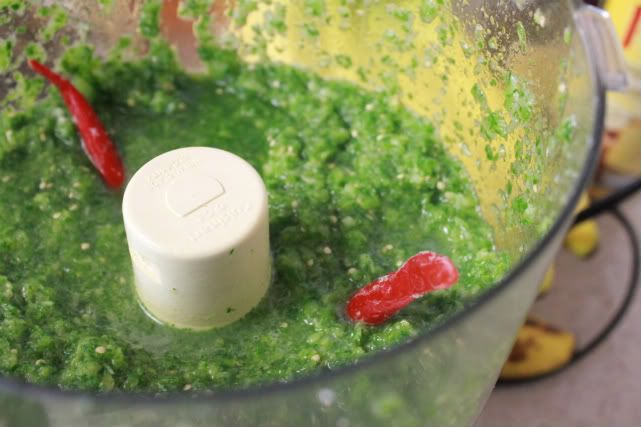 Add two Thai chilies and chop away.  Don't let the tininess deceive you.  These chilies are like me:  they are little but they pack a punch.  Ha!  Now, you could have just chopped the jalapeños and thrown them in seeds and all, but I like the sweetness that the jalapeños have and then add that lip-burning heat from the Thai chilies.  There is no wrong way to make it.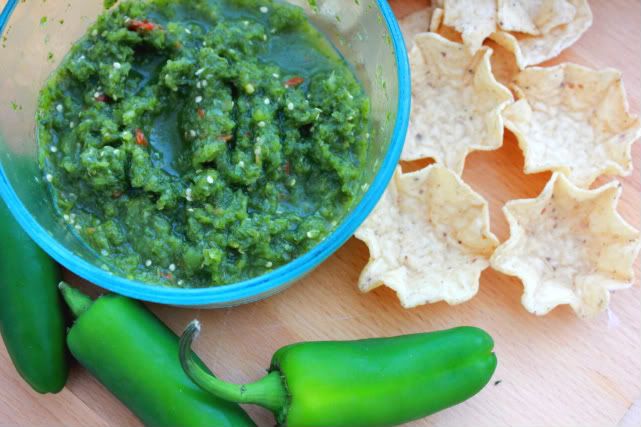 Done.  Dig in.  If you happen to have a cold beer with you like we did of the holiday weekend – even better.  A mojito or a caipirinha will do.
My super easy raw tomatillo salsa, perfect for summer!
Ingredients
6 tomatillos, skin removed and cut in quarters
2 scallions, roughly chopped
1/2 bunch of cilantro
1/2 bunch of parsley
3 jalapeños, seeded and white veins removed
Juice of 1 lime
Olive oil
Pinch of salt
2 thai chili peppers (if you like it spicy)
Instructions
In a food processor, blend the tomatillos, scallions, parsley, cilantro, jalapeños, lime juice, drizzle of olive oil and pinch of salt. This will result in a mild sauce.
For extra spice, add thai chillies to the mixture.
Serve with corn chips or pita chips.
http://www.tstastybits.com/2011/07/tomatillo-salsa/
T\'s Tasty Bits, 2009-2012