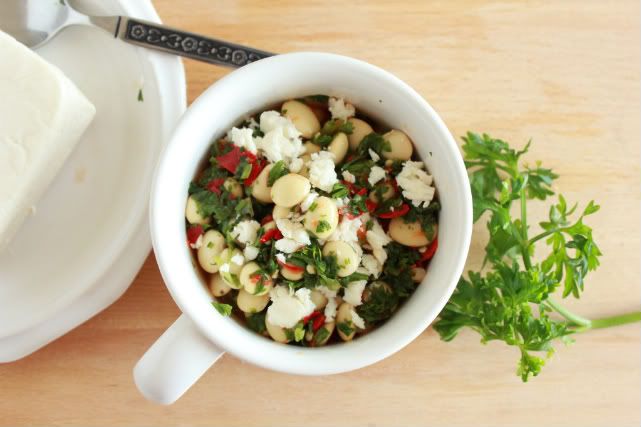 For the love of all things spicy, here is another variation on ají, the Ecuadorian spicy condiment that is good on just about everything.  In addition to ají preparado and ají criollo, ají con chochos y queso is another favorite on mine.  Although my love for all things spicy developed at a latter stage of my life, my love for chochos runs deep.  You're probably asking, what in the world are chochos (choh-chohs)?  We'll get there; just be patient.
On occasions, my abuelita used to do the grocery shopping for us – mostly because she felt that sometimes her granddaughter wasn't eating properly.  See, the thing is I am a small person.  When I was a kid, I was tiny, short and skinny – and not much has changed since.  However, it had nothing to do with how I ate.  That's just how I was.  My grandma vehemently disagreed.  So she introduced me to chochos at the tender age of 6, as a way to get the proper nutrition I "so desperately needed".  Abuelita, I think I turned out just fine.
Chochos are lupini beans.  Truth be told, I found this out about a month ago.  And when I had this epiphany, my little legs couldn't run fast enough to La Conga – my Hispanic grocery store, not the dance – and buy them by the truckloads.  That day, the skies parted, angels sang and the world was made whole…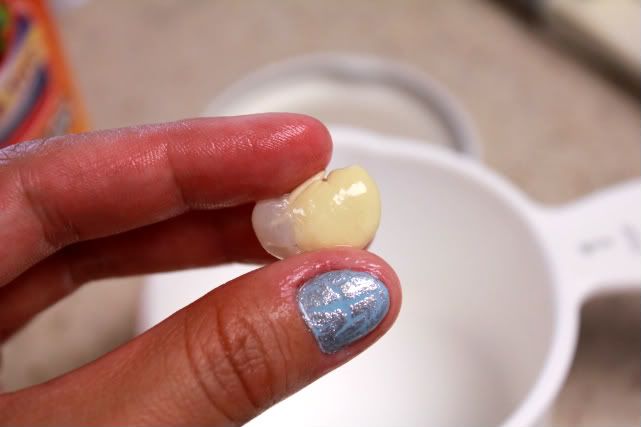 My grandma taught me how to eat these little guys.  You see, chochos have a thin, outer skin.  You hold one chocho in between your index, middle fingers and thumb, and you squeeze the bean, causing the skin to tear open and the chocho to pop out.  Imagine being 6 and seeing a little bean pop out in between your fingers!  Trust me – I had toys, and I had stuff to do.  Still.  This was fun to me, OK?
Chochos have a nutty and cheesy (yay!) taste, and are usually sold en salmuera, meaning in brine in a jar.  They can also be found dry, but I have not had such luck.  If you find them dry, make sure you soak them overnight and discard the water; this water has a bitter taste.  Although normally you pop the beans out of their skin to eat them, eating them with the skin on is not going to kill you.  And for the record, chochos are highly addictive.  For this recipe, I didn't peel the chochos because I didn't have the patience.  I just wanted to eat them.  Let's get you on your way to eat them too, shall we?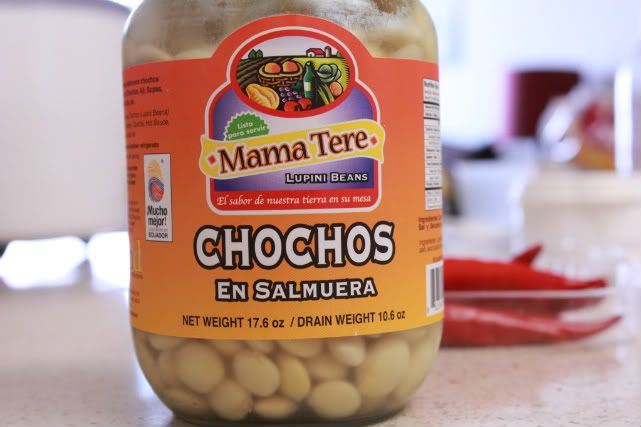 So here are your chochos en salmuera.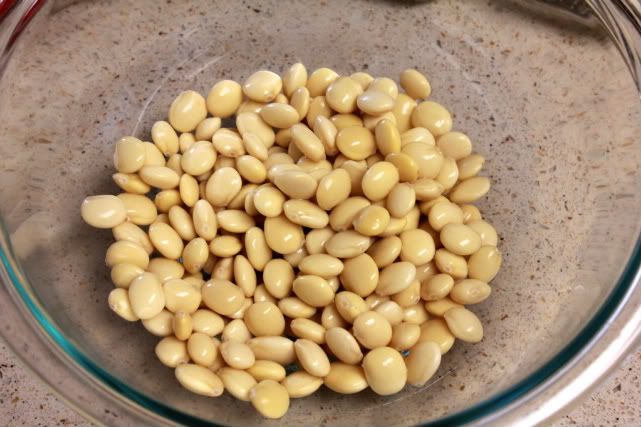 Drain and rinse the chochos and place them in a bowl.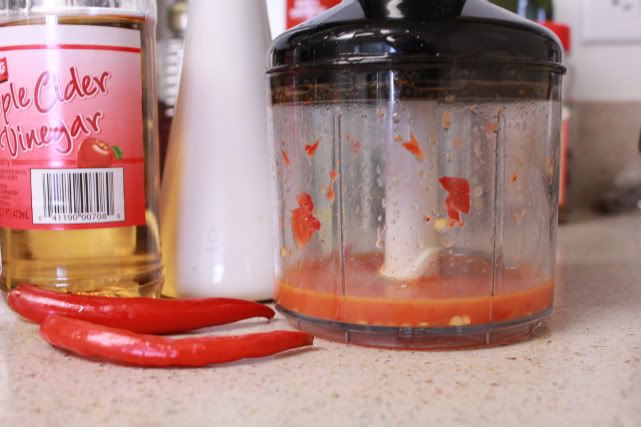 Separately, grab 2 hot peppers, or ajíes and blend them with some water, vinegar and oil until mostly pureed.  They don't have to be perfect; I like to see some pieces of hot peppers floating around.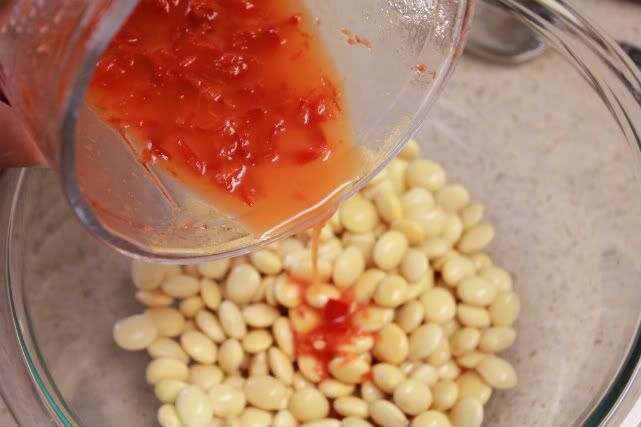 Pour this mixture over the chochos.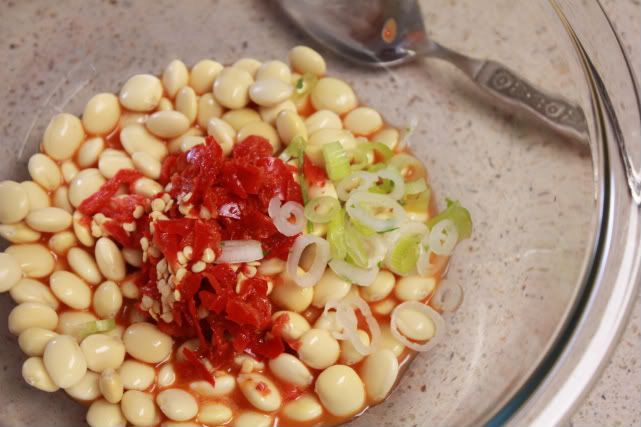 Add some chopped scallions, greens and all.
Add cilantro and parsley…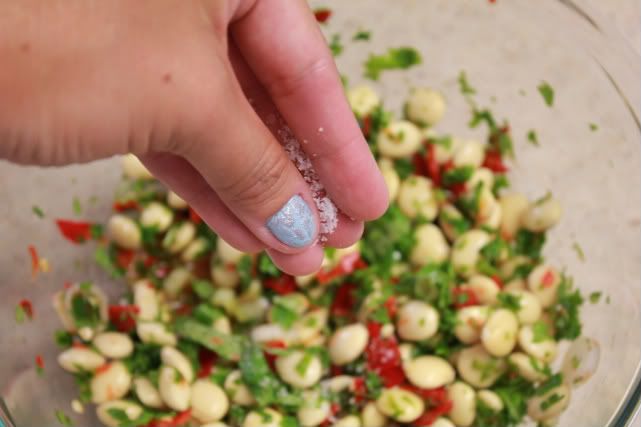 And some salt to taste.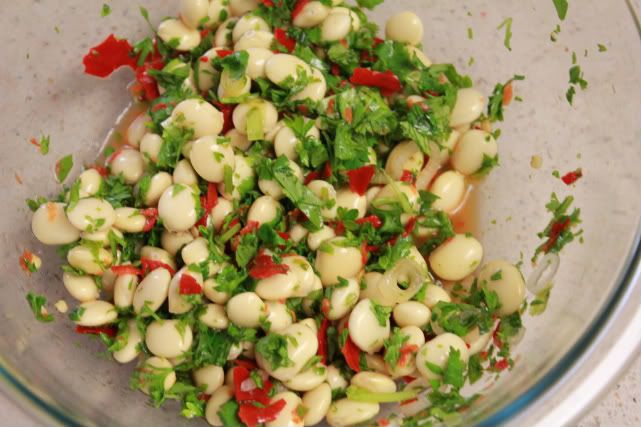 Mix it all.  You will get a whiff of that spicy aji – but we're not done yet!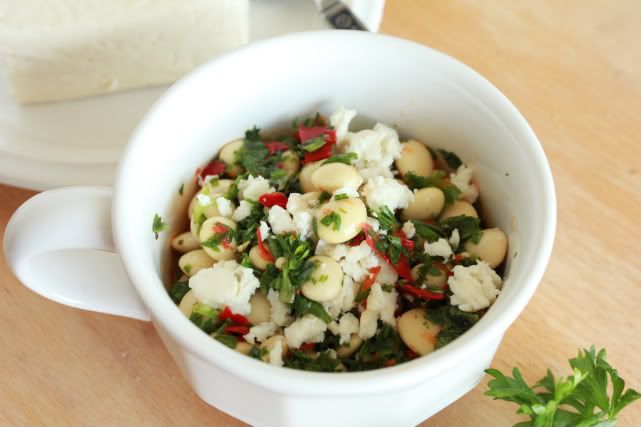 Right before serving, throw in some grated queso fresco and mix again.
Use this ají as a topping for baked potatoes, eggs, even some toasted baguette slices (great amuse-bouche!), or just eat it out of the bowl like I did.  Enjoy!
Ingredients
2 ajies (hot chili peppers)
2 tbps water
1 tsp red wine vinegar
1 tbsp vegetable oil
1 cup chochos (lupini beans), drained and rinsed
1 scallion, chopped
1 tbsp cilantro, chopped
1 tbsp parsley, chopped
Salt
1 cup queso fresco, grated
Instructions
In a blending device of your choice, combine the hot peppers, water, vinegar and vegetable oil. Blend until peppers are mostly minced.
In a bowl combine the lupini beans, the hot pepper blend, scallion, cilantro and parsley.
Prior to serving, add the grated queso fresco and mix thoroughly.
Serve as a topping for baked potatoes, egg omelets, etc.
http://www.tstastybits.com/2011/08/aji-con-chochos-y-queso/
T\'s Tasty Bits, 2009-2012