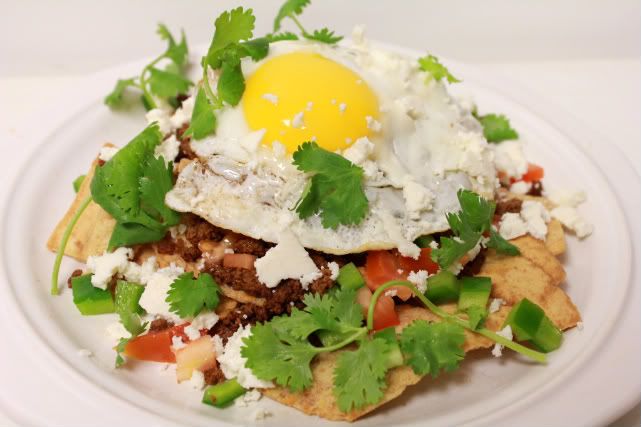 Do you ever cook for one?  It sucks.  Well, the concept of being by yourself  doesn't necessarily suck; I actually enjoy the me time. What sucks is going through all the trouble of dicing and mincing vegetables and fruits, prepping meats, dirtying pots and pans and spoons and dishes…  And JUST FOR ME?  Ugh, no thank you.  So, during those times when I don't feel like takeout, and don't have the energy to prepare an elaborate meal for one, I make this: my version of turkey chorizo chilaquiles.
The turkey chorizo recipe is adapted from a Pepsico recipe book I have (I've used it before here).  This recipe is perfect for turkey; the slew of spices and flavors that go into it combines perfectly with turkey, a pretty bland meat.  The chilaquiles part of it comes from not knowing what else to call it.  Chilaquiles is a traditional Mexican dish that consists of lightly fried corn tortillas which are the base of the dish, which is then topped with some type of salsa, followed by chicken or some other meat, and an egg either fried or scrambled.  Pretty close, don't you think?  Chilaquiles are usually eaten for breakfast or brunch, and who doesn't love breakfast for dinner?
Behold the spices: salt, ground black pepper, cumin, chili powder, allspice and cinnamon.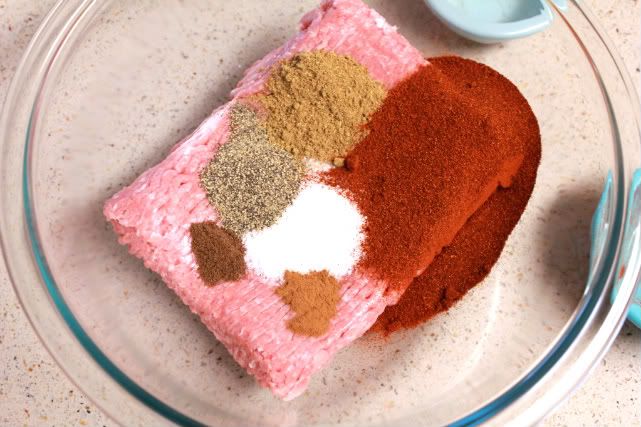 Add them to a pound of lean ground turkey and combine well.
Add some apple cider vinegar,
Some hot sauce,
and some minced garlic and mix thoroughly.
Brown the turkey in a large sautee pan until completely cooked.
On a plate lay a bed of chips.  I used whole wheat pita chips, but you can use regular pita chips, corn chips, a tortilla – even rice.  Just don't use something like cool ranch chips, or cheese puffs or any of that crap.
Scoop a generous amount of the turkey chorizo,
Add some diced tomatoes,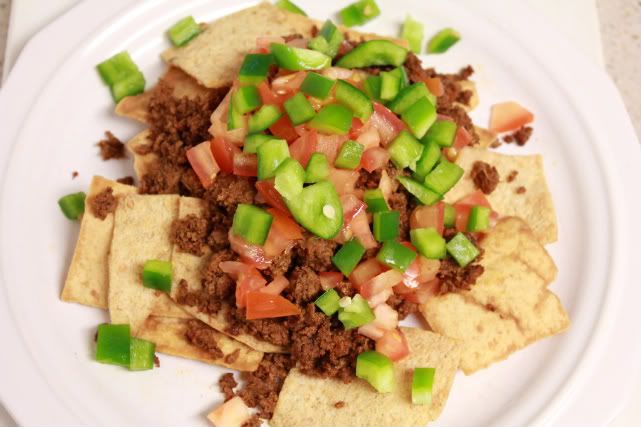 And some diced green peppers.  Of course you can pile on the veggies to your little heart's content.  When I made this, my sad refrigerator only had tomatoes and peppers.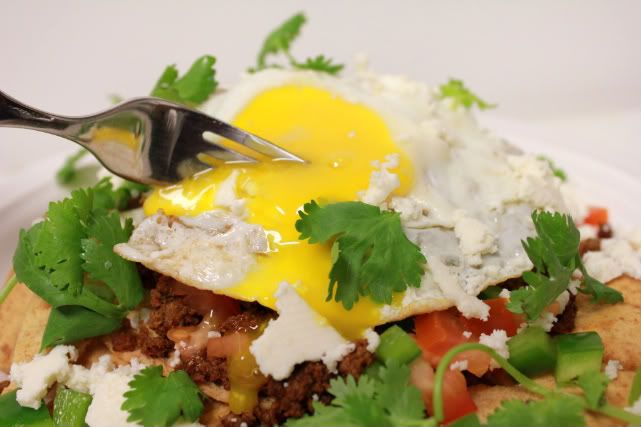 Top it with a fried egg, some crumbled queso fresco and some cilantro for good measure.  Of course you can go crazy and add tons of cheese and more hot sauce.  Go ahead – be wild and enjoy your me time.
Turkey Chorizo Chilaquiles… Of Sorts.
Ingredients
For the Turkey Chorizo:

1 lb lean ground turkey
1 oz apple cider vinegar
1 tsp hot chili sauce (I used Cholula Chili Lime)
1 tsp cumin
4 tbsp chili powder
1/8 tsp cinnamon
1/8 tsp allspice
1 tsp garlic, minced
1 tbsp kosher salt
1 tsp ground black pepper

For chilaquiles build:

Pita chips
Diced tomatoes
Diced green peppers
Fried egg
Queso fresco, crumbled
Cilantro leaves for garnish
Instructions
Preparing the turkey chorizo:

In a large bowl place the ground turkey and season with all the spices, the garlic and the vinegar. Mix well and fold evenly into turkey.
Brown turkey until completely cooked.

Assembling the chilaquiles:

Place a handful of pita chips, corn chips or any chip of your liking, preferably natural and unseasoned (i.e. avoid using cool ranch, or cheesy cheese, etc.).
Add a few spoonfuls of the ground turkey.
Place a few spoonfuls of diced tomato and diced green peppers.
Top with a fried egg, crumbled queso fresco and cilantro leaves.
http://www.tstastybits.com/2011/08/turkey-chorizo-chilaquiles-of-sorts/
T\'s Tasty Bits, 2009-2012