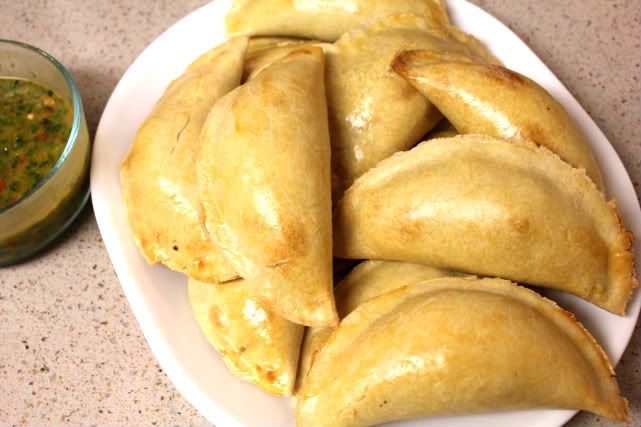 About a month ago, one of T's Tasty Bits awesome twitter followers had a request for an empanada recipe, al estilo Chileno, or Chilean style (by the way, why aren't we tweeting?).  Then, a very dear reader was wondering how to make a type of empanada that had a sweet filling inside.  And yet another wondered about the empanadas that have a simple cheese filling commonly sold by street vendors in Ecuador.  So I said to myself, "SELF!  It is time for some Empanada Epicureanism!"  Is that a real word?  In Ecuador, you can find all sorts of types of empanadas – fried or baked, and with different types of fillings.  We will explore the most popular ones here on T's Tasty Bits.  AREN'T YOU EXCITED???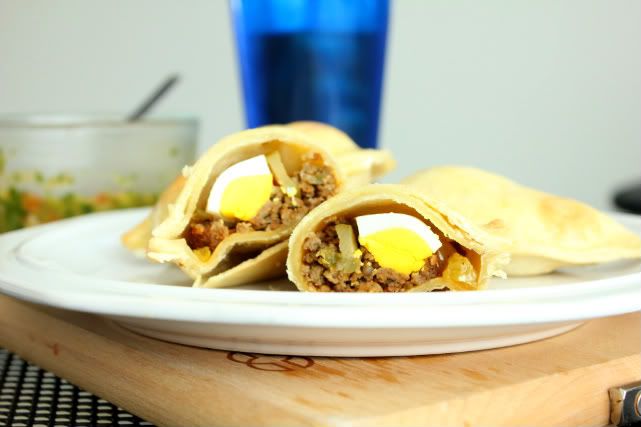 First up, empanadas estilo Chileno.  So what makes an empanada Chilean?  For one, the filling, known as pino.  Pino is a filling that consists of ground beef, raisins and olives, among other seasonings.  From my understanding: no ground beef, NOT pino.  While this is the traditional filling of the Chilean empanada, it doesn't mean you can't substitute for other meat if beef isn't your thing.  Of course, the dough wrapper is equally important – you need a crusty on the outside, yet soft upon biting wrap for this kind of empanada.  After several trials and errors, this dough I share with you is a keeper.  For full disclosure, I made this dough on a very humid day, as in the day before Hurricane Irene.  I figured, if we were going to be flooded and without the ability to go anywhere, we might as well have something good to eat.  Sometimes, air conditions have an impact on preparation and baking, but let me tell you, rolling out this dough on this day was a cinch.
One of the things I love about this empanada is that it is baked, which makes me feel better after I eat 5 of them.  Don't get me wrong, fried empanadas are equally awesome, but probably not best to eat on a consistent basis.  Actually this baked empanada has its own variation in Ecuador and it has been dubbed empanada Guayaca, meaning empanada from Guayaquil, where the main difference is that the filling doesn't have olives.  But I like olives, so we will use olives.  But if you don't like them, then skip them.  I am not going to come over and smack you around if you don't put olives in it.  I will however, come over to eat the empanadas you've just baked.
Filling Preparation:
Start with a pound of beef which you will season with salt, pepper, cumin, chili powder and some annato powder for some coloring.  Mix well.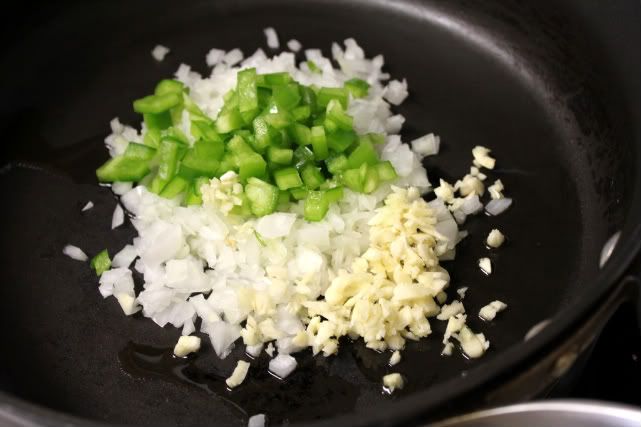 Prepare a refrito by sauteeing some onions, green peppers and minced garlic.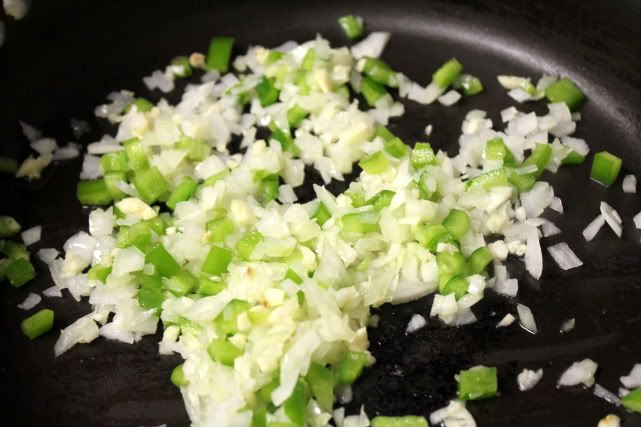 Sautee until the onions are translucent.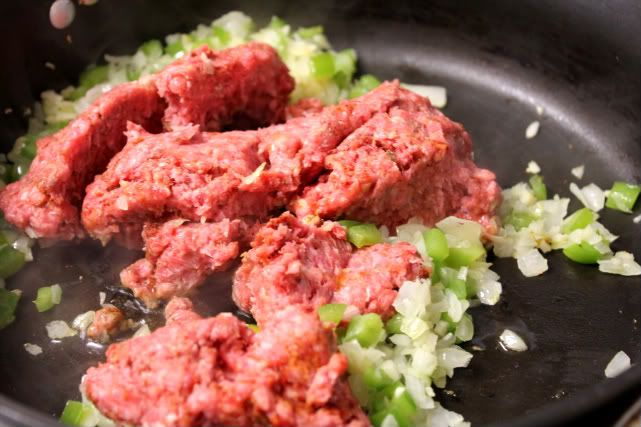 Once translucent add the seasoned ground beef…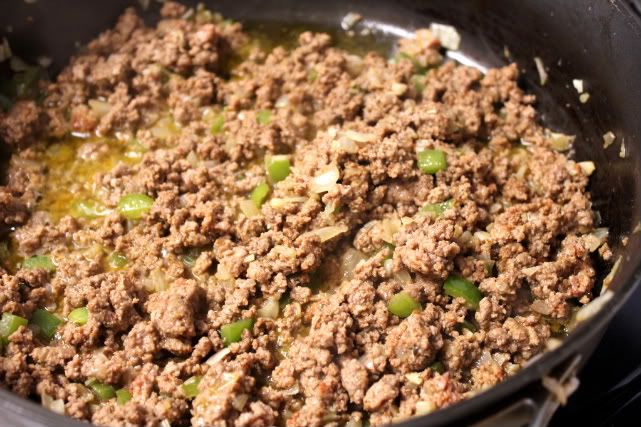 And cook until the beef is browned and all done!   See that little pool of fat on the upper left hand corner?  Make it disappear.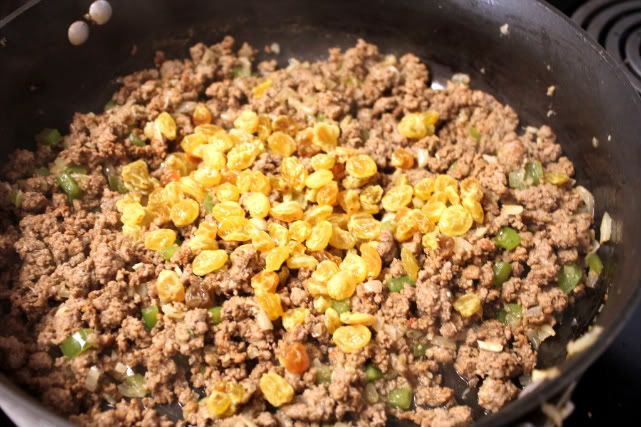 Now add some golden raisins…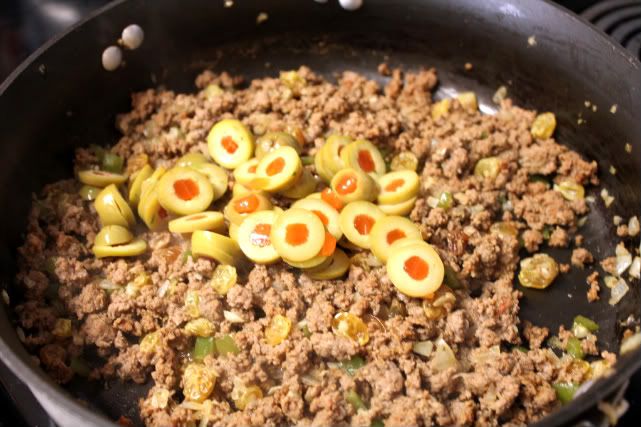 And some Spanish olives.  I used the pimento stuffed ones, but feel free to use the naked once if you prefer.  Now, usually the filling will have the regular raisins and black olives, but there is something so delicious about the sweetness and lightness of the golden raisins that complements the brineniness (word?) of the Spanish olives which goes so great with the ground beef.  Mmm…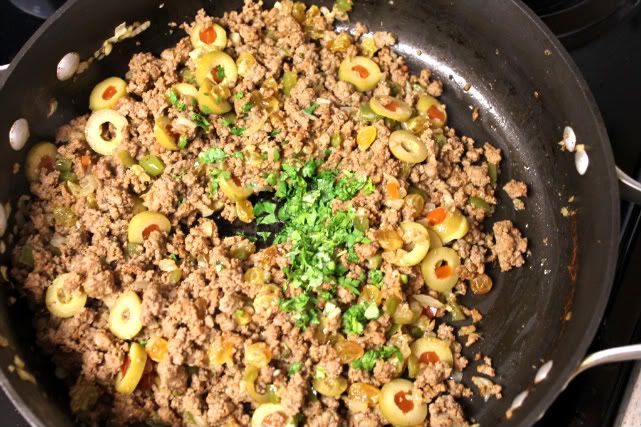 Top off with some chopped cilantro, mix and set aside to cool.  The great thing about this filling is you can prepare it the day before.  By doing so, it allows for all the flavors to combine and concentrate better.  I highly recommend it!  And, it saves you some time the following day as you prepare the dough and assemble the empanadas.
Dough Preparation: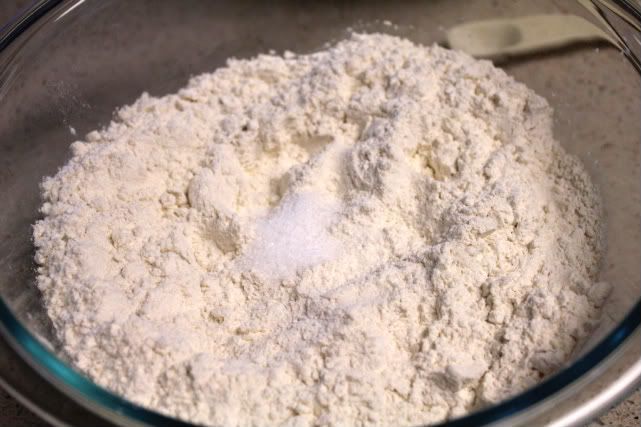 In a large bowl, combine some unbleached all purpose flour and some salt.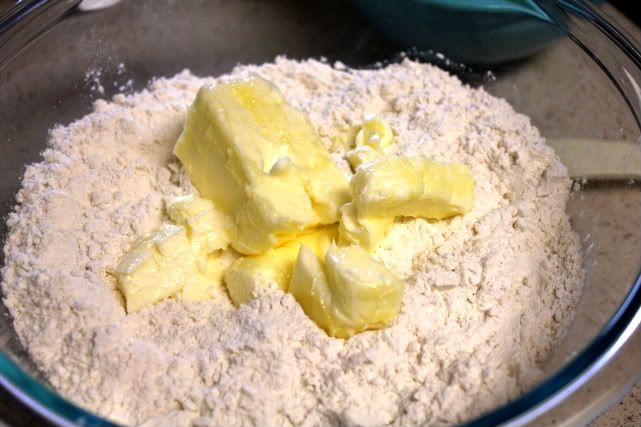 Add the butter, cut in pieces and at room temperature.  So this is what my butter looked like on that day; with the humidity and air temperature, my butter looked creamy.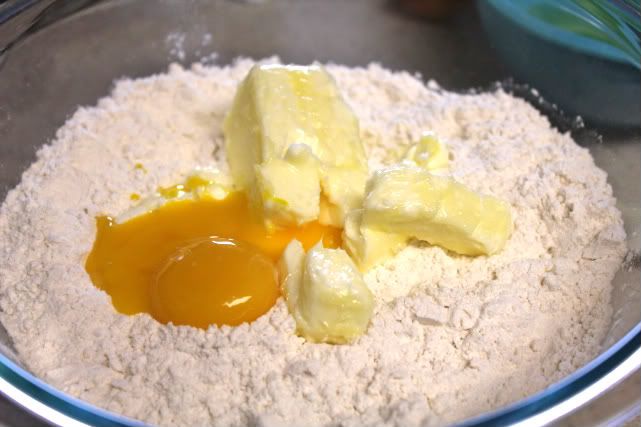 Then add a couple of egg yolks; one of them bursted…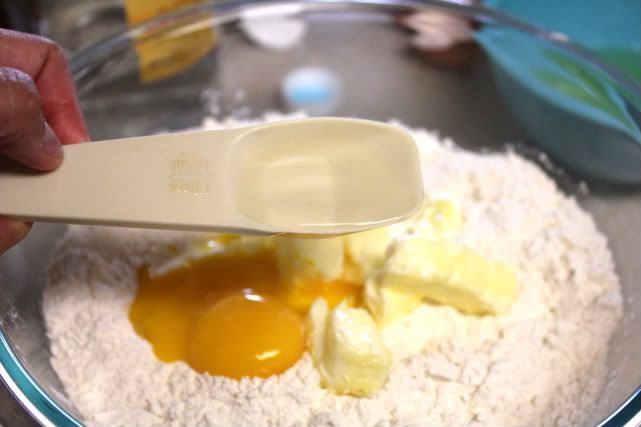 And a couple of tablespoons of regular white vinegar.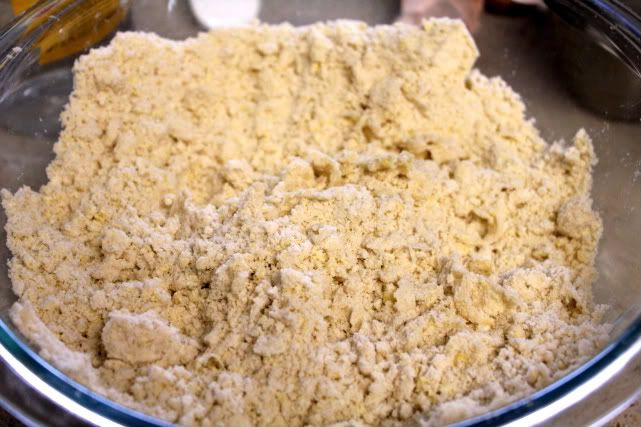 Mix with your hands until you have a mealy texture.
Then, add some cold water, one tablespoon at a time.  I began with adding 5 tablespoons at first, and then kneading my dough.  Since it was still crumbling, I added 5 tablespoons more for a total of 10.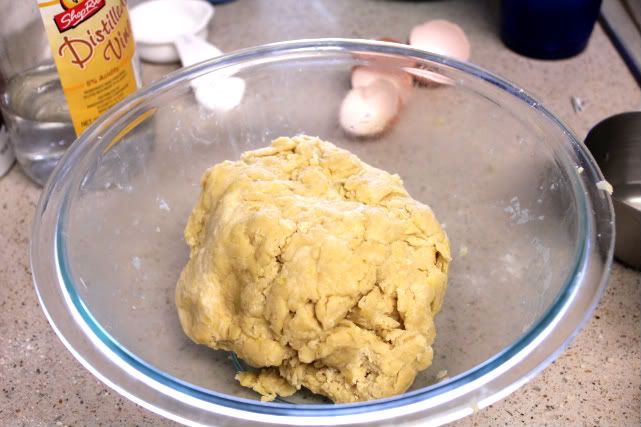 This allowed my dough to hold together.
Store it in the fridge for 30 minutes before using.
Assembling the empanadas:
For ease of rolling, I like to split my dough into smaller dough balls.  When you take this dough out of fridge it will feel hard, but as you work the dough, it will soften up.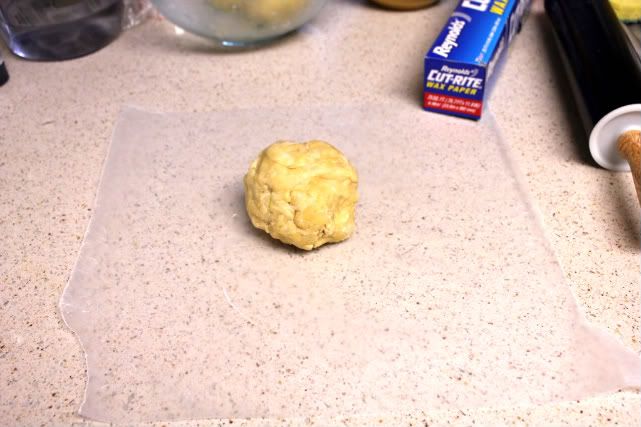 Lay a piece of wax paper on your counter and place one of the dough balls on the paper.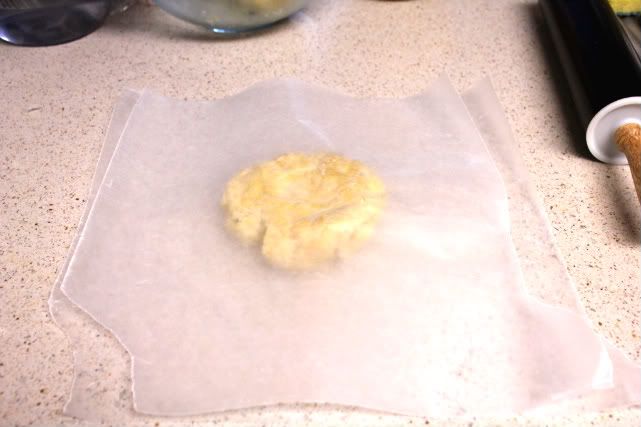 Layer another piece of wax paper on top and squish the ball down to flatten it a bit…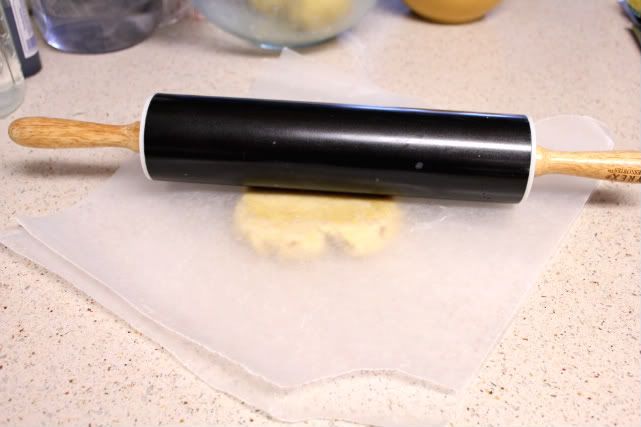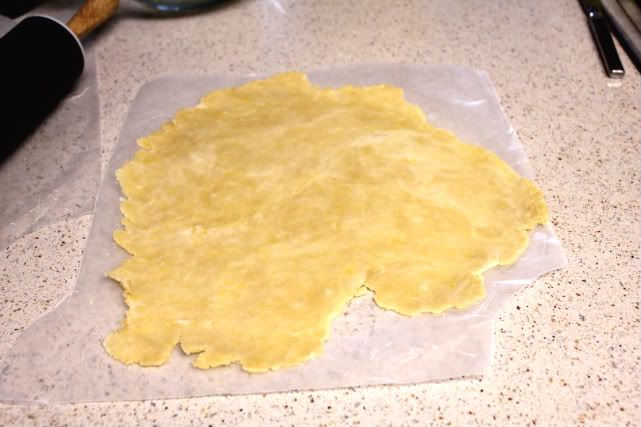 And roll it out.  Now, after doing this, I started to notice that my wax paper was tearing in the middle where the dough was, so be careful in the event you end up with a piece of wax paper inside your empanada.  What I did later after rolling out the first dough ball was to put the dough ball on the counter (I have a Corian countertop), place the wax paper on top of the ball and then roll it out this way.  The reason behind using the wax paper is that in this way, you avoid working in extra flour in your dough, as in 'sprinkle your countertop with flour and roll out your dough'.  Sometimes this extra flour makes your dough tough.  I encourage you to experiment with what works best for your setting: rolling the dough on top of wax paper, beneath, sandwiched in between, etc.  You can also use parchment paper if you don't have wax paper handy.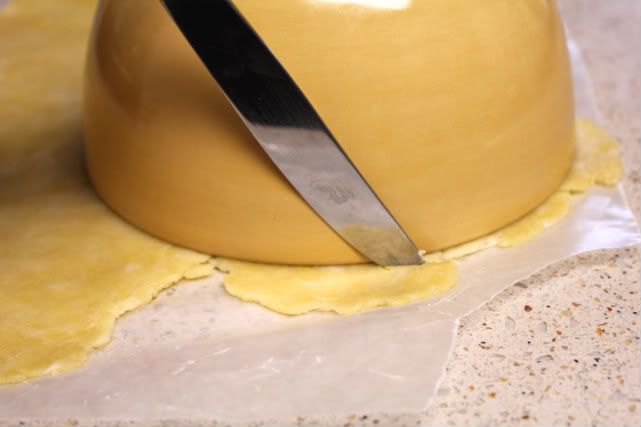 Once you roll out your dough, to about 1/4mm thick, cut rounds of 6 inches in diameter.  As you can see, I used a hi-tech gadget: a cereal bowl and a knife.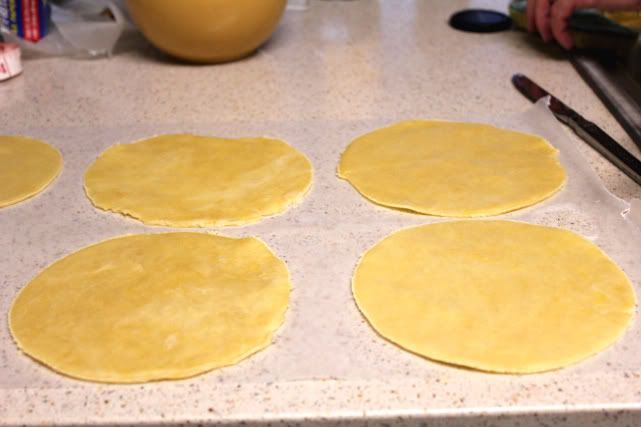 Lay them out on some wax paper sheets.  This dough yielded me 12 6-inch diameter empanada rounds.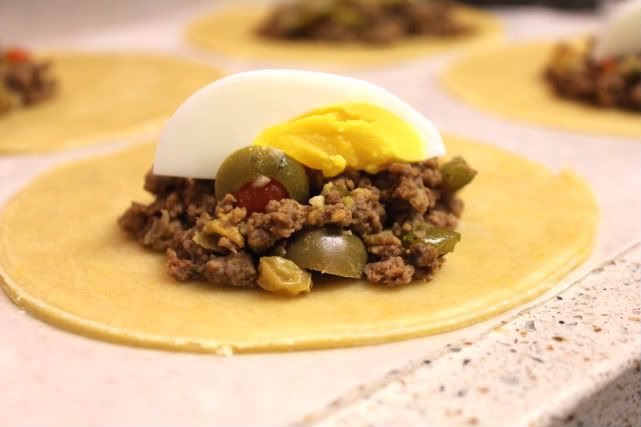 And scoop about 1-2 tablespoons of the ground beef filling.  Top each empanada filling with a quarter of a hard boiled egg.  Hard-boiled eggs are also part of the traditional Chilean-style empanadas.  However, if you don't like hard boiled eggs, then fuggettaboudit.  And by this I mean, don't worry about putting hard boiled eggs in your empanadas.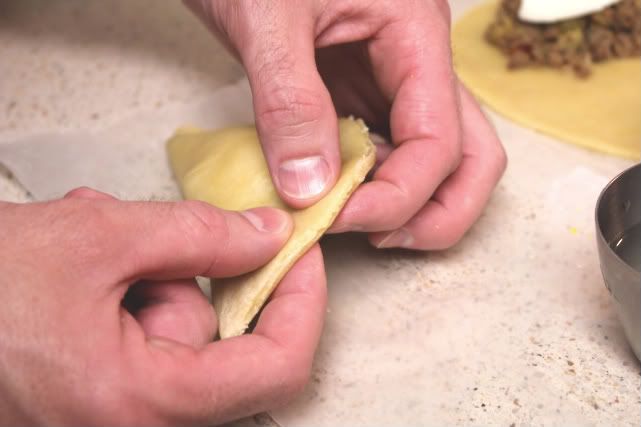 Wet the empanada edges with some water; this will act as glue when closing the empanadas.  Pinch the edges together to close completely.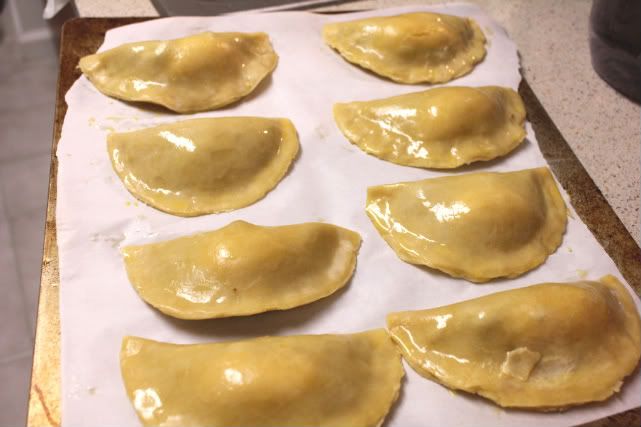 Finally, we need to make these empanadas look bien bonitas, so we are going to put some makeup on them.  Take an egg plus a splash of milk or light cream and slightly beat it.  Brush the empanadas with the egg wash.  This will make your empanadas golden when baked.  Finally, place your empanadas on a baking sheet lined with parchment paper in a pre-heated oven at 400F.   Bake for 30 minutes.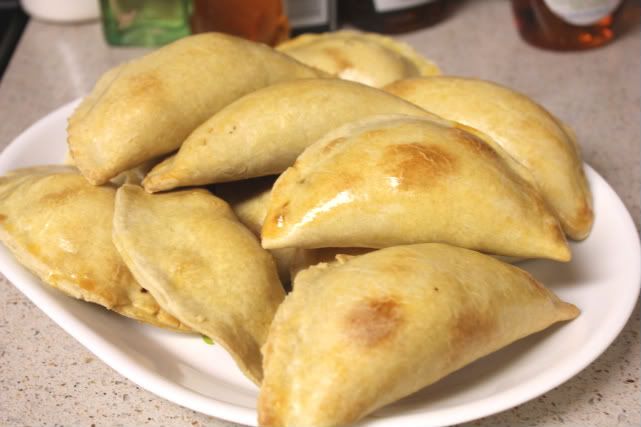 Done!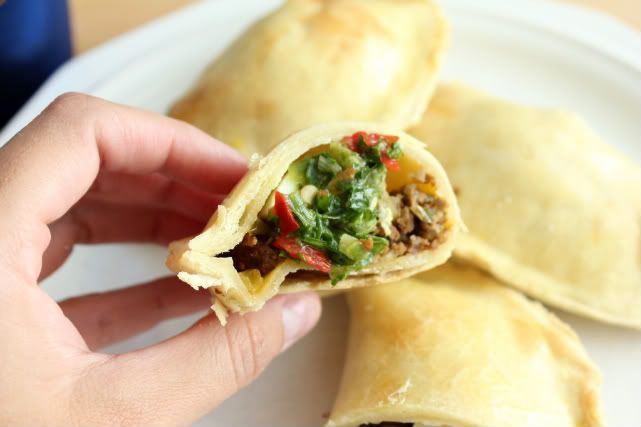 Serve warm with some delicious aji preparado.  Enjoy!
P.S.  It is most likely you will end up with empanada filling leftovers.  I love to cook some rice and then mix this ground beef mixture with the rice.   Second meal in no time!
Empanadas Estilo Chileno: Chilean-style Empanadas
Ingredients
For the filling:

1 lb of ground beef (I used ground sirloin)
1/2 tbsp salt
1/2 tsp ground black pepper
1 tsp ground cumin
1/2 tsp chili powder
1/2 tsp ground achiote
1 cup of diced yellow onions
1/2 cup of diced green peppers
2 cloves of garlic minced
Olive oil to sautee
1/2 cup golden raisins
1/2 cup sliced Spanish olives
2 tbsp chopped cilantro
3 hard-boiled eggs, cut in quarters

For the dough:

3 cups unbleached all-purpose flour
1 tsp salt
1 stick unsalted butter at room temperature cut in cubes
2 egg yolks
2 tbsp white vinegar
5-10 tbsp cold water

For egg wash:

1 egg + a splash of milk or light cream, beaten
Instructions
For the filling:

In a large bowl, combine the ground beef, salt, ground pepper, cumin, chili powder and ground achiote.
In a large pan, heat up some olive oil and sautee the onions, green peppers and garlic until the onions become translucent.
Add the ground beef to the onion mixture and cook until golden and well done.
Mix in the raisins, Spanish olives and cilantro. Set aside.

For the dough:

In a large bowl, combine the flour with the salt.
Add the butter, egg yolks and vinegar and knead until incorporated. The dough will have a mealy texture.
Add the cold water 1 tablespoon at a time until the dough is no longer mealy and holds together. Start with 5 tablespoon and add more if needed.
Cover the dough and refrigerate for 30 minutes before rolling out.

Assembling the empanadas:

Preheat your oven at 400F.
Section the dough into smaller dough balls and roll the dough out over a piece of wax paper.
Roll the dough out until about 1/4 mm in thickness.
Cut 6-inch rounds and place them on another sheet of wax paper.
Scoop about 1-2 tablespoons of filling and place one quarter of a hard-boiled egg in the center of the empanada round.
Wet the empanada disc edges with water and fold the disc over to meet the other edges.
Pinch the edges to close the empanadas.
Place the empanadas on a baking sheet lined with parchment paper.
Brush the egg wash over each of the empanadas.
Bake in a 400F oven for 30 minutes until golden brown.
Serve warm with aji preparado as condiment.
http://www.tstastybits.com/2011/09/empanadas-estilo-chileno-chilean-style-empanadas/
T\'s Tasty Bits, 2009-2012