Guatita is a very polarizing Ecuadorian dish, and people normally fall into 2 camps:  they either like it, or they don't.  That's it.  So what is Guatita?  Guatita, or guata, or mondongo is beef tripe.  Guatita itself is the name for the beef trip stew, which has a peanut and milk base, and it is one of the key dishes in our Ecuadorian culture.  Guatita also falls into the camp of food-to-eat-when-you're-hungover, which means it cures the chuchaqui.  It is common to find street vendors selling guatita all over the city of Guayaquil.
As it is traditional with many Ecuadorian meals, guatita is eaten with a side of white rice, to sop up all the stew juices.  I like serving my guatita with avocado slices and encurtido, and it is also common to add some aji sauce to it.  Other ways of serving guatita include a hard-boiled egg in lieu of avocados, or just plain with white rice.
If you've had beef tripe before, and you kinda-sort-a-liked-it-but-weren't-100%-sure-about-it, I highly recommend you trying guatita.  With an array of flavors and spices including the traditional refrito, plus cumin, peanuts, and milk, I guarantee you will be able to stomach this organ meat much better.  Pun intended.
How to clean beef tripe:
Ok, so this is what the beef tripe looks like.  It's not good looking, I admit it.  Before we can get the stew started, there are a few things that we need to do to prep the tripe.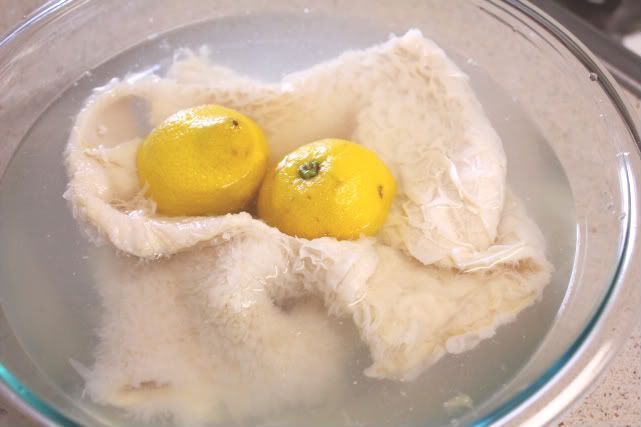 First, we have to soak it in water and lemon juice for about 30 minutes.  This will help clean the beef tripe and tenderize it.    In the United States, meat tends to be cleaned very well (knock on wood).  Back in Ecuador, my nana used to scrub this thing with a brush!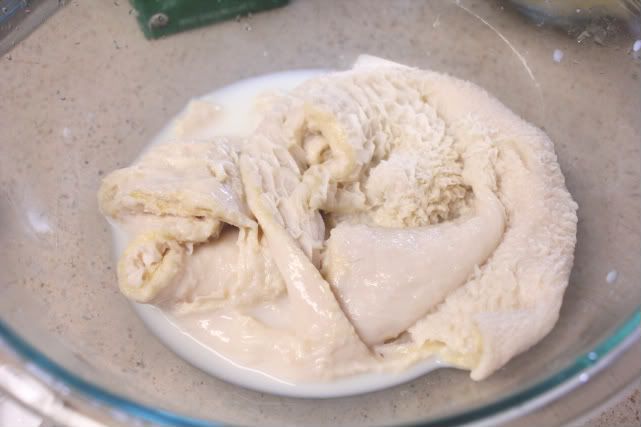 After it has soaked in the lemon water, rinse it off and then soak it in some milk, for another 15-20 minutes.  This is to help get rid of the, uhm, off-smell it has.  OK, it doesn't stink, like say, a fishy fish.  But it has a scent that can be off-putting.  Soaking it in milk also helps with getting rid of some of the gameyness.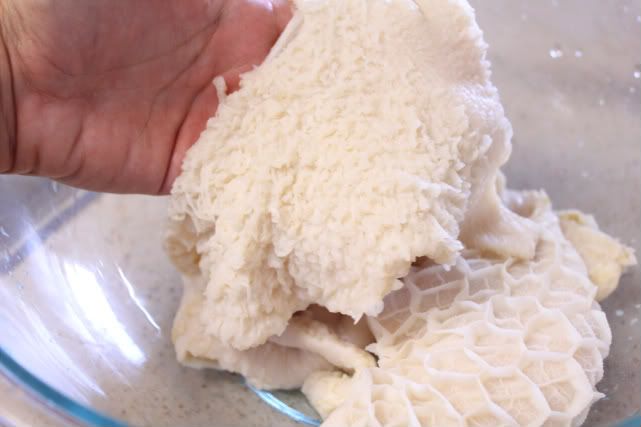 Rinse off the beef tripe thoroughly in cold water and set aside.
Preparing the guatita: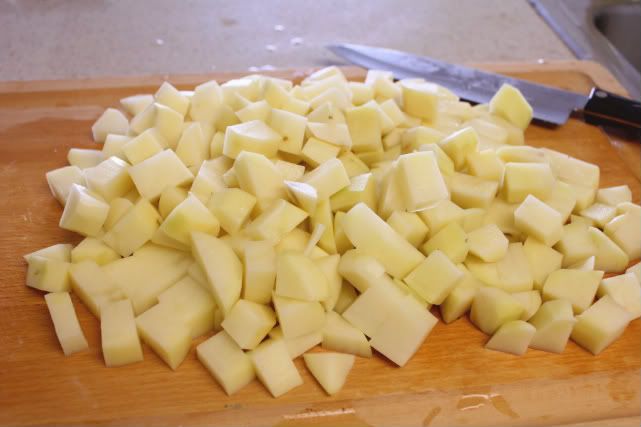 Peel and cube 2 pounds of potatoes and save for later.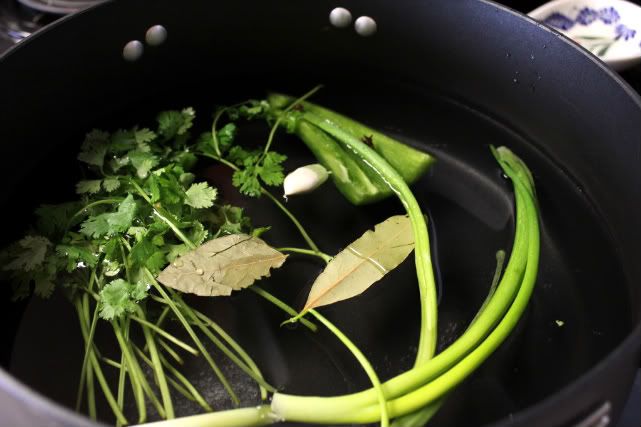 In a large stock pot, combine 6-8 cups of water with a mixture of aromatics: scallions, cilantro, bay leaves, whole cloves, a garlic clove, salt and pepper.  This is another step in ridding the beef tripe from its gameyness.  Bring this water to a boil.
Once the water boils, place the beef tripe in the water, lower the heat and simmer it for 2 hours, until the beef tripe is soft.  Check on your tripe after the first hour; sometimes it may only take an hour, and sometimes it could take 3+ hours.  If you have a pressure cooker, this will normally be done in about an hour.  If necessary, add more water after an hour of cooking.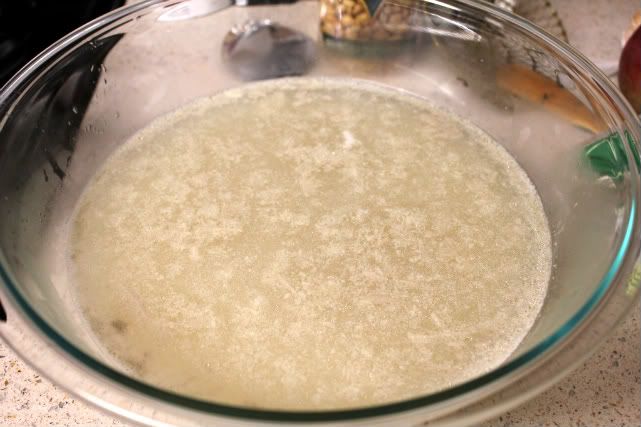 Once the tripe is soft, remove it from the stock and RESERVE the stock.  You will need it for the stew.
Place the tripe on a cutting board and let it cool off for 10-15 minutes before handling.  Then, cut it into smaller pieces, according to your taste.  Some people like strips, others like smaller pieces.  I like small cubes.
While you are waiting for the tripe to cool off, heat up a small skillet and toast 1/2 cup of peanuts for a few minutes.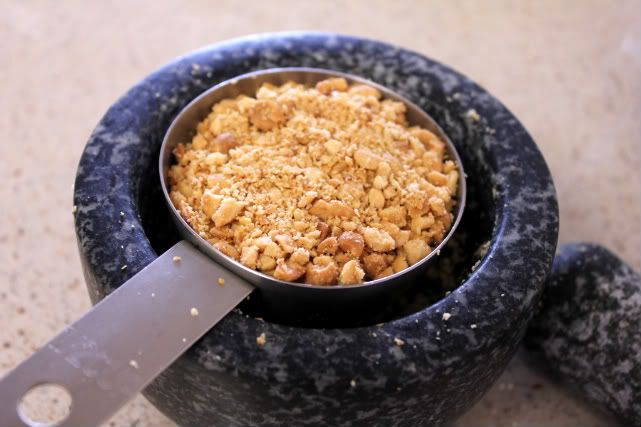 Then, grind them using a mortar and pestle or a spice grinder.  Technically speaking, it is better to use peanut butter, but I like the smell of toasted peanuts.  If using peanut butter, use 1/2 cup of it.
Blend the peanuts with some milk and set aside.
Now, it is time to prepare the refrito.  First off the refrito: in a large dutch oven, heat up some oil and sautee some red onions and white onions.
Add some green peppers and chopped garlic,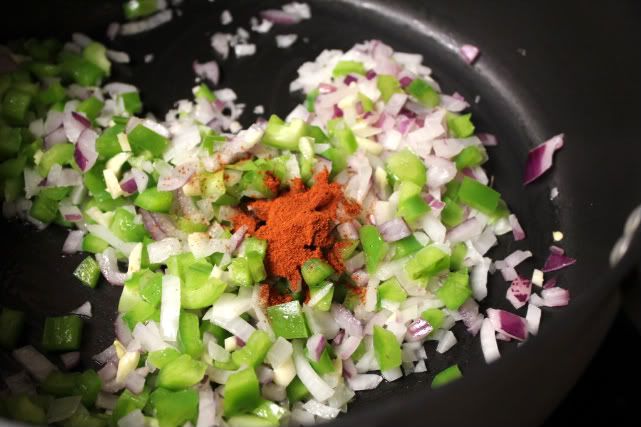 Followed by some annato powder.
Sautee in low heat until the onions become transluscent.
Once the refrito is done, transfer it to a blender or food processor, and add 1/2 cup of your reserved stock and puree until smooth.  Transfer your puree back into the pot and season with salt, pepper and cumin.  Cook for another 5 minutes.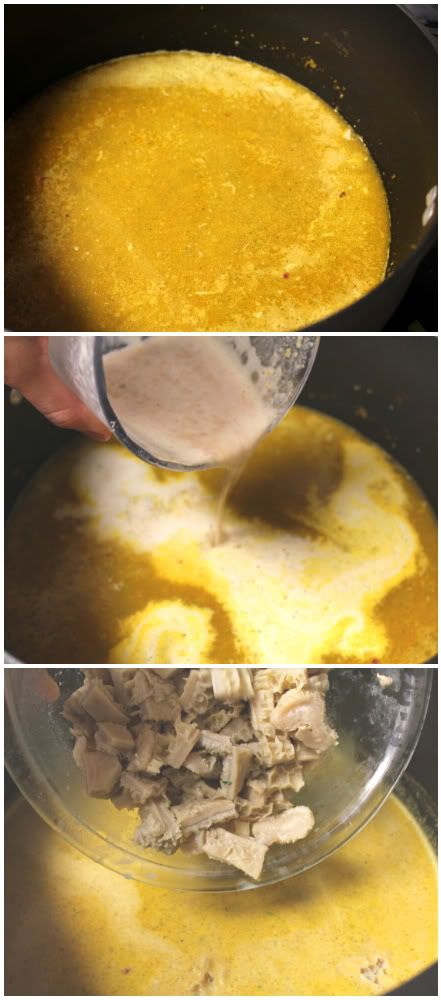 Then, add 2 more cups of the stock, followed by the peanut sauce and diced beef tripe.
Add the potatoes and mix thoroughly.
Bring the stew back to a boil.  Once it boils, lower to heat to medium low and simmer for 20-30 minutes until the potatoes are soft and cooked.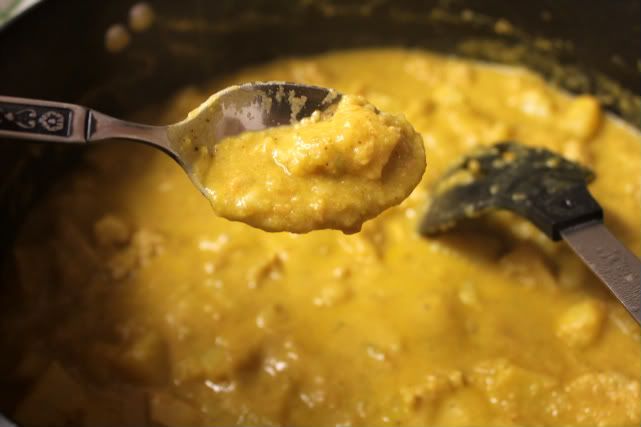 Stir the stew every 7-10 minutes to ensure that it doesn't stick to the bottom and also to slightly dissolve the potatoes, which is what thickens the stew.  Adjust for seasoning by adding more salt and pepper if needed.  The potatoes absorb the salt and the flavors of the stew, so it is likely you may need to add a bit more of salt.
Serve the guatita with white rice (or brown rice to make it a bit healthier), avocado slices and encurtido.  I have a gut feeling you will like this.  I had to do it.  Enjoy!
Guatita: Ecuadorian Beef Tripe Stew
Ingredients
(Adapted from Michelle O. Fried's book Comidas del Ecuador)

For the beef tripe:

1 1/2 lbs beef tripe
6-8 cups water
A few sprigs of cilantro
2 scallions
1/4 green pepper
2 bay leaves
5 whole cloves
salt
pepper

For the sauce:

2 tbsp oil
Achiote or annato powder
1 cup red onions, diced
1 cup yellow onions, diced
1 cup green pepper, diced
2 garlic cloves, chopped
1/2 cup of beef tripe stock
1 1/2 tsp ground cumin
1/2 tsp black pepper
salt
2 cups of beef tripe stock
1/2 cup peanuts, toasted and ground
1 cup milk or 1/2 cup light cream
2 lbs potatoes, peeled and diced
1 avocado, sliced
Pickled onions (encurtido)
Cooked rice
Instructions
For the beef tripe:

In a stock pot, combine the water and the aromatics and bring to a boil.
Add the beef tripe and reduce the heat to medium. Cook for 1 to 1 1/2 hours in a pressure cooker or 2 to 3 hours using regular methods, or until the tripe is soft.
Remove the tripe from the stock and cube it. Strain and save the stock.

For the sauce:

In a skillet on low heat, sautee the onions, pepper and garlic in the oil. Add the annato powder. Cook until the onions are translucent.
In a blender or food processor, puree the peanuts with the milk or cream. Set aside.
Separately, puree the onion mixture with 1/2 cup of the tripe stock.
Transfer this mixture to a large dutch oven or stock pot. Add the cumin, ground pepper and salt and sautee again for another 5 minutes.
Add the 2 cups of tripe stock, the peanut puree, the beef tripe and the diced potatoes.
Bring to a boil and then lower the heat to low and cook for 20 to 30 minutes, stirring constantly.
The potatoes should dissolve slightly and this should thicken the stew.
Serve warm with cooked rice and sliced avocados. Garnish with pickled onions.
http://www.tstastybits.com/2011/09/guatita-ecuadorian-beef-tripe-stew/
T\'s Tasty Bits, 2009-2012