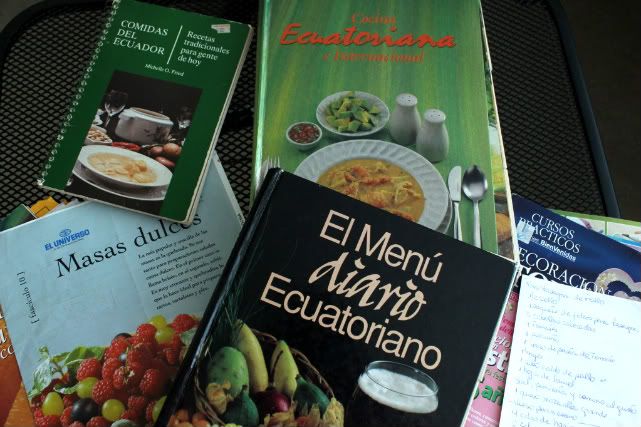 In addition to eating poutine, I marked another thing off my to-do list while in Canada.  I was able to get a few Ecuadorian cookbooks my mom had kept after moving from Ecuador.  In addition to these cookbooks, she had a whole bunch of newspaper clippings, cake decorating magazines and hand-written recipes – written by either her or my aunt.  You see, my momma doesn't cook much anymore.  And since she knew that I am cooking now and she reads my blog, she had these books ready for me to bring back home.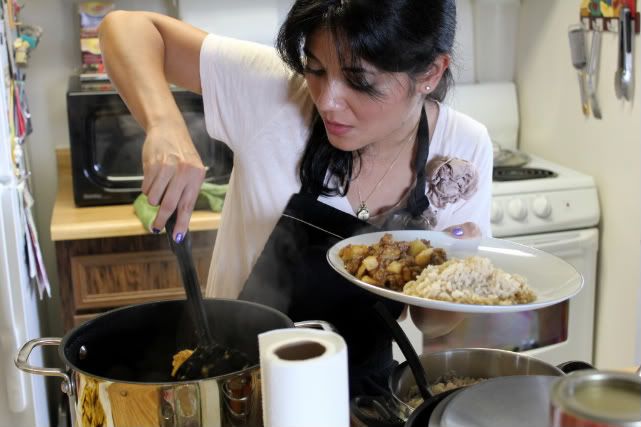 While visiting, I cooked some traditional Ecuadorian meals she hadn't eaten in years.  I made seco de pollo, patacones and estofado de carne.  Pretty simple, but it made my mom so happy, which in turn made me happy.  My brother and sister and brother-in-law were equally appreciative and excited.  My sister couldn't contain herself as I made seco de pollo.  That sister of mine – all she does is eat chicken.  Needless to say, she was over the moon.  And so much so that she ate some leftovers at mom's at eleven o'clock at night while we were playing a board game.
So back to the books.  I remember my mom using the 2 larger cookbooks the most.  These consist of fairly easy meals to prepare – some purely Ecuadorian, and others with an Ecuadorian twist.  I remember browsing these recipes for hours on end, and my mom would let me choose the recipes to be made for the week.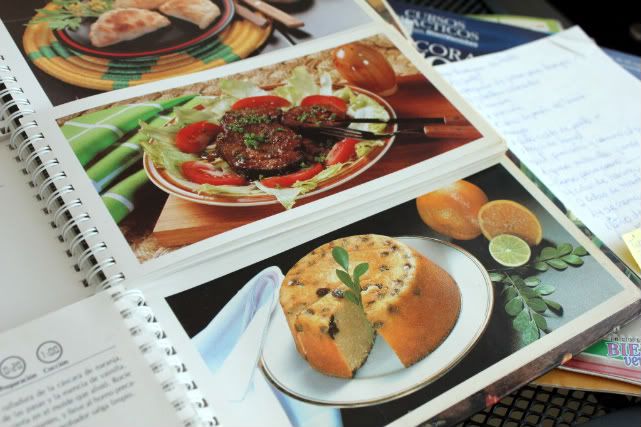 I love the format of these books.  They are split into appetizers, entrees and desserts.  The cards allowed mom or my nana to be creative and combine the three categories.  More often than not, they would stick to the tried and true recipes, as marked with dots or a paper clip.  Amazingly a few paper clips were still there.  By the way, this torta de yogur, or yogurt cake is AH-mazing!
Glued to the inner cover of one of the books was a handwritten recipe by my mom.  I was appalled when I saw this recipe and I immediately showed it to El Señor Hubs.  He couldn't quite understand the look on my face until he read the title of the recipe.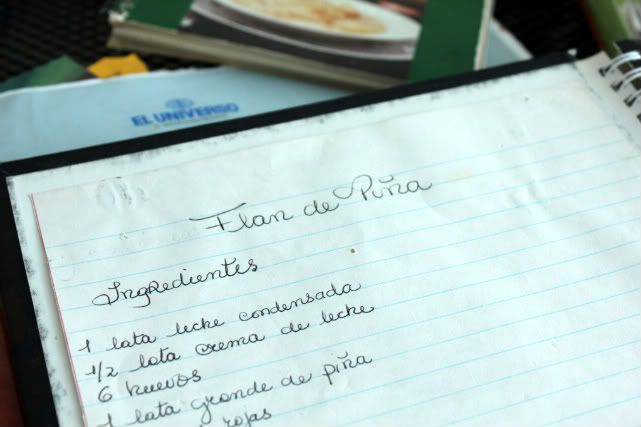 "My mom has a potty mouth!"
"What do you mean?", he asked.
"My mom dropped the f-bomb on this one!"
"WHAT?", he exclaimed.  "Oh I gotta see this!"
I stared intently.
"All I see is Flan."
"PRECISELY!", I remarked.
You see, there are 2 things in this world I am not fond of.  And they are encompassed in this one recipe: Flan de Piña.  Pineapple flan.  Oh mom, in spite of your potty mouth, I still love you.  By the way, doesn't she have the prettiest handwriting EVER?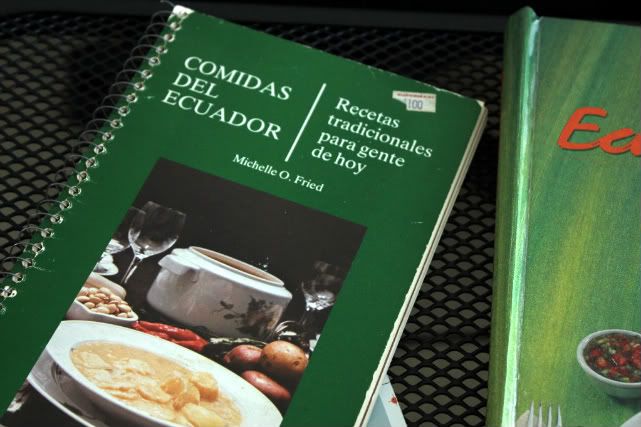 This last book I couldn't remember, but I am beyond ecstatic to have it.  As I opened, a whole new world of forgotten recipes came to life.  This book was written by Michelle O. Fried, an amazing cookbook author who took the time to explore the Ecuadorian cuisine and compiled traditional recipes made by Ecuadorian families.  I cannot wait to cook these recipes!
On a side note, I have changed my twitter handle to something easier to remember.  You can now find me at @TamaraTTB
Also, you can now support this blog by shopping my Amazon Store!  I'll be adding more items as I go, but in the event you don't find anything you like or need or want at the store, by clicking on the "Powered by Amazon" link on the sidebar of the 'storefront', it will take you to the main Amazon page and buy your usual stuff that way.  In turn, I earn a teeny weensy percentage commission on your purchases, which in turn will help to pay for the hosting fees for T's Tasty Bits.  I thank you deeply from the bottom of my heart and my dutch oven.
P.S.  What do you guys think of a T's Tasty Bits Facebook Fan Page?  Yay or Nay?