Since it is basically Fall, I thought what better way to welcome it but with a Locro de Zapallo, also known as Ecuadorian Squash Stew.  Although we don't have four seasons in Ecuador, this locro fits the category of comfort food and fall fare which many of us love.
Locros (LOH-crohs) are stews – usually from root vegetables – with the consistency of a cream of vegetable soup.  Locros are thick and hearty and they are normally the plato fuerte, or main dish.  In Ecuador, the most popular locro is locro de papa, which is a potato stew, and yet another one Yaguarlocro, consists of tripe and blood cooked with the potatoes.  Locros are traditionally eaten in the Andes region of the country, but it is a dish that is loved by coastal Ecuadorians as well – we used to eat it all the time.  Zapallo (squash) is also very popular in Ecuador and it makes a delicious stew.  Don't fret my tasty friends, I will bring you locro de papa in a later post.  We'll see about the yaguarlocro…
This is the first time I've made locro de zapallo for El Señor Hubs, although he claims we've eaten something similar before.  There are lots of Ecuadorian meals that are stews, but I'm positive I've not made this before, because I don't recall how much a pain in the rear was to peel these darn green acorn squashes.  Peeling the squash was the only time-consuming part.  The rest is easy, and the results are well worth it.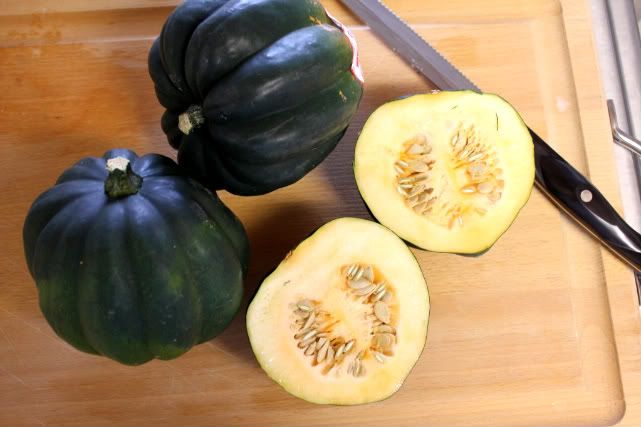 So here are my darn green acorn squashes.  I shouldn't be too harsh.  They are lovely and they produced a delicious locro.  Anyway, if you can't find these, substitute for either butternut squash or pumpkin.  You'll need 5 pounds of them.
Peel, seed and cube your squash.  Seeding the squash is really easy: just scoop out the seeds with a spoon.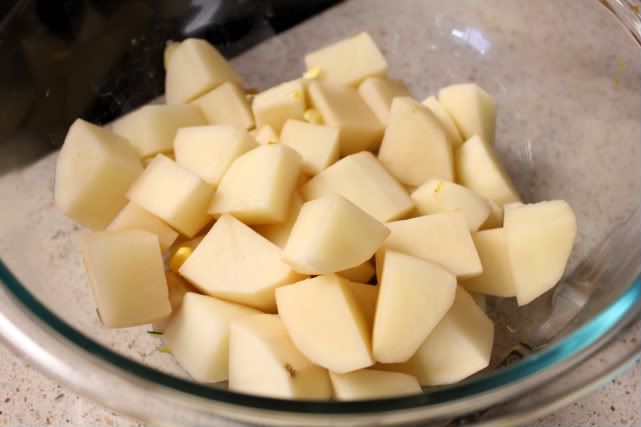 While you have your peeler out, peel and dice one pound of potatoes.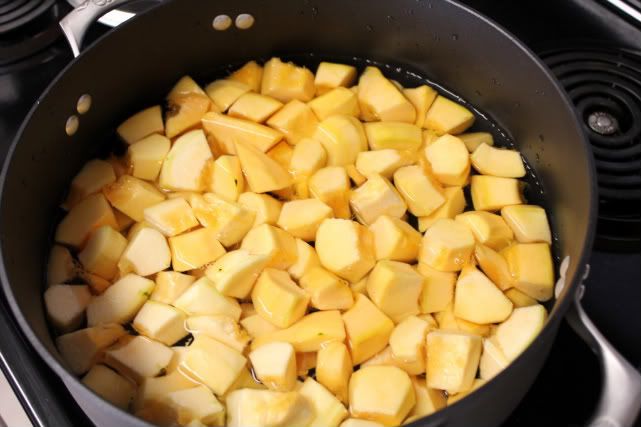 In a large stock pot or dutch oven, cook the squash in plenty water – 6 cups of water.  Cook for 30 minutes in medium heat or until soft.  Poke the squash with a fork and if it gives in, you're golden.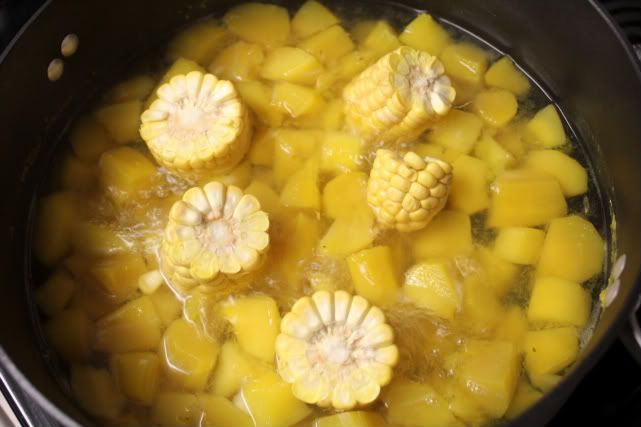 After 30 minutes, add 2 corns of the cob cut in smaller pieces.  Yes, TWO.  I only had one to use, but as my mom used to say to me, "Do as I say and not as I do."  Let these cook for about 20 minutes until the kernels are soft.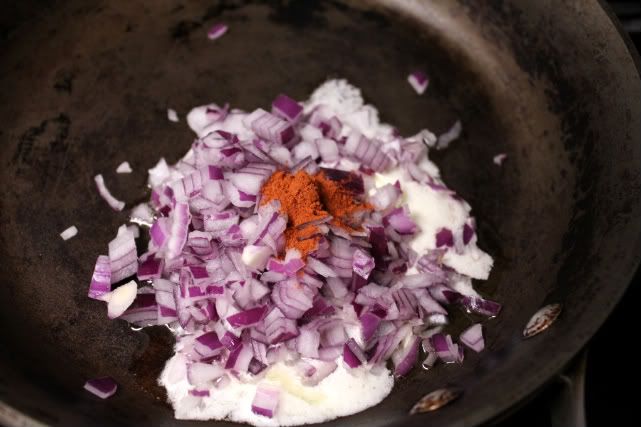 While the corn cooks, in a small skillet, make a refrito by sauteeing some red onions in some butter.  Ooohh – a twist on the refrito!  Truth is you can make refrito only with onions and you are good to go.  To this add some achiote (annatto) powder for extra color.
Cook until the onions are translucent.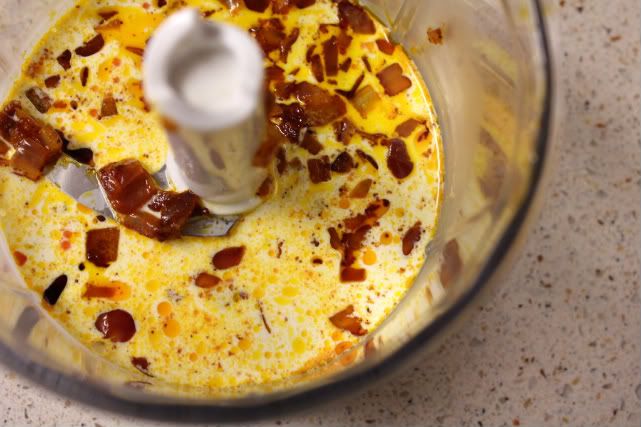 Using the device of your choice, blend the onions with either some milk or some light cream.  I used light cream because I like the consistency of it better than milk.  If you are lactose intolerant, replace the milk with regular vegetable stock; you will need extra liquid because some if it has evaporated as the squash and corn have been cooking.  The only difference is that the stew will be a bit lighter versus using cream or milk.
Turn the heat down to medium low and add the cream mixture…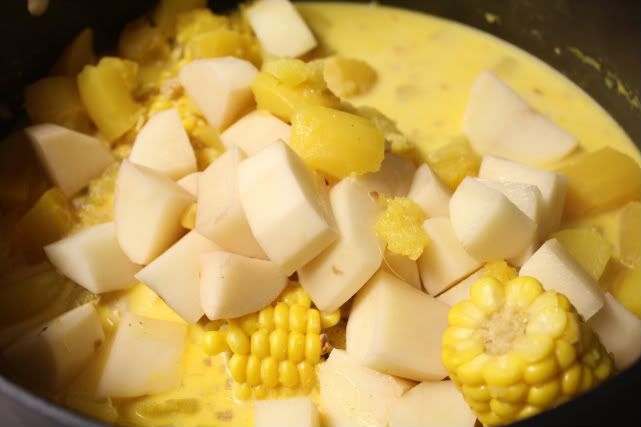 Followed by the diced potatoes.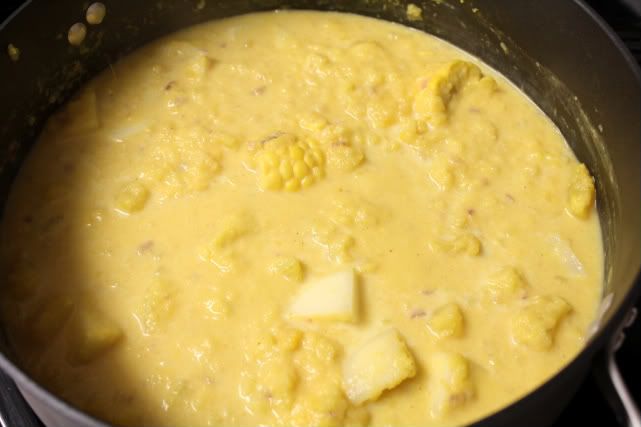 Cook for 20 more minutes, stirring the stew in the first few minutes in order to dissolve the squash, which is what gives the thickness to the stew.   Be mindful of the potatoes which need to remain whole.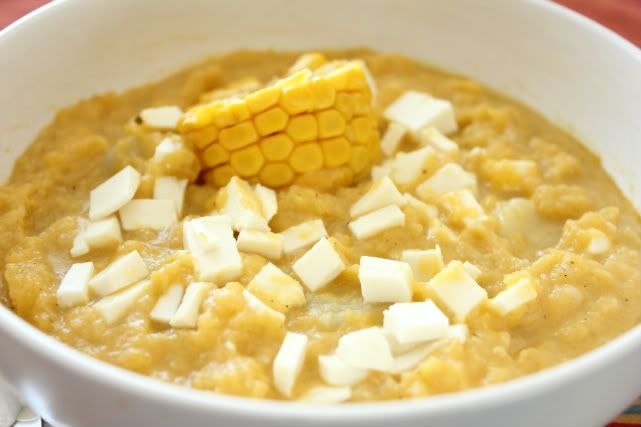 Serve warm with crumbled queso fresco.  If not available, substitute for another soft cheese like mozzarella.
Locro de Zapallo: Ecuadorian Squash Stew
Ingredients
(Adapted from Michelle O. Fried's book "Comidas del Ecuador")

5 lbs squash or pumpkin (I used green acorn squash, but can use butternut also)
6 cups water
2 tsp butter
1/4 tsp annatto powder
1/2 cup red onion, diced
2 corns on the cob, cut in thick slices
1 lbs potatoes, peeled and diced
1 cup milk or 1/2 cup light cream
1 cup of fresh cheese (mozzarella, queso fresco), crumbled or cubed
salt and pepper to taste
Instructions
Peel, seed and dice the squash. Peel and dice the potatoes.
Cook the squash in the water for about 30 minutes or until the squash begins to soften.
In a small skillet, prepare the refrito by heating the butter and sauteeing the onions with the annato powder in low heat, until the onions begin to turn translucent.
Once the squash is beginning to soften, add the corn slices and cook for another 20 minutes.
In a blender, combine the milk or cream with the refrito and add it to the squash along with the diced potatoes.
Adjust the stew for seasoning with salt and pepper to taste.
Bring the stew to a boil in low heat for another 20 minutes, stirring the pot at first to dissolve the squash and thicken the stew. The potatoes should remain whole pieces.
Serve warm with crumbled cheese.
http://www.tstastybits.com/2011/09/locro-de-zapallo-ecuadorian-squash-stew/
T\'s Tasty Bits, 2009-2012