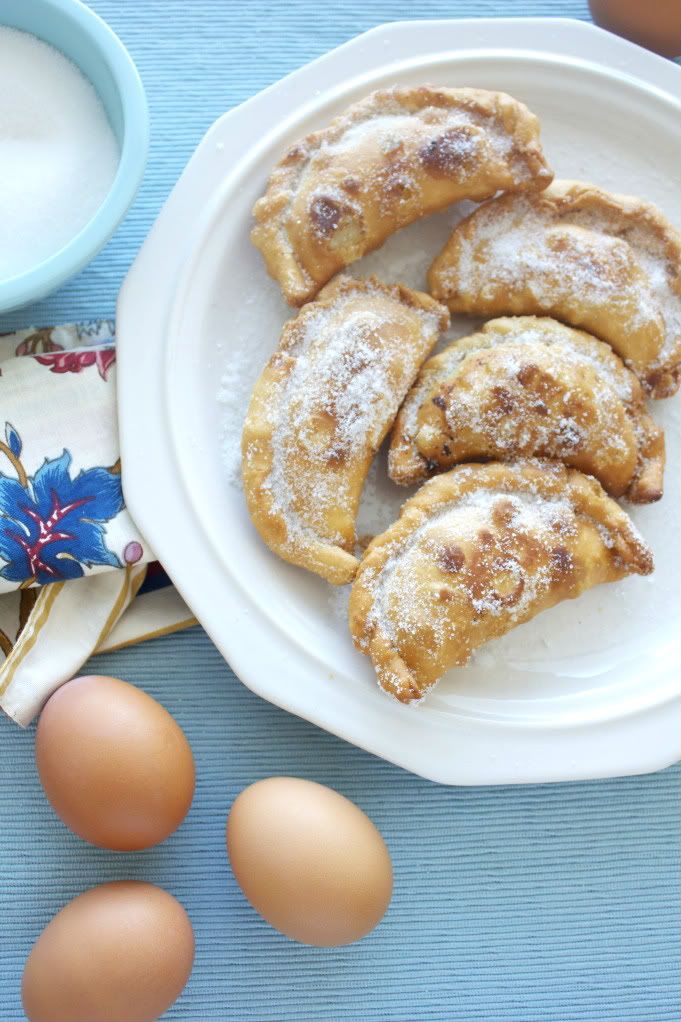 I had forgotten how deliciously sweet these empanadas were! I am so glad that making them made me remember.  The filling may look strange when you look at the ingredients that go into it, but they all mesh so well and you basically end up with a custard-like mixture that melts in your mouth.  Now, the downside is that this empanada is fried.  While I have not baked them using this dough I don't see why you couldn't make them baked. However, a main characteristic of these empanadas is that they are dusted with sugar once they are fried.  Baking them probably doesn't allow for the sugar to stick.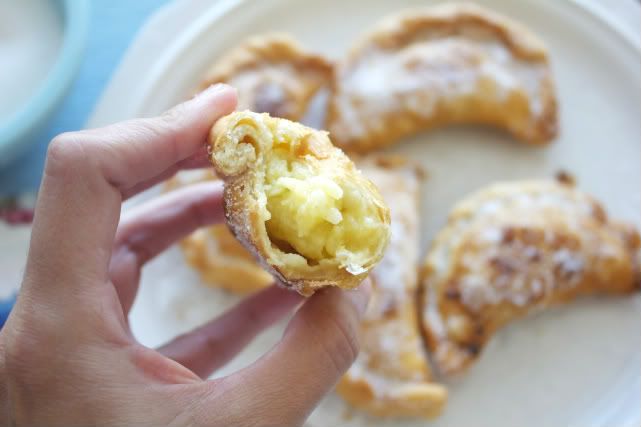 Empanadas de mejido are mostly typical of the Andes region of Ecuador, and I remember eating them during family trips to Quito and Riobamba when I was very, very young.  In Guayaquil, I mostly remember empanadas de queso, which basically have the same dough, but you only stuff them with a bit of cheese.  Empanadas de queso are also fried and they are also dusted with sugar.  Sugar and cheese = AWESOMENESS.
Preparing the dough:
In a bowl, sift the flour and mix it with the salt and the baking powder.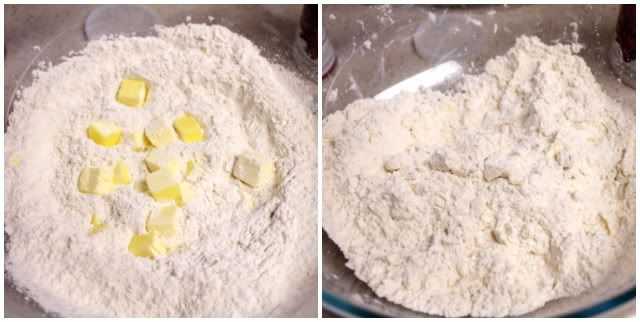 Add the cold butter, cut in pieces and mix it with your hands to incorporate the flour into the butter.
Add a little bit of lemon juice, and some water to work the dough.  I started with 1/4 cup..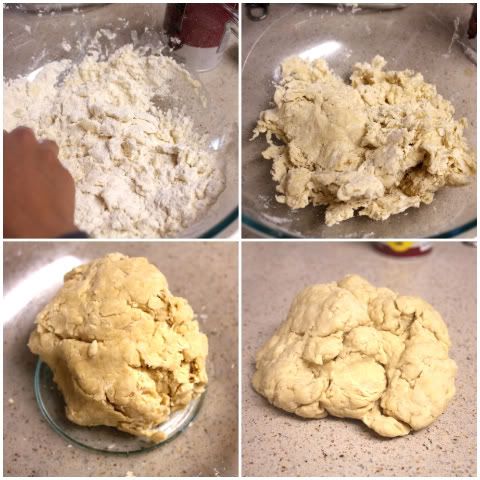 Continue kneading and add a bit more water if necessary.  I ended up adding 1/3 cup of water.  Once everything is mixed, continue to knead the dough on a hard surface for 10 minutes to build the gluten and make it elastic.  According to Michelle O' Fried, constantly kneading the dough prevents it from absorbing too much oil.  Gosh!  Let's discuss how much I love this woman.  This clearly means we can eat more of them.
Let it rest in a covered bowl at room temperature for 1/2 to 1 hour.
Preparing the filling:
This filling is super easy, but it needs to be monitored and stirred constantly.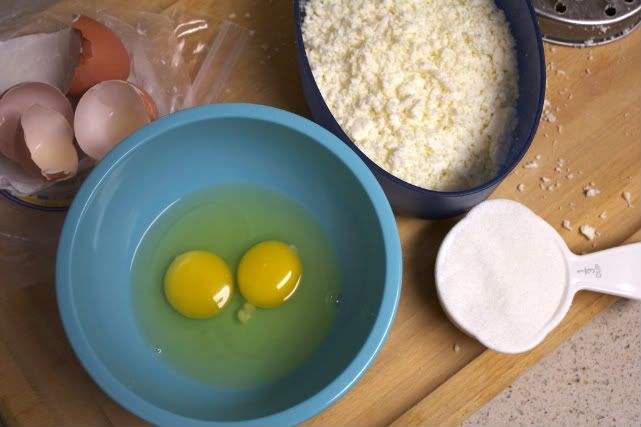 You will need some grated queso fresco – unsalted, eggs and sugar.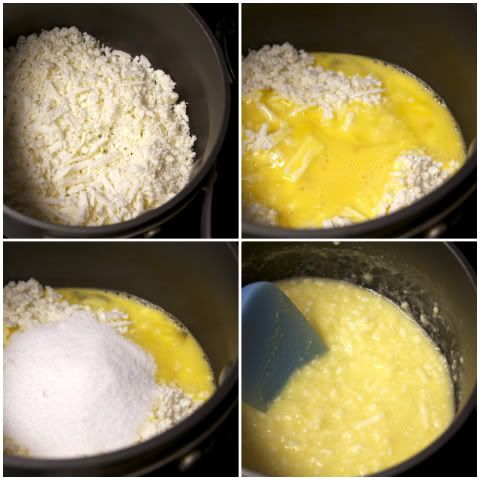 Put them in a pot and cook in medium heat, stirring constantly until the sugar melts and it begins to look creamy.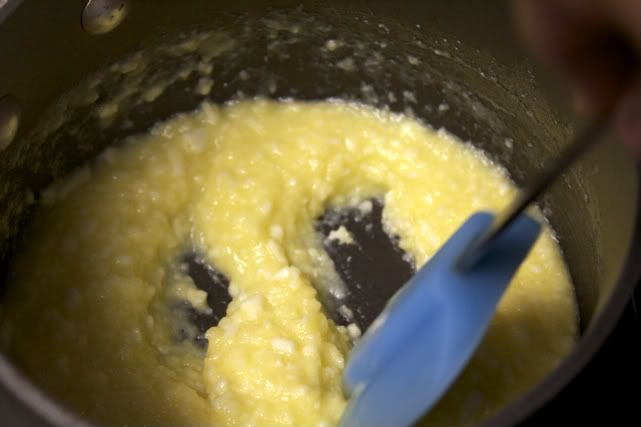 Once creamy, lower the temperature to low and continue stirring to cook the eggs, for about 3-5 minutes.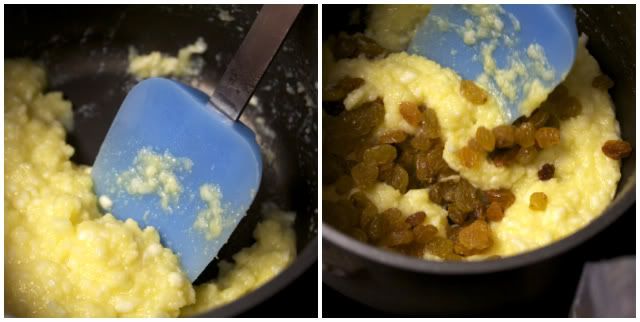 Once thickened – you will easily see the bottom of the pot as you stir it – remove it from the heat and continue stirring for another 3-5 minutes.  Add the raisins.
Let the mixture cool off before using.
Assembling the empanadas:
Divide the dough into 16 smaller dough balls.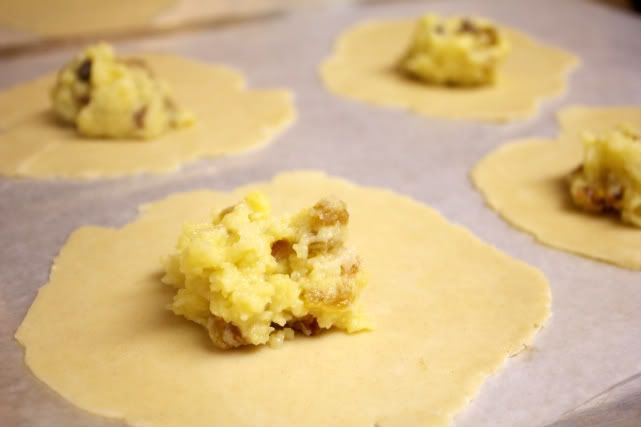 Roll out to discs.  Place about 2 tablespoons of filling in each disc.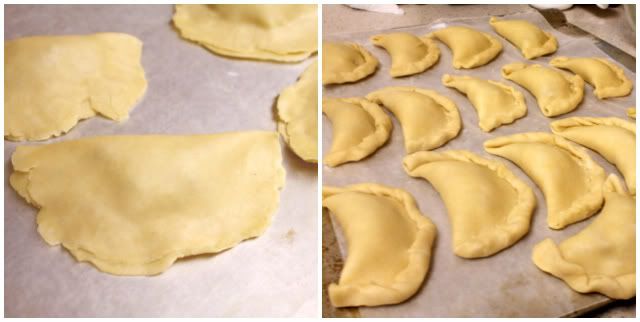 Fold over to form half moons.  Wet the edges and pinch them together to close the empanadas.  Roll the edges in to ensure the filling stays inside.
Heat up some oil to fry the empanadas.  Test the temperature by throwing in a tiny dough ball.  If it puffs up and floats to the surface, the oil is ready!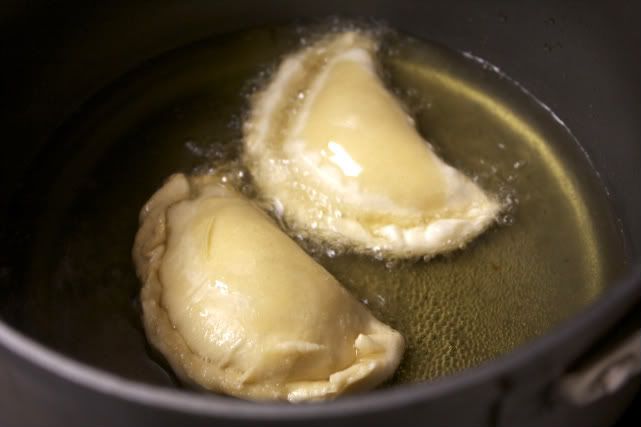 Fry the empanadas 2 at a time in order to not lower the temperature of the oil.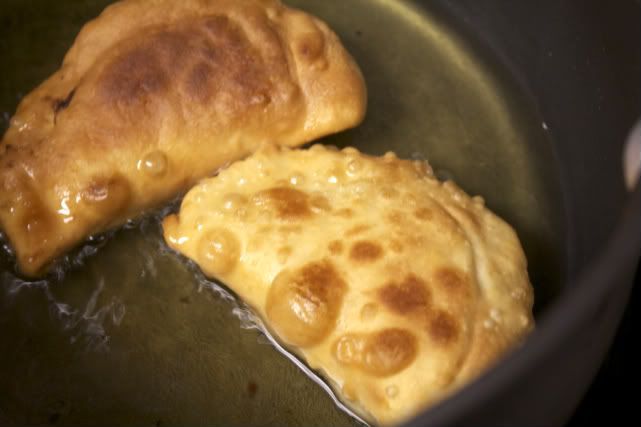 Fry on both sides.  You will see that the empanadas puff up.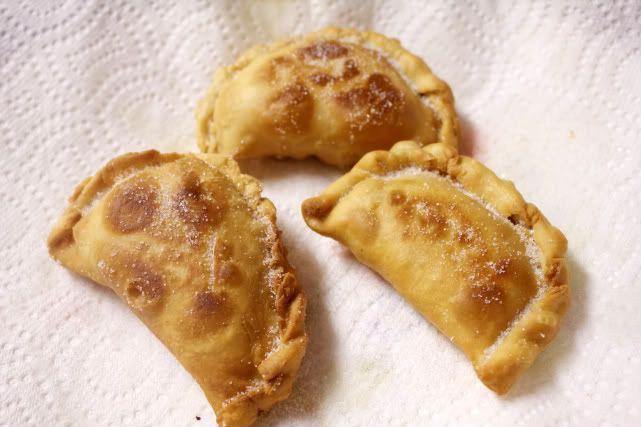 Once golden, remove from the oil and place them on paper towels to remove excess oil.
Immediately dust the empanadas all over with granulated sugar.  Serve hot.  Enjoy!
Empanadas de Mejido: Ecuadorian Sweet Custard and Raisin Empanadas
Ingredients
For the dough:

1/2 lb or 2 cups of all-purpose flour, sifted
1/2 tsp salt
1/2 tsp baking powder
1/4 cup (2 oz) butter, cold and cubed
1/4 tsp lemon juice
1/4 to 1/3 cup water

For the filling

8 oz queso fresco, or any soft, unsalted cheese
1/3 cup sugar
2 eggs, beaten
1/4 cup raisins (I used golden raisins)
1 cup vegetable oil for frying
Instructions
For the dough:

In a bowl, mix the flour, salt and baking powder.
Add the butter, and mix with your hands to incorporate the flour and the butter until a mealy texture is achieved.
Add the lemon juice and the water and knead until an elastic dough is formed.
Place the dough ball on a flat surface and continue kneading for 10 minutes to build the gluten and elasticity in the dough.
Place the dough back in a bowl, cover with a kitchen towel and let rest at room temperature for 1/2-1 hour.
Prepare the filling and let it cool.
Divide the dough into 16 smaller dough balls. Roll out each dough ball to discs.
Scoop about 2 tbsp of filling onto each disc and fold them into half moons.
Wet the edges with water and close them by pinching all the edges and rolling them inwards.
Heat up the oil in a pot. Test the temperature by placing a sample of the dough in the oil. If the dough rises and puffs up, the oil is ready.
Fry the empanadas 2 at a time at medium-high heat to prevent the oil from dropping in temperature. Flip them over to ensure they fry on all sides, and fry until they puff up.
Once golden, remove from the oil and place them on paper towels to remove excess oil.
Immediately, dust with granulated sugar y serve while hot.
http://www.tstastybits.com/2011/10/empanadas-de-mejido-ecuadorian-sweet-custard-cheese-and-raisin-empanadas/
T\'s Tasty Bits, 2009-2012