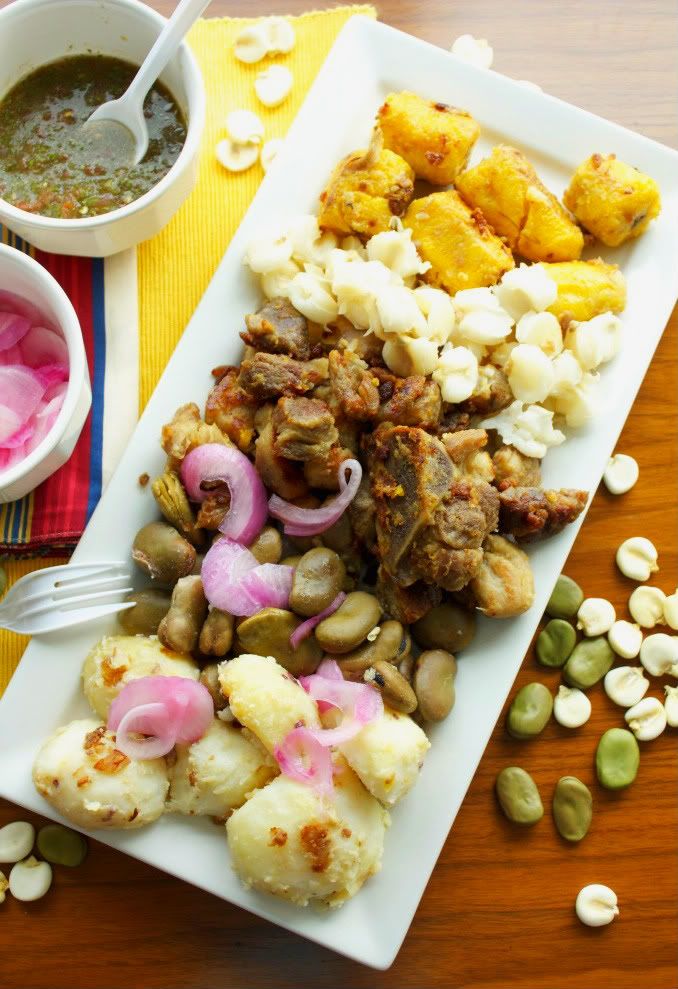 Fritada is by far one of my most favorite Ecuadorian dishes in the entire world.  If you are a pork lover like me, I can guarantee you will agree with me.  Fritada is one of those meals that are a must on road trips to the Andes.
Fritada translates into "fried", and fritada is traditionally with pork.  You will most likely know this dish as fritada de chancho, where chancho is pig, therefore it is a pork fry.  Got that?  My mind is filled with happy memories of eating fritada, because we always ate it when we visited Quito or Riobamba.  For my family and many Ecuadorian families, the most economical way of traveling and seeing the country is by car or bus.  When I traveled with my family, we packed the truck (yikes!), and headed from Guayaquil to Quito, which due to s-shaped, dirt and gravel roads along the mountainside meant it took eight hours to get there.  However, there was nothing more exciting than stopping at a small roadside huequito (hole in the wall restaurant), and eating some fritada while overlooking some magnificent waterfalls of la Sierra.
Turns out that making fritada is easier than I thought, but it takes some time.  This shouldn't come as a surprise, since a lot of our meals are cooked low and slow.  For the fritada, you start by boiling the meat, and eventually the water cooks down to nothing, and you are left with the pork pieces.  These in turn will begin to render its fat, which results in crispy, golden pork nuggets.  Wow!  However, the pork is the least of our problems; it is the sides you decide to serve, which dictate the length of prep and cook time.  Traditional sides include hominy, habas (fava beans), yuca, corn on the cob, camote (sweet potatoes), sweet plantains, boiled potatoes and maíz tostado (toasted dry corn).  My favorite side for fritada (and the most traditional one) is mote, or hominy.  You can buy the canned stuff if you are pressed for time, but I like cooking it from scratch.  Here is the issue: the hominy needs to soak overnight, and cooked for 3-4 hours in order to achieve its soft texture and "popped-popcorn" appearance.  Pick your poison and choose what you want to do.  I won't judge you for cutting corners being practical.
Fava beans also need to soak overnight, but these only need to be cooked for about 20 minutes.  Account for extra time if you are going to boil some corn, yuca, etc.  For this recipe, I served the fritada with hominy, fava beans, sweet plantains, boiled potatoes, pickled onions and ají criollo.  When I close my eyes and scour through my memories, this is how I remember eating my fritada.  Now, open your eyes and I'll show you how to make it.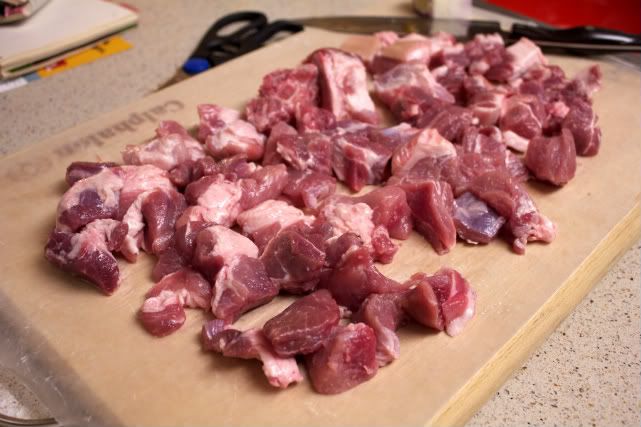 Start with about 2.5 pounds of pork shoulder cut in chunks.  Pork shoulder is readily available at grocery stores.  I like cutting it in smaller pieces; it makes me feel like I get more!  This will serve generously four people.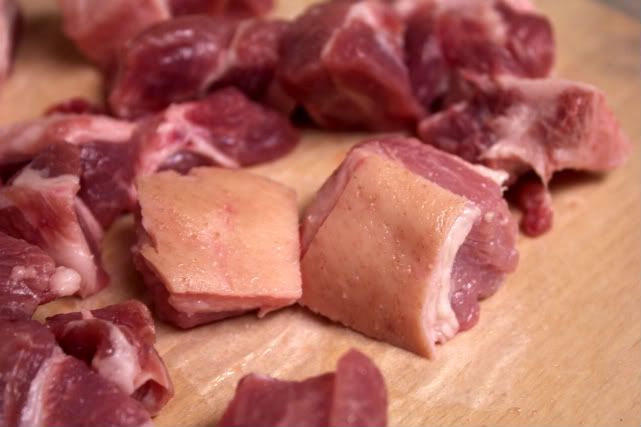 If you are lucky, you will get a piece like this.  If you take this piece and deep-fry it, you get chicharrón!  Or pork candy as I like to call it.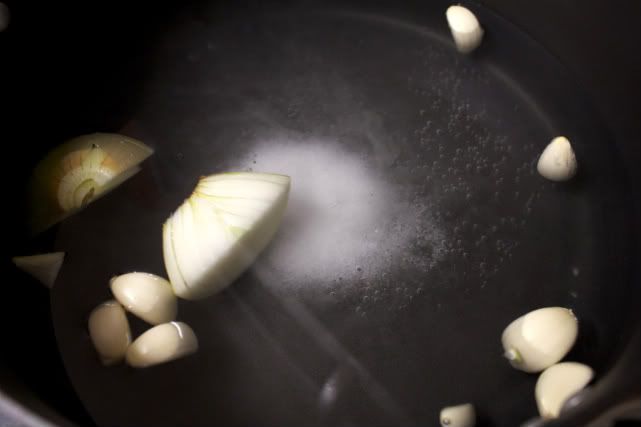 In a large pot, pour about 3-4 cups of water, and add 8 cloves of garlic and 1/2 a large yellow onion.  You can add the whole onion if you please, cut it chunks.  Season the water with 3 tablespoons of salt.  Bring to a boil.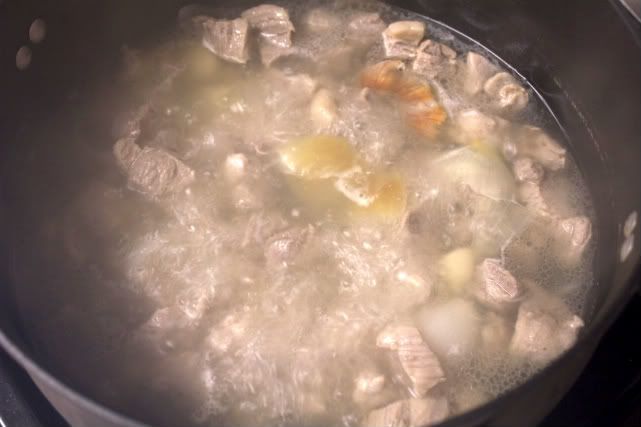 Once boiling, throw the meat in and cook covered on high for about 30-45 minutes until the pork is done.  Stir the pork towards the end, and check that all the pork pieces are cooked evenly.   This also helps to dissolve the garlic cloves as they soften while they boil.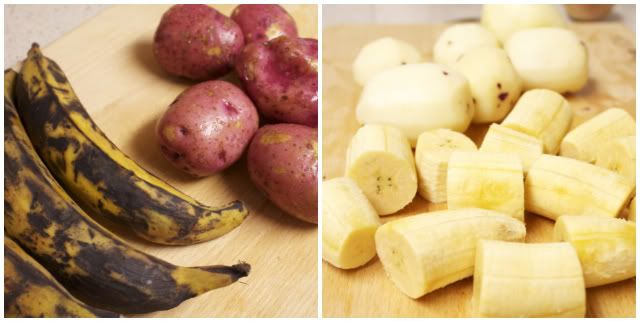 Meanwhile, peel and cut some red potatoes, and peel and cut some sweet plantains.  Boil the potatoes for about 10 minutes, or until they're fork tender, but not completely mushy.  I know.  We're getting very technical here.  Set the cut plantains aside.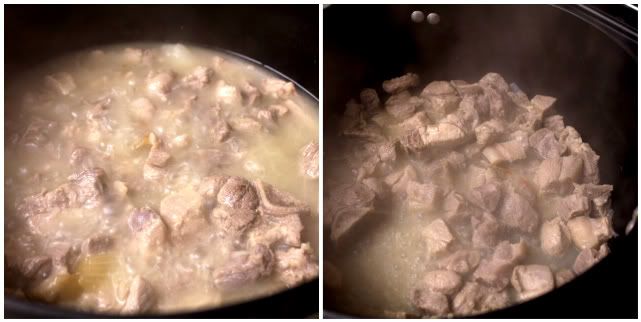 By now, the pork meat should be thoroughly cooked and soft; you can test a piece at this point.  I tested a couple.  And by tested I mean I ate some.  Also, most of the liquid should have cooked down.  If this is not the case, don't worry.  Mine wasn't cooked down all the way either.  What I did here was ladle some liquid from the pot and set aside.  Now I have some really good pork stock!  I left enough liquid to cover the bottom of the pan and continued stirring.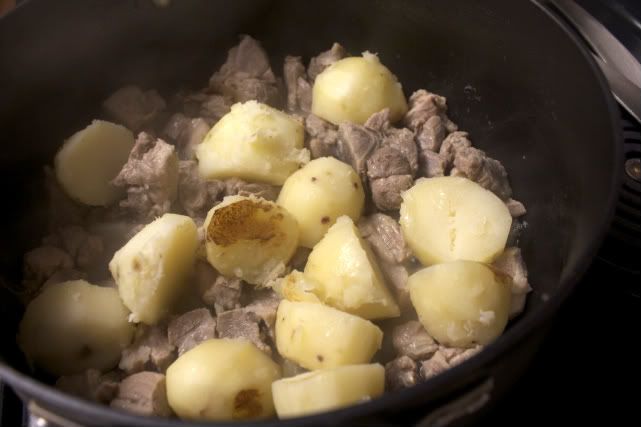 Add the boiled potatoes to the pork and stir them to coat them with the pork juices and sear them slightly.  This will take about 5-7 minutes.  Remove the potatoes from the pork and set them aside.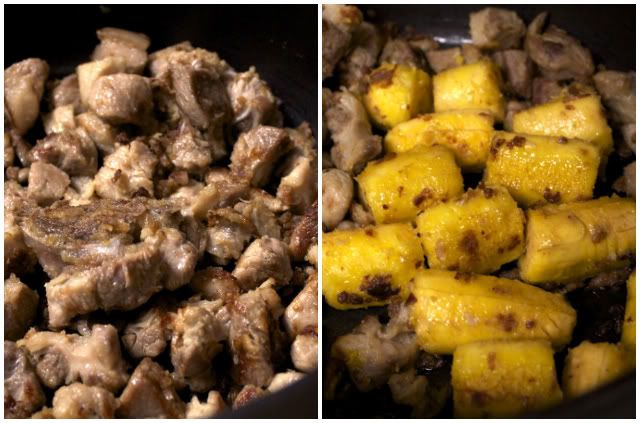 Reduce the heat to low, and allow a few minutes for the pork to render a bit more of its fat.  Now add the plantains, and cover to cook for about 10 minutes until the plantains are completely cooked.  Between the pork fat and the caramelization of the plantains, the flavors of the fritada are out of this world.  You'll want to bottle this scent and use it for your next hot date.  Provided he or she likes pork and plantains.
Behold the fritada.  Porky goodness with mote, fava beans, potatoes, sweet plantains, pickled onions and aji criollo.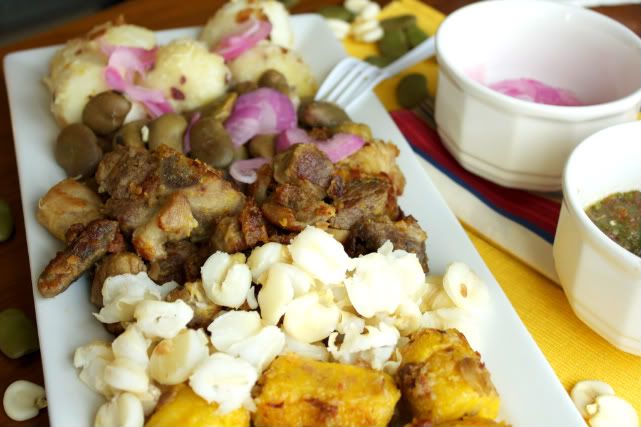 Have you had fritada before?
Fritada: Ecuadorian Pork Fry
This prep and cooking time is for the pork. Depending on the sides you choose to serve, the overall prep and cook time could be longer.
Ingredients
For the pork:

2.5 lbs pork shoulder cut in chunks
3-4 cups of water
8 garlic cloves, whole
1/2 yellow onion cut in chunks
3 tbsp salt
Traditional sides:
Sweet Plantains
Potatoes
Mote (Hominy)
Habas (Fava beans)
Yuca
Corn on the cob cut in smaller chunks
Encurtido (pickled onions)
Aji criollo (spicy aji sauce)
Instructions
Preparing the pork:

In a large pot, pour the water and add the garlic cloves and the onions. Bring to a boil.
Once boiling, add the pork shoulder chunks and cook in high heat for 30-45 minutes until the pork is cooked. Towards the end, stir the contents to ensure the meat is cooked and garlic cloves are dissolved. Test a piece; it should be soft and should be cut through easily.
At this point, most of the liquid should be mostly cooked through. Should there remain a considerable about of liquid, spoon it out and store in a separate container as stock.
Leaving enough liquid to cover the bottom of the pan, lower the heat to medium and continue stirring the pork. With a spoon, press the pork meat down to release the fat and continue to stir.
With enough liquid covering the bottom of the pan, add some boiled potatoes to the pork. Stir making sure the potatoes don't dissolve, to slightly fry them in the pork fat. Remove the potatoes from the pot and set aside.
At this point, the pork should begin to turn golden and crispy. Lower the temperature to low and allow a few minutes for the pork to render more of its fat. Add some sweet plantains cut in smaller pieces, cover and fry them in the pork fat.
Serve the fritada with the potatoes and the sweet plantains. Fritada is also traditionally served with hominy, fava beans, corn on the cob or yuca, or a combination of all of these. Top with pickled onions and aji sauce.
http://www.tstastybits.com/2011/10/fritada-ecuadorian-pork-fry/
T\'s Tasty Bits, 2009-2012