Bread babies! This sounds so weird and funny at the same time, but that is the literal translation for guaguas de pan.  By now, you already know the history behind the guaguas de pan, which play an important part of Ecuadorian culture.  I encourage to get the kiddos involved in shaping the guaguas de pan, and then decorating them with sugar icing.  It is a fun family activity.
I found this recipe for guaguas de pan among my numerous, old newspaper clippings I rescued when I visited my mom.  This recipe was sort of suspect because the directions on making the dough did not match the ingredients involved.  Since troubleshooting is part of my job, I'll show you what I did to make these bread babies.  By the time we're done, you will be channeling your inner Fat Bastard: "Well, listen up, sonny Jim: I ate a baby. Oh, aye, Baby: the other, other white meat. Baby: it's what's for dinner". (source)
First, we have to proof the yeast for the bread.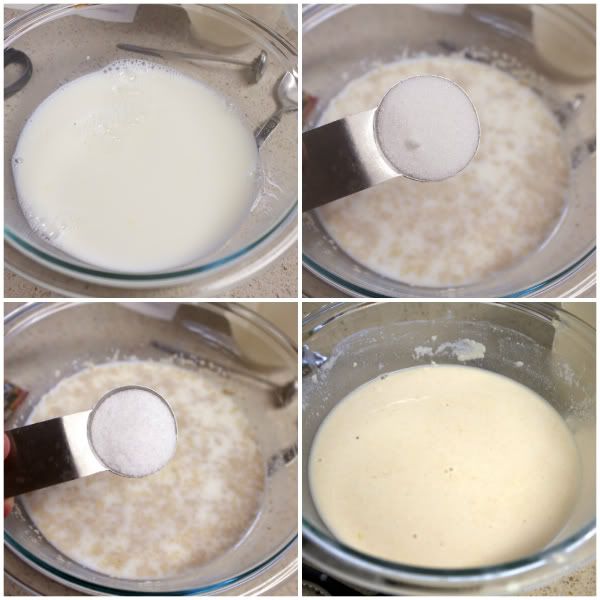 Heat 1 1/2 cups of milk to 110F,  a bit warm.  Once the milk reaches this temperature, pour two-1/4 oz (7 grams) envelopes of active dry yeast.  I used some by the brand SAF Gourmet Perfect Rise Yeast.  Next add some salt, a bit of sugar and stir all until dissolved.  I also used my hands to dissolve the yeast, because the slurry was a bit lumpy.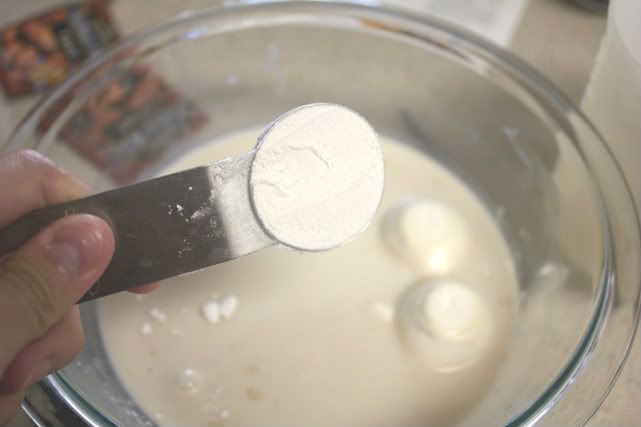 Once dissolved, add 3 tablespoons of flour and stir until all mixed.
Cover this mixture with a kitchen towel and let it rest for 15 minutes so the yeast activates.  How do you know it has activated?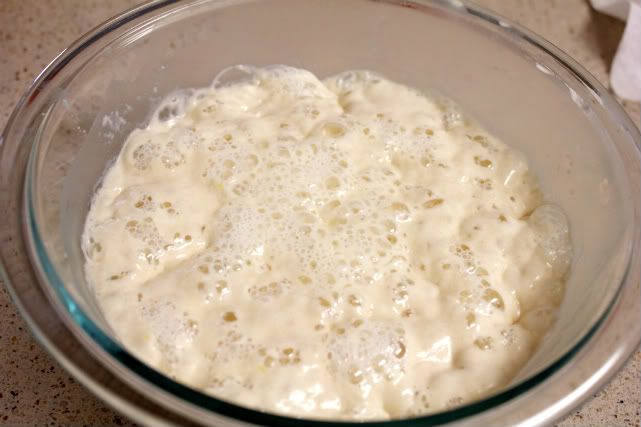 After 15 minutes, the mixture will be bubbly.  If this doesn't happen, a) your yeast is old, and well, dead; or b) the milk wasn't at the right temperature.  It is very important that it is at 110F.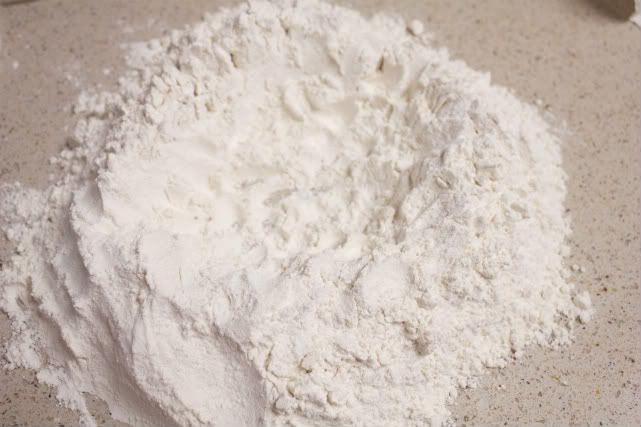 Pour 4 cups of flour on your counter and make a well.  Making dough like this is my favorite way; old school.  Or like making pizza…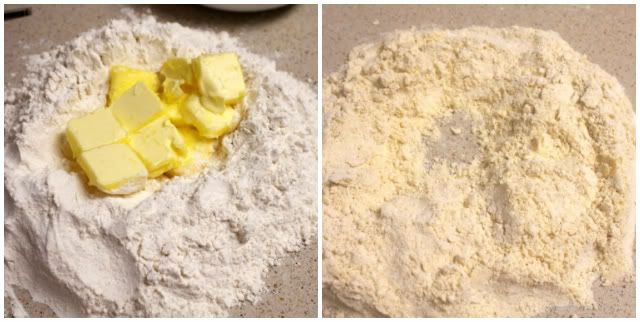 In the center of the well, place 2 sticks of unsalted butter cut in cubes, which needs to be at room temperature.  Incorporate the flour and the butter until you have a mealy texture.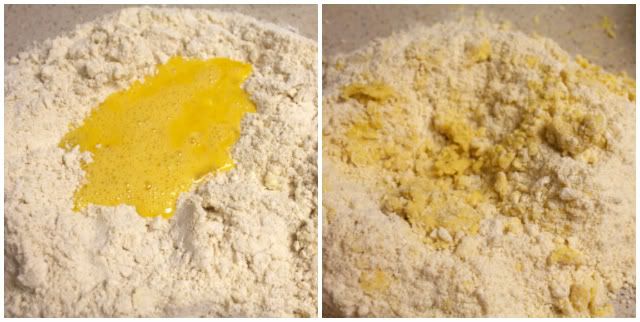 Make a well again and pour 4 slightly beaten eggs in the center.  Slowly, s-l-o-w-l-y, incorporate the flour into the liquid, sort of like making little landslides of flour into the egg well.  I am not going to lie to you: it will get messy and sticky, but stay with me.  You are on your way to making bread babies.
Make a well again and pour the milk and yeast mixture.  Now, HERE it will be really messy and sticky, which is why I don't have a picture for this.  My hands were covered in gooey dough, and since I am a one-woman operation, a picture was not happening as I was trying to make sure the liquid didn't end on the kitchen floor.
So what happens here is, the dough will be very wet and sticky, and you will most likely need a dough scraper.  I used the unserrated side of a cake knife to scrape the dough off the kitchen counter.  I'm getting a dough scraper next week.  And this is where I was utterly confused with this old recipe: I clearly needed more than 4 cups of flour.  So what I did is, I added about 1/4 cup of flour at a time while kneading, using an extra cup of flour until I achieved the desired consistency of my dough.  You want the dough to be smooth, but soft and springy.  I would make this dough in this fashion all over again, because I rather adjust the flour up than being too dry from the get-go.
So your dough ball is going to look like this.  Now, place it in a large bowl, cover it with a kitchen towel and let it rest to rise for 2 hours.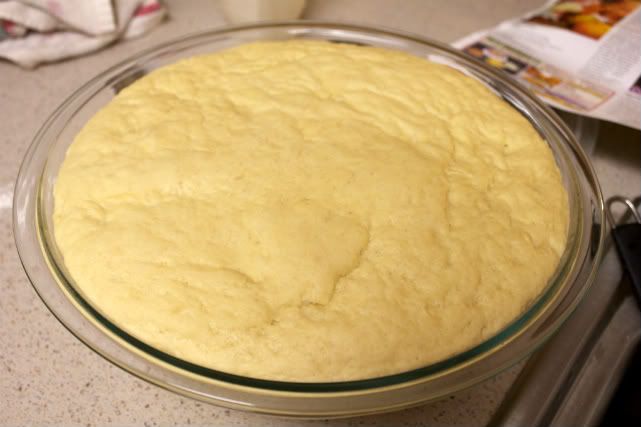 Two hours later is going to look like this.  BOOM!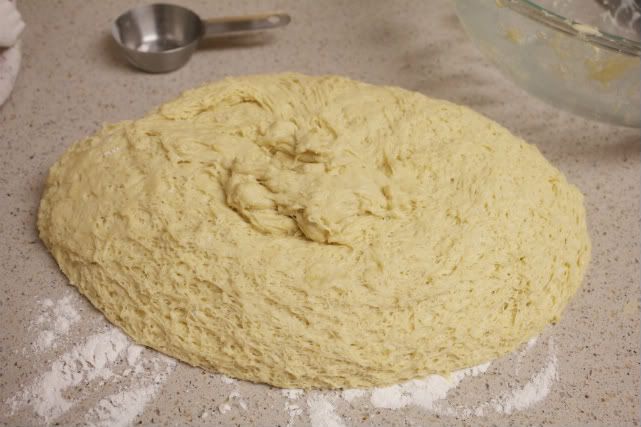 Sprinkle your counter with flour and dump the dough ball on it.  Knead it until smooth.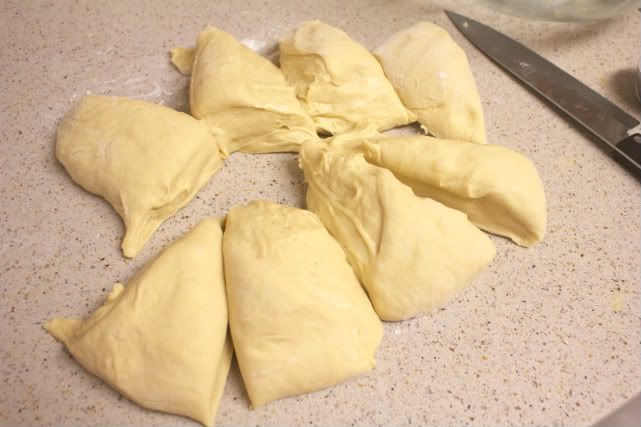 I divided the dough into smaller pieces to make it more manageable.  The dough kept rising, and I divided the dough even more.  There is no exact science for the number of bread babies, AKA servings, that result from this dough, because it will all depend on how big you make your bread babies.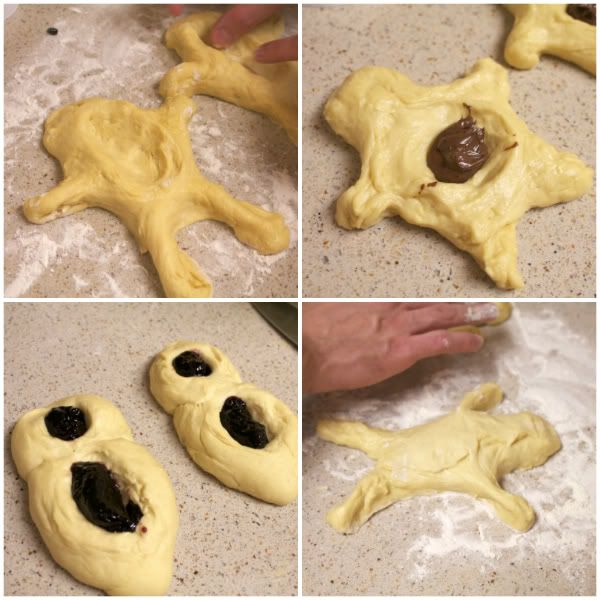 Shape your bread babies the way you like them.  We shaped some like little gingerbread people and others like babies wrapped in a blanket.  Now, the cool thing you do with these bread babies is that you fill them with jam or… N-U-T-E-L-L-A!  Ahhhh, Nutella!  All you need to do is cut slits in the dough and place about a teaspoon of the filling of your choice.  Then close them up.  We got overzealous on some of the bread babies and the filling came out after baking.  But they were still delicious.
Place your bread babies on a baking sheet covered with parchment paper and let them rest for 15 more minutes.  They will rise again.  Make an egg wash with 4 egg yolks and a splash of water or milk.  Brush the bread babies with the egg wash.
Bake the bread babies for 10 minutes in a preheated oven at 450F.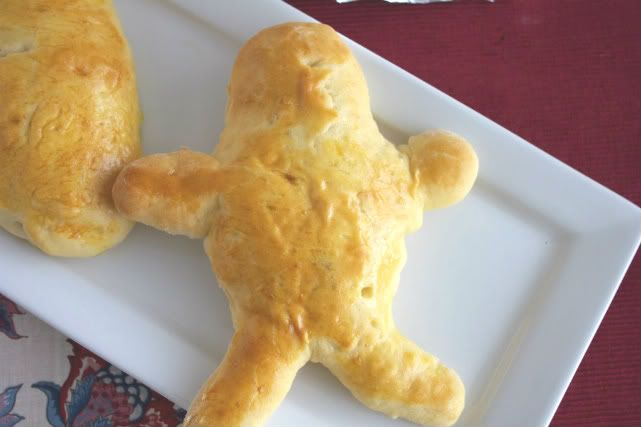 You can eat them right away, all warm and gooey…  Mmmm….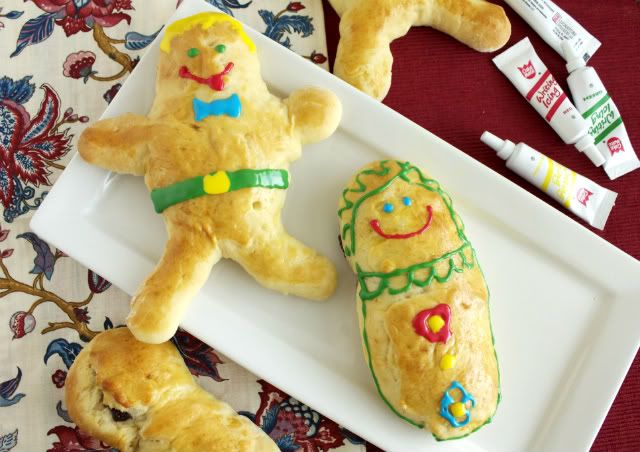 Or let them cool off and decorate them with sugar icing.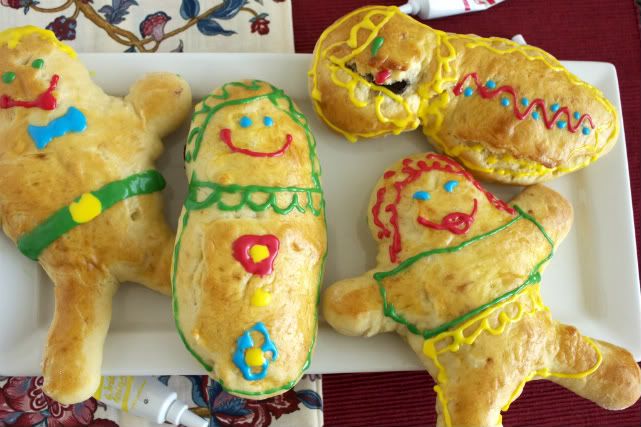 Serve your guaguas de pan with some colada morada on El Dia de los Difuntos and celebrate this Ecuadorian tradition any where in the world.  ¡Buen provecho!
Guaguas de Pan: Bread Babies
Ingredients
2 1/4 oz (7 g) envelopes of active dry yeast
1 1/2 cups milk
2 tsp salt
2 tsp granulated sugar
3 tbsp all purpose flour
4 cups of all purpose flour + 1 cup used during kneading
2 sticks of unsalted butter, cut in small cubes, at room temperature
4 eggs

Egg wash

4 yolks + splash of milk
Instructions
Warm the milk until it reaches 110F.
Pour the milk into a bowl and add the active dry yeast, the salt and the sugar. Stir until dissolved
Add the 3 tablespoons of flour, and stir until incorporated.
Cover with a kitchen towel and let it rest for 15 minutes until the mixture bubbles.
Place the 4 cups of flour on the kitchen counter and form a well in the center.
Add the butter and incorporate it until the flour has a mealy texture. Form a well again.
Add the 4 eggs, slightly beaten, into the well and slowly incorporate the flour with the eggs. Form a well again.
Add the milk and yeast mixture into the well and incorporate the flour with the liquid.
Begin kneading and add the extra cup of flour, about 1/4 cup at a time until the dough is uniform and doesn't stick to the counter anymore. Should the dough still be sticky, add another 1/4 cup if necessary. Knead the dough for 15 minutes.
Place the dough ball into a big bowl, cover with a kitchen towel and let it rest to rise for 2 hours.
Preheat the oven to 450F.
Place the dough onto a floured counter and begin forming the dough into the desired shapes.
Cut slits into the shapes and fill with nutella or fruit jams if desired.
Place the bread babies onto a baking sheet covered with parchment paper and let them rest and rise for another 15 minutes. The number of bread babies will depend on how big they are made.
Meanwhile, make the egg wash.
Brush the egg wash over each bread baby.
Bake in the 450F oven for 10 minutes until golden brown.
Serve immediately or let it cool for a few minutes before decorating the bread babies with sugar icing.
http://www.tstastybits.com/2011/10/guaguas-de-pan-bread-babies/
T\'s Tasty Bits, 2009-2012