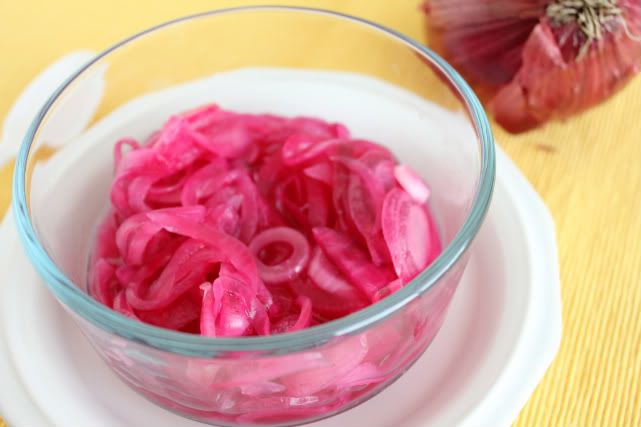 So guess what?  There is a better way of making encurtido.  Previously, I was cutting the onions and marinating in lemon juice for 20+ minutes and that was that.  It was good, no qualms about it.  However, I followed Michelle O. Fried's recipe and…  Well…  I had a moment.  And it was magic.
As you recall, encurtido is nothing more than pickled onions.  Fried's recipe makes sense: salt, lemon juice, sugar.  SALT!  SUGAR!  That was my epiphany.  I will therefore pass on my epiphany to you.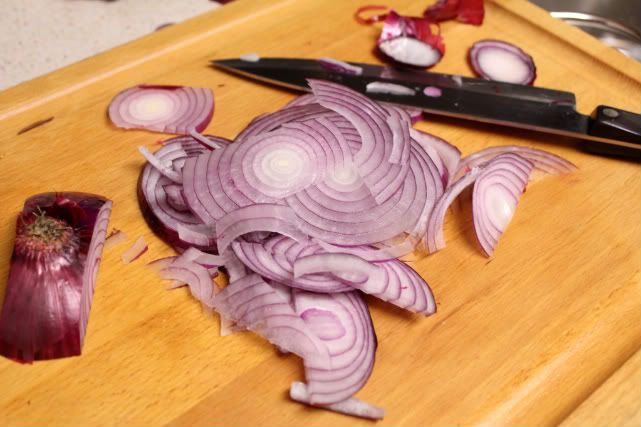 Start with a whole red onion, thinly sliced.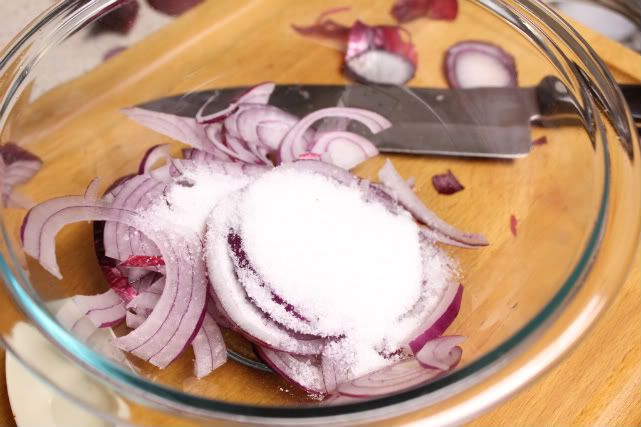 Add 1 1/2 tablespoons of salt…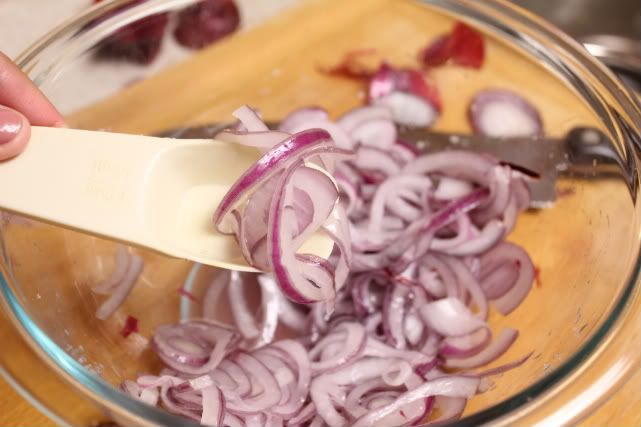 Mix and let it rest for 20 minutes.  The salt breaks down the onion and it makes it release its juices.  These juices are what gives the red onions a bite if eaten raw.  You may think, "Oh my gosh, that is a lot of salt!"  Yeah, I thought so too, but stay with me and I'll show you a magic trick.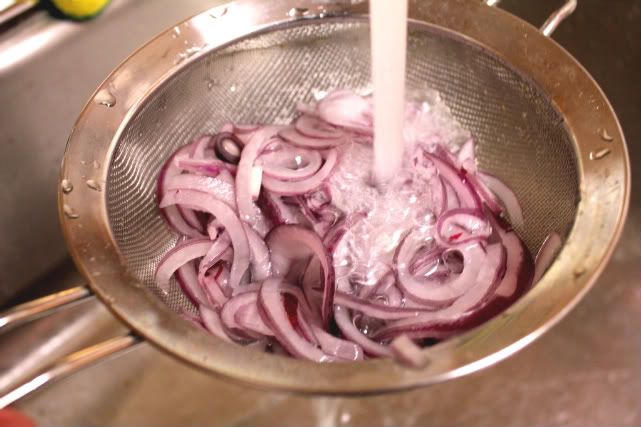 You rinse off the salt!  Place the onions under cold water and rinse it all off.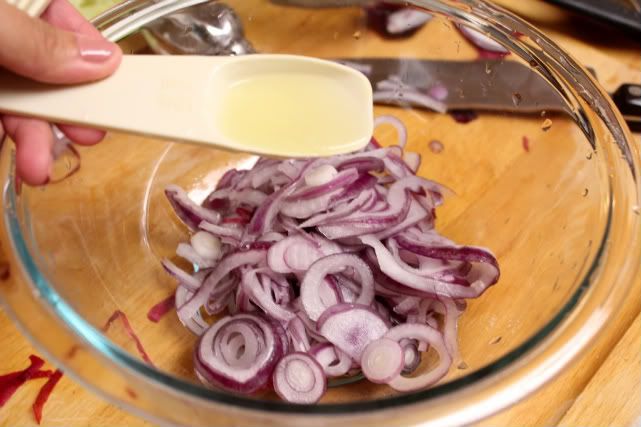 Then put it back in a bowl and the juice of 1 lemon…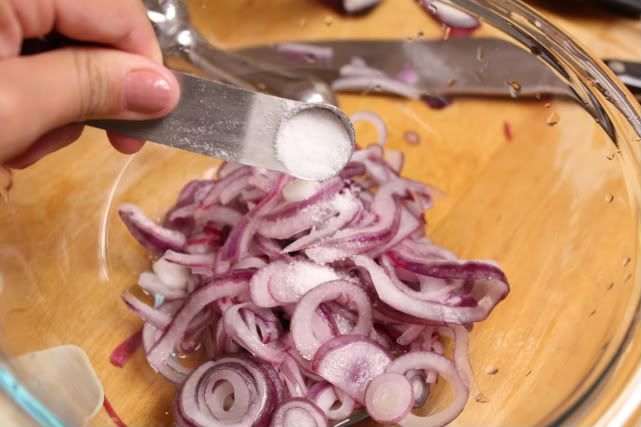 And half a teaspoon of sugar.  And then another magic trick happens…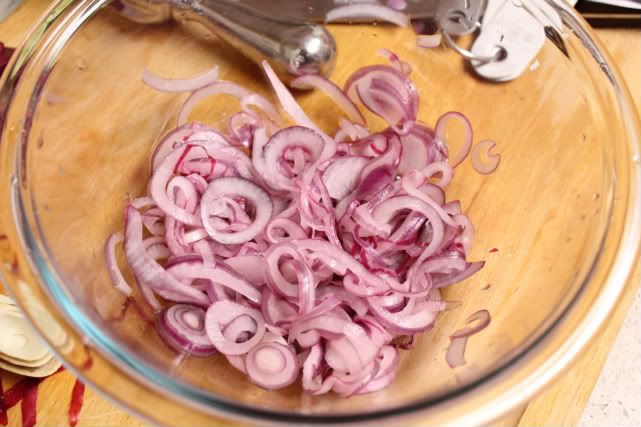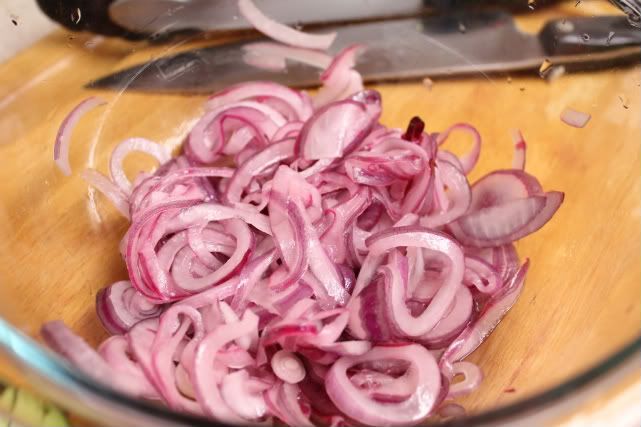 As the onions sit in this juice, they soften and turn into this beautiful reddish-magenta hue…  And they will continue to become more magenta-ish (?) if you let these onions sit overnight in the fridge.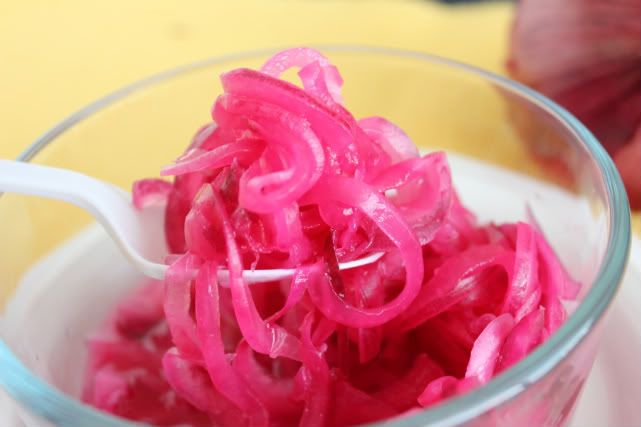 Look!  I cannot get over this color. I need to make a lipstick in color Encurtido…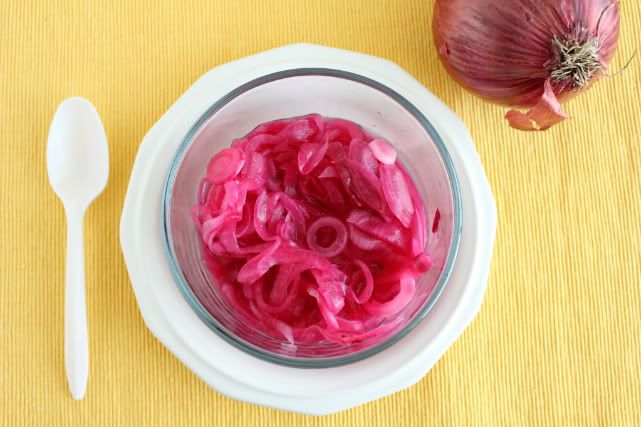 Now you can use this encurtido to garnish any Ecuadorian dish – or any other meal you love.  It adds a tangy-sweet, tropical flavor to your food.  It's like pixie dust for your food. It is magical.
Encurtido - Cebollas Encurtidas: Pickled onions
Ingredients
1 red onion, medium sized, sliced thinly
1 1/2 tbsp salt
Juice of 1 lemon
1/2 tsp granulated sugar
Instructions
In a bowl, place the sliced onions and add the salt. Mix thoroughly
Let the onions rest for 20 minutes at room temperature.
Rinse the onions under a stream of cold water to remove the salt.
Place the onions back into a bowl and add the lemon juice and the sugar.
Let the onions rest until they become magenta in color. If refrigerated overnight, the color will become richer.
Use as a garnish for any typical Ecuadorian dish.
http://www.tstastybits.com/2011/10/how-to-make-encurtido/
T\'s Tasty Bits, 2009-2012