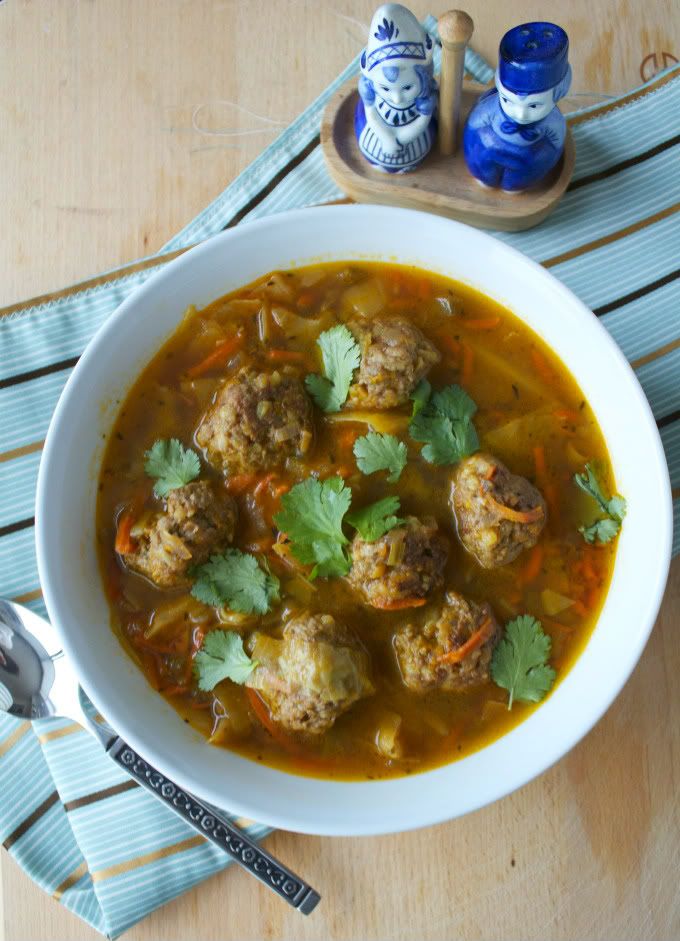 I recently made this soup because it reminded me of an old *almost* favorite soup I used to eat back in Ecuador.  And I say, *almost* because this soup has cabbage.  I don't like cabbage.  Well, I thought I didn't like cabbage.  I didn't like it when I was a little girl, and I made my nana puree the soup, otherwise I would not eat it.  Turns out, I do like cabbage, and I ate the heck out of this soup.
This recipe is adapted from this book I cannot live without, Comidas del Ecuador, by Michele O. Fried.  This soup is traditional from the province of Manabí, located on the coast of Ecuador, between the Guayas and Esmeraldas provinces.  I found it fascinating to make meatballs using plantains in a combination of cooked and raw, which reminded me of  bolones de verde (Warning: these old pictures of bolones de verde are unappetizing, but the bolones de verde ROCK!).  The soup I ate back home in Guayaquil had just regular meatballs, or albóndigas, made of ground beef, with no plantains.  For this soup, I decided to use ground lamb to give it a different flavor – more earthy, as well as brown the meatballs before cooking them in the broth so they would hold together.  A basic refrito is used as a base for the soup and for the meatballs.  With winter around the corner, this simple soup is a must.
Start with a couple of green plantains.  You will only need 2, even though I am showing you four.  But look at the plantain towards the front.  It is fused!!  It is a two-fer!  Anyway, cook one until soft; mash it and season it with salt.  Grate the other one; this one will be left raw.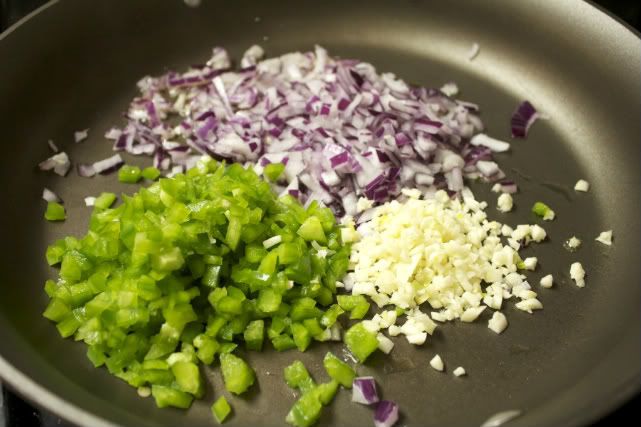 Meanwhile, make a refrito with red onions, scallions, green peppers and garlic.  I forgot to add the scallions here, so I added them later on in the process.  It happens.


To the refrito add: ground achiote, cumin, ground black pepper, dried basil and dried thyme.  Cook in low heat until the onions are translucent.  Save 3 tablespoons of the refrito for the meatballs and set aside.
In a bowl, combine the cooked and seasoned plantain with the raw one.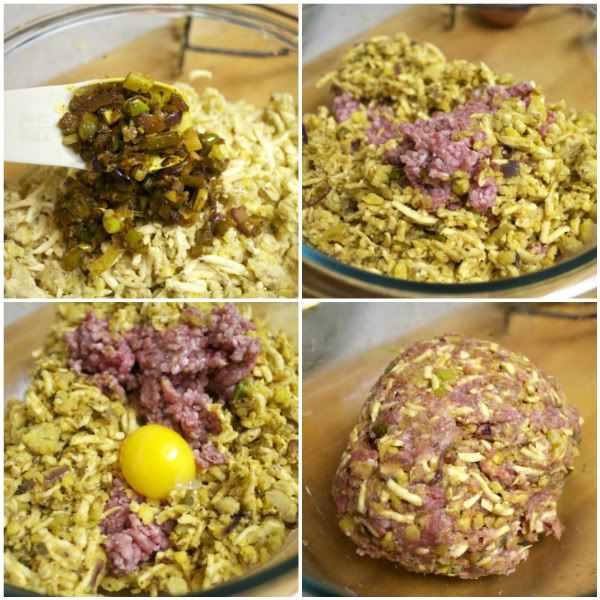 Add the 3 tablespoons of refrito, the ground lamb, the egg yolk and incorporate using your hands.  Season a bit more with some salt.
To test if your meat has enough seasoning, make a little, itty, bitty pattie and brown it in some oil.  Taste it and adjust for more salt if needed.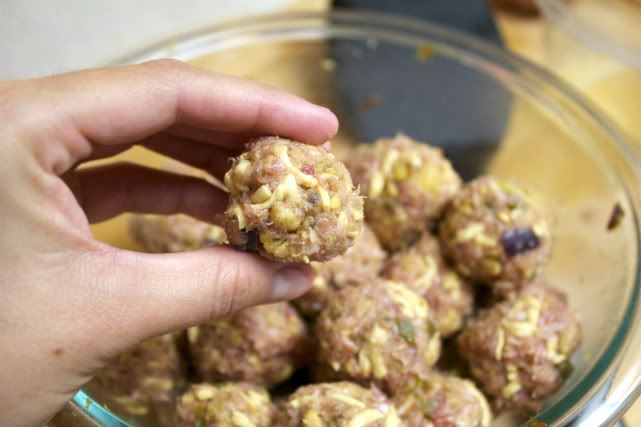 Now, make your meatballs the size of a Jawbreaker.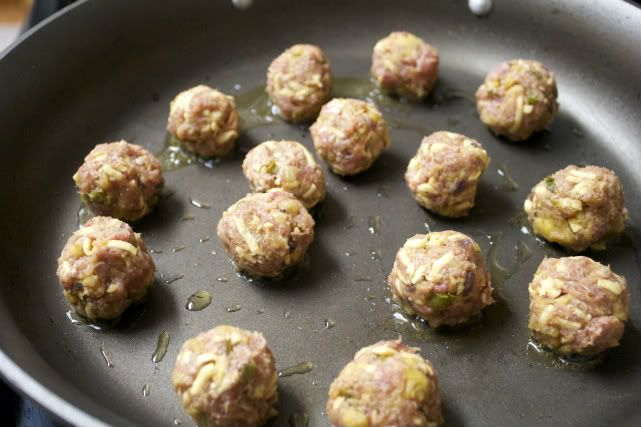 Brown them in a hot skillet with some oil, being careful not to overcrowd the pan.  I browned my meatballs in 3 batches.
Set your meatballs aside.  I made 37 meatballs; odd number.  I am an oddball, after all…

In a large dutch oven, or soup pot, add 1.5 liters of beef stock and begin to warm on medium heat.  To the stock, add the rest of the refrito, followed by the meatballs.  Cook on medium heat for 10 minutes.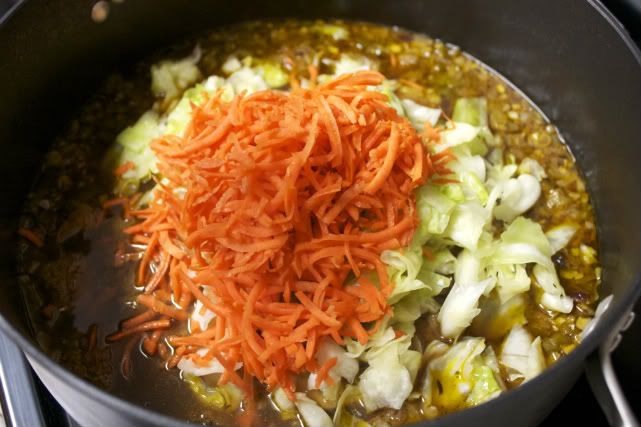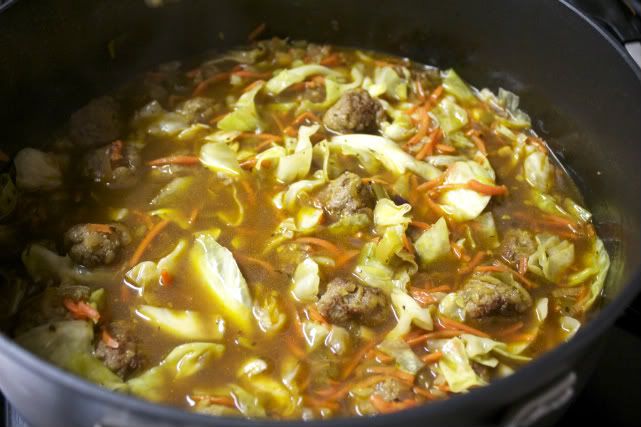 Add the cabbage and some shredded carrots, and cook for 10-15 minutes to soften the vegetables. My grandma used to tell me not to cook the vegetables for too long because they lose all their vitamins.  I usually follow her advice.  Besides, I also like a bit of crunchiness in my veggies.
Serve warm, sprinkled with some fresh cilantro.
Caldo de Albondigas de Carne y Plátano Verde: Plantain and lamb meatball soup
Approximate prep time includes making the refrito, plus getting the other ingredients ready + making the meatballs. Cook time includes browning the meatballs, followed by cooking the soup with the other ingredients.
Ingredients
For the refrito:

2 tbsp vegetable oil for frying
1 cup chopped red onion (about 1/4 large red onion)
1/2 cup chopped scallions (about 2-3 scallions)
1/2 cup chopped green pepper (about 1/2 large pepper)
4 garlic cloves, minced
1/2 tsp ground cumin
1/2 tsp achiote powder
1/4 tsp ground black pepper
1/4 tsp dry basil
1/4 tsp dry thyme

For the meatballs:

1 green plantain, raw and grated
1 green plantain, cooked
1/2 lb ground lamb
3 tbsp refrito from above
salt to taste
1 egg yolk

For the soup:

1 1/2 liters beef stock
1/2 large cabagge, cut in thick strands
1 cup shredded carrots
Instructions
For the refrito:

Heat the vegetable oil in a large sautee pan.
Add all the ingredients and sautee in low heat until the onions turn translucent.
Reserve 3 tablespoons for the meatballs.

For the meatballs:

In a large bowl, combine the raw plantain and the cooked plantain. Season with salt to taste (it is OK to taste a bit of the raw plantain, it won't hurt you!).
Add the refrito, the ground lamb and the egg yolk. Mix with your hands.
Form meatballs the size of large gum balls or Jawbreakers.
Heat up some vegetable oil in a large pan and brown the meatballs on all sides, in batches. Set aside.

For the soup:

In a large stock pot, pour the beef stock and add the refrito. Heat on medium heat.
Add the meatballs and cook for 10 minutes.
Add the cabbage and the carrots and cook for another 10-15 minutes to soften the vegetables.
Garnish with some cilantro and serve warm.
http://www.tstastybits.com/2011/11/caldo-de-albondigas-de-carne-y-platano-verde-plantain-and-lamb-meatball-soup/
T\'s Tasty Bits, 2009-2012