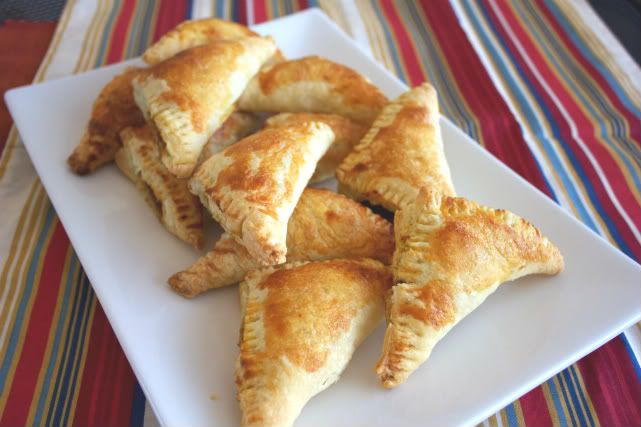 I wanted to find a way to incorporate a bit of Ecuador into the holiday season I love so much and is now part of my life: Thanksgiving.  You see, in Ecuador we don't celebrate Thanksgiving.  However, going to an American bilingual school in Ecuador exposed me to the Thanksgiving celebration via history lessons and re-enactments of the Mayflower arriving to the US coast.   In grade school we made turkey macaroni and dried beans art, dressed up like pilgrims and native American Indians, and ran around the school all Thursday long.  But once the school day ended, there was no concept of getting together as a family, being thankful for what we have, and gorging insane amounts of turkey and stuffing followed by a tryptophan-induced coma.  Yay for Thanksgiving!
So I figured, why not make an empanada?  Since the filling requires un zapallo bien maduro, AKA a sweet and ripe pumpkin, this was the perfect way to get it done.  This filling also has chochos (lupini beans), a bit of Frangelico, naranjilla pulp, brown sugar, lemon zest and allspice to round up the sweetness and spice, and give it an Ecuadorian flare.
Now, you're probably thinking WHY in the WORLD would you add BEANS to a sweet pumpkin filling?!  Let me explain.  Chochos have a nutty flavor, and when incorporated into this filling they taste more like a slivered, blanched almond than an actual bean.  I think that if you are allergic to almonds/nuts, but love that crunchy texture that they have and give to a dessert, THIS is the way to go.  Also, I ended up with a greater filling to empanada ratio.  How about using this filling to top off some pancakes?  OR… IN the pancake mixture!  Or scoop some of this filling over some greek yogurt for a quick dessert?  Or grab a spoon and just eat it straight from the bowl!  The possibilities are endless…
Now, I had started making my own dough for this empanada, which didn't turn out the way I thought it would.  It was too dry and hard to work with.  I decided to use puff pastry instead, which I cut into squares to mimic the empanada shape when folded in half.  One less thing to worry about if you are losing your marbles, entertaining a lot of people during the holidays.   And, while I roasted my pumpkin for this empanada, I am sure you can use canned pumpkin to save even more time.  Check to see whether the canned pumpkin contains sugar or not, as you may need to reduce the sugar if this is the case.  ¡Vamos a cocinar!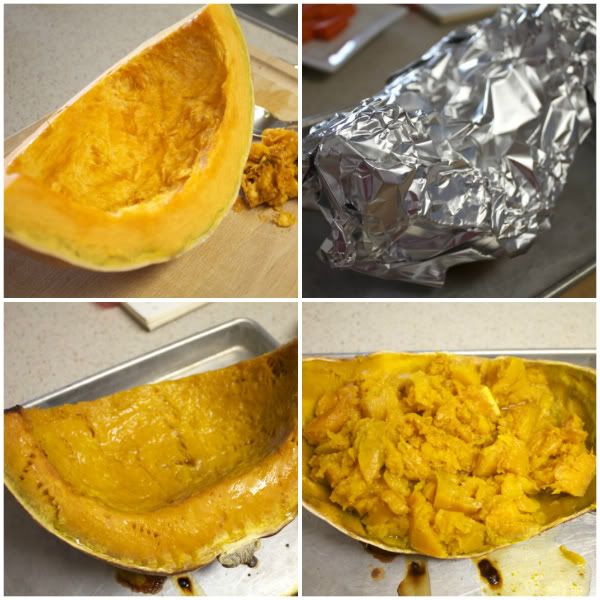 I used 2.5lbs of pumpkin which I covered with aluminum foil and roasted in a 375F oven for 1 hour, or until the pumpkin was soft and caramelized.  Discard any excess water the pumpkin produces while roasting.  Roughly chop the pumpkin into smaller pieces.
Place the cut pumpkin in a pot, and add naranjilla pulp and brown sugar.  Cook in medium heat stirring every so often until it begins to thicken.  Where in the world do I get naranjilla pulp?  At the Hispanic grocery store, in the frozen food section.  What do you do if you don't have naranjilla pulp?  Well, in this case I used 3/4 cup of naranjilla pulp which is a bit thicker compared to juice.  You can replace this amount of naranjilla pulp by using 1/2 cup of freshly squeezed orange juice + the juice of 1 lemon.  Now, this is the way you usually substitute for bitter orange, another popular fruit used in Latin American cuisine.  But, I find that naranjilla has a bit of a tart flavor, and combining this 2 fruit juices does a pretty good job at mimicking this tartness.
Turn the heat down to low and add a bit of Frangelico liqueur and 1 teaspoon of allspice.  Let this mixture cook down you can easily see the bottom of the pot when scraped with a spoon.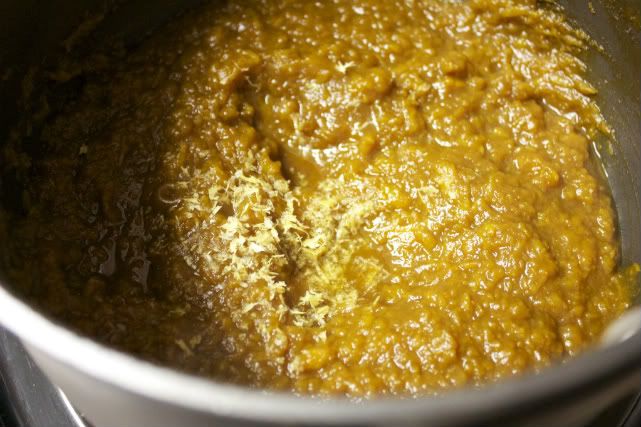 Turn off the heat and add 1 teaspoon of lemon zest and mix again.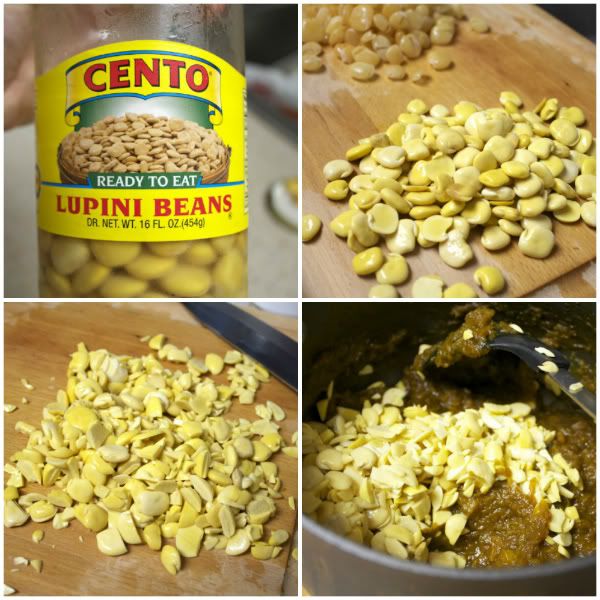 Finally, add some rinsed, roughly chopped and peeled lupini beans to the pumpkin mixture and mix thoroughly.  Let the mixture cool off for about 10 minutes.  I found these lupini beans in the canned food section of the supermarket, and it was the first time I have used this brand.  I normally use the chochos from Mama Tere, but they were out.  Comparing both beans, the Mama Tere ones are what I remember eating, and peeling these are much easier than peeling the Cento ones.  Cento's lupini beans skin is much thicker and harder to peel, FYI.  How do you peel chochos?  Check out my posting on Aji con chochos y queso for a guide.  It is really simple: place the bean between your thumb, index and middle fingers and squeeze.
Meanwhile, heat your oven to 400F.
Take your thawed puff pastry dough and lay it flat on the counter.  I rolled the dough slightly; I gave it a couple of passes with the rolling pin, just to extend it slightly and to reduce a bit of the puffing when baked.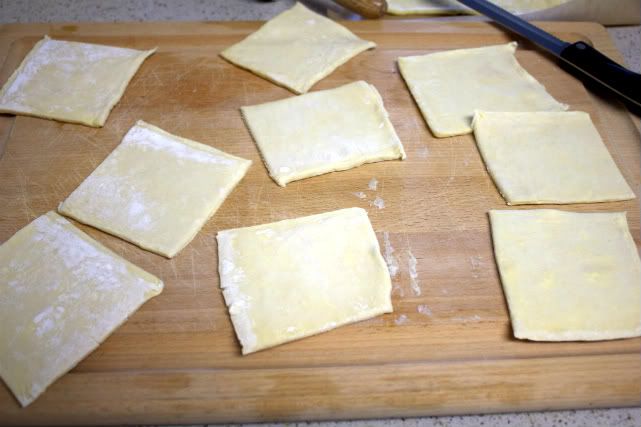 Cut the puff pastry into thirds, using the foldings as your guideline and then cut it into squares.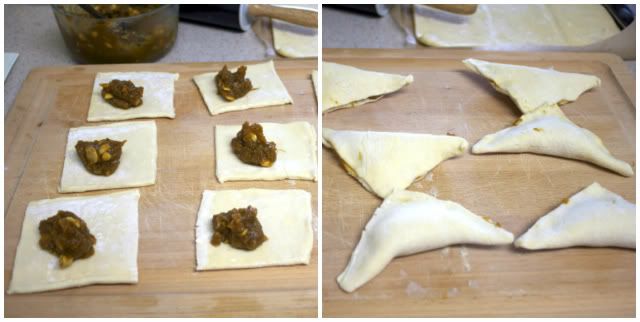 Scoop about one tablespoon of the filling onto each square, and fold to make a triangle.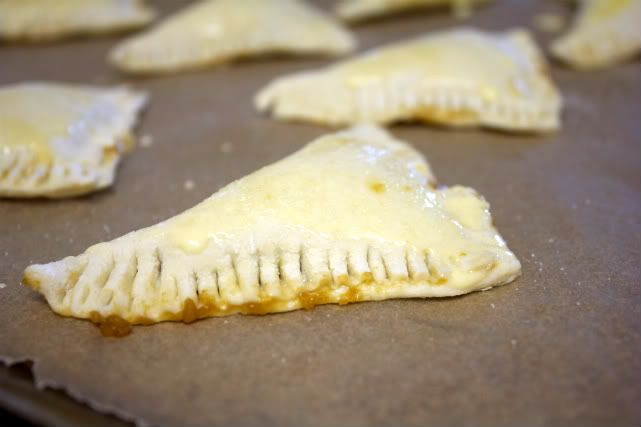 Press the edges with a fork to fuse them together and keep the filling inside.  Brush the empanadas with an egg wash and sprinkle some granulated sugar on top.
Place them on a baking sheet covered with parchment paper and bake for 20 minutes until golden brown.
And there you have them.  A nice Thanksgiving treat, with a bit of Ecuadorian sabor.  Enjoy!
Empanadas con Dulce de Zapallo y Chochos: Sweet Empanadas with Pumpkin and Lupini Beans Filling
Prep time accounts for the roasting of the pumpkin, chopping it, making the filling, cooling and forming the empanadas. Cook time accounts for the baking of the empanadas.
Ingredients
For the filling:

2.5 lbs pumpkin, seeded
3/4 cup brown sugar
3/4 cup naranjilla pulp (replace with 1/2 cup of freshly squeezed orange juice + juice of 1 lemon)
1 tbsp Frangelico (hazelnut) liqueur (could use rum also)
1/4 tsp ground allspice
1 tsp lemon zest
1 1/2 cups lupini beans, peeled and roughly chopped
2 rolls of puff pastry dough

For the egg wash

1 egg + splash of water or cream
Granulated sugar for sprinkling
Instructions
Cover the pumpkin with aluminum foil and roast it in a preheated 375F oven for an hour or until the pumpkin is soft and slightly caramelized. Discard any excess water the pumpkin produced.
Roughly chop the pumpkin and place in in a pot. Add the sugar and the naranjilla pulp and cook in medium heat stirring every so often to keep dissolving the pumpkin and the sugar and thicken the mixture.
Turn the heat down to low and add the hazelnut liqueur and the ground allspice. Continue cooking until the bottom of the pan can be easily seen after scraping it with the spoon.
Turn off the heat and add the lemon zest and the lupini beans.
Let the mixture cool off for 10 minutes before using.
Meanwhile, preheat the oven at 400F.
Slightly roll the thawed puff pastry dough giving it a couple of passes with the rolling pin.
Cut the dough into thirds and then cut into squares.
Place a spoonful of filling on each square. Fold the squares into a triangle and pinch the ends with a fork to close the empanadas.
Brush each empanada with the egg wash and sprinkle with granulated sugar.
Bake for 20 minutes until golden brown.
http://www.tstastybits.com/2011/11/empanadas-con-dulce-de-zapallo-y-chochos-sweet-empanadas-with-pumpkin-and-lupini-beans-filling/
T\'s Tasty Bits, 2009-2012