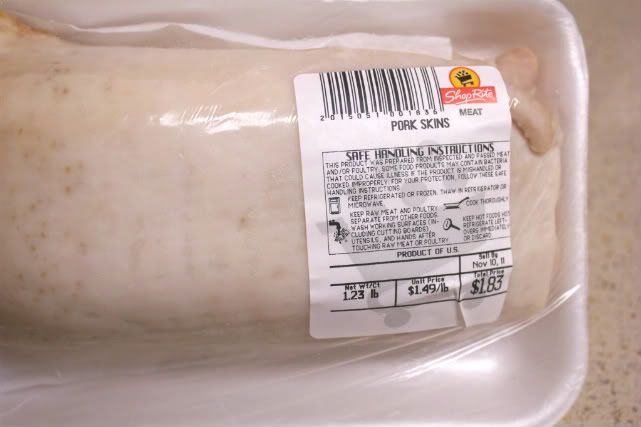 I spotted this at the supermarket the other day.
So I decided to make these.
And they were delicious.  I missed my cervecita on that day, but I played pretend.  I pretended I was at the beach in Ecuador, sitting at a little huequito not far away from the ocean, eating cebiche de camarón and chicharrón.  I want to play pretend everyday.
Back to reality.  Let me show you how to make chicharrón, also known as pork crackling.
Chicharrón has many different meanings and variations depending on who you ask, and where you are.  I grew up knowing chicharrón was this kind, as well as the one that magically happens when you make Fritada; this one is also known as cuero reventado, or exploded skin.  Gnarly, huh?!  I have a hard time choosing which one I like best.  It's like asking a parent who is your favorite child.  You just don't do that.  This chicharrón is great as a snack – like bar food.  The chicharrón from the fritada is more like a main course.  I like to refer to the chicharrón in the fritada as pork candy.  Because it is.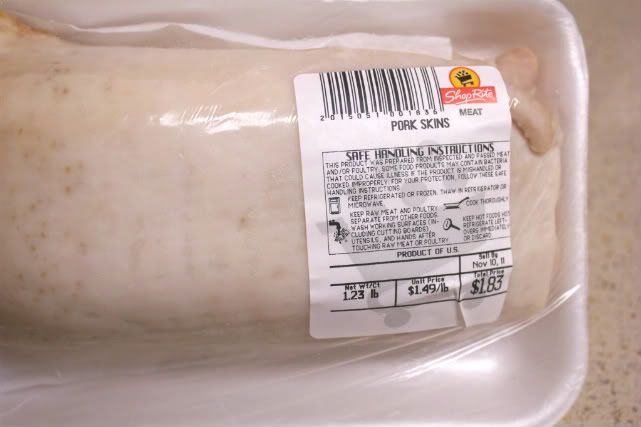 So let's get back to our pork skin.  This is what it looks like in the package.  In my case, once I unwrapped the package, it came in two long pieces.  I rinsed them under cold running water.
Then, I cut the skin into manageable pieces.  You can cut them as thin or as thick as you want.  For cutting, I used a pair of kitchen scissors.  Using a knife was impossible.  You're cutting skin after all.  Calling Hannibal Lector…
Put all your pieces in a large pot and pour enough water to submerge them.  Bring the skins to a boil and then simmer in medium heat for 1.5 hours until the skin is soft and tender.  How tender?  When picking the skins with a fork, they should be tender enough to pierce through and make holes.  In some instances, the skin was so soft that it ripped off one of its ends when I fished them out.  I didn't use any seasoning of any kind, but you can salt your water if you like.  I discarded the water afterwards.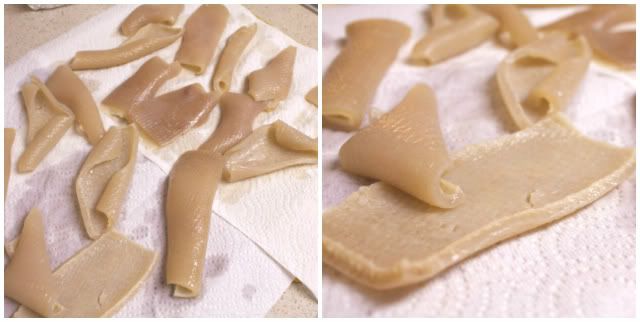 Place the skins over some paper towels and dry them.  If there are excess pieces of fat hanging around, trim them.  These skins had no fat remnants, so I was good to go.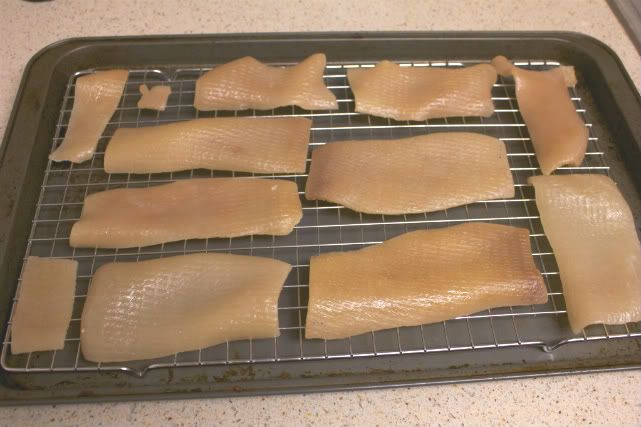 Lay the pieces over a wire rack placed in a baking sheet.  Make sure the pieces are as flat as possible; some of them curled a bit on the ends – no biggie.  Bake them in a pre-heated oven at 170F for 8 hours.  Basically, what we're doing here is making pork jerky.  The oven was at the lowest temperature possible in order to dehydrate the pork skin.  I put them in the oven and went to bed.
The next day, the pieces look like pieces of broken plastic.  They also remind me of the raw hides dogs love.  I'm pretty sure this is the way to make them.  But we want to feed ourselves and not them…  The pig skins will be see-through and will have a brownish tint to them.  I let them rest for another hour.    I noticed that once cooled, some of my pieces had developed little drops of fat.  I took some paper towels to dry off any excess fat that remained.   Since we don't want any unwanted fat splatter when frying them, we need to ensure they are completely dry.
Now, here comes the fun part.  Heat up some oil to 375F for deep frying.  I poured two cups of oil in a deep pot.
Place one of your skins in this hot oil and watch magic happen.
The skin curls and puffs in a matter of seconds.  With a heat-proof spoon turn over the skin to make sure it get fried on all sides.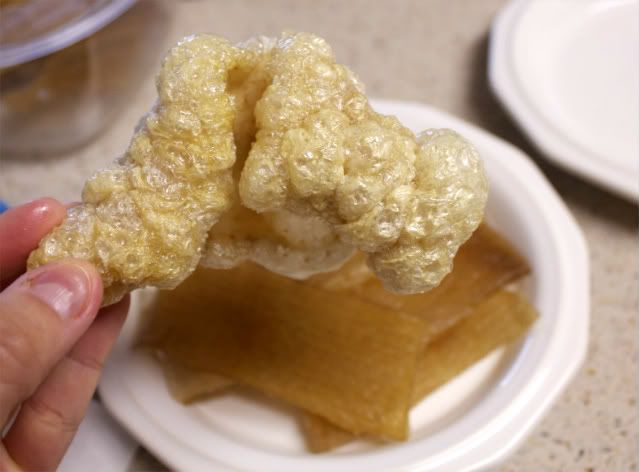 This is what the chicharron looks like after it's all set and done.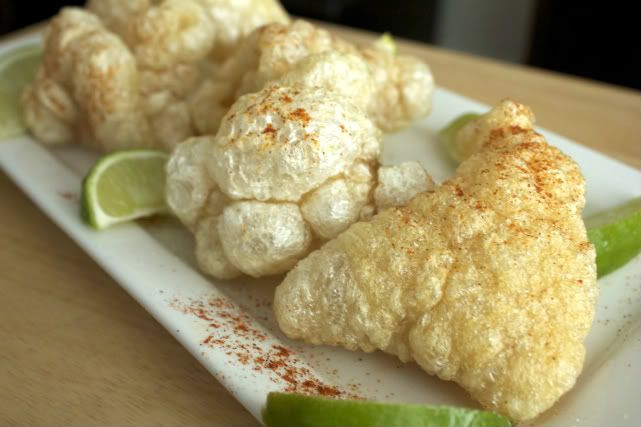 Season your chicharron with salt and cayenne pepper while still hot.  Serve with some lime wedges and squeeze some lime juice onto the chicharrones right before eating.  You'll be in pig heaven.
Grab a cold cerveza and you are on your way to a pretend vacation.  All I ask, is to take me with you.  ¡Buen provecho!