I love Christmas!  As a kid, I looked forward to it every year, mainly because of the toys.  Can you blame me?  Look at us!  My sister and I were practically swimming in toys.  Christmas meant dressing up to the nines to celebrate. Mom and nana Gloria would begin cooking the meal two days in advance, as we prepared for our tribe to come over.  What was our Christmas dinner?  Mom's delicious relleno (AKA stuffing), cookies, fruitcake (blech), gallina (hen), some ponche (punch – virgin for us kids, and spiked with rum for the grownups), and other accoutrements.  Of course, before eating the big meal, we had to have mom's mandatory cheeseball and crackers.  There was not one Christmas where mom didn't make this cheeseball, and I remember thinking it was the most delicious thing EVER.  My sister and I now laugh about this cheeseball.  It's like a jello mold.  Needless to say, this cheeseball holds a dear place in our hearts.
Everything for our Cena Navideña was made from scratch; nana Gloria even killed the hen herself.  Everything, except for the nasty fruitcake, which mom received every year in her Canasta Navideña (Christmas food basket) her employer gave her.  To this day I don't understand the value of this Panetón.  I honestly think my family used to eat it out of guilt.  I think it is just plain gross and it should be eliminated out of the Christmas food pyramid.
You may be asking: Why did you eat chicken during Christmas?  Eating turkey during Christmas was something wealthy families did.  Turkeys were very expensive for my mom's budget, so we always ate hen, or a ham as in a leg of ham, like a pernil.  Mom's stuffing was sweet, as it was made using pan de dulce, a delicious Ecuadorian sweet, sugary bread; recortes, which are the odds and ends left from deli hams and cold cuts; shredded chicken and minced beef; prunes and walnuts.  Was there a side vegetable?  Maybe.  But I was too busy stuffing myself with relleno to remember.  Not to mention how full I already was from the cheeseball.
THE CHEESEBAAAAALL!!!
My family ate Christmas dinner on Christmas Eve, and we opened our presents at midnight.  But waiting for midnight was an eternity, and us kids were usually pretty sleepy by then, so we moved opening present time to 10pm.  Ten o'clock could not come by fast enough, and we could not wait to see what El Niño Dios brought us for Christmas.  The next hour was sort of a blur, as we tore through the wrapping paper and the boxes, played with our toys and fell asleep on the floor.
So back to the star of the Cena Navideña: the cheeseball.  This is basically mom's version of a cheese log.  It's super easy, as you may expect with just three ingredients: good-quality cream cheese, maraschino cherries, and walnuts. Note I said "good quality cream cheese".  Sometimes I wonder if all those words should be allowed together in one sentence.  I'm telling you this because I have found that some store brand or private label cream cheeses have an off-taste to them.  Good ol' Philly Cream Cheese does the job!
Let your cream cheese rest at room temperature for about 15 minutes until it feels soft and mushy.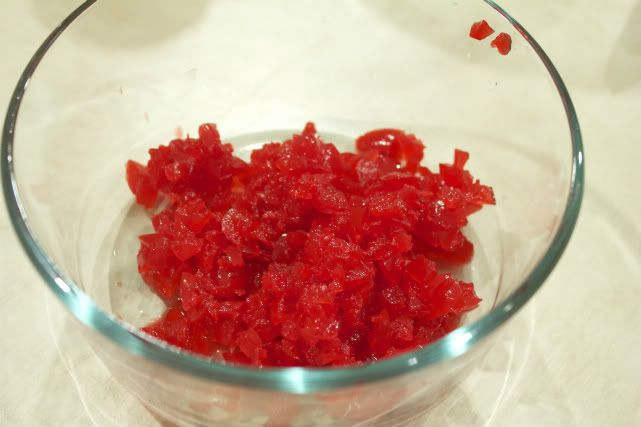 In the mean time, mince some maraschino cherries.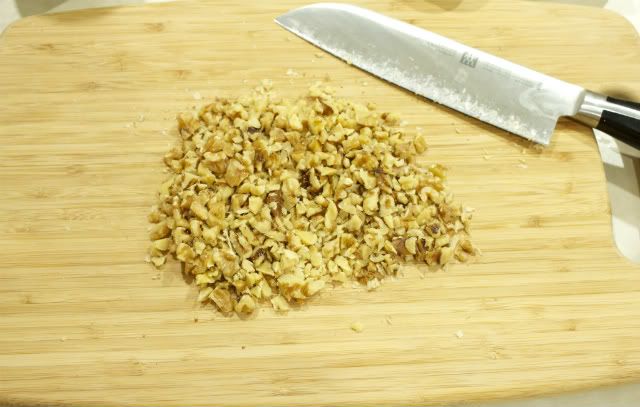 And chop some walnuts.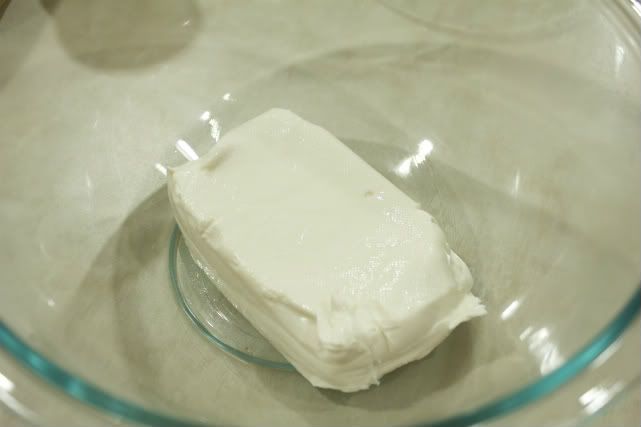 In a bowl, plop in your softened cream cheese,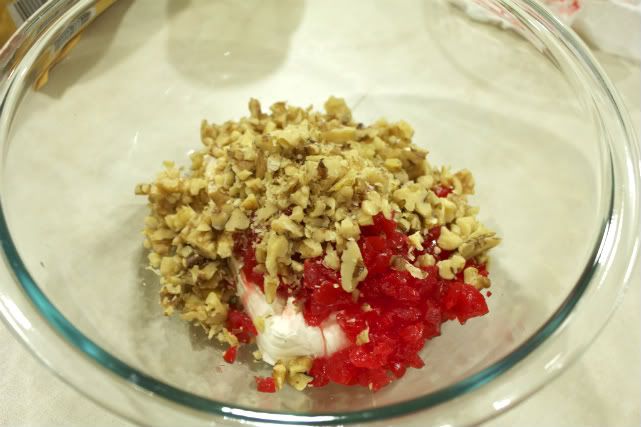 And add the cherries and the walnuts.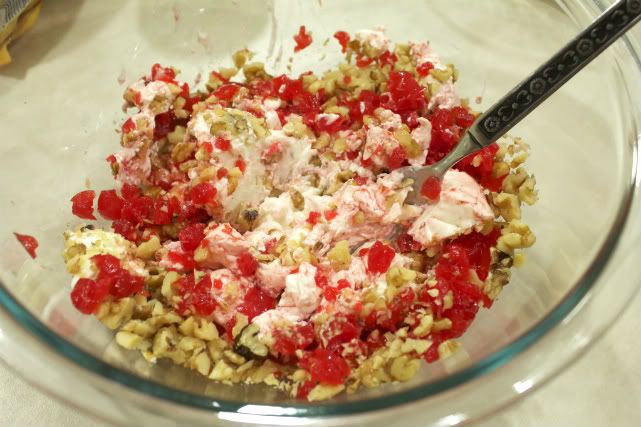 Combine all three ingredients with a fork.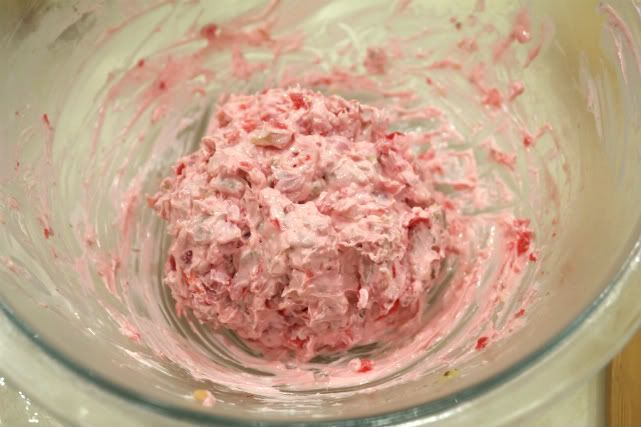 With a wooden spoon, shape the cream cheese mixture into a ball by bringing in the cheese mixture close together.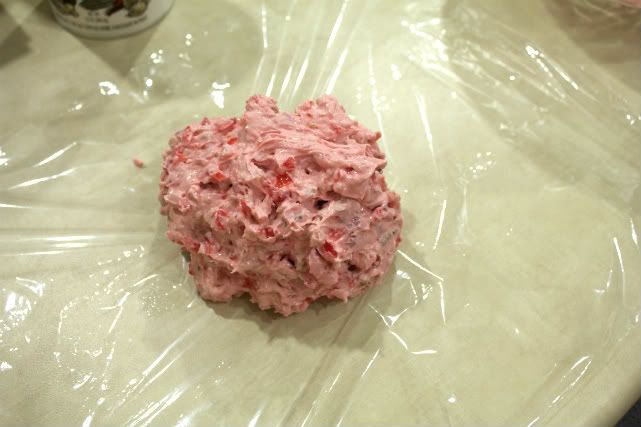 Scoop the mixture onto a piece of plastic wrap and wrap it forming a ball.  Stick in the fridge until it firms up again, preferably overnight.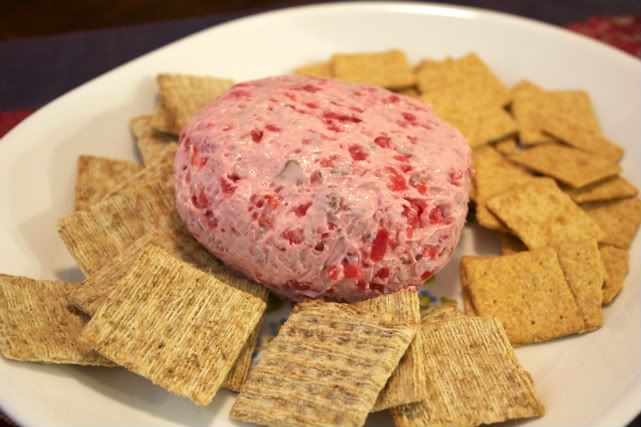 Serve your wonderful cheeseball with some crackers, and join me in reminiscing about family in a far away land filled with jarred maraschino cherries and cream cheese.  Was there a dish in your family that was served during special occasion that makes you wonder, What were we thinking?
¡Feliz Navidad!
Ingredients
8 oz cream cheese, softened at room temperature
8 oz maraschino cherries, minced
2/3 cups walnuts, chopped
Instructions
In a bowl, combine all three ingredients using a fork.
With a wooden spoon or spatula, form a ball by bringing in the mixture together while in the bowl.
Lay a piece of plastic wrap on your counter and scoop the cheese mixture on it.
Wrap the cheeseball with plastic wrap and refrigerate until firm, preferably overnight.
Serve with crackers.
http://www.tstastybits.com/2011/12/my-ecuadorian-christmas-and-my-moms-cheeseball/
T\'s Tasty Bits, 2009-2012