Juices, smoothies, and any sort of liquid fruit concoctions are an integral part of our Ecuadorian culture.  People usually drink a juice with their meal, while sodas are usually left for special occasions – at least that's how it was for me growing up.  This Ecuadorian oatmeal drink known as colada Quaker, or simply Quaker (KWAH-cker) is a staple for all Ecuadorian families.  And as it is expected, every family has their own way of doing it.
I made it for the first time this past week, and it turned out SO good!  Comparing it with how I remember growing up, it was almost spot on.  Almost because I recall that my nana used to make colada Quaker much thicker, so much so that it was almost like "eating" this drink.  You can choose to make it thicker by using less water, but the way I will show you is smooth and I know you will love it.
I love how colada Quaker is made, using spices and aromatics.  The process is very similar to making Colada Morada.  Quaker can be had warm or cold.  I tend to lean towards the cold version because it is so refreshing, but the warm colada Quaker is perfect during these winter months.  And you know that a drink made with oatmeal is very healthy!
Cookery instruments needed:
A deep stock pot, a blender or food processor, a strainer, a wooden spoon.
Cookery ingredients needed: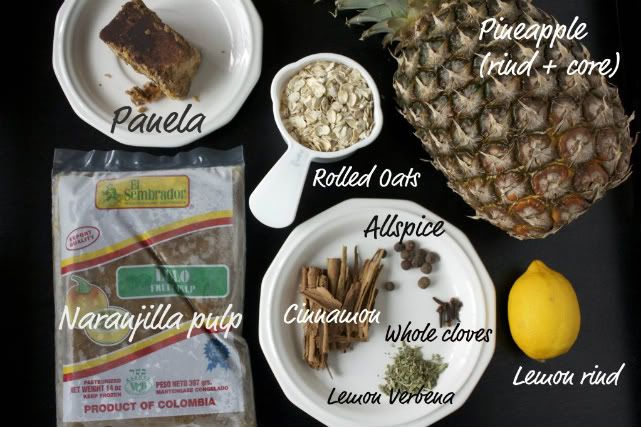 Panela, or piloncillo: 10 oz.; rolled oats: 2/3 cup; the rinds and core (heart) of 1 medium pineapple; naranjilla, or lulo, pulp: 2/3 cup; Mexican cinnamon: about 10 sprigs; whole allspice: 10 units; whole cloves: 5 units; lemon verbena: 1/2 tsp; the rind of 1 lemon.
Peel and core the pineapple – we will be using the rinds and the heart of the pineapple as part of the process.  Then, in a large stock pot, we will steep the pineapple rinds and heart along with the other aromatics: panela, Mexican cinnamon, whole allspice, cloves, lemon verbena and the lemon rind.  Cook for 25-30 minutes on medium heat.
Meanwhile, soak the oatmeal with the cup of water for the same time your aromatic water is cooking.  Then, blend the oatmeal with the naranjilla pulp using a blender, food processor or any other blending device.
Strain the liquid from the rinds and the rest of the aromatics.  Discard the aromatics and return the water to the stock pot.
Traditionally, you strain the oatmeal-naranjilla blend into the aromatic liquid, which is what I started doing.  Then I realized, why not add the whole oatmeal-naranjilla mixture?  THIS is the healthiest portion of the drink; otherwise is just water!  And so, I added the whole mixture to the liquid.  Bring the liquids to a boil, then lower the heat to medium and continue cooking for another 10-12 minutes until the liquid doesn't taste like raw oatmeal anymore.
Since I wanted my Quaker drink to be smooth, I strained it to get rid of any big pieces of oatmeal, but you are more than welcome to leave it as it is.  You can drink it warm on cold, winter days…
Or let it cool off completely, refrigerate and serve cold, which is my favorite way of drinking Colada Quaker.
Colada de Avena Quaker: Ecuadorian Oatmeal Drink
Ingredients
2 liters (~8.5 cups) water
2/3 cups old-fashioned oats, soaked in 1 cup water
The rind and the heart of one medium pineapple
10 Mexican cinnamon sticks or sprigs
10 whole allspice
5 whole cloves
10 oz panela or pilloncillo (raw brown sugar)
2/3 cup naranjilla (lulo) pulp
1/2 tsp dry lemon verbena
The rind of 1 lemon
Instructions
In a large stock pot, cook the clean pineapple rinds, core, spices, and panela with 2 liters of water for 25-30 minutes, on medium heat. Drain the liquid and discard the spices. Return the water to the stock pot.
Blend the naranjilla pulp with the soaking oatmeal in a blender.
Add the oatmeal-naranjilla mixture to the aromatic water and cook for about 10 minutes until the liquid doesn't taste like raw oatmeal.
Drain the drink one last time to remove the large pieces of oatmeal.
Serve warm or, or let cool off completely and serve cold.
http://www.tstastybits.com/2012/01/colada-de-avena-quaker-ecuadorian-oatmeal-drink/
T\'s Tasty Bits, 2009-2012