While moving is always exciting, it is also hectic.  Finding a bit of comfort in an easy breakfast that reminds me of home was key in keeping the sanity.  Wine also helped.  But not for breakfast.
This mash allows me to unleash my love for green plantains in full force.  Plantains never cease to amaze me.  What is not to love about empanadas de verde, sango de verde, bolón de verde, and caldo de albóndigas de verde?  And now we have tigrillo.
So, our Dominican Republic friends call it mangú; we call it tigrillo.  What is tigrillo?  This is a tigrillo (source):
Why do Ecuadorians named this green plantain mash after this South American feline?  I have no idea.  I didn't know this plantain dish by this name.  When I had it for breakfast, my nana used to ask me, "Quieres desayunar verde majado con queso?", or Would you like to eat green plantain mash with cheese for breakfast?  And my answer was always "SIIIII!"
This tigrillo was also a request from a reader who had it in Ecuador and was curious to know how to make it.  Here is how I make it for myself, so this is one serving.  You can add as many plantains as you like if you have a bigger crowd.  One plantain per person is usually what I go for.
Start by peeling a green plantain and cutting it in half.
Bring some water to a boil and throw in the green plantain.  Cook in medium heat until the plantain is done, which is about 15-20 minutes.
Remove the plantain from the water and place it on a flat surface or a bowl to mash.  The easiest way is to use a fork.
Reserve some of the water where the plantain was cooking.  I normally reserve 1 cup to be safe.  This starchy water will help us keep it together.  And be it, I mean the mash, not ourselves.
In a pot at medium heat, melt 1 tablespoon of butter and add the mashed plantain.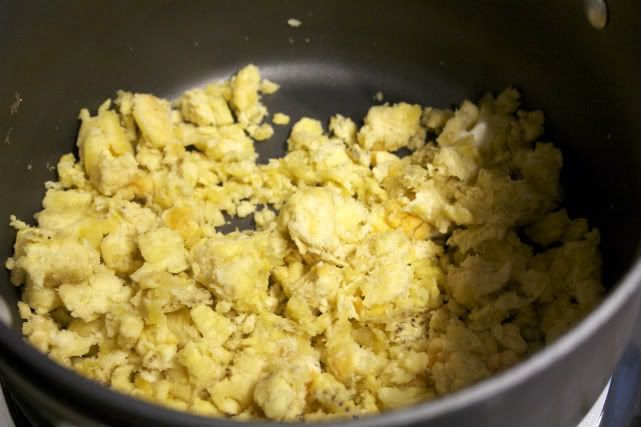 Coat the plantain with the melted butter and sautee for a couple of minutes.
Begin adding the water to the plantain and mix it with a wooden spoon.  The green plantain will turn into a mash.  I only ended up adding 1/2 cup of the reserved water.
The mash will have the consistency of lumpy mashed potatoes, or oatmeal as our lovely reader described it.  If you notice it is drying too quickly, add a bit more of water.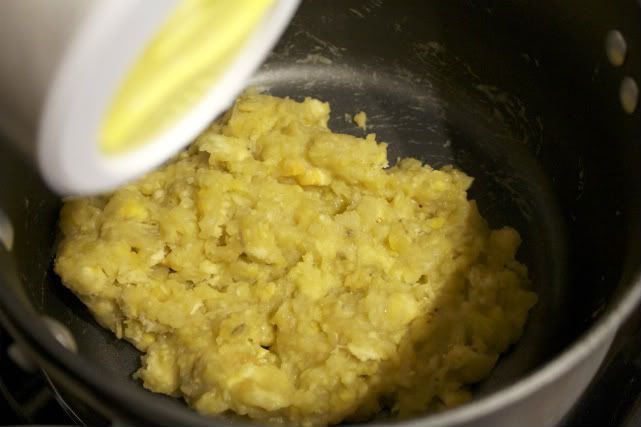 Season the plantains with a bit of salt,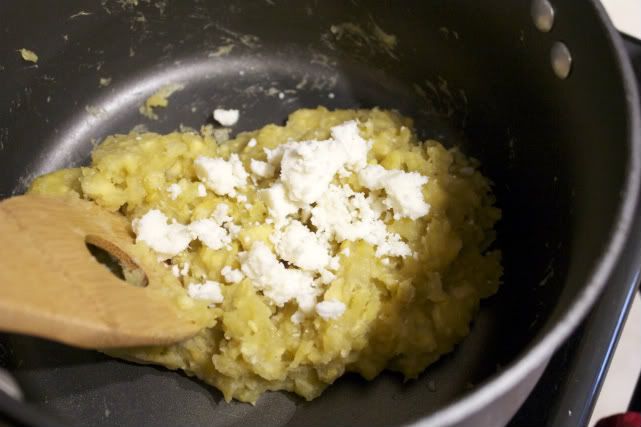 And add some crumbled queso fresco; I add about 2 ounces of cheese, but if you like it cheesy, then go for it!  If queso fresco is not available, any melty cheese will work.
Mix it all together and cook for a couple of minutes to melt the cheese.
Serve immediately while it is warm and soft.  You can eat tigrillo by itself like so.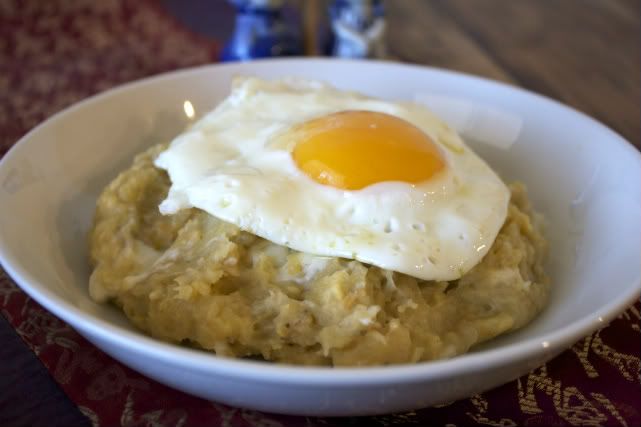 Tigrillo is normally served with eggs.  In many instances, you add the eggs (however many eggs you like), into the plantain mash along with the cheese, and cook until the eggs are done.  I personally prefer to top it with a fried egg.
I love breaking the yolk and using it as a dressing for my tigrillo.  It also helps because this plantain mash will dry up as it cools off, which is why this is eaten as soon as it comes off the heat.  Enjoy this quick and yummy breakfast!  ¡Feliz Año Nuevo!
Tigrillo: Ecuadorian Green Plantain Mash
Ingredients
1 large green plantain
1 tbsp butter
1/2-1 cup of reserved water where plantain was cooking
2 oz of crumbled queso fresco
salt to taste
Instructions
In a pot, bring some water to a boil.
Peel the plantain and cut in half.
Place the plantain in the boiling water. Reduce the heat to medium and cook until the plantain is soft, about 15-20 minutes.
Remove the plantain from the water and place it on a flat surface or a bowl. Mash the plantain with a fork.
Reserve about 1 cup of cooking water.
In a pot at medium heat, melt the butter and add the mashed plantain. Coat the plantain and sautee for a couple of minutes.
Add enough water to the plantains until the mixture turns into a mash and resembles lumpy mashed potatoes.
Add the crumbled cheese and cook for a few more minutes until the cheese melts.
Optional: Add eggs into this mixture along with the cheese and cook until the eggs are done.
Serve immediately. Can also be served with a fried/poached egg instead of incorporating the eggs in the mixture.
http://www.tstastybits.com/2012/01/tigrillo-ecuadorian-green-plantain-mash/
T\'s Tasty Bits, 2009-2012