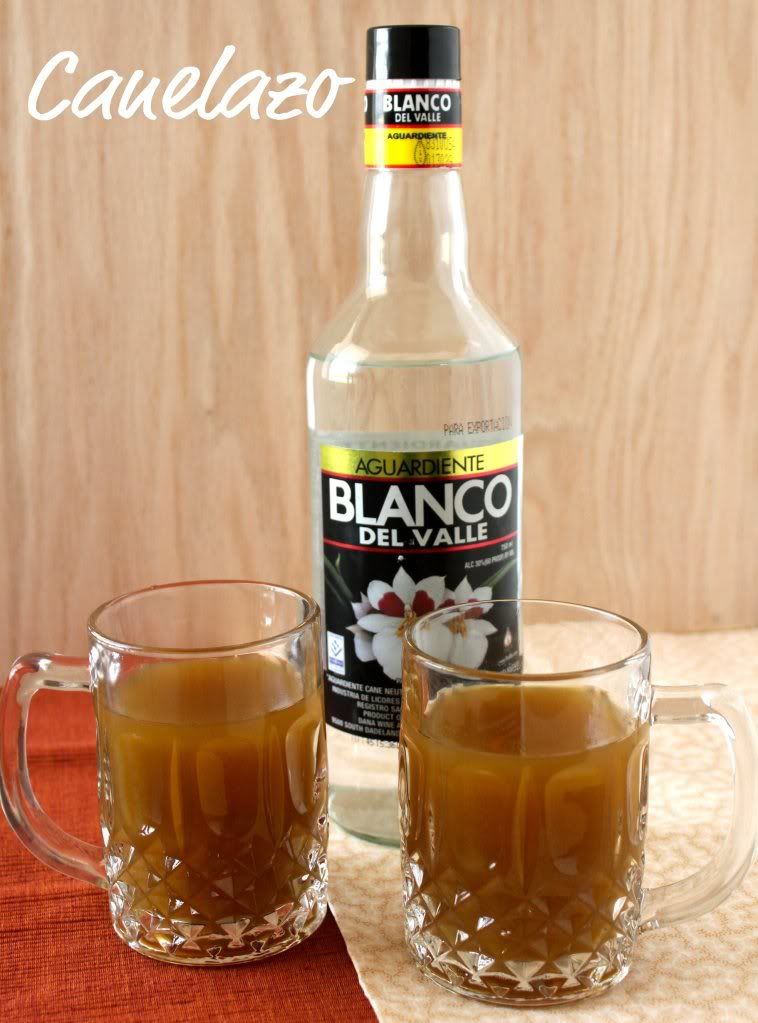 How do you warm up when it is cold outside?  Common remedies include sitting by the fire place, having some hot chocolate, or a warm soup.  Today I bring you something even more awesome:  Canelazo.  Canelazos are Ecuador's answer to Hot Toddys.  While more common in the Andes, this delicious party drink is consumed throughout the country.  Canelazos are originally made using naranjilla juice, spices like cinnamon and cloves, and aguardiente.  I know I had you at aguardiente.
What do you do if you can't find naranjillas?  Well, I used the pulp, which can be found in the frozen food aisle of any Hispanic market.  Naranjillas also go by lulos, in case you are wondering.  Other substitutes include maracuyá, and you can even use passion fruit juice.  However, if using juice instead of pulp, you will have to omit the water.  One word of caution: as with fruity cocktails, it is easy to get carried away because they are so sugary and delicious, and one tends to forget there is alcohol involved.  Momma T says, "Always in moderation and don't drink and drive".  PSA over and out.
Oh, and guess what?  We now have T'S TASTY BITS TV!!!   I will be making videos of some Ecuadorian recipes, while still bringing you pictures along with the written word.  Word.
This first episode is an homage to one of my favorite commercials, which is a cocktail commercial.  Fitting, right?  Can you guess which one it is?  I hope you enjoy this new feature.  Any comments and/or suggestions are greatly appreciated.  Enjoy the video, and check out the recipe under it.  ¡Salud!
Adapted from Michelle O. Fried's Comidas del Ecuador
Ingredients
8 Mexican cinnamon sticks
4-5 whole cloves
4 cups of water
1 cup light brown sugar
1 cup naranjilla pulp
The rind of 1 orange
Aguardiente (clear rum can be used if aguardiente is not available)
Instructions
In a pot, bring to a boil all the ingredients, except the aguardiente.
Once boiling, cook for another 5 minutes.
Remove from the heat and strain the liquid. Discard the spices.
In a glass, pour a shot of liquor followed by the naranjilla spiced mixture. Stir.
Serve hot.
http://www.tstastybits.com/2012/02/canelazo/
T\'s Tasty Bits, 2009-2012