So last week, El Señor Hubs calls me from the airport as he was waiting to board the plane to come home.
"What's for dinner?"
"Cocido de albóndigas with some rice and patacones."
"Wha..?"
"It's essentially a meatball stew.  I'm serving it with rice and some fried plantains."
"Oh, OK.  Cool.  See you in a couple of hours."
"OK.  Have a safe flight.  I love you."
"I love you too."
I always say 'have a safe flight' every time El Señor Hubs travels.  I always pray he gets home in one piece.  I do this knowing that there is little he can do about his safety while in flight.  He is neither a pilot nor a mechanic.  So naturally, it makes little sense that he can do anything to ensure the safety of a plane; yet, I find great comfort in saying this.
I digress.
What El Señor Hubs didn't know about dinner was that said cocido had vegetables.  No big deal.  Well, kind of.  Among the vegetables, this cocido has peas.  And if there is ONE thing you should know about El Señor Hubs is that he hates peas.  I mean: He.HATES.PEAS.  And I made this knowing he hates peas.  Why?  Because I LIKE peas.  AND, this one one of my favorite meals growing up.   Well, aside from the peas, the rest of the vegetables were sort of an issue for me.  As you know, I hated vegetables.  Especially carrots.  And don't get me started on the green beans.  Darn vainitas!  Celery not so much.   So, if the thought of eating softened vegetables makes you queasy in your stomach, I suggest you puree them like my nana used to do.  It was the only way she would get me to eat vegetables.  In hindsight, I should've done the same for El Señor Hubs.
Once home, and I served this to him, the first words that came out of El Señor Hubs mouth were: "PEAS?!?!?!  WHY did you put peas?"  I laughed.  And it was kind of an evil laugh.  And then I said, "Deal with it."  Because this is one of the ways I show him my unconditional love.
With his fork, he proceeded to separate the vegetables from the meatballs, and then he separated the peas from the rest of the vegetables.  Then, he asked for a spoon.  With said spoon, he shoved the peas in his mouth as fast as he could, his face twisting into this painful grimace.  I laughed.
"Don't EVER put peas in my food again."
I have been warned.  But I enjoyed the sight.  Yes, I was mean.  But I got him to eat vegetables.
I promise you though, this dish is delicious.  Although I suppose you must like peas.  Don't grimace.
Making the meatballs:


In a large bowl, combine 1/2 lb. of ground beef (I used sirloin), and 1/2 lb. of ground pork.  To the ground meats, add 1 tbsp. all-purpose flour, 2 tbsp. ground quick oats, 1 tbsp. yellow mustard, 1 egg, salt and pepper.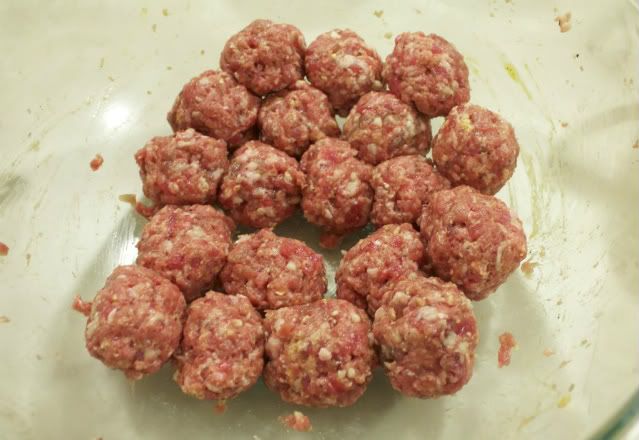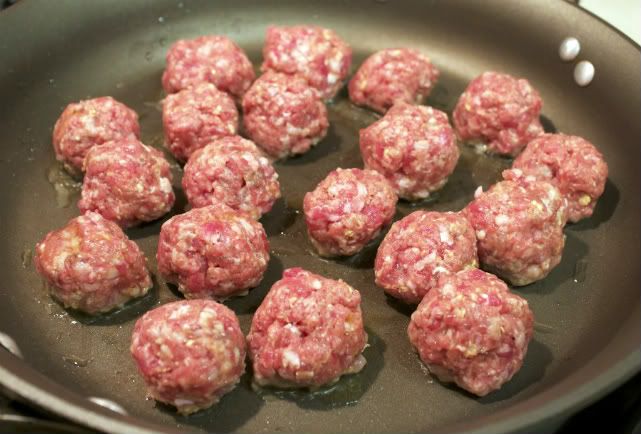 Form the meatballs, the size of golf balls.  Fry them in a large skillet with some olive oil, until browned on all sides.  Don't forget that if you want to taste for the seasoning in your meatballs, you can make a tiny patty and fry it before you make all your meatballs.  In that way you will know if you need to adjust for the seasoning of the meatballs.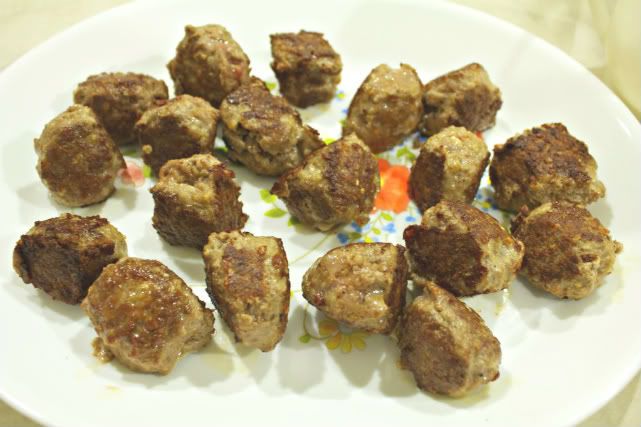 Once browned, remove from the heat, and set aside.  By the way, these are probably one of the better meatballs I've had.  I think adding the oatmeal made a big difference in the texture.  Seasoning them with the tangy mustard gave them good flavor.
Preparing the rest of the stew: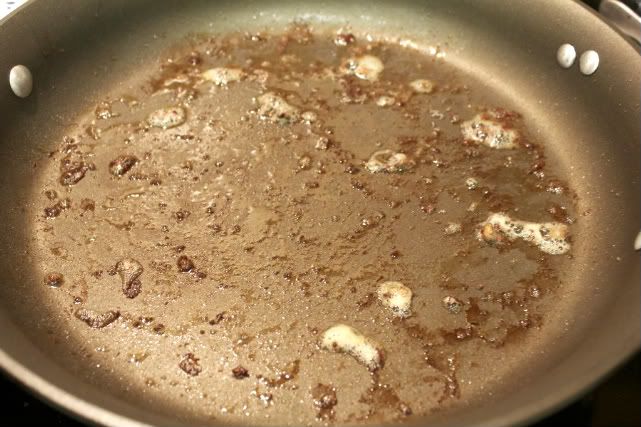 Behold your frying pan, with all the glorious bits left from browning the meatballs.  I think this pan and I should go out on a date.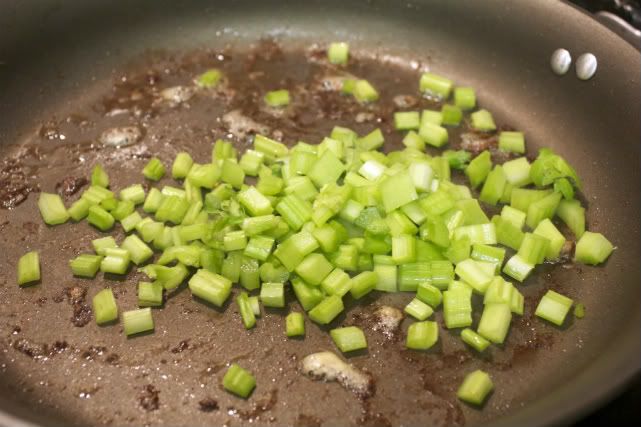 In this same pan on medium heat, add 2 stalks of raw chopped celery,
Two medium diced cooked carrots,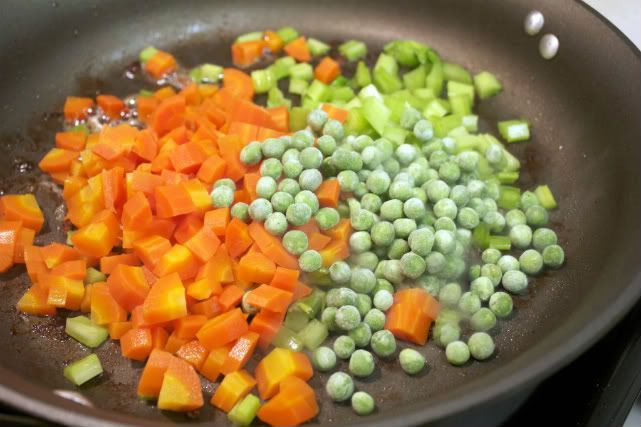 One half cup of frozen peas,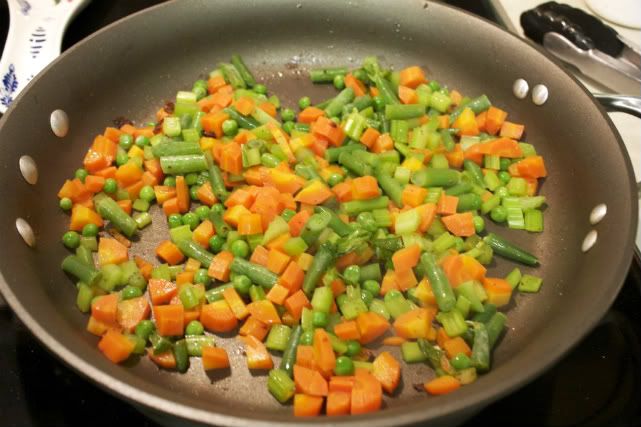 And one half cup of frozen green beans.  Stir to combine all the flavors and the vegetables.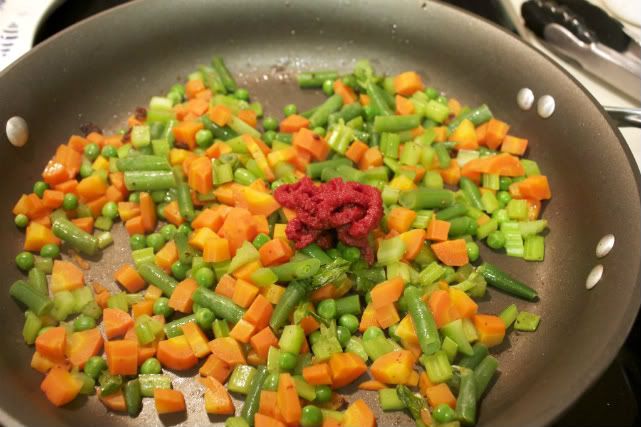 Add 1 tbsp. of tomato paste,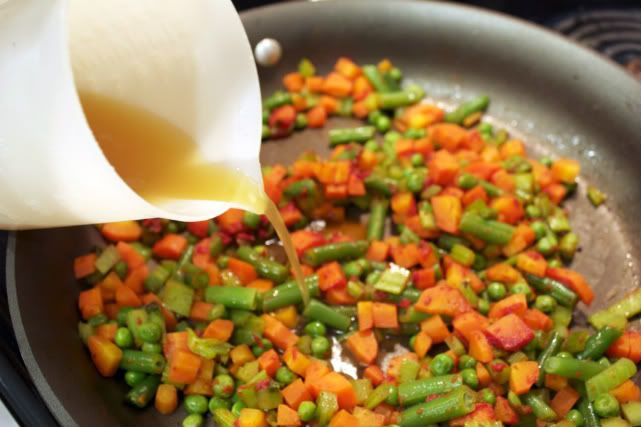 And 1 cup of beef stock.  Stir to combine.  Taste for seasoning and add salt and pepper if needed.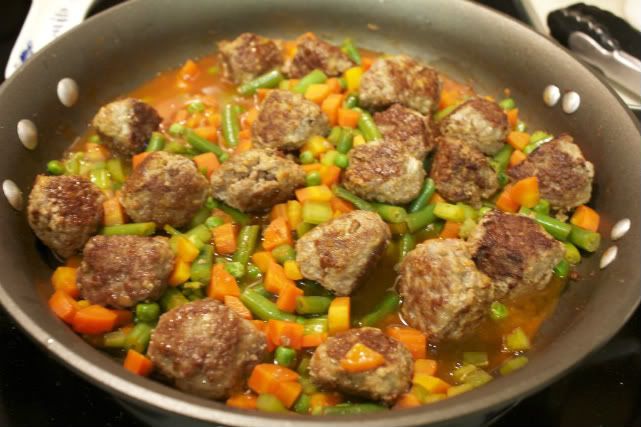 Add back the meatballs and combine all the flavors and ingredients.  Cook in medium heat for another 5 minutes.  If you notice the stew is drying up, add a bit more of beef stock.  You may also enhance the flavor of the stew by adding 1/2 cup of dry red wine along with the stock.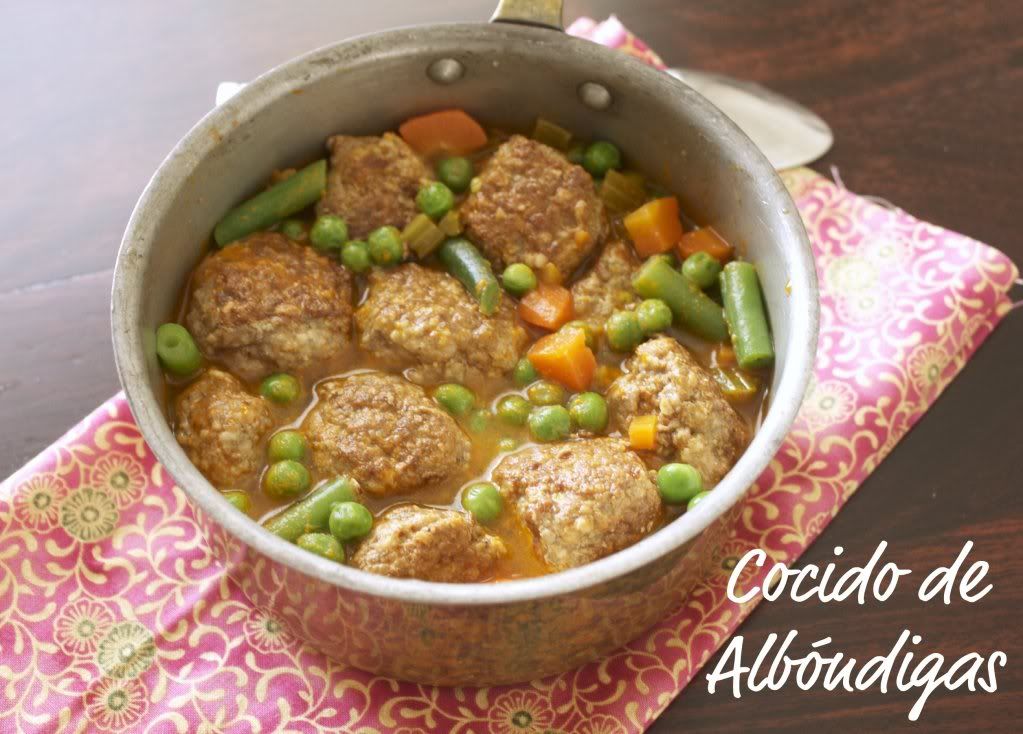 Serve the cocido with rice and fried plantains, my favorite way.  Enjoy the cocido.  And the peas.
[amd-zlrecipe-recipe:53]