I made these little rosquitas de mantequilla last week because I had a hankering for a snack and wanted something crumbly, something relatively crispy.  I could've eaten crackers, but it really wasn't what I was looking for.  And for some reason, I recalled a type of rosquitas I used to eat back in Ecuador – a kind you could buy on the streets.  Those rosquitas were quite crispy and on the salty/savory side, and street vendors used to sell them in these little plastic baggies which held about ten little rosquitas.  I can't remember how much they were, but I remember paying Sucres for them.  For those who don't know or are too young to remember, Ecuador used to have their own currency back in the day, and it was called Sucre.  Oh boy, am I dating myself…
Although these rosquitas weren't like the ones I used to buy on the street, they will satisfy that 4 o'clock nibble time – just in time for tea.  These rosquitas reminded me more of a cross between an empanada dough and a pie crust – the best of both worlds!
Cookery instruments needed:
Mixing bowls, a stand mixer or hand-held mixer, baking sheet, parchment paper, cooling rack.
Cookery ingredients needed: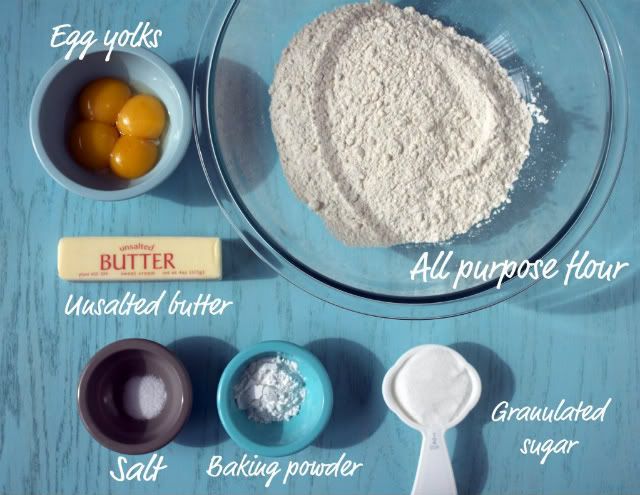 All-purpose flour: 3 cups; egg yolks: 4; unsalted butter: 1/2 cup; salt: 1/4 tsp; baking powder: 1 tbsp; granulated sugar: 1/4 cup.  Not pictured: 8 tbsp cold milk (I used skim).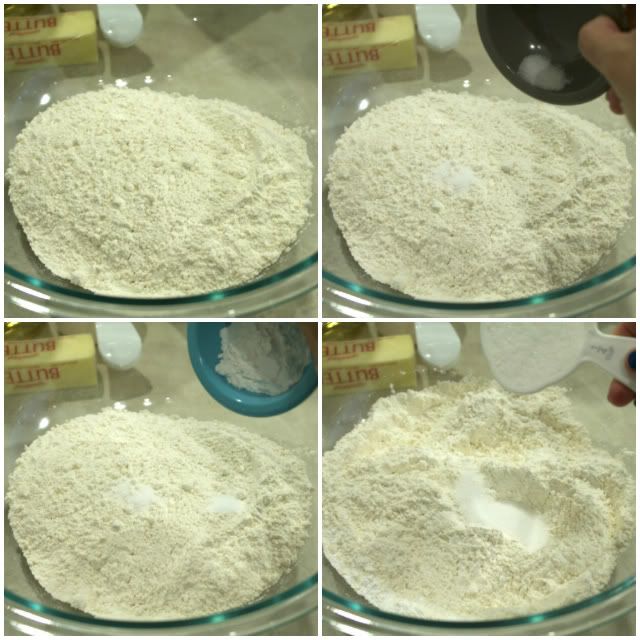 In a large bowl, mix the dry ingredients: flour, salt, baking powder and sugar.  Whisk and set aside.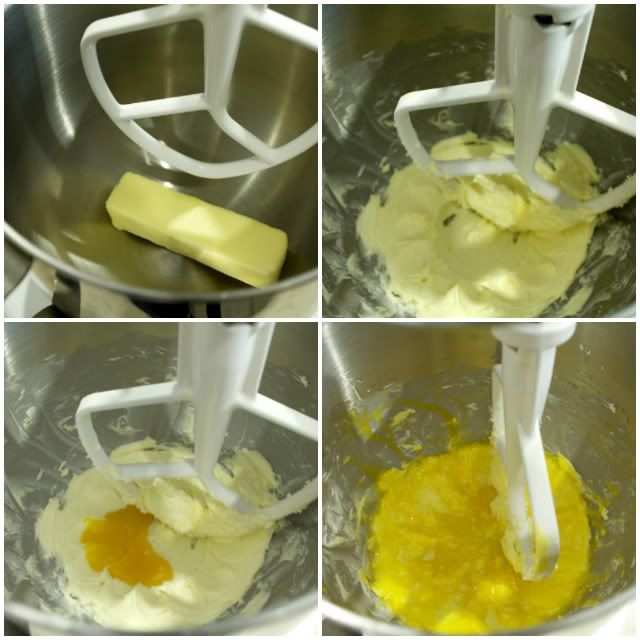 In a standing mixer, beat the butter until creamy.  Add the yolks to the butter and continue beating until all is incorporated.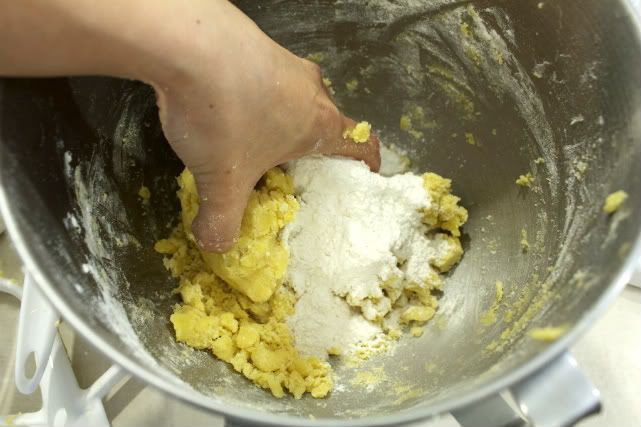 To the butter/yolks mixture, add the dry ingredients and knead with your hands inside the bowl.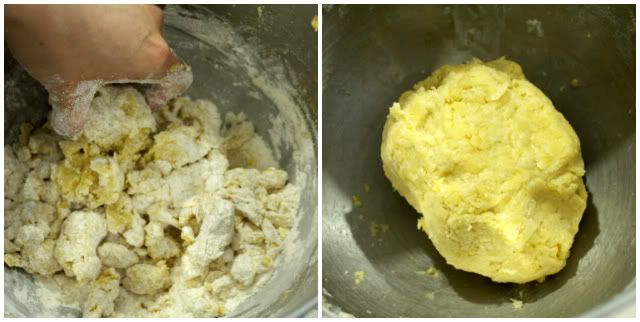 I noticed that the dough was hard to work with, and it didn't hold together.  I used cold milk to solve this problem, adding one tablespoon at a time, and checking between each tablespoon for the dough's consistency.  In total I added 8 tablespoons until the dough held together.  Knead the dough in the bowl until both the dry and wet ingredients are incorporated, and the dough is smooth and dense.

Lay out the dough onto a floured counter and divide it into small balls, about the size of Jawbreakers, or big bubble gum balls.  This dough yielded me a total of 32 small dough balls.  In order to braid the wreaths for the rosquitas, roll out two dough balls into long strings of about 10 centimeters long.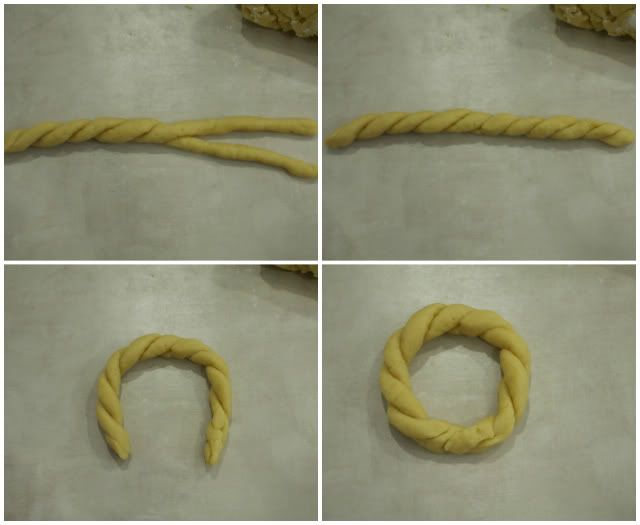 Braid the two strands overlapping one over the other to form a rope-like shape.  Form a circle and pinch the ends to close it.  You have made a rosquita!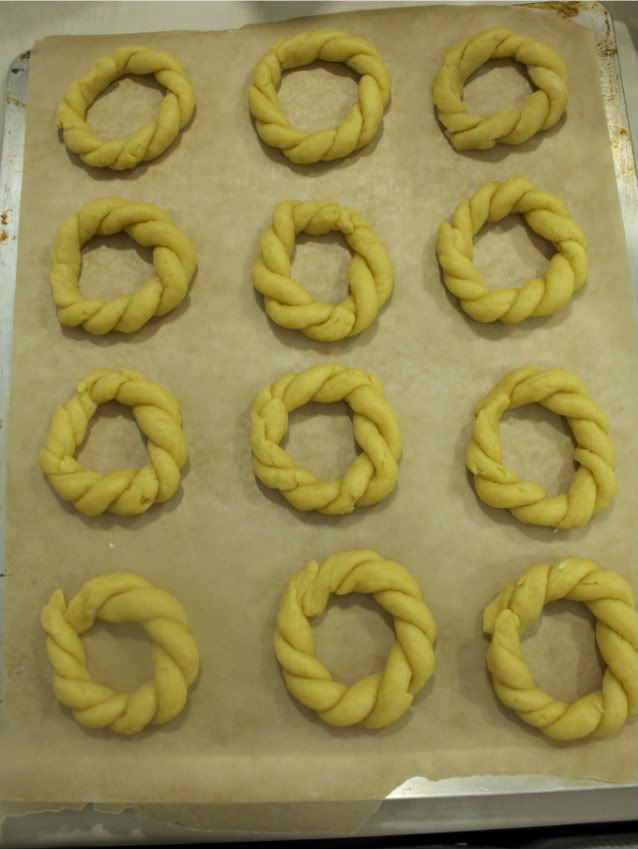 Lay out your rosquitas on a baking sheet lined with parchment paper and bake in a 350F oven for about 20 minutes, until the rosquitas are golden.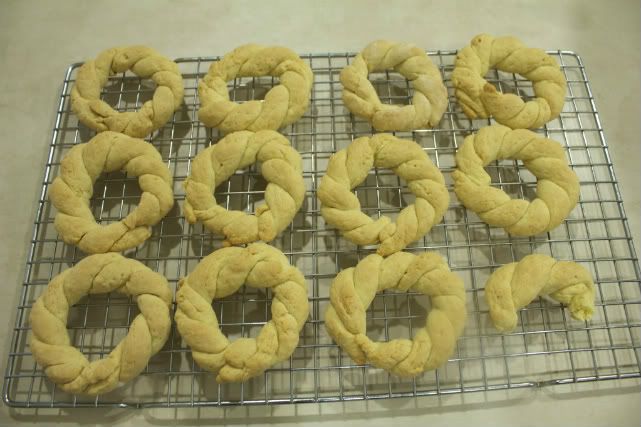 When they are done, let them cool off on a wire rack.  I had to test the finished product.  Don't judge.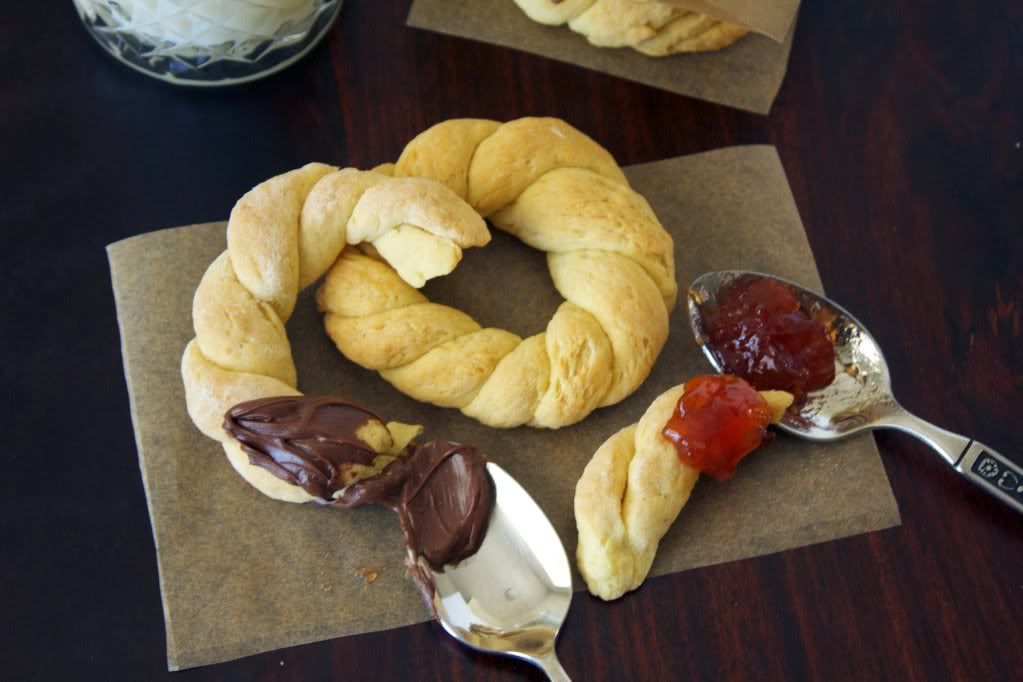 Enjoy your rosquitas de mantequilla with some Nutella or some fruit jam.  I love eating my rosquitas with a cold glass of milk, but these make for the perfect tea time treats.  ¡Buen provecho!

Rosquitas de Mantequilla: Butter Wreath Tea Biscuits
Ingredients
3 cups all-purpose flour
1 tbsp baking powder
1/4 tsp salt
1/4 cup granulated sugar
1 (1/2 cup) stick of unsalted butter, at room temperature
4 egg yolks
8 tbsp cold milk (I used skim)
Instructions
In a large bowl, whisk together the dry ingredients: flour, baking powder, salt and sugar. Set aside.
In a standing mixer fitted with a paddle attachment, or using a hand-held mixer beat the butter until creamy.
Add the yolks and continue mixing until all is incorporated.
Add the dry ingredients to the butter mixture and knead the dough in the bowl using your hands.
If the dough is too crumbly, add the milk, 1 tablespoon at a time and continue kneading until the dough holds together, and it is smooth and dense.
Divide the dough into 32 small dough balls, the size of large bubble gum balls (or Jawbreakers).
Roll out the balls into strings of 10 centimeters in length.
Braid two strings by overlapping them and twisting them in a rope-like shape.
Form a circle with the dough and pinch the ends together to form a circle. Repeat the process with the remaining dough.
Place the rosquitas on a baking sheet lined with parchment paper, and bake in a pre-heated 350F oven for 20 minutes until they are golden brown.
Place the rosquitas on a wire rack to cool.
Serve with milk or tea, and Nutella or fruit spread.
http://www.tstastybits.com/2012/03/rosquitas-de-mantequilla-butter-wreath-tea-biscuits/
T\'s Tasty Bits, 2009-2012