I love hummus as a quick snack.  Sometimes it's all I eat for lunch – hummus with some chips and baby carrots.  It usually happens after realizing I punished a whole 8-ounce beef burger and fries plus two beers the night before.  Back in Jersey, this would happen at The Lighthorse Tavern.  These days, it happens either at The Porter or at The Vortex.
Last week, I wanted to make a hummus-like dip that would incorporate something traditional of Ecuador.  Mote, AKA hominy came to mind.  Once I made it, I called it Mote Hummus.  Then, I realized that it cannot be hummus, because hummus is garbanzo-based, and in this dip, I replaced the garbanzo beans for the hominy.  Calling it hummus is just plain wrong, I realized.  I realize a lot of things these days.  Like how I just realized I used the word "realize" too often.
Things I've Realized
I've realized I can chow down a burger with fries and two beers any night of the week.
I've  realized if I chow down a burger with fries and two beers every night of the week I would have a heart attack in no time.
I've  realized I REALLY need to pick up my running.  Stat.
I've realized I am a dog person AND a cat person.
I've realized I am deeply in love with my Luna.
I mean, look at her.  Who wouldn't?
And I know she loves me back.  Look!  Her tongue is shaped like a heart, full of love for me.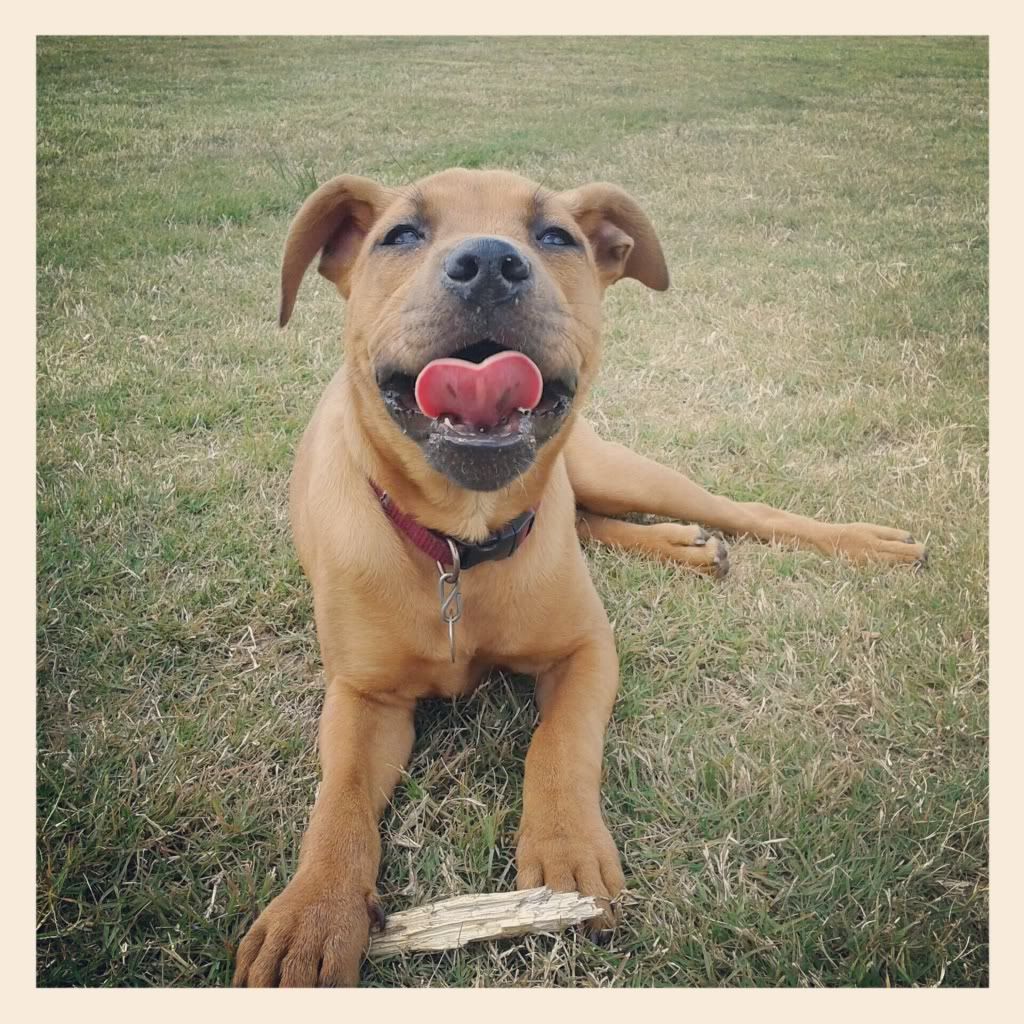 So… The dip!   What is hummus-like in the dip?  Well, I used tahini paste.  That is probably about it.  Additionally, I used some lightly salted peanuts.  If you recall, peanuts are also used in a several Ecuadorian soups, like the delicious Fanesca.  The result was a delicate and airy dip that satisfied my hunger on that said day, following the aftermath of that awesome burgerfest.
First, drain a can of hominy, reserving half of the liquid.  Set aside.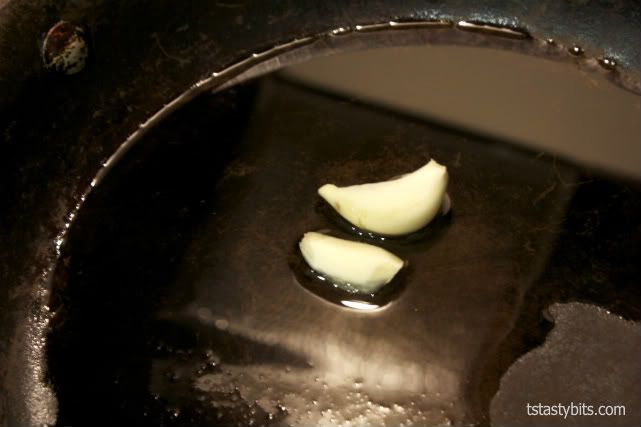 In a small skillet, add two tablespoons of olive oil and one slightly crushed garlic clove.  Turn on the heat to low and let it cook undisturbed for 3-5 minutes.  This will infuse the oil with the garlic aroma, soften the garlic and take off some of the bite garlic has.  I find that hummus sometimes has a strong garlic pungency, which I don't appreciate on my breath or on anyone else's.  Once the time is up, turn off the stove and set the oil and garlic aside.
In a blender, add some lightly salted peanuts with some tahini paste.  Pulse several times to blend.  I realized (there it goes again) there weren't enough peanuts or tahini paste to make a puree, but I didn't want to make the dip too peanut-y.
So then, I added the drained hominy plus the reserved hominy liquid.   Pulse 3-5 times to puree the ingredients.  The dip should be lookin' smooth.  Much better.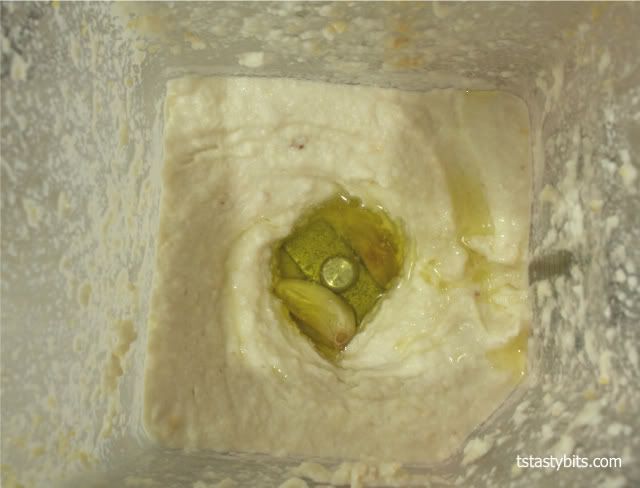 Now, add the garlic-infused oil and the garlic to the dip.  Pulse a couple of more times to blend.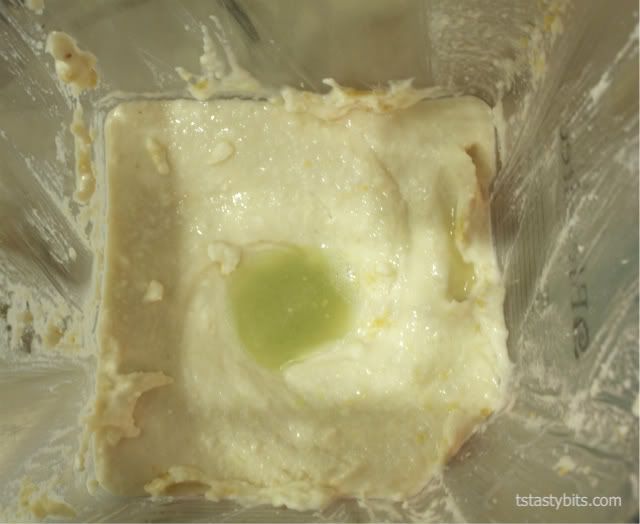 Finally, add the juice of 1/2 a lime and pulse again.
To the dip, add 1 tablespoon of chopped cilantro and mix with a spoon.  Taste for seasoning.  Because I used lightly salted peanuts, I didn't have the need to add any additional salt.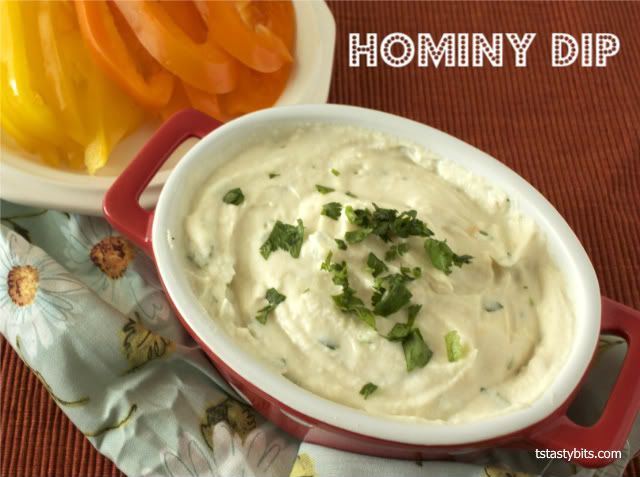 Garnish with a bit more of chopped cilantro.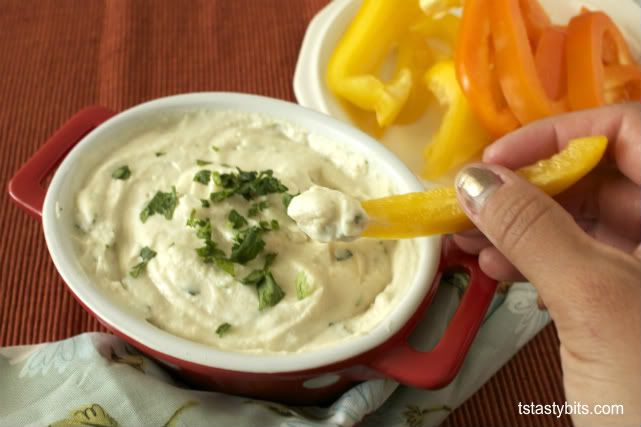 Now it is ready to be consumed.  I attacked my dip using sliced yellow and orange peppers as my weaponry.  It was a good choice.  This dip will also be good with some cherry tomatoes, and of course corn chips or pita chips.
Ingredients
1 15-oz can of white hominy, drained, reserving half of the liquid
1/4 cup lightly salted peanuts
3 tbsp. tahini paste
2 tbsp. olive oil
1 garlic clove, slightly crushed
Juice of 1/2 lime
1 tbsp chopped cilantro plus more for garnish.
Instructions
In a skillet, add the olive oil along with the garlic clove. Turn the heat to low and let the oil and garlic steep for 3-5 minutes. Remove from the heat and set aside.
In a blender, combine the peanuts with the tahini paste and pulse a few times to combine.
Add the hominy plus the reserved liquid and pulse 3-5 times until pureed.
Add the olive oil with the garlic and pulse a few more times.
Add the lime juice and pulse to combine all the ingredients.
Transfer the dip into a bowl and add the chopped cilantro. Mix with a spoon to incorporate.
Garnish with a bit more of chopped cilantro.
http://www.tstastybits.com/2012/04/hominy-hummus-like-dip/
T\'s Tasty Bits, 2009-2012