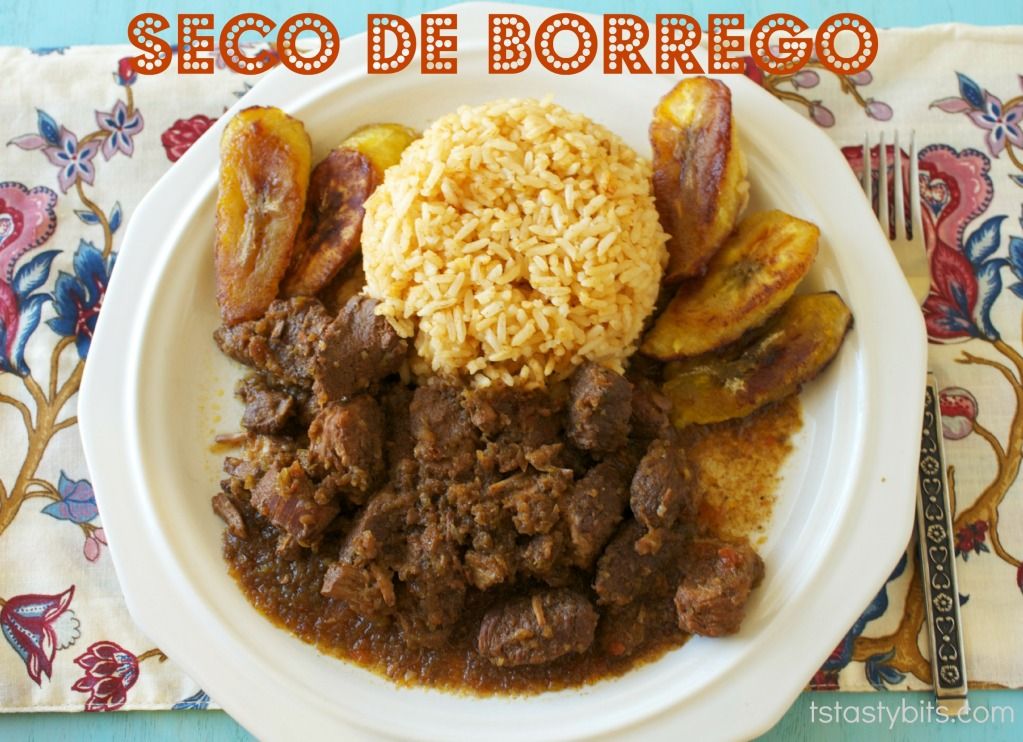 Along with goat, lamb is one of my favorite meats.  I am a huge, I mean H.U.G.E fan of Indian cuisine, and I always order a goat curry or a lamb vindaloo when we go out to eat.  That, and some naan bread.  And perhaps a samosa chaat to start.  Oh, and don't forget the Masala dosa.  And the mango lassi.  Uh, yeah.  I LOVE Indian food.  Usually, I can't move afterwards, but that's neither here nor there.
Now, if I had to choose between and Indian stew or an Ecuadorian stew… Well, that's a tough one.  I love both of them for different reasons.  I love the former for its heat and spice complexity, but I cherish the latter because it reminds me of home.
Recently, the folks over at Mountain States Rosen Company, a lamb and veal cooperation, contacted me to see if I would be interested in creating a recipe using one of their lamb products.  In the name of lamb love I said, YES!  And what better way to use lamb than in a traditional Ecuadorian stew, like a seco de borrego.
I've made seco de chivo (goat stew) before, but I wanted to try a different approach to making seco this time around.  The basics of the refrito didn't change, but instead of using naranjilla juice which is traditional, I opted for using a light beer instead.  Although the flavor components are different, it is common to interchange these two ingredients in Ecuadorian secos.  The naranjilla juice or the beer help tenderize the meat and take away some of the gameyness goat and lamb have.  I also wanted to make the cooking process of the stew as effortless as possible, keeping in mind that many of us don't have the time to oversee the stovetop for hours.  In order to solve this issue, I decided to use a crockpot.  The result was a rich and flavorful, oh-so-tender lamb stew, which goes perfect over a bed of yellow rice with some fried sweet plantains on the side.  Did I mention that the crockpot is one of my favorite tools as of late?  Now, ya know.
**  Mountain States Rosen provided the lamb sample to create this recipe.  The recipe and opinions are mine.  No monetary compensation was received for this posting.  Gracias.  **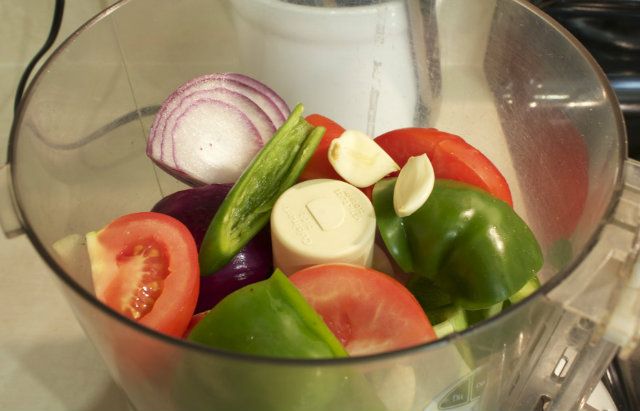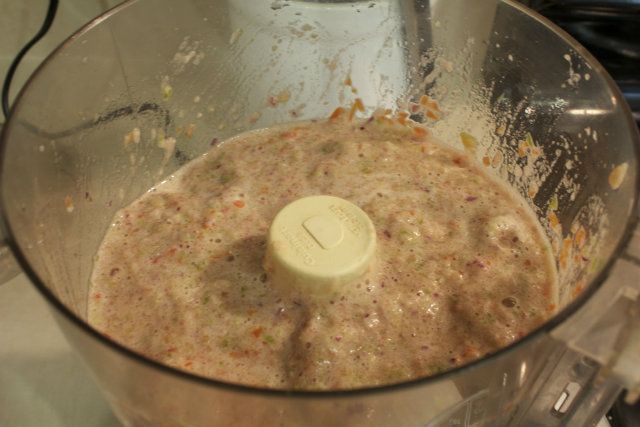 Start by making the refrito, which is the base for a traditional Ecuadorian seco.  In a food processor, puree tomatoes, red onions, green peppers, some garlic cloves and a serrano pepper without seeds.  In my case, I had to do it in batches.
Now, let's prep our lamb meat.  I received a boneless, butterflied leg of lamb under the Cedar Springs Brand.  According to their website, Cedar Spring lambs are raised on high mountain pastures in their natural environment.  Let me tell you, this lamb meat was so glorious!  There was no doubt it was very good quality.  These lambies were well taken care of!  Since I had no bones, I opted to leave some of the fat to give the meat flavor.  I trimmed some of the white tissue (different from fat), because this tends to be tough to chew on once cooked.  I also cubed the meat in bite-sized pieces.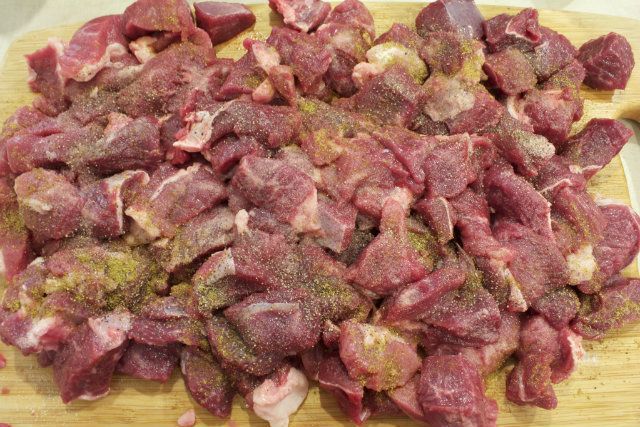 Season the lamb generously with salt, ground pepper and ground cumin.  This is the Ecuadorian trifecta of seasonings!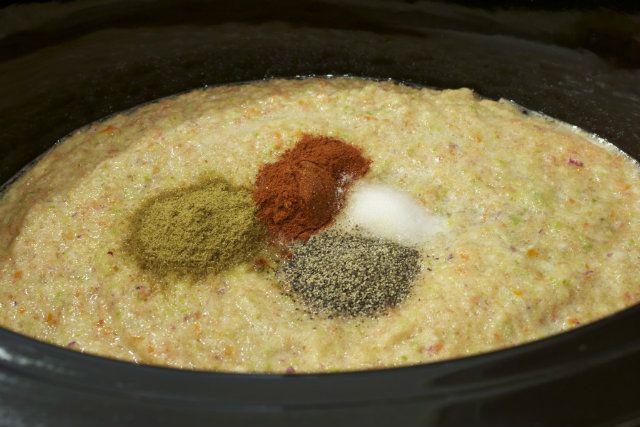 Pour the refrito in the crockpot, and season this as well with salt, ground pepper, ground cumin and ground achiote for coloring.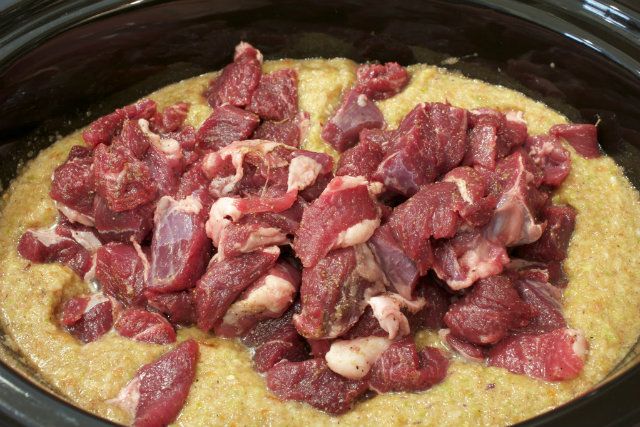 Add the seasoned lamb meat to the crock pot and stir to combine.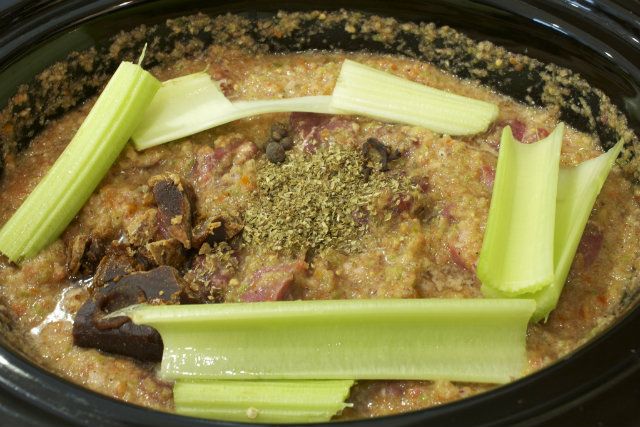 Let's spice this up a bit more.  Add some panela (or piloncillo).  If this is unavailable, you can substitute with dark brown sugar.  Then, add a few whole cloves, a couple of whole allspice, and some dried oregano, along with some roughly chopped celery stalks.  I used Mexican oregano, but the traditional oregano works as well.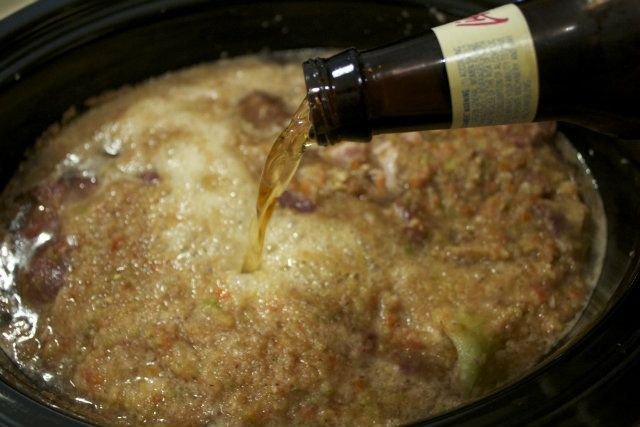 Now, pour the beer (light beer, I used Yuengling Light) over the mixture and stir one last time to combine.  Note that I have a large crockpot – this one is a 6 quart oval crockpot.  This recipe can be easily scaled down to fit your own crockpot.  You can save some of the refrito in a tightly closed container for later use (refrigerated for a week).  The beer – well, use some and drink the rest.  And then some.
Cover the crockpot with its lid, and cook on low for 8 hours or high for 4 hours.  Towards the end of the cooking process, you can get your yellow rice ready and fry some sweet plantains, which take no time.
Prior to serving, remove the celery stalks, the whole cloves and the allspice.  By now, the sauce is reduced and has thickened (don't worry – there is plenty of liquidie goodness!), and it has a reddish-brick tone to it.  I just gave Pantone a new color to work on.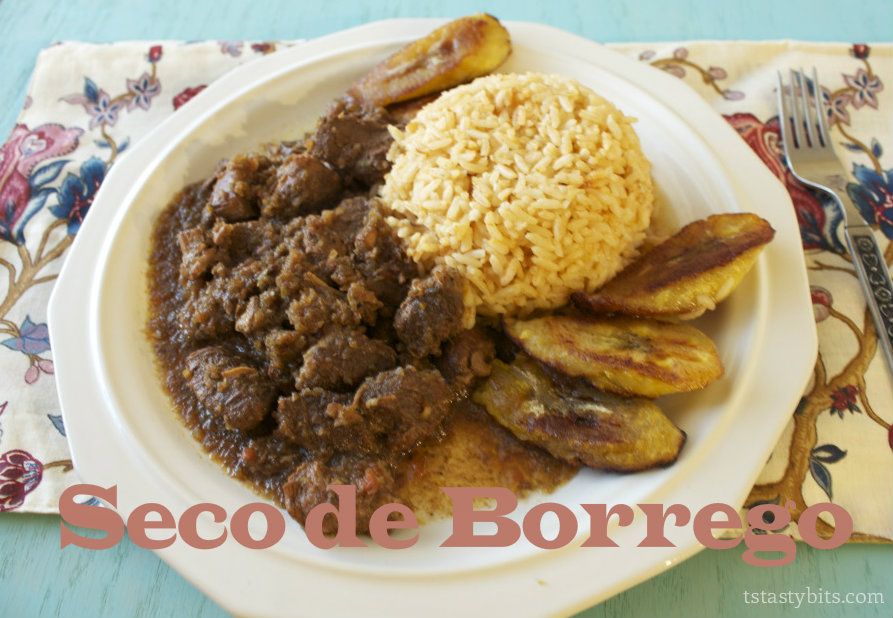 Serve the warm Seco de Borrego with the yellow rice and the sweet plantains.  This amount of meat resulted me in stew enough for 8 generous servings.  ¡Buen provecho!  Thanks again to Lindsey at Prevail Strategy and Mountain States Rosen for the opportunity to sample a beautiful and exquisite cut of lamb!
Seco de Borrego: Ecuadorian lamb stew
Ingredients
For the lamb:

3.5 lbs. lamb meat (I used a butterflied, boneless leg of lamb) cut in 1x1 cubes
Salt, ground pepper and ground cumin for seasoning

For the refrito:

1 red onion, roughly chopped
2 green peppers, roughly chopped
4 tomatoes, roughly chopped
5 garlic cloves, whole
1 serrano pepper, cut lengthwise, seeds removed
1 tsp ground cumin
1 tsp ground black pepper
1 tsp salt
1/2 tsp ground achiote (annato powder)

For the rest of the stew:

2 oz.. panela, or pilloncillo (substitute for 2 oz. of dark brown sugar if unavailable)
4-5 whole cloves
4-5 whole allspice
1 tbsp dried oregano
2 celery stalks, roughly chopped
12 oz. light beer

Sides:

Cooked yellow rice
Fried sweet plantains
Instructions
For the lamb:

Cut the lamb into bite size pieces. Season with salt, ground pepper and ground cumin on all sides. Set aside.

For the refrito:

In a food processor, combine all the vegetables and pulse until a smooth puree forms. This process may be done in batches. Set the puree aside.

Assembling the stew:

Pour the refrito in the crockpot, and season it with the salt, ground pepper, ground cumin and ground achiote powder. Stir to combine.
Add the seasoned, diced lamb meat to the refrito. Stir to combine.
Add the panela, whole cloves, whole allspice, oregano and celery stalks. Stir to combine.
Pour the beer over the mixture and stir one last time.
Place the lid over the crockpot and cook on low for eight hours, or high for four hours.
Prior to serving, remove the celery stalks, whole cloves and allspice.
Serve warm with yellow rice and fried sweet plantains.
http://www.tstastybits.com/2012/05/seco-de-borrego-ecuadorian-lamb-stew/
T\'s Tasty Bits, 2009-2012