I bought a cake doughnut pan last week.  I have no where to fit it in my kitchen drawers, but I concluded I desperately needed one.  What prompted me to such need was a dream the night before of El Señor Hubs and I strolling down the Lower East Side in New York City, and stopping by The Donut Plant for our weekend doughnut and iced coffee fix.  These dreams really happened.  I would normally get the blueberry cake doughnut or the dulce de leche cake doughnut.  El Señor Hubs would more often that not get the PB&J doughnut.  You must know cake doughnuts rock, and in my mind, baking them makes them a "healthier" alternative to fried doughnuts.  Boy.  I am really fooling myself, aren't I?
I decided if I was to make cake doughnuts, I had to take them to the next level.  I combined my love for alfajores and cake doughnuts, and came up with an Alfajor cake doughnut.  The best of both worlds.  It's like the liger, bred for its skills in magic.
If you recall, I've made alfajores before, using my tia's recipe.  Alfajores are these soft, sandwich cookies, with dulce de leche filling.  Traditionally from Argentina, alfajores sometimes use crushed almonds in the dough.  Once baked and filled, the oozing dulce de leche from these sweet sandwiches is then covered with coconut flakes.  Are you hungry yet?
I modified the cake doughnut recipe that came with the pan to make a soft, bouncy and delectable dulce de leche, toasted coconut and almond cake doughnut. Try saying that three times fast.  GO!  Actually, let's GO and make these doughnuts!
First off, El Dulce de Leche.  You can make your dulce de leche from scratch, like I've shown you before.  Or, you can buy it already made at the grocery store.  If patience is not your virtue, then head over the store.  Stat.
Now, take some slivered almonds and chop into smaller pieces.  I opted to use a knife instead of pulsing them in a food processor.  I wanted to ensure I had tiny pieces, not almond butter.  If you happen to be allergic to nuts, skip this step.
To make cake doughnuts we will need cake flour.  Raise your hand if you have cake flour at home?  Well, I don't.  I haven't been able to find it at the grocery store.  But, you can make your own cake flour.  How about that?
I knew cake flour contained some cornstarch.  See how this mimics my aunt's alfajores recipe?  Anyway, what I didn't know was what kind of ratio of regular, all-purpose flour to cornstarch to use.  I found the answer through the fabulous Joy the Baker's blog.  For every cup of all-purpose flour, remove 1 tablespoon of flour and replace with 1 tablespoon of cornstarch.  ¡Super fácil!  Then, sift this sucker several times – Joy says 5 times, to build in some air and fluff.  Done!

Once sifted, we sift some more.  In a large mixing bowl, sift your DIY cake flour (or fo' realz cake flour if you have it), plus the sugar, baking powder, nutmeg and salt.  I forgot to take a picture of the salt, but you know what that looks like.
Then, add the chopped almonds and incorporate with your hands.
Next, separate the yolks from the whites of two eggs – at room temperature,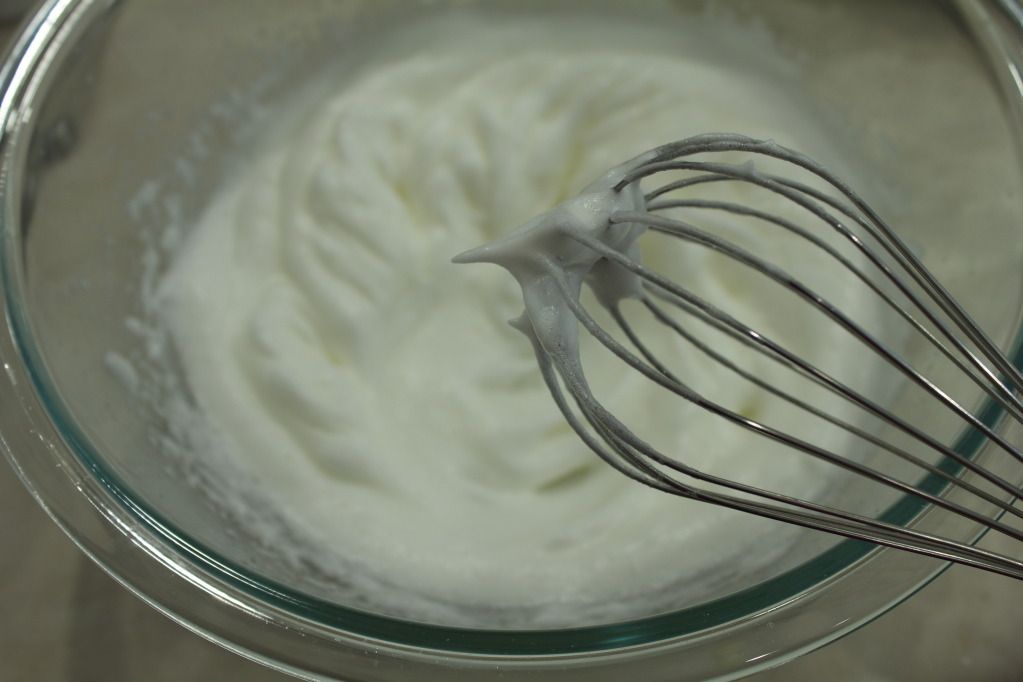 And beat the egg whites until soft peaks form.  Set aside.
In another bowl, mix buttermilk (at room temperature), egg yolks and melted butter.  Whisk to combine.
Add the wet ingredients to the dry ones and beat manually until just combined.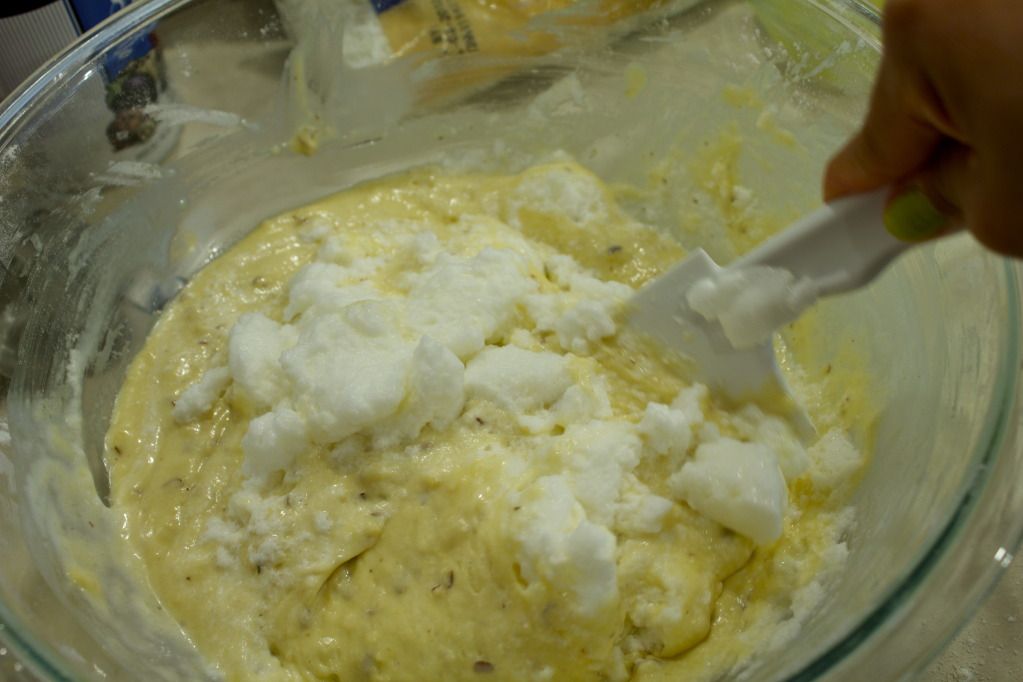 Fold in the egg whites into the doughnut mixture until just combined.  We want to maintain the fluff here, people.
Justcombinedjustcombinedjustcombined.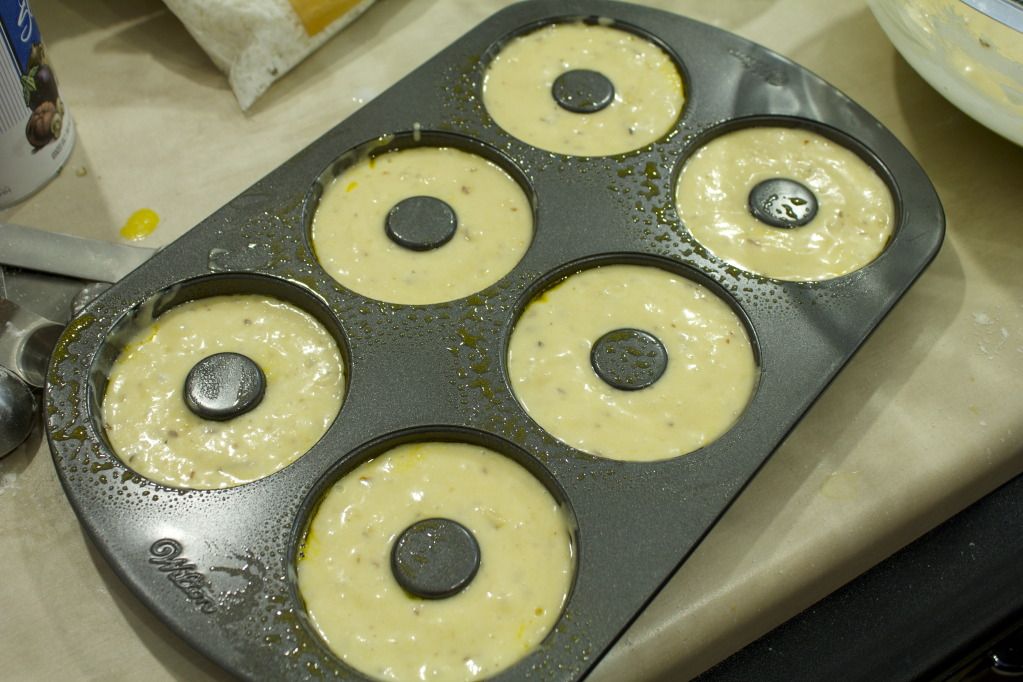 Spray your doughnut pan with baking/cooking spray.  Fill in each doughnut hole (ha!) until about 2/3 full – perhaps a teeny bit more.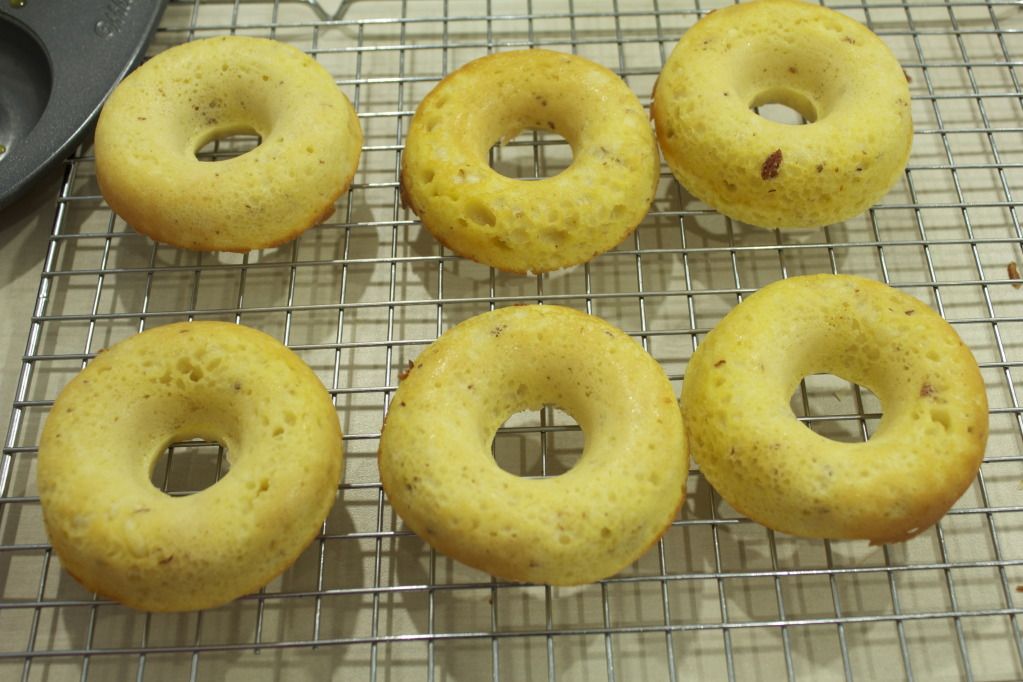 Bake in a preheated oven at 425F for 7-9 minutes, or until the doughnuts bounce back when you touch them.  Let the doughnuts rest for about 5 minutes on a cooling rack before removing from the pan.

In the meantime, take some unsweetened coconut flakes and toast them on a dry skillet for a few minutes, until they start turning slightly golden and release their aroma.  Your kitchen will smell like a beach vacation, which may cause you to hit your head against the wall wishing your were sitting at the beach instead of baking in the middle of the summer.  Oh, wait?  Did I just say that out loud?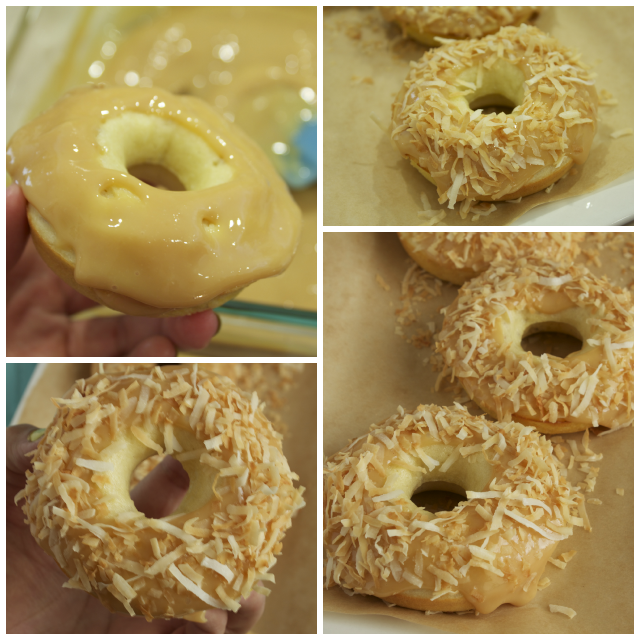 Now take each doughnut and cover with some dulce de leche.  I used a spatula to spread the dulce de leche over the surface of the doughnuts.  Then, sprinkle each doughnut with some toasted coconut.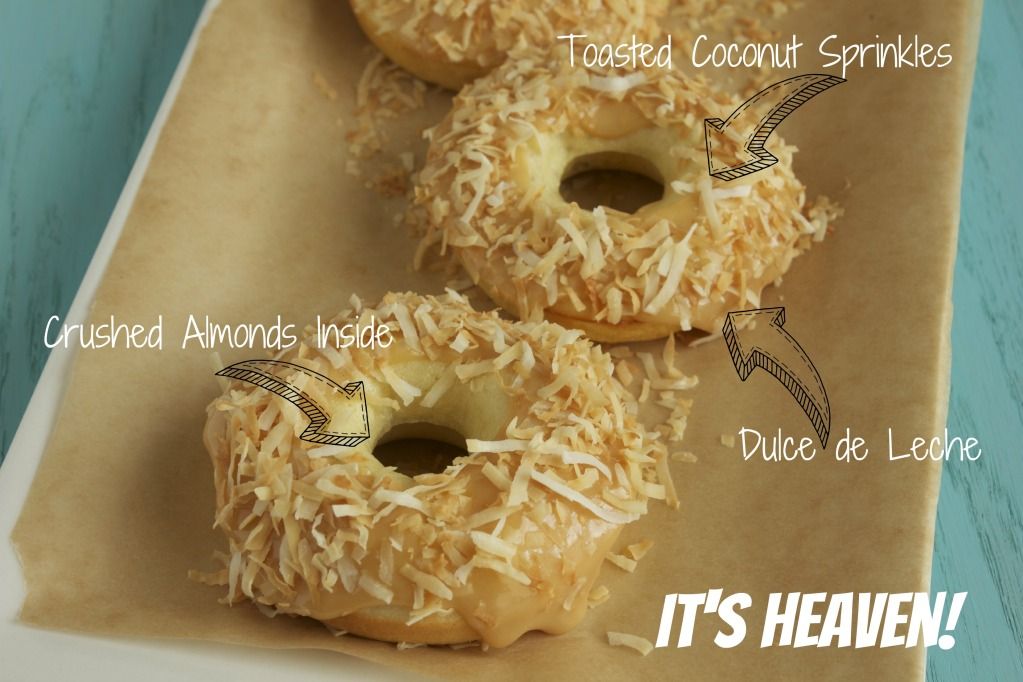 Serve immediately.  I warn you, you are not going to be able to eat just one.  These cake doughnuts are best consumed within the first three days of baking.  Around here, they were consumed within the first three hours.  I'm just sayin'…
Alfajores Cake Doughnuts – Dulce de leche, Toasted Coconut and Almond Cake Doughnuts
Adapted from Wilton's recipe from the back cover of the pan package.
Ingredients
For the doughnuts:

2 cups cake flour, sifted (or 2 cups of AP flour, replacing 1 tbsp of flour/cup for 1 tbsp of cornstarch/cup)
3/4 cups granulated sugar
2 tsp baking powder
1/4 tsp ground nutmeg
1 tsp salt
1/2 cup slivered almonds, chopped
1 1/4 low fat buttermilk at room temperature
2 eggs, separated, at room temperature
2 tbsp butter, melted

To decorate:

14 oz. dulce de leche
1 cup unsweetened coconut flakes
Instructions
Preheat oven to 425F.
Dry ingredients: In a large mixing bowl, sift together cake flour, sugar, baking powder, ground nutmeg and salt. Fold in chopped slivered almonds. Set aside.
Beat egg whites until soft peaks form. Set aside.
Wet ingredients: In another bowl, slightly beat the egg yolks, buttermilk and melted butter.
Add the wet ingredient mixture into the dry ingredients and mix until just combined.
Fold in the beaten egg whites until just combined.
Spray the doughnut pan with nonstick cooking spray. Fill in each doughnut mold 2/3 full.
Bake 7-9 minutes, or until the doughnuts bounce back when touched. Cool on a baking rack for 5 minutes before removing from the pan.
Heat a large skillet at medium low heat, and toast the coconut flakes until golden brown and aroma is released. Remove from the heat and set aside.
Spread dulce de leche over each doughnut using a spatula, and sprinkle with toasted coconut flakes.
Serve immediately.
http://www.tstastybits.com/2012/06/alfajores-cake-doughnuts-dulce-de-leche-toasted-coconut-and-almond-cake-doughnuts/
T\'s Tasty Bits, 2009-2012