This past July, El Señor Hubs and I headed to Costa Rica for a week-long vacation.  Costa Rica had always been a destination we both wanted to visit, and this year we finally got to explore it.  With so many regions to visit, we opted to go to the Pacific Coast of Costa Rica, and experience some of the rain forest and beaches.  This led us to Quepos, Manuel Antonio, Mal País, Jacó and Playa Herradura.
We went in July which around the start of rainy season in Costa Rica.  Similar to Ecuador, Costa Rica doesn't have seasons per se; it either rains or it is dry.  At first we were concerned we wouldn't be able to enjoy the outdoors due to it, but we figured – HEY!  This is nature!  Let's fully embrace it!
We found that it rained around 4pm-5pm and on.  We took advantage of our mornings to visit towns, parks and beaches, and we returned to our hotel(s) early evening.  We enjoyed a nice dinner and drinks at the hotel's restaurant, watched the sunset and tucked ourselves in.  The beauty of our "old-couple" schedule is that we were ready to go early in the morning and enjoy the sun.
We landed in San José, rented a 4×4 clunker and drove about 2.5 hours down to the coast to our first stop: Quepos.  There is a new highway – highway 27 – which made it relatively easy to get there.  By easy I mean that the highway is paved and smooth.  This was not the case as we drove throughout the rest of the coast.
We stayed at Condotel Las Cascadas for the first two nights of our visit.  This hotel is located in a residential part of Quepos.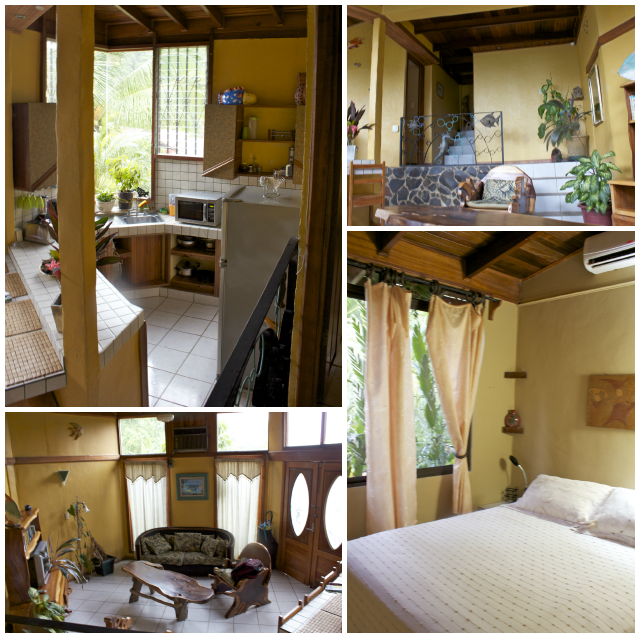 Our suite was comfortable.  No frills, no luxuries, but it had a really awesome air conditioning unit in the bedroom.  Trust me – you need them in Costa Rica.  Had we chosen to stay a few more days, I may have considered using the kitchen.  The kitchen was equipped with the basic necessities, but lacked basic ingredients like salt and oil.  One downside of our hotel – due to its location in a residential neighborhood, we heard dogs barking ALL.NIGHT.LONG.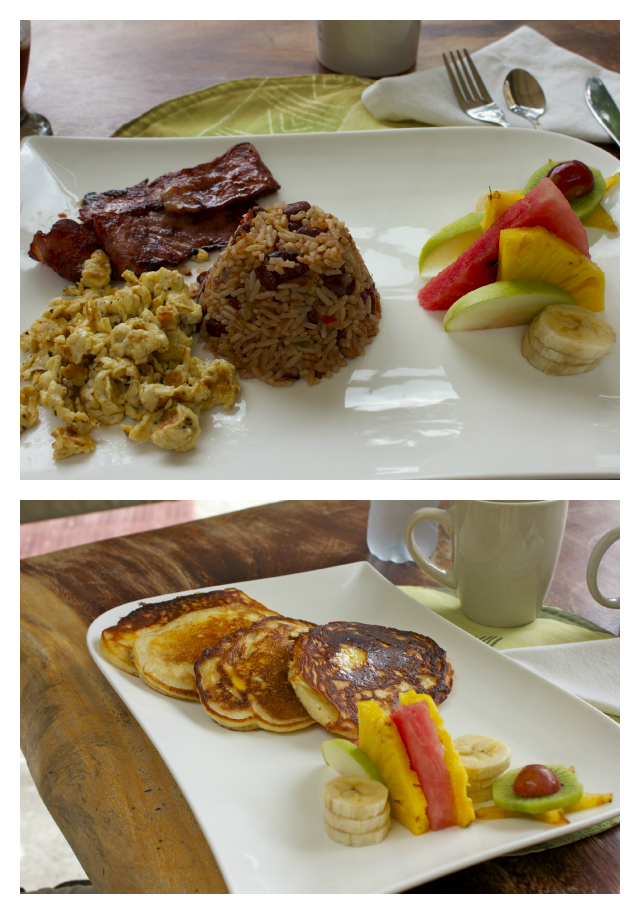 For an extra $6.95 per person per meal, we got breakfast at Las Cascadas during out stay.  El Señor Hubs ate all you can eat banana and coconut pancakes both mornings, and I had an omelet with goat cheese and smoked salmon one morning, and a traditional Gallo Pinto with scrambled eggs and bacon the next morning.  Both meals came with a little portion of fruit, coffee and juice.  Let me tell you the fruit was amazing – fresh and sweet.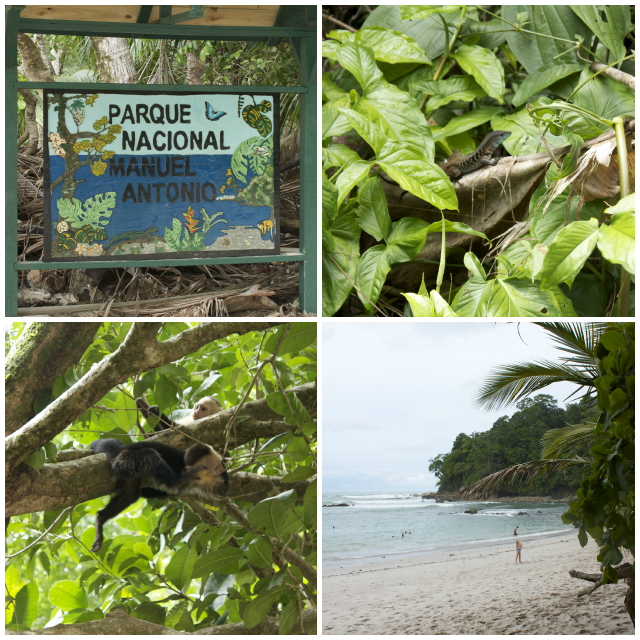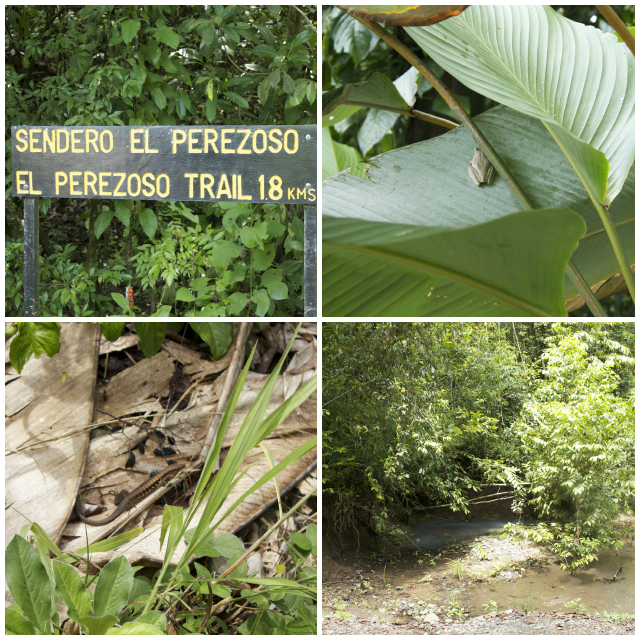 A few miles from Quepos is another town called Manuel Antonio, which is known for its national park and its beaches, a portion of them inside the park.  We visited the Manuel Antonio National Park with a guide who pointed out animals and flora native to Costa Rica.  And yes!  We saw monkeys!
While in Quepos, we spoke to locals and asked about other good places to go visit, and we were told to go to Mal País, Playa Carmen and Santa Teresa.  So after a couple of days in Quepos and Manuel Antonio, we decided to venture to the Nicoya peninsula on the northern portion of the province of Puntarenas.
We took a ride on the ferry from Puntarenas to Paquera and then drove to Mal País.  If you do this, especially around this time of the year, you NEED a 4×4!
Of utmost importance, was to find a place to stay in Mal País upon our arrival.  We had gotten some recommendations on hotels, one which we called before leaving Quepos.  Unfortunately, this hotel was completely booked.  Once we got to Mal País, we decided to drive by this hotel and ask again if they had any availability.  And they did.  So we stayed at this wonderful place called Moana Lodge.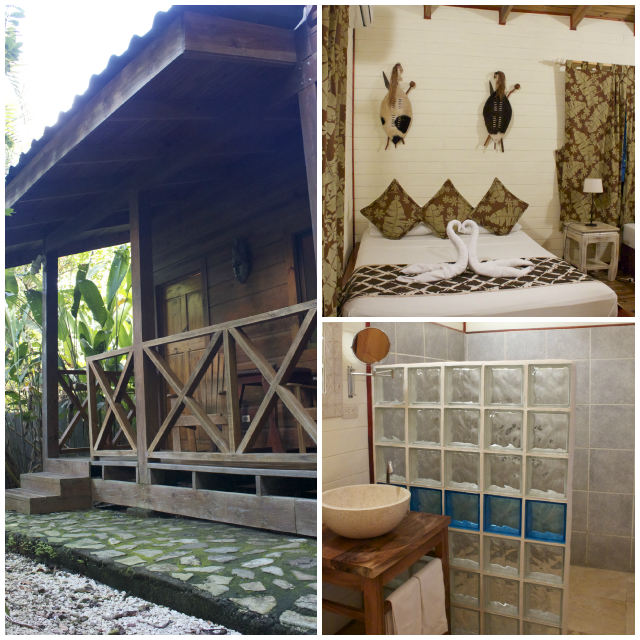 During the next couple of days of our stay, we explored Playa Carmen and Santa Teresa; there is not much to do in Mal País – at least where we were.  I have to say we had some of the best meals in our trip at Mal País and Santa Teresa.  The lunch that stood out the most was at a restaurant called Habaneros, a Mexican restaurant.  I had an whole fish, grilled, which was served with Mexican rice, the BEST beans I've ever had, guacamole and a beautiful array of sauces and condiments.  You HAVE to have seafood if you're at the beach; the fish is caught every morning.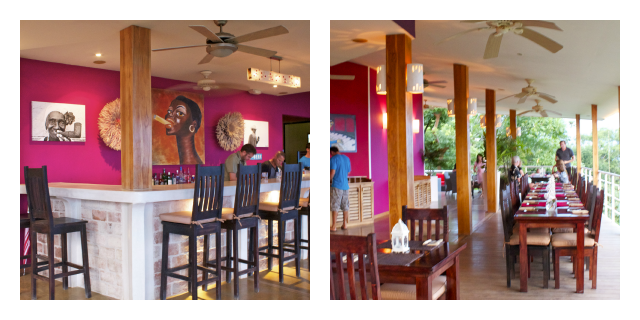 Our hotel had a restaurant called The Papaya Lounge which opened last year.  This restaurant sits atop of the highest point of the hotel's property and the views of the peninsula are marvelous.  As far as the food goes, I have never tasted a better grilled octopus in my life!  Each bite melted in my mouth; the octopus was seasoned in a way it didn't take away its freshness, but enhanced every little morsel.  This makes me want to go back!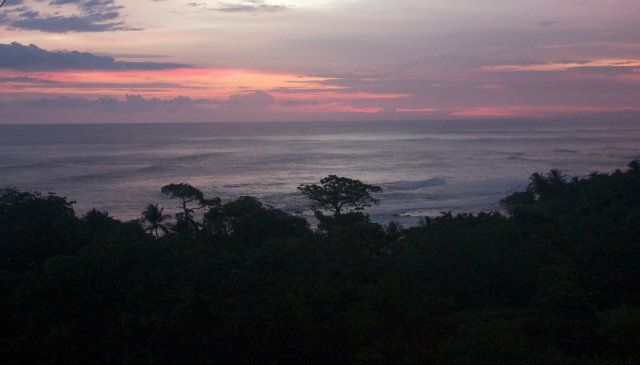 Watching the sunset while savoring our meal was a great way to close the day.  Just make sure you spray yourself silly with insect repellent.
Finally, after 5 days of being wandering travelers, bouncing around the gravel roads, we decided to finish our vacation by staying at a comfortable resort.  So we took the ferry back to Puntarenas and drove to Playa Herradura, close to Jacó and stayed at Los Sueños Marriott Ocean & Golf Resort.
Jacó is the next town from Playa Herradura and we went there for lunch.  We discovered the "Sodas"; these little hole-in-the-wall restaurants where the locals go for cheap meals.  For a few bucks, you can get traditional Costa Rican meals like Casados, Pintos and anything seafood, like this arroz con mariscos.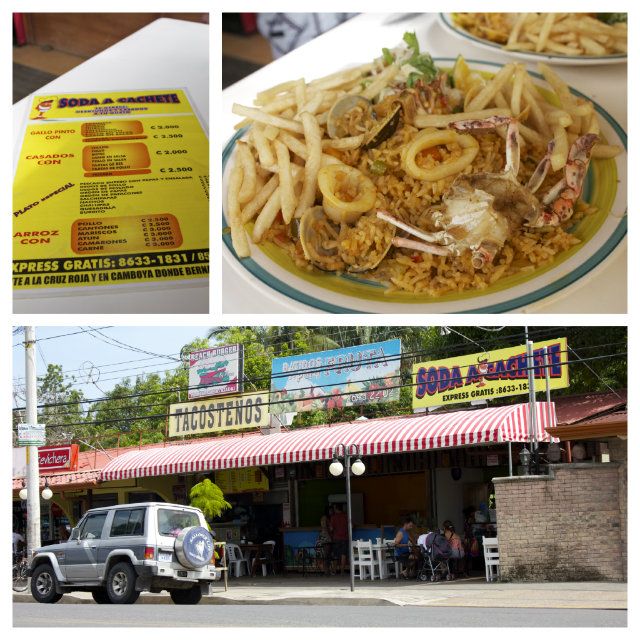 One of the best dinners we had in Jacó was at Lemon Zest, an international cuisine restaurant, whose owner is an ex-pat from Florida.  Chef Richard Lemon was so kind and gracious, and he came out to talk to us after our dinner was served.  Chef Lemon is classically trained – a CIA alumn, and his creations showcase his talent.  I had a kick-ass maracuyá mojito, and the crispy plantain-coconut crusted dorado, which was served over pineapple risotto with Sriracha sauce.  The time it takes to say this sentence is the time it took for me to eat my entire meal.  Because that's how I roll.
Costa Rica is a beautiful country and I am so glad we got to visit.  I hope to go back in the near future and explore other areas like the Guanacaste province; maybe the volcanoes at Arenal.
Have you visited Costa Rica?