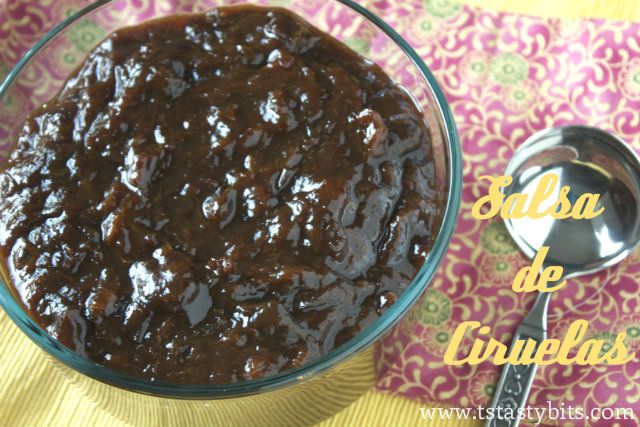 And you thought prunes are only for us old people… HA!
A lovely reader had asked me about this sauce, salsa de ciruelas.  She lived in Quito for a few years and her mother in law makes a ciruela gravy she loves serving with turkey instead of the traditional American gravy.  I think I had this sauce once, so I had to call mami to get the lowdown on it.  In typical Ecuadorian fashion, it is a little bit of this and a tad of that.  So I played around with it and I came up with a sauce that reminds me a bit of a cranberry sauce.
Now, one thing we use prunes for is in traditional Ecuadorian stuffing, which I will be making and posting over the next few weeks.  This relleno (stuffing) is sweet and savory, and traditionally consumed during Christmas.  Oh my, I can't wait!
This salsa de ciruelas goes great over pork or turkey.  Although I haven't experimented with it, I bet it would be great to glaze a holiday ham with.  Enjoy!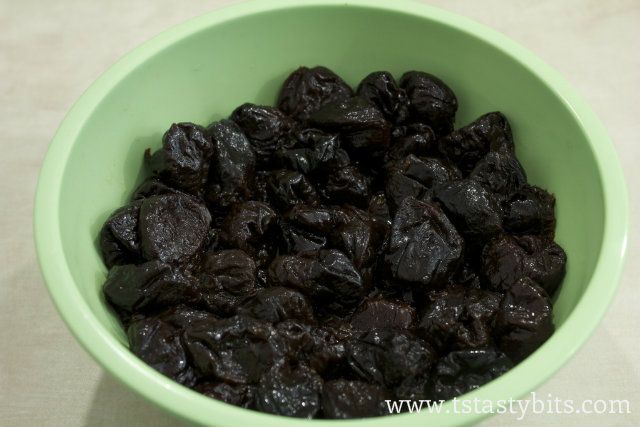 The night before, place some prunes in a bowl and add a cup of a sweet wine – I used a Moscato.  Let them soak overnight.  The next day they will be plump and drunk like these.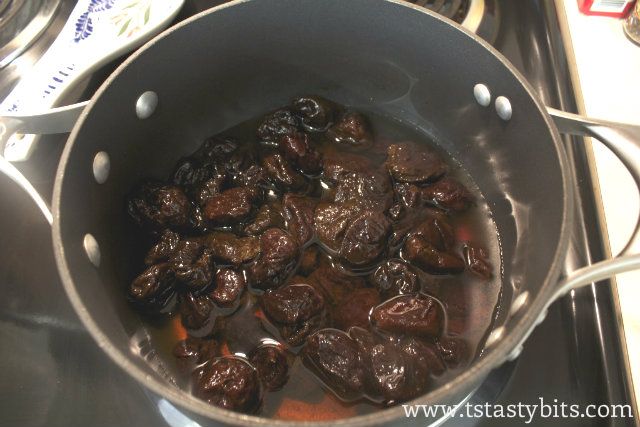 Drop the soaked prunes in a sauce pan, and add water.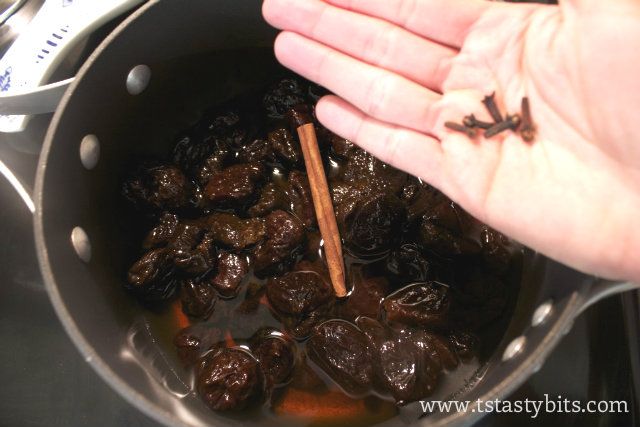 Then, add one or two cinnamon sticks and 5 whole cloves.  Can you smell the holidays???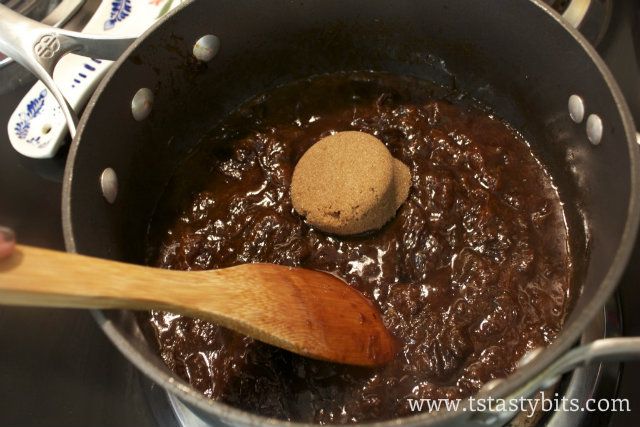 Bring the sauce to a boil.  Once it boils, lower the heat to medium low and stir in some brown sugar.  Simmer for 10-15 minutes, stirring every so often to dissolve the prunes.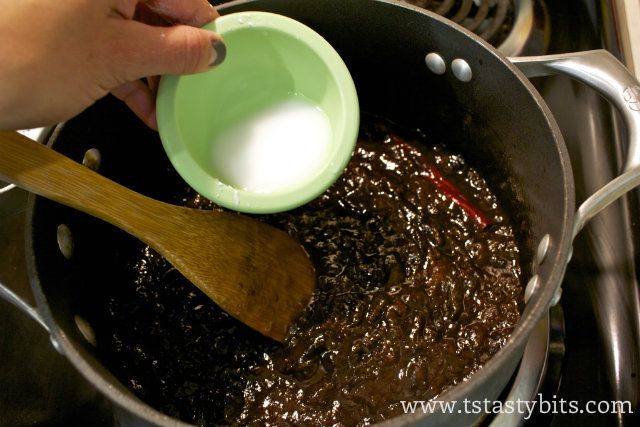 Finally, add some cornstarch dissolved in some water and stir into the sauce.  Simmer for a few more minutes to cook the cornstarch.  Not only will this contribute more to the thickness to the gravy, but it will also make it glossy and shiny.
Right before serving, remove the cinnamon sticks and the cloves (if possible!).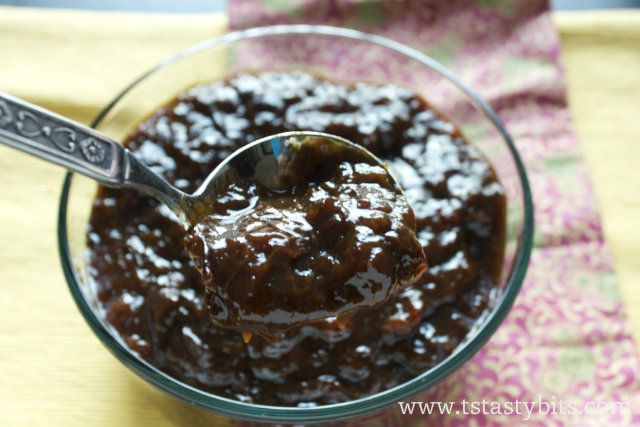 And here ya go!  Salsa de ciruelas – great over that yummy turkey, pork or a holiday ham.  ¡Buen provecho!
Salsa de Ciruelas: Prune Sauce
Ingredients
16-18 oz. pitted dried prunes
1 cup Moscato (sweet white wine), or enough to soak prunes
1 ½ cups water
1-2 cinnamon sticks
5 whole cloves
¼ cup dark brown sugar
1 tsp. cornstarch dissolved in 1 tbsp. water
Instructions
In a bowl, place the prunes and pour the Moscato wine. Soak the prunes overnight.
In a small sauce pan, pour the soaked prunes and add the water, cinnamon sticks and cloves.
Bring the mixture to a boil. Once boiling, lower the heat to low. Add the brown sugar and stir.
Add the cornstarch dissolved in water and stir to combine.
Simmer for about 10-15 minutes, stirring every so often to dissolve the prunes and cook the cornstarch.
Remove the spices, and remove the sauce from the heat.
Serve the sauce over turkey or pork. If a smooth sauce is desired, use an immersion blender to combine.
http://www.tstastybits.com/2012/11/salsa-de-ciruelas-prune-sauce/
T\'s Tasty Bits, 2009-2012