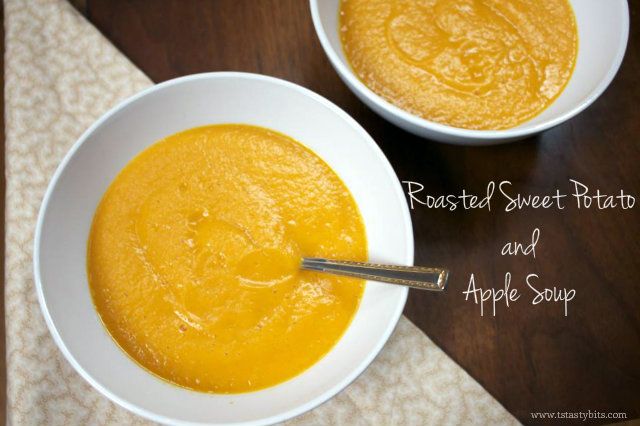 Continuing my love affair with soups these days, here is another one: roasted sweet potato and green apple soup.  Before Pinterest ever existed, I tore off pages from my favorite magazines that had stuff I was interested in: decor, outfits, makeup, and of course, recipes.  This one is from a pile of recipe tears I found the other day.  I used to have "binders full of recipes" (heh heh), and El Señor Hubs swore that if he ever found my folders of torn-off pages, he would throw them away.  Is he mean?  No.  You see, I have a hoarding problem sentimental attachment to things.  El Señor Hubs leans towards the minimalist side, thus no "cachivaches"* are allowed.  If it were up to him, we would just have a couch, a bed, and a TV.  No vases as centerpieces.  No crystal mint dishes on sidetables.  No small appliances on counters.  I, on the other hand, like "stuff", and I tend to accumulate and save things I deem important, when sometimes they really are not.  I have to say lately, I've been all about purging, especially since we moved into our new home.  More on that later!
I served this soup over the holidays, but this is a perfect soup around this time of the year.  From the preparation, what takes the longest is the roasting of the sweet potatoes.  Blending it is a cinch, especially if you have one of those crazy-powerful blenders.  I have a Blendtec and I highly recommend it.
Begin by taking some sweet potatoes and poking them all around.  Place them on a baking sheet and roast them in a 400F oven for 40 minutes until the potatoes are soft.
In the meantime, chop some celery, some onion,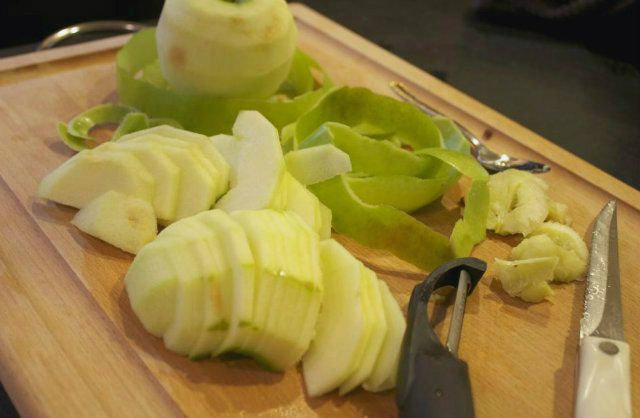 And peel and thinly slice some green apples.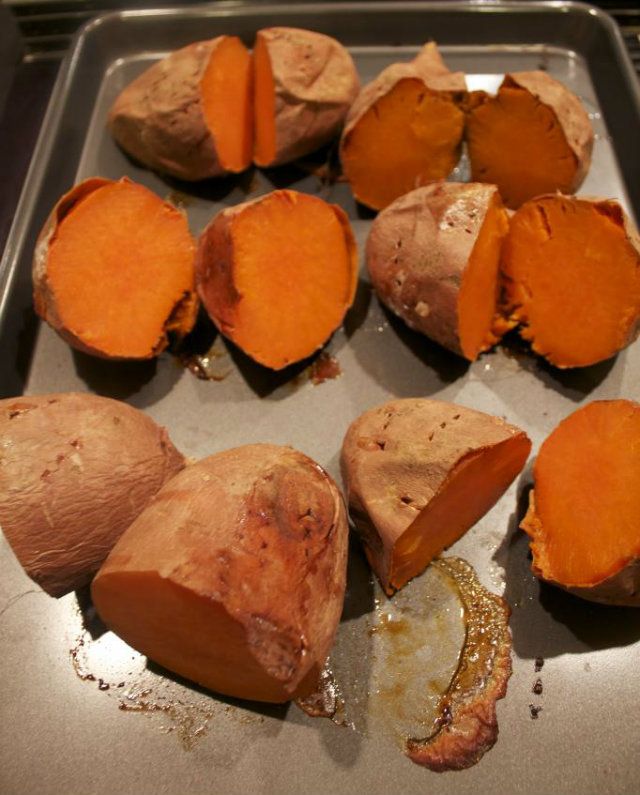 Once the sweet potatoes are done, resist the urge to douse them with brown sugar and eat them all.  Instead, scoop out the flesh and set it aside.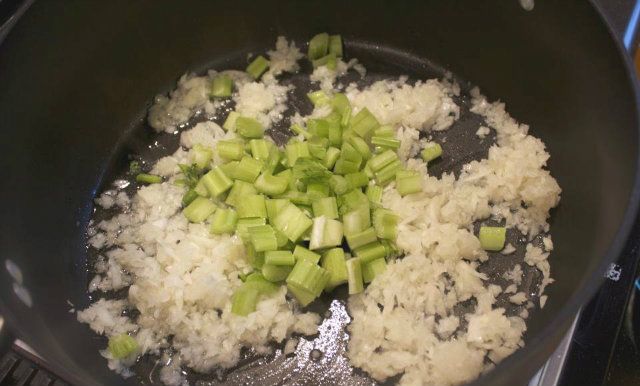 In a large dutch oven, sautee the onions with the celery,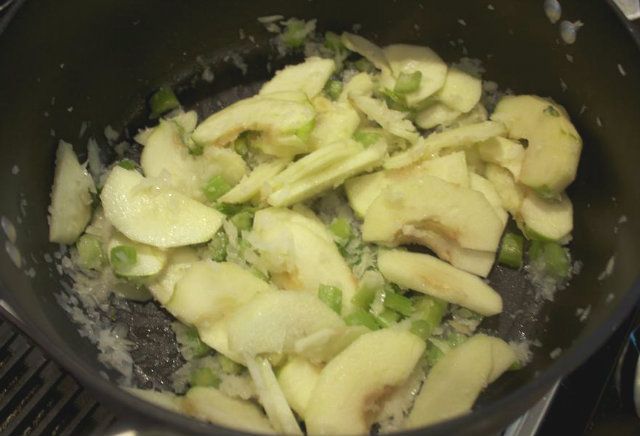 And then add the sliced apples.  Stir to incorporate and cook for a few minutes to soften them.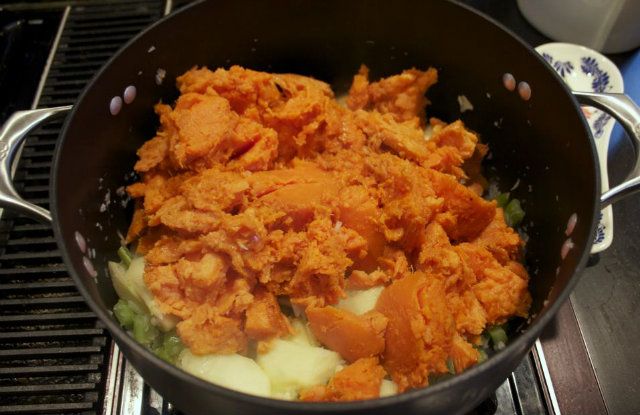 Add the sweet potatoes,
And season with some salt, pepper, cinnamon, dark brown sugar,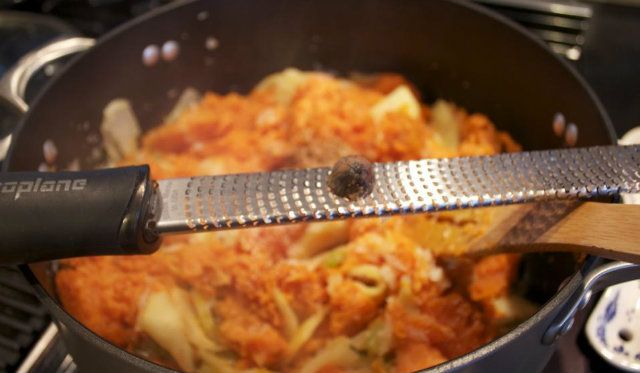 And of course, some freshly ground nutmeg
Top off with some chicken stock.  Vegetable stock can be used if you want to keep everything vegetarian.  Stir with a spoon and bring to a simmer.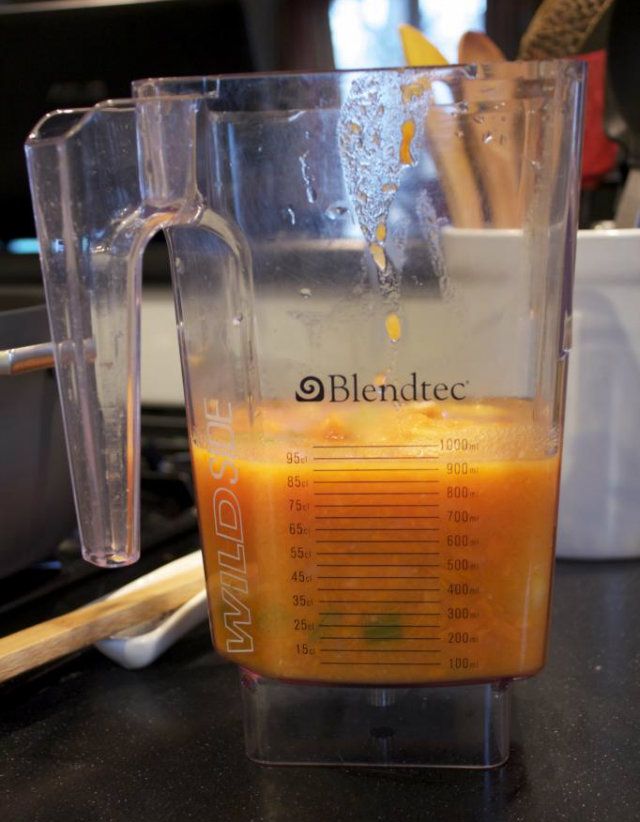 Once simmered, puree in a blender or food processor in batches.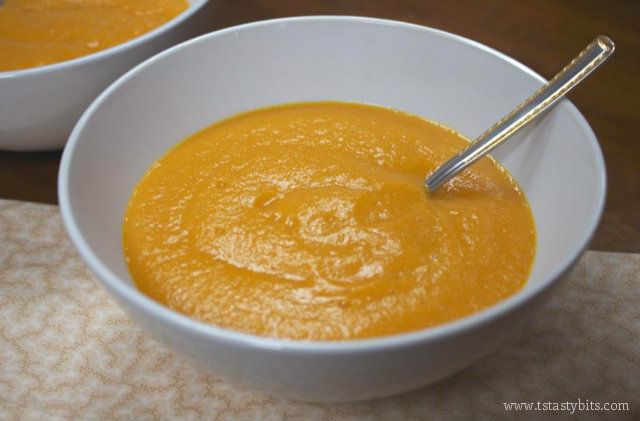 Serve warm.  Delicious!  Happy soup making!
* Cachivaches (kah-chee-VAH-chess): tchotckes.   Also my sister's favorite Spanish word.
Roasted Sweet Potato and Green Apple Soup
Adapted from Real Simple Magazine, October 2008 Prep time includes roasting the sweet potatoes.
Ingredients
4 lbs. sweet potatoes
1 small onion, chopped
2 celery stalks, diced
Olive oil for sauteeing
2 granny smith apples, peeled, cored and thinly sliced
1 tsp ground cinnamon
1/2 tsp freshly ground nutmeg
2 tbsp dark brown sugar
2 tsp salt, plus more to taste
1 tsp pepper, plus more to taste
6-8 cups chicken stock
Instructions
Heat the oven to 400F. Wash and poke the sweet potatoes with a fork. Place them on a baking sheet and bake for 40-45 minutes, until the potatoes are soft. Scoop out the flesh of the sweet potatoes and set aside.
In the meantime, heat some oil on medium heat in a large dutch oven. Sautee the onions with the celery until the onions are translucent.
Add the sliced apples and stir to incorporate. Cook on medium heat for 10-12 minutes until the apples are soft.
Add the sweet potato flesh to the onion/celery mixture.
Season the mixture with the spices. Add the chicken stock to the sweet potatoes, starting with 6 cups. Stir with a spoon and bring to a simmer.
In a blender, puree the soup in batches, or using an immersion blender, puree the soup until creamy. Add the rest of the stock if necessary until the desired consistency is achieved.
Serve warm.
http://www.tstastybits.com/2013/01/roasted-sweet-potato-and-green-apple-soup/
T\'s Tasty Bits, 2009-2012