There are some key staple foods you come to love when you move to the South.  On the top of my list is shrimp and grits.  Every other southern-food restaurant and diner offers their own version of this very classic southern dish.  The great thing about this meal is how simple and quick it is to make.  I also think this meal is relatively healthy.  See?  I am taking  care of you starting off the year by giving you a good and healthy meal (according to me).
Grits.  Gritsgritsgrits.  I am a fan, a lover of grits.  Grits are nothing more than ground hominy – or mote, as we call it in Ecuador.  I am even more fascinated by instant grits (Ha!), which make the preparation relatively quickly.
In terms of shrimp, my preference is to buy fresh, but these days I've been purchasing frozen, deveined shrimp and I've had no complaints.  As much as I love and live to cook from scratch, preferably with fresh seafood, when I'm hungry, the last thing I want to do is stand in front of the sink peeling and deveining shrimp.
When a new year begins, we always tend to make resolutions – the most popular is probably eating better/healthier/less, etc.  Personally, it's been a really long time since I've made any new year resolutions.  More often than not, I end up disappointing myself.  I rather make long term commitments throughout the year, and evaluate consistently whether I am staying true to those commitments.  For instance, I commit myself to going to the gym at least 3 times a week; drinking a green shake or oatmeal with apples, yogurt and walnuts for breakfast; eating a light lunch – be it a sandwich, soup, tuna and crackers (yes, I eat cat food every once in a while); and then having a super awesome dinner with a glass of wine – or a beer, if I so choose.  I don't crave anything, because I haven't deprived myself of anything.  And when you love to make dinner like me, I end my day on a high note.  I like to make Saturdays special, and I will make pancakes for breakfast, or we go to the Highland Bakery and eat something sweet and delicious.  Are there times when I frequent Highland Bakery on more than one occasion during the week?  Yes.  However, I know that I have "splurged", and I make up for it by eating homemade, healthier foods.  But that is just me.  What do you do?
But I digress.
On that note – let's get this spicy ceviche-style shrimp and grits D-O-N-E!
For the grits, I use the Quaker Quick 5-Minute Grits.  These are fantastic for a super fast meal.  Just follow the package directions, and you are good to go.  I normally make 4 servings because this is just for the two of us, and sometimes we like seconds!
So, I suppose you are wondering why I am calling this ceviche-style.  As usual, I try to infuse some Ecuadorian flare in some of my favorite meals, and in this case, I opted to use most of the ingredients in ceviche de camarón.  A main difference is that this dish is not cold – cold shrimp and grits just doesn't sound too appetizing.  To make it spicy, I opted for adding some sliced, serrano peppers.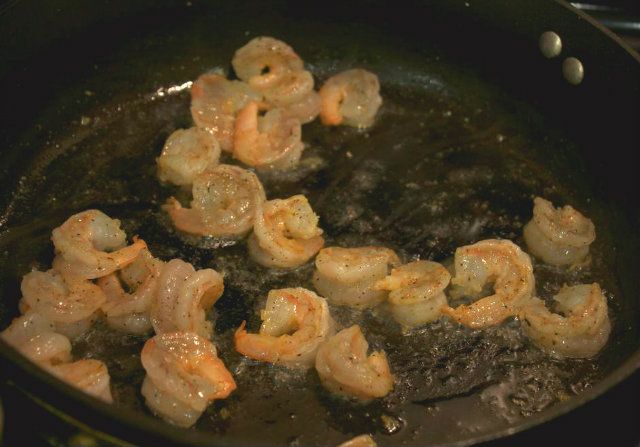 Start by sauteeing some shrimp in a very hot skillet with some olive oil.  Season with salt and pepper.  This takes about 2 minutes.  All you want to accomplish is the shrimp changing its color to pink, and curling into a circle.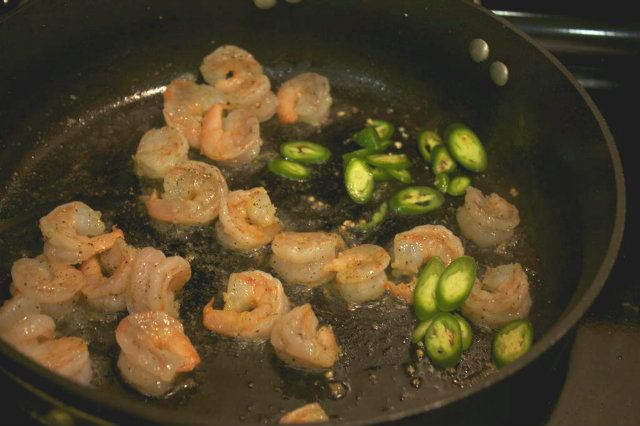 Add some thinly sliced serrano peppers.  If you rather not have it spicy, you can skip this step.
Next, add some diced tomatoes,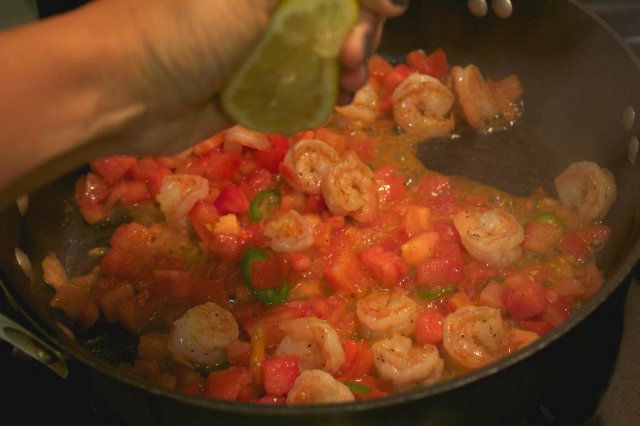 Followed by some freshly squeezed lime juice.
Then, squeeze some orange juice,
And allow for these liquids to reduce for a couple more minutes.  You don't want to overcook the shrimp.  There, the shrimp are done.  As a matter of fact, your entire dinner is DONE!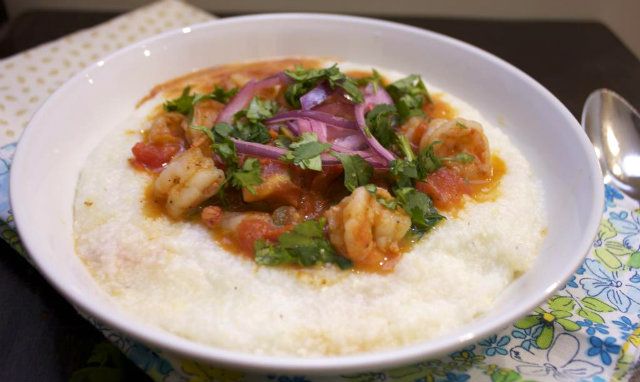 Serve the shrimp with some of the sauce over the grits, and garnish with cilantro and pickled onions (encurtido).
¡Feliz Año Nuevo!
Spicy Ceviche-style Shrimp and Grits
Ingredients
For the shrimp:

8 oz frozen deveined unshelled shrimp, thawed (24-28 ct.)
1-2 tbsp olive oil to panfry
1-2 serrano peppers, sliced (optional)
2 tomatoes, seeded and diced
Juice of 1 large orange
Juice of 1 lime
salt and pepper to taste

For serving

Cooked grits
Chopped cilantro
Pickled onions
Instructions
Prepare grits according to package directions. I use 5-minute quick grits.
In a large skillet, heat the oil at high heat.
Add the shrimp and season with salt and pepper. Sautee for 2 minutes, stirring to sear both sides of the shrimp. The shrimp will start turning pink and curl into a circle.
Add the sliced serrano peppers, followed by the tomatoes. Stir to combine for 2 more minutes
Add the lime juice and the orange juice and simmer for a couple more minutes to reduce down some of the juices.
Serve immediately over the cooked grits
Garnish with cilantro and pickled onions
http://www.tstastybits.com/2013/01/spicy-ceviche-style-shrimp-and-grits/
T\'s Tasty Bits, 2009-2012