Goodness!  We're half-way through February already!  I have to say, I've had a pretty busy beginning of the year thus far.  El Señor Hubs and I bought a house in early December, and we've been thinking and dreaming of our renovation/decor plans for our new home.  We're in the midst of choosing paint and fabrics for our bedroom, and getting ideas about tiles for our bathroom.  Our minds change every day.  One day we wake up love a zen-inspired bathroom, the next day we're into super-modern-all-white spaces…  and the same goes for the kitchen, which is another room we'll renovate in the future.  I can't wait to share with you the befores and afters.  But we'll still in the befores…  In addition, I've been flexing my web content strategy/design/management muscles, and building community with some really wonderful people.
All this to say – I am happy to report that true, human interaction is alive and well in me.  I encourage you to do the same!
And how about doing so with some really awesome and super easy pasteles de pollo?
I think all of us at some point have had eaten a variation of these in our lives.  Although these chicken ones are very popular in Ecuador, I also love, LOVE the beef version, pasteles de carne.  Back in Guayaquil, there is this cafe/bakery called La Palma.  On special occasions my mom used to take me there for Sunday breakfast, and we will order pasteles de carne and some coffee and juice.  She had the coffee, I had the juice.  We ate there, and then we would go to the park.  One that was near our home was El Parque Seminario, or El Parque de las Iguanas, a.k.a the iguana park.  As you can image, this park was full of iguanas, which were so used to human interaction they were not scared of people at all.  So much so, they'd come close to you in hopes of scoring some food.  The late Steve Irwin, a.k.a The Crocodile Hunter paid a visit to El Parque de las Iguanas.  Do you remember him?
So back to the pasteles.  You can make the pasteles de carne using the filling from these empanadas I've shown you before.  Since I wanted to do something different and quicker, I opted for the chicken version.
Quicker?  Yes, quicker.  Secret #1: rotisserie chicken.  I know.  It is earth-shattering.  If you're like us, we buy a rotisserie chicken for dinner, but we normally don't finish the whole thing.  For this recipe I used half a rotisserie chicken, shredded, but you can use any leftover chicken meat you have.
Secret #2: pre-made puff pastry.  This makes the process easy; no need to make your own puff pastry here.  Even though we're cutting corners, we're not sacrificing any flavor.  So invite people over and build community while eating these pasteles de pollo.  Doesn't that sound good?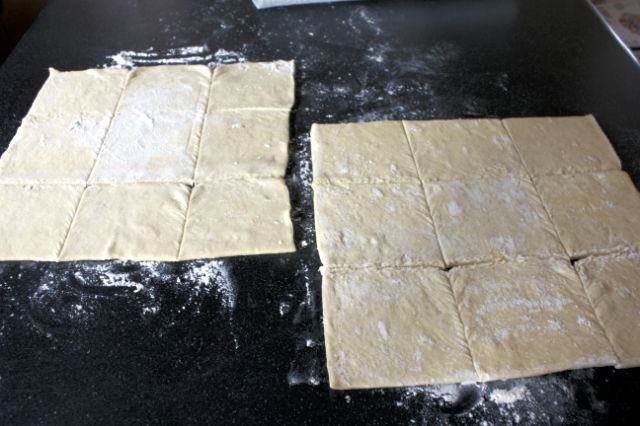 Lay out the thawed puff pastry on your counter.  Each box normally comes with two rolls.  I just follow the package directions on how to thaw the dough.  Cut both sheets into squares, so you will have 18 squares total.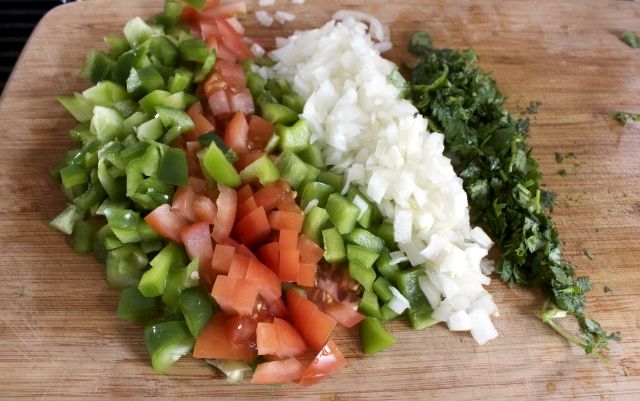 Next, chop up a green pepper, some onions, a tomato and cilantro.  We will be making a refrito.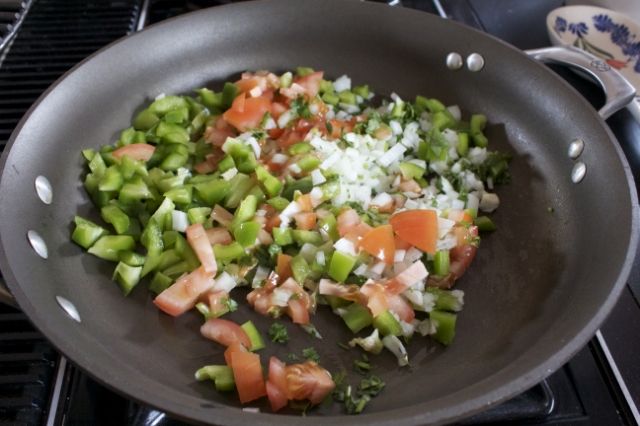 In a skillet, heat up some oil, and sautee these ingredients for a few minutes, until the onions are translucent.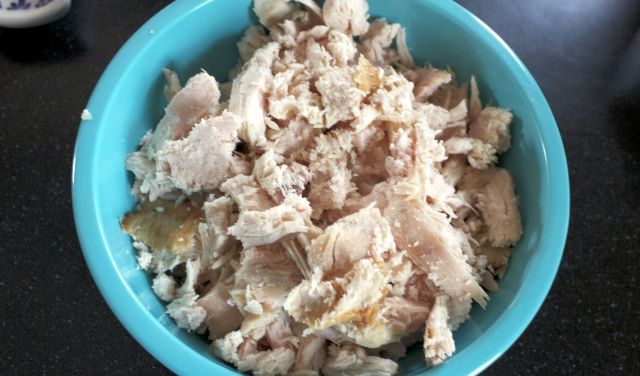 Now get your shredded chicken ready,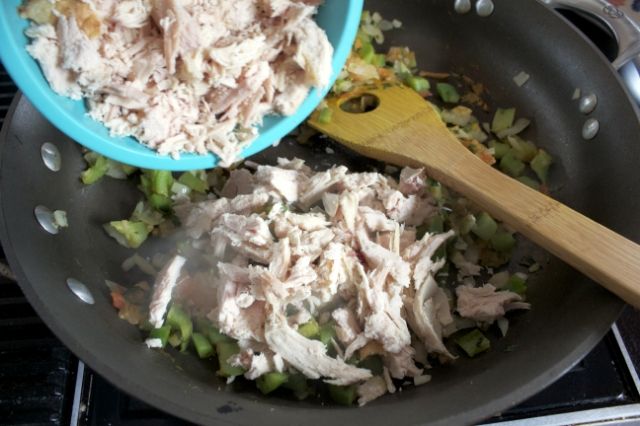 and add it to the refrito.  Stir everything to incorporate the flavors.  Cook for about 5 minutes.  Taste for seasoning and add salt, pepper and cumin to taste.  Since the rotisserie chicken is usually well-seasoned, I just add a pinch of salt, about 1/4 tsp black pepper and 1/4-1/2 tsp cumin, mainly to season the veggies.
Lay out nine squares on a baking sheet, *preferably* lined with parchment paper.  Yup, I forgot to do that.  Place about 1-2 tbsp of the chicken mixture in the center of each square.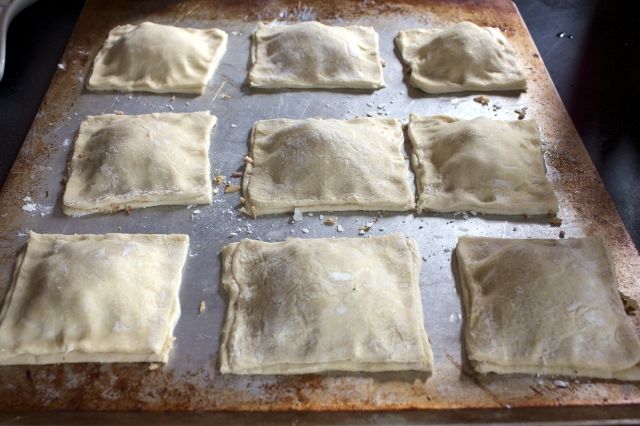 Wet the edges with water and place the other puff pastry squares over these.  Pinch the ends to make square packets.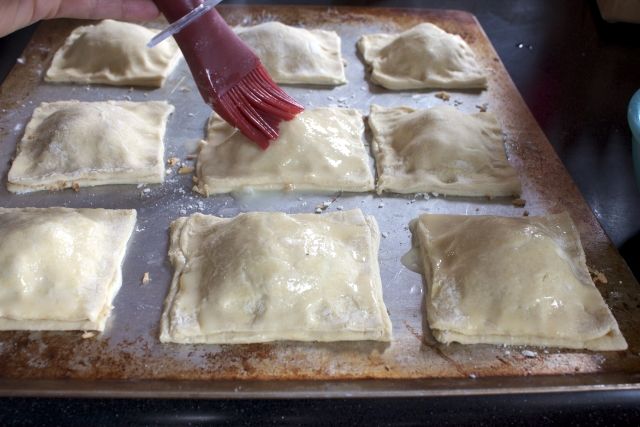 Brush each pastel with egg wash.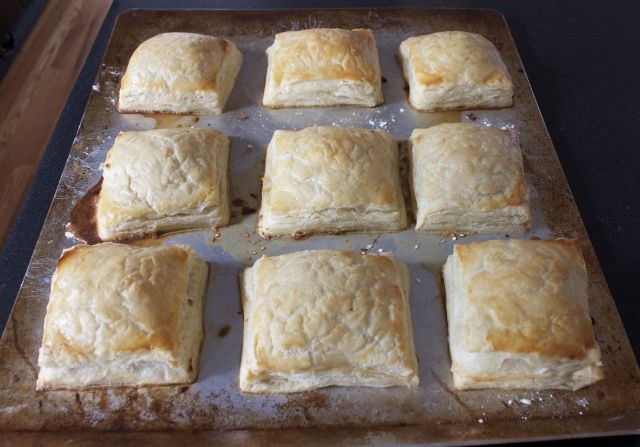 Bake in a pre-heated oven at 350F for 20-25 minutes until puffed and golden on top.  So, SO good!
Serve warm (my favorite) with some lemon wedges and hot sauce.
Pasteles de Pollo (Hojaldre Criollo)
Ingredients
1 box puff pastry (it should have 2 rolls of puff pastry dough)
1/2 rotisserie chicken, meat torn apart/shredded
1/2 small yellow onion, diced
1 green pepper, seeded and diced
1 tomato, peeled and diced
2-3 tbsp chopped cilantro
1-2 tbsp olive oil for sauteeing
Salt, pepper and cumin to taste
1 egg + splash of milk for egg wash

To serve:

Lemon wedges
Hot sauce
Instructions
Preheat the oven at 350F.
Thaw the puff pastry following package instructions.
Make a refrito, by heating up the olive oil and sauteeing the onions, tomato and cilantro. Sautee on medium heat until the onions are translucent.
Add the rotisserie chicken meat to the refrito. Stir to incorporate all the flavors. Taste for seasoning and adjust if necessary with salt, pepper and cumin.
Lay out the two sheets of puff pastry. Cut each sheet into thirds, lengthwise and crosswise, so as to have nine squares per sheet.
Scoop 1-2 tbsp of the chicken mixture in each of the nine squares.
Wet the edges of each of the squares and place the other squares over the ones with the chicken mixture. Press the edges together to close and form square packets.
With a pastry brush, egg wash each of the puff pastry square packets.
Place the packets on a non-stick or parchment-covered baking sheet.
Bake for 20-25 minutes until the pasteles puff up and are golden on top.
Serve warm or room temperature with some lemon wedges and hot sauce.
http://www.tstastybits.com/2013/02/pasteles-de-pollo-hojaldre-criollo/
T\'s Tasty Bits, 2009-2012